Axios Vitals
June 15, 2023
Good morning, Vitals readers. Today's newsletter is 953 words or a 3½-minute read.
💻 Tune in today: Join me and Axios' Caitlin Owens online at 8am ET for an event looking at ways to bolster the health care workforce and improve preparedness for future health threats. Register here to attend virtually.
1 big thing: Medicare surge to drive health care spending past $7 trillion
A surge of Medicare spending on hospitals and other services later this decade will push U.S. health care expenditures to outpace inflation and top $7.2 trillion by 2031, federal actuaries said on Wednesday, Axios' Adriel Bettelheim writes.
Why it matters: The new projections show medical spending across all categories rebounding from the pandemic doldrums, with hospitals being the biggest cost-driver. That likely will make health care become a larger part of household spending.
That turnaround will significantly boost spending this year — especially in the private sector, where medical inflation is expected to hit 7.7%, compared to 3% in 2022, according to the estimates from the Centers for Medicare & Medicaid Services' Office of the Actuary.
By 2031, health care will account for 19.6% of the gross domestic product.
Go deeper: The aging population and federal policy changes will combine to make Medicare experience the highest rate of growth among the major payers, rising 7.5% annually between 2022 and 2031.
Program outlays will rise in part due to the way the IRA created a $2,000 cap on Medicare Part D enrollees' out-of-pocket spending.
The growth rate will slow later in the decade, as the effects of drug price negotiations with manufacturers and inflation rebates begin to kick in.
The forecast shows Medicare experiencing the highest hospital spending growth, ranging from 7.8% to 8.1% annually from 2025 to 2029 as the last of the baby boomers age into the program and enroll.
2. Hospital revenues appear to be rising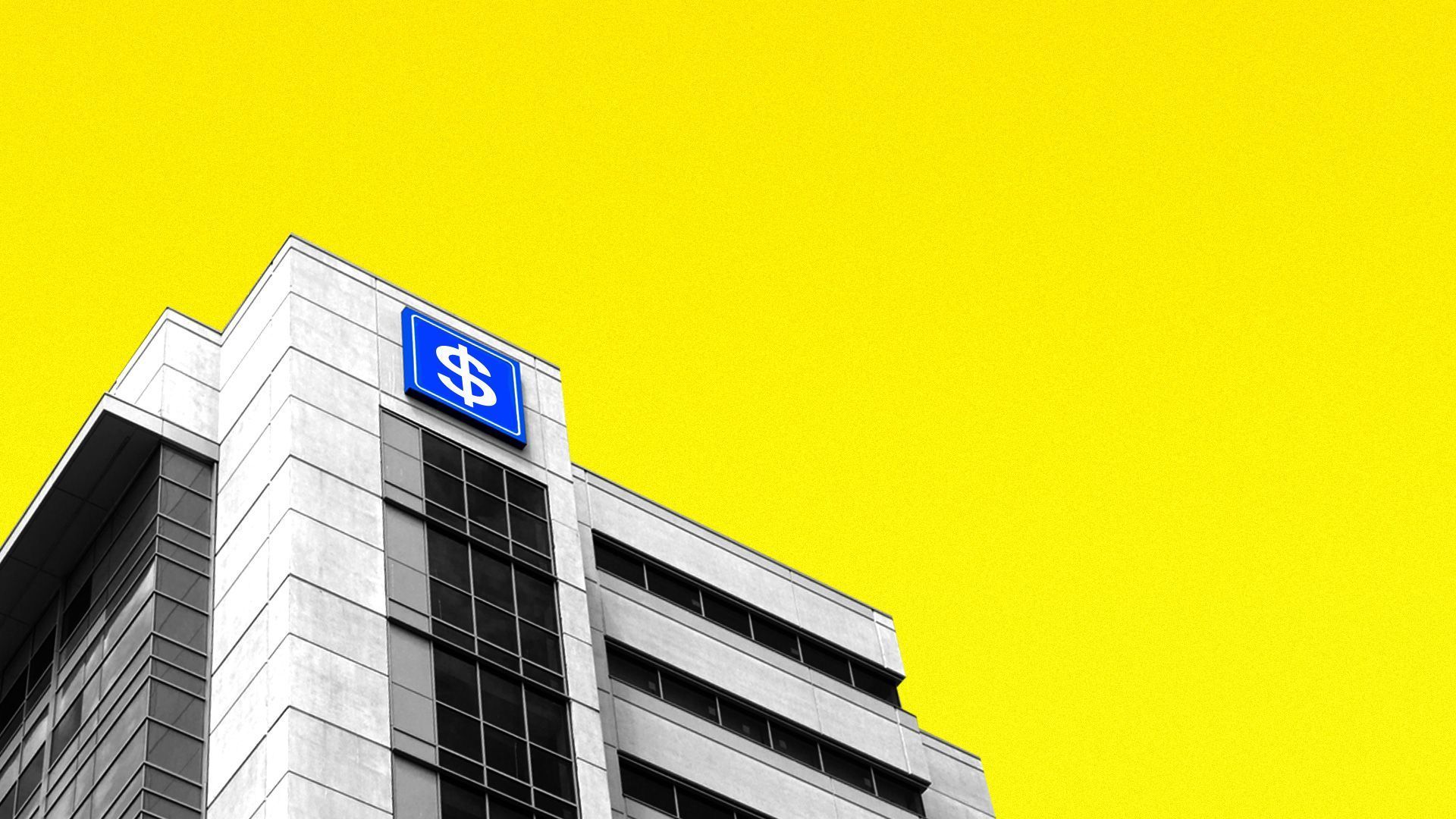 Hospital revenues appear to be on the upswing as more patients receive care — which is welcome news for the hospital industry and not-so-great for insurers, Axios' Caitlin Owens writes.
Why it matters: Hospitals have been warning for months that their financial stability is threatened by inflation, labor costs and other factors in the wake of the pandemic, which could ultimately threaten patient care.
Driving the news: In response to a Cowen survey, more than 300 non-profit hospitals reported a 7.5% year-to-year revenue growth in May, a sharp acceleration above April's 3.5% growth rate and a 4.7% growth rate in the first quarter.
"Most of this acceleration is clearly happening on the outpatient side," Cowen analysts wrote in a note.
On Tuesday evening, UnitedHealth Group said costs are rising as more older adults are receiving outpatient care, including hip and knee procedures, causing insurer stocks to tumble yesterday, per Reuters.
What we're watching: Hospitals' revenue problems have provided the industry with a timely reason to rail against congressional efforts to reform how Medicare reimburses them.
But if data continues to show that hospitals' financial fortunes have reversed, that could bolster lawmakers' resolve to pass reforms.
3. The strain COVID vaccines might target next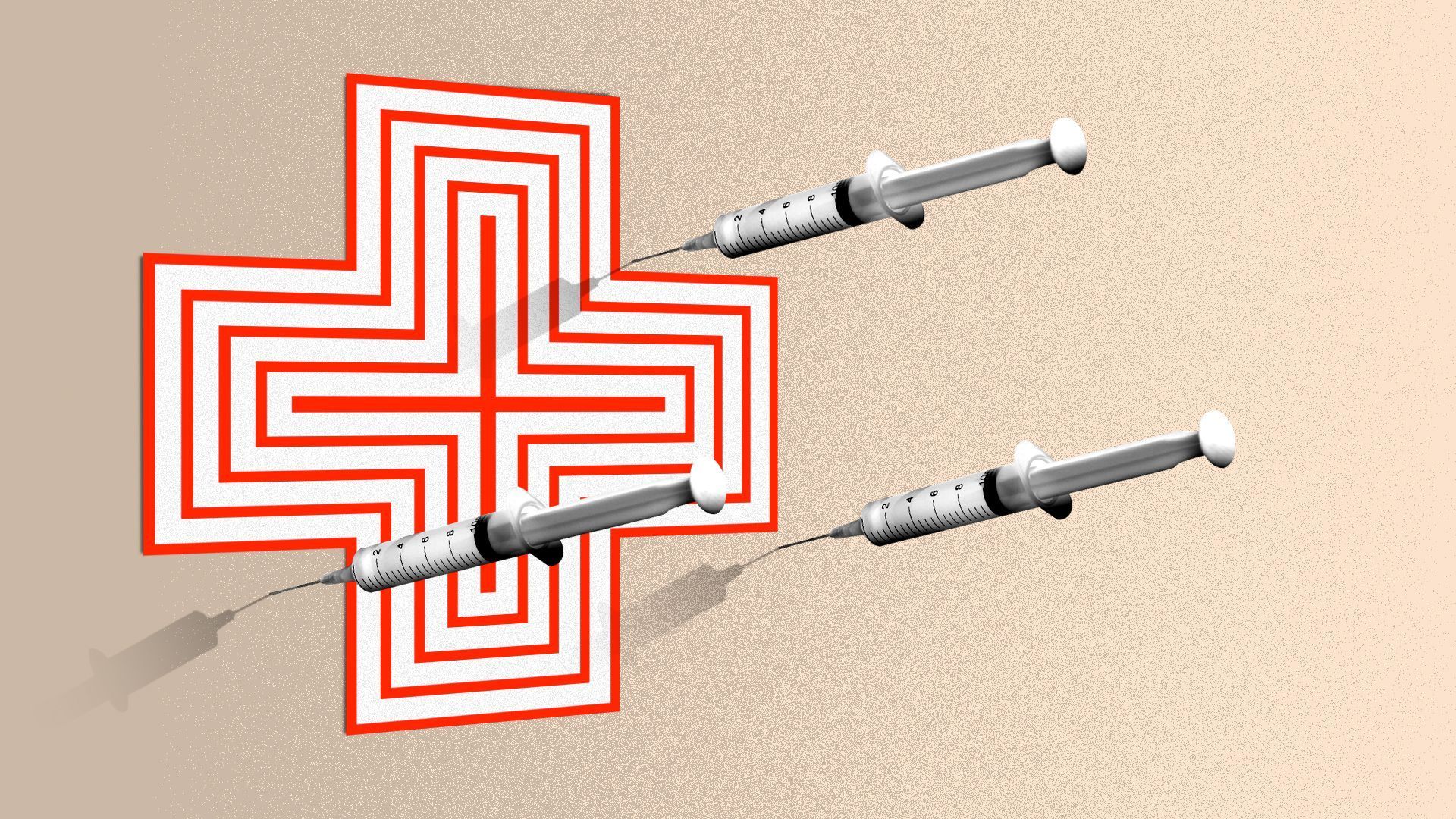 FDA advisers will vote today on whether the next round of COVID-19 shots should target XBB, a subvariant of omicron that's driving the majority of new infections in the U.S., Axios' Sabrina Moreno writes.
Why it matters: The FDA is on a tight deadline to make a decision so drugmakers can manufacture the new vaccines in time for the fall and winter, even as polls show most Americans have put the pandemic behind them.
Details: FDA staff this week recommended focusing on XBB and not including the original coronavirus strain in updated shots, saying the new subvariants are highly likely to evade immune protection from past infections and COVID shots.
Yes, but: The discussion is underway at a time when the majority of Americans view the pandemic as over and don't believe COVID infections pose a major risk to their health.
Most are never masking in public, and less than 1 in 5 people in the U.S. have received an updated booster, per CDC data updated in May.
That means it's unclear how much chasing new variants will benefit a population that might not think they need another shot, especially as vaccine costs shift to the private sector.
What we're watching: Pfizer, Moderna and Novavax will all present at today's meeting, which experts say could signal how soon the drug manufacturers are able to produce the new doses, get them out to the public and jumpstart the next round of vaccinations.
4. Suicides among youth reaches 20-year high
Youth and young adults were nearly as likely to die by suicide as they were from homicide in 2020 and 2021, according to CDC data published Thursday, Sabrina writes.
The big picture: These are the latest numbers to show how the youth mental health crisis might be colliding with the rise in gun violence in the U.S.
The data showed suicide rates among the 10–24 age group reached a 20-year-high in 2021.
While homicide was declining for that age group from 2006 to 2014, it increased 60% through 2021.
If you or someone you know may be considering suicide, contact the National Suicide Prevention Lifeline at 988 (En Español: 1-888-628-9454; Deaf and Hard of Hearing: dial 711 then 1-800-273-8255) or the Crisis Text Line by texting HOME to 741741.
5. Insured struggle to access mental health services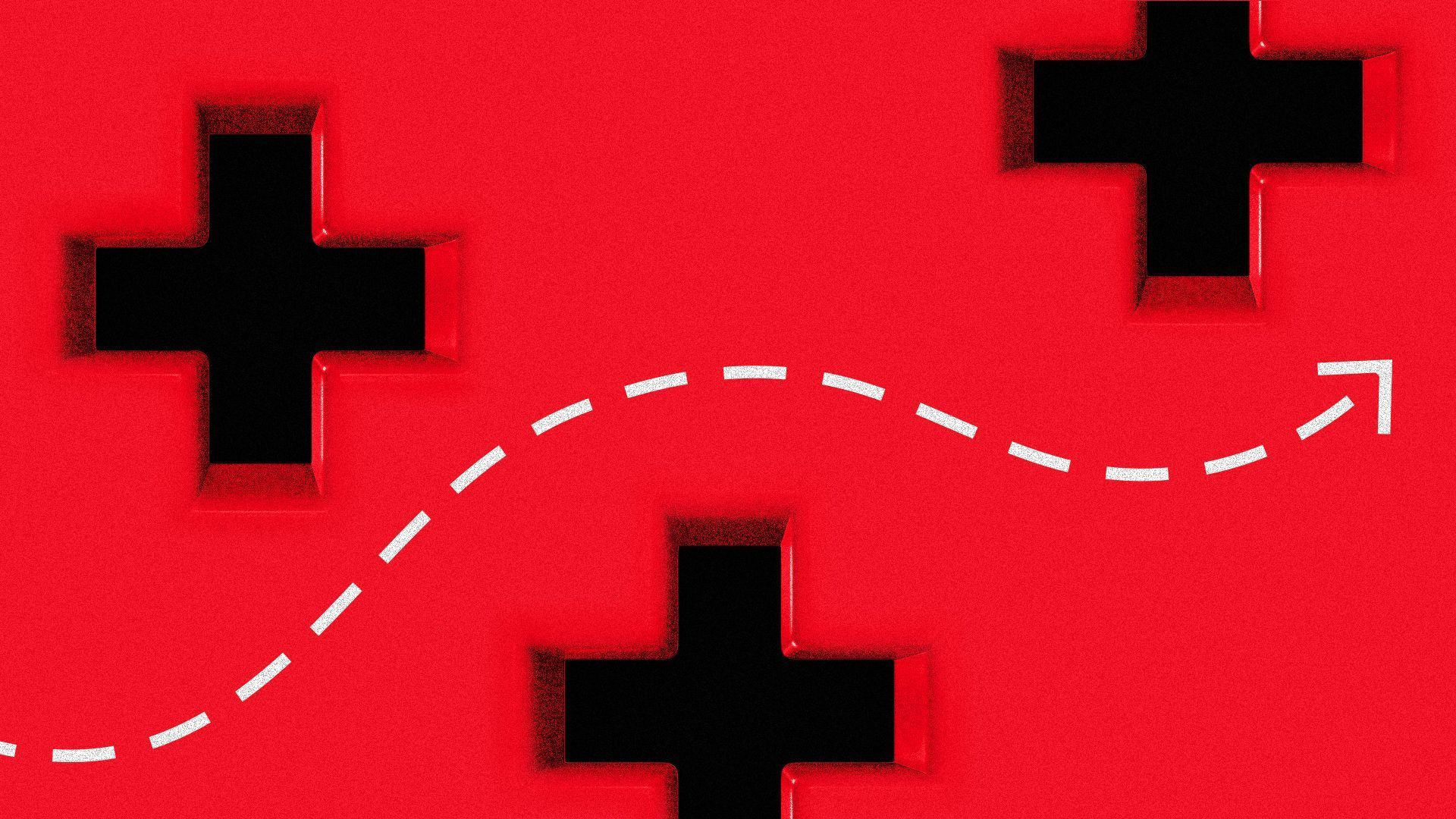 Large percentages of insured adults who say their mental health is only "fair" or "poor" report problems finding therapists or available mental health services, a new KFF survey finds, Axios' Arielle Dreher writes.
Why it matters: The shortage of behavioral health workers is exacerbating the mental health crisis, and some patients say even when they find help their insurance may not cover needed treatment or services.
What they found: The survey of more than 3,600 adults found nearly half (45%) of those who identified their mental health as "fair" or "poor" gave their plan a negative rating for availability of mental health professionals, including more than half of those covered in Affordable Care Act marketplace plans.
1 in 5 adults in this group say there was a time in the past year when a therapist or mental health treatment was not covered by their insurance.
Thanks for reading Axios Vitals, and to senior editor Adriel Bettelheim and senior copy editor Bryan McBournie. Please ask your friends and colleagues to sign up.