Axios Vitals
May 22, 2017
Good morning ... We've got a road map for the week ahead in health care, because you're going to need it. And even if you knew the House health care bill will shift Medicaid costs to the states, you may not have known how much — so keep reading.
No more slo-mo health care this week
This is the week when health care world is going to pick up the pace, after a lot of slow-motion health care talks in the Senate that didn't reach a lot of conclusions. Here's how the plot lines are going to start coming together.
The lawsuit: Sometime today, the Trump administration and House Republicans are supposed to file a status update in the lawsuit over the Affordable Care Act cost-sharing subsidies. It will either give us some clarity on what will happen to the insurer payments, or just prolong the agony. More below on what could happen.
The budget: Tomorrow, the Trump administration is supposed to release its first fully detailed budget for fiscal 2018.
It assumes the enactment of the House-passed health care bill, which was already looking at more $800 billion in Medicaid savings over 10 years, per the Washington Post.
But in reality, budget experts expect the Medicaid cuts to be even deeper than that. Like the House bill, the Trump budget is expected to have per-capita caps — but with a slower growth rate.
That's because the administration thinks current Medicaid spending will be lower than the Congressional Budget Office does, so it needs deeper cuts to get the savings it wants.
It will call for work requirements in Medicaid and other social programs, my colleague Jonathan Swan reported yesterday.
It's worth knowing what President Donald Trump is pushing for, of course, but don't assume that's what Congress is going to do. Republicans tell AP's Andy Taylor they're unenthused, including House Energy and Commerce Committee chairman Greg Walden: "I would think that the health care bill is our best policy statement on Medicaid going forward."
The score: On Wednesday afternoon, we're finally supposed to get the Congressional Budget Office estimates for the final version of the House-passed bill. That should allow the Senate health care working group to start making some decisions about what will be in their bill.
Don't be surprised if we don't know right away whether the House has missed its budget targets — the event that could require a re-vote on the House bill. It may not be obvious from a first read, GOP budget aides tell me — and Democrats would have the right to raise their own challenges anyway.
Watch the states' Medicaid costs rise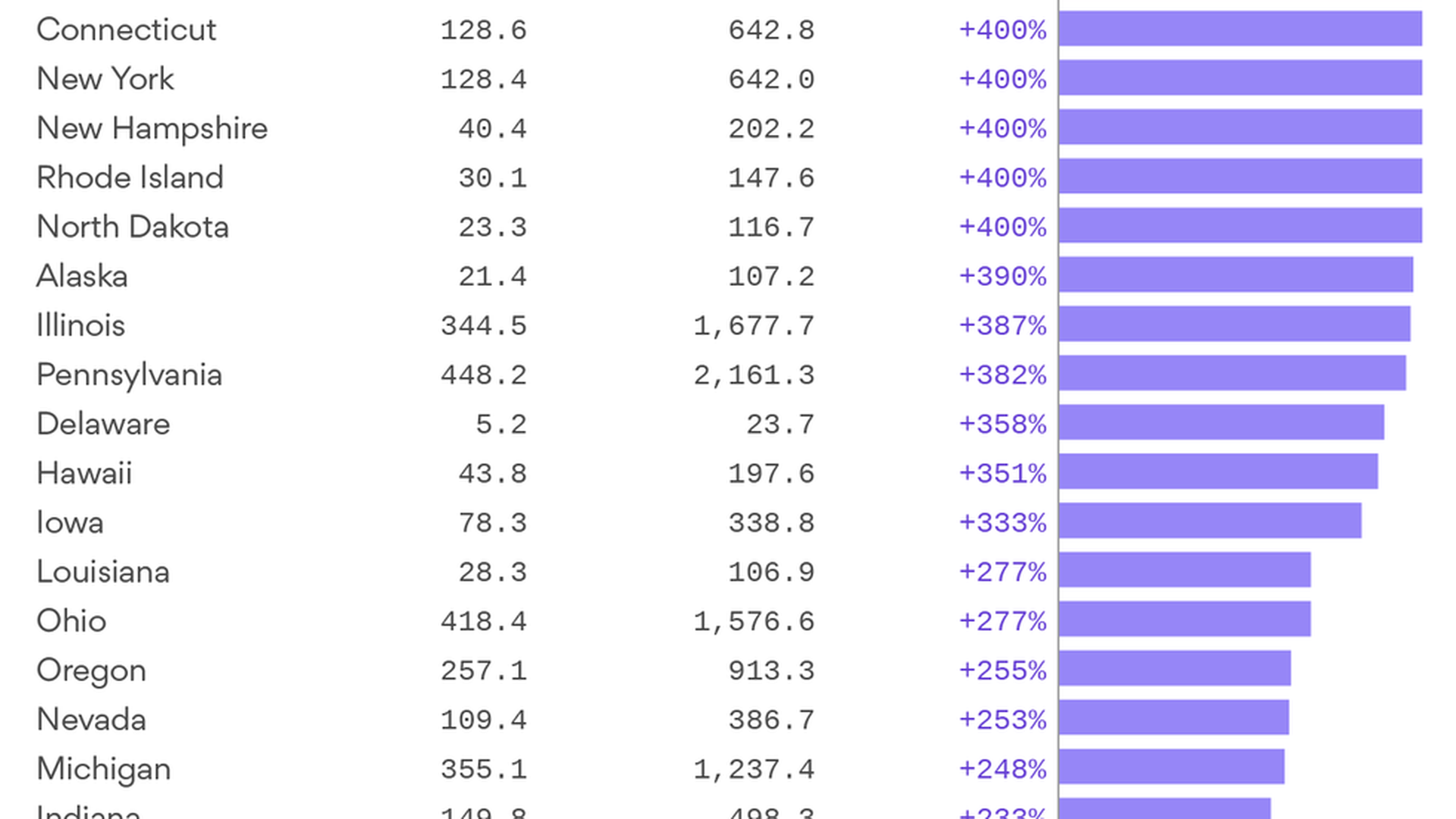 This is what would happen under the House-passed health care bill to states that expanded Medicaid under the Affordable Care Act. It's based on the estimates Sen. Bill Cassidy has been circulating in the Senate, using Government Accountability Office data. What do you think? Does a 400 percent increase seem like a lot?
That's because the higher matching rate for federal Medicaid funds would be dialed back — way back, in some cases. Caitlin Owens has more here.
What could happen with the subsidies lawsuit
Here's what to look for when the Trump administration and the House file their status update with a federal appeals court:
It could be another anticlimax. The two parties could just ask for another 90-day extension, like they did in February.
Or there could be an actual decision. The Trump administration could drop its appeal of a lower court ruling against the insurer payments — meaning the administration would stop making the payments, which is what Trump wants to do anyway.
That would leave it to Congress to decide whether it wants to fund the payments — though that could get wrapped up with the fate of the ACA repeal bill.
Legal expert Timothy Jost points out that the two sides could also say that, since they haven't decided what to do, the appeal should proceed.
And since a group of Democratic attorneys general wants to intervene in the case, Jost says, the court could set a schedule for submitting briefs on that issue.
Need more? Caitlin Owens explained the lawsuit in March. Check it out here.
One big thing to know about insurer payments
If Trump stops paying insurers for their ACA cost-sharing reduction subsidies — as he wants to do, per Politico — he's going to make the ACA more expensive for the federal government, not less expensive. That's because insurers will raise their premiums by roughly 20 percent to cover their losses — and the law's tax credits, which are supposed to help cover people's premiums, will increase with them.
The math, according to the Kaiser Family Foundation:
Savings: $10 billion
Increase in tax credit costs: $12.3 billion
Net cost to federal government: $2.3 billion
Don't forget: The tax credits could help shield a lot of ACA customers from the higher premiums — but anyone who doesn't get the tax credits will get stuck with bigger bills. And some insurers could drop out completely, rather than just raising premiums.
If this looks familiar: That's because this estimate came out last month, and we wrote about it then. Apparently the president didn't get the message. Someone in his inner circle might want to tell him.
Yes, but: Conservative health care analyst Chris Jacobs points out in The Federalist this morning that insurers could never count on getting the payments after President Barack Obama left office — and says they should have planned ahead.
The pressure from the right
Conservative groups are trying to make sure the Senate working group doesn't drag the health care bill too far to the center. Freedom Partners and Americans for Prosperity, two groups affiliated with the Koch brothers, are sending a letter to the working group today urging them to wipe out as many ACA regulations as possible and shut down the Medicaid expansion quickly.
And no auto-enrollment: They also want to end any talk of enrolling people automatically into a basic health plan, a possible GOP alternative to the individual mandate. "Enrolling people without their consent is a giveaway to insurers that inflates prices, drives up costs for taxpayers, and keeps Washington at the center of health care," the letter says.
The fallout from the Seema Verma story
The top Democrats on the main Senate and House health care committees are questioning Centers for Medicare and Medicaid Administration chief Seema Verma about a Los Angeles Times report that she offered to fund the cost-sharing subsidies if insurers agreed to support ACA repeal. The Democrats call her reported actions "wholly inappropriate" in a letter this morning, and accuse her of "using the operation of the American healthcare system as a tool to gain leverage in political negotiations."
Between the lines: Remember that CMS has denied the account — but its denial was pretty specific, and focused on a single meeting in April. Verma is sure to get more questions about this the next time she testifies at a congressional hearing, if more details don't emerge before then.
While you were weekending ...
What we're watching today: The House files its status update on the ACA subsidies lawsuit with the U.S. Court of Appeals for the District of Columbia. Health and Human Services secretary Tom Price is in Geneva for a meeting of the World Health Assembly.
What we're watching this week: Trump releases his full budget for fiscal 2018, Tuesday; the CBO releases its final cost estimates for the House-passed health care bill, Wednesday.
Also, House Energy and Commerce oversight subcommittee hearing on the Zika virus, Tuesday; House Budget Committee hearing on Trump budget, Wednesday; Senate Budget Committee hearing on Trump budget, Thursday; House Appropriations agriculture subcommittee hearing on FDA budget, Thursday.
Did we miss anything? Lemme know: [email protected]