Axios Vitals
April 20, 2021
Good morning.
Some exciting news: Tina Reed, most recently executive editor of Fierce Healthcare, has joined the Axios health team! We're thrilled to have her on board.
Say hello:

[email protected]
Today's word count is 957, or a 4-minute read.
1 big thing: Where seniors remain vulnerable to the coronavirus
More than 80% of Americans 65 and older have received at least one dose of a coronavirus vaccine, per the CDC, but millions across the country remain unvaccinated — particularly in the South.
Why it matters: Seniors who have yet to receive their shot remain highly vulnerable to the virus even as the country overall becomes safer.
By the numbers: More than two-thirds of residents 65 and older have received at least one dose of the vaccine in every state. But some states are much closer than others to universal vaccination among seniors.
States in the Northeast, including Vermont, Rhode Island and Massachusetts, have the highest vaccination rates among seniors.
Southern states — like Alabama, Mississippi and Tennessee — have some of the lowest.
Yes, but: Some states have done a worse job vaccinating seniors than their overall populations, and a state's political leaning isn't necessarily an indicator of how many seniors have gotten their shots.
Hawaii, for example, is the state with the lowest vaccination rate among seniors — only 69.3% have received at least one dose. But 39.8% of all state residents have received at least one dose, which is nearly equivalent to the national average.
Ruby-red South Dakota is among states with high senior vaccination rates, mirroring its above-average vaccination rate in the general population as well.
Between the lines: It's unclear whether the remaining 20% of people 65 and older are struggling to get access to a vaccine, or simply don't want one.
KFF polling has found that only 8% of seniors say they definitely don't want to get a vaccine, and 1% say they'll only get one if required. Another 7% said they want to "wait and see" before getting a shot.
Put together, that's 16% of seniors, which suggests that it'll be an uphill battle to get shots in the arms of many seniors who remain unvaccinated.
2. Americans say J&J pause was the right call
Most Americans support the pause in distribution of the Johnson & Johnson COVID-19 vaccine, and so far there's no evidence that it's leading to broader vaccine hesitancy, according to the latest installment of the Axios/Ipsos Coronavirus Index.
Driving the news: In our weekly national survey, 91% of respondents were aware of the temporary pause recommended by the Food and Drug Administration and the Centers for Disease for Control and Prevention. Of those, 88% said the pause was a responsible decision, Axios' Margaret Talev writes.
Republicans were almost as likely to support the pause as Democrats, an indication this issue hasn't been politicized.
The fact that 91% knew about it within the first few days is an extremely high level of awareness for a news event, and indicates how closely Americans are following vaccine news.
Why it matters: Some officials have expressed concern that the handling of the pause could needlessly scare some Americans from getting vaccinated and make it harder to reach the vaccination levels needed to get the virus under control.
But the survey finds no indication of this yet.
What they're saying: "People are unfazed," said Cliff Young, president of Ipsos U.S. Public Affairs.
He said 91% societal awareness over last week's pause is "super impressive" — greater than one would likely see with a question like who won the Super Bowl, and more akin to results of a presidential election result or even 9/11 in terms of instant awareness.
3. Now let's talk about the next pandemic
We've all heard that the next pandemic could be deadlier than this one, and now the New Yorker is out with a helpful look at the lessons we should learn for the next one, Axios' David Nather writes.
If you want to read the whole thing while you wait in line for the vaccine, here it is. If you don't have time for that, we read it for you.
The main things we need to do, according to Dhruv Khullar, a physician and contributor to the New Yorker:
Get better at disease surveillance so we have advance warning of what other threats might be coming our way.
Develop vaccines ahead of time — at least part of the way, then finish them ahead of time, with enough funding to make it financially worthwhile for the companies that will have to make them.
Re-engage with the world so people in vulnerable countries can get vaccinated faster. (Khullar writes that the Biden administration has started this process by giving money to COVAX, the global initiative to improve access to the COVID vaccines.)
Between the lines: The one challenge the article doesn't have an answer for: how to prevent America from getting sucked into another pointless culture war over masks, vaccines, and all the other public health measures you need to actually fight a pandemic.
4. White House eyes new cigarette policy
The White House is exploring whether to make tobacco companies reduce nicotine levels in cigarettes, the Wall Street Journal reports.
Why it matters: The policy would make nicotine levels so low that cigarettes wouldn't be addictive, and wouldn't satisfy nicotine addiction — theoretically pushing smokers to buy less harmful tobacco products instead, Axios' Marisa Fernandez writes.
The big picture: Nicotine reduction has been on the Food and Drug Administration's radar for years, and could prevent nearly 8 million premature deaths, according to agency estimates.
What they're saying: "We advanced this major public health endeavor ... and the White House should secure this effort," former FDA commissioner Scott Gottlieb tweeted on Monday.
What's next: The FDA is also supposed to announce a decision by late April on whether to ban menthol tobacco products.
5. Catch up quick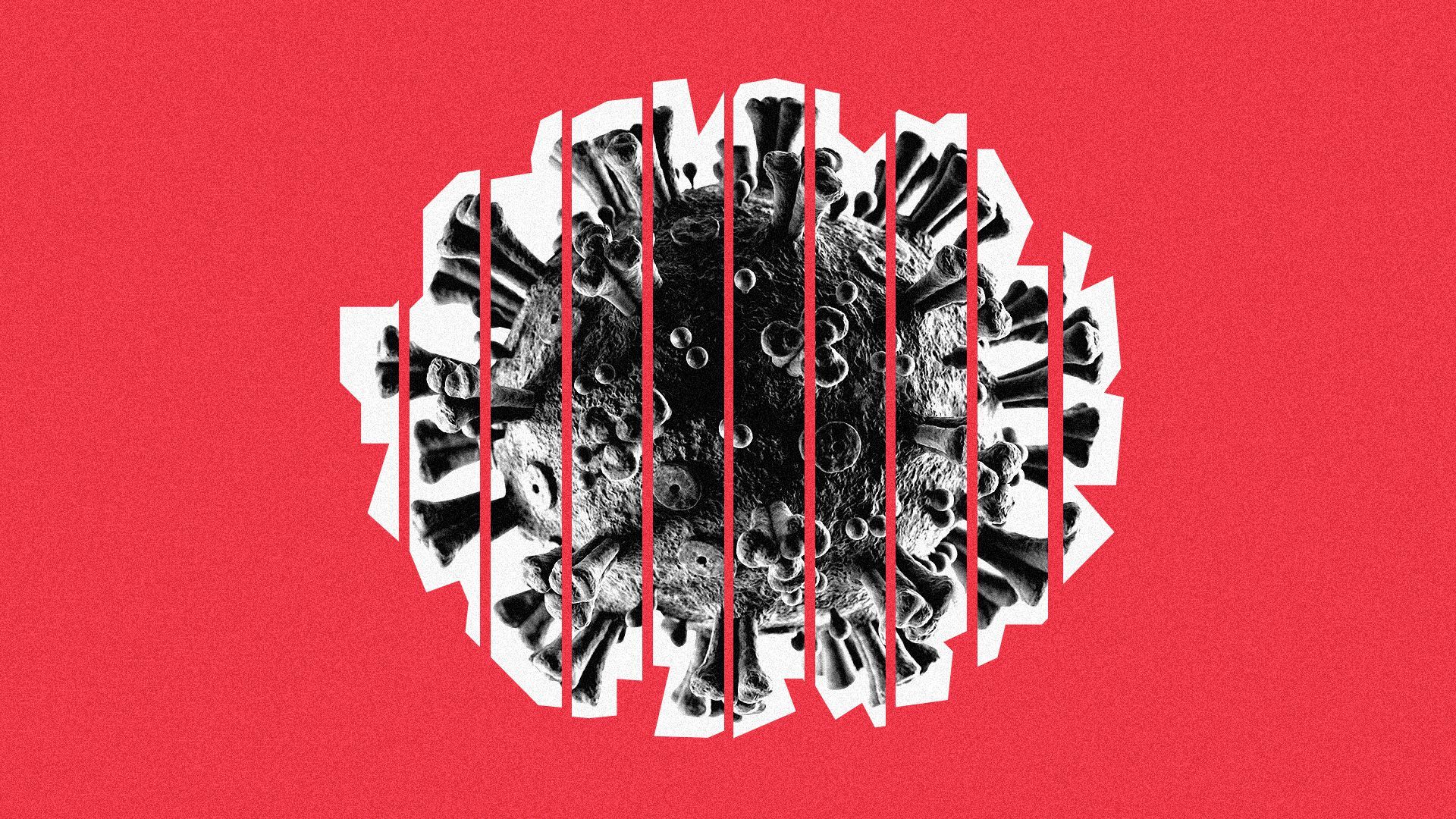 All 50 U.S. states, plus Washington, D.C. and Puerto Rico, have made U.S. adults over the age of 16 eligible for COVID-19 vaccines, successfully meeting the April 19 deadline set by President Biden.
Management failures among federal agencies contributed to "health and safety risks" as the U.S. tried to return citizens from abroad and quarantine them domestically at the outset of the pandemic, the Government Accountability Office said in a report requested by Congress out Monday.
More COVID-19 cases are now being recorded globally each day than ever before in the pandemic, surpassing the previous global peak in early January, Axios' Dave Lawler reports.