Axios Vitals
April 27, 2017
Good morning ... House Republicans may be getting closer to a health care bill they can pass, but not with moderates. And the Trump administration made just enough of a promise on insurer payments to avoid a government shutdown, but probably not enough to give insurers any real confidence.
And did we say the Senate HELP Committee was going to vote yesterday on Scott Gottlieb's nomination to head the Food and Drug Administration? Funny thing — it didn't. They delayed it so Democrats could read through Gottlieb's last-minute written responses to their questions. It's supposed to be today now. Don't tease us again, HELP Committee.
Repeal is back, baby! Just don't read the polls
For all of the talk that this might finally be House Republicans' chance to repeal and replace the Affordable Care Act, the big picture is that there still is a bitter divide within the party — though it's now separating the moderates from everyone else — and the whole effort continues to be wildly unpopular. They're closer to the goal of fulfilling a campaign promise, but they're about to take a vote that will be perceived, rightly or wrongly, as abandoning sick people.
These are the realities they're grappling with:
The new amendment by Rep. Tom MacArthur, a leader of the moderate Tuesday Group, has shifted the health care bill substantially to the right. It's not everything conservatives wanted on loosening the ACA's insurance mandates, but there's more in it for them than for moderates.
The endorsement of the conservative Freedom Caucus was big step forward for Republicans, since they were some of the main holdouts. That may be bringing Republicans closer to 216 votes. "Making progress," one leadership aide said last night.
But it's not bringing any moderate Republicans on board. It may even be losing some: Rep. Mike Coffman, a supporter of the original bill, is now undecided, according to multiple reports. (The Hill has a good whip list.)
A Friday vote is looking less likely now, but not impossible.
The Rules Committee posted the amendment text last night, along with another amendment to make sure Congress isn't exempted — cleaning up what would have been a huge political embarrassment. But as of early this morning, the committee hadn't scheduled a meeting yet.
Moderates are mad at MacArthur for negotiating the deal and mad at the Freedom Caucus, who they think are trying to turn the spotlight on them. "It's an exercise in blame-shifting," Rep. Charlie Dent said, per the Washington Post.
They're not going to get a lot of sympathy from conservatives, who will point out that the moderates ran on repealing the ACA.
If the House schedules a vote soon, it's not going to have any analysis from the Congressional Budget Office to examine. So it won't have any idea how many states might apply for waivers from the required benefits or the ban on charging higher rates to sick people, or how many people might be affected.
Insurer payments are off the table! No wait, back on! No wait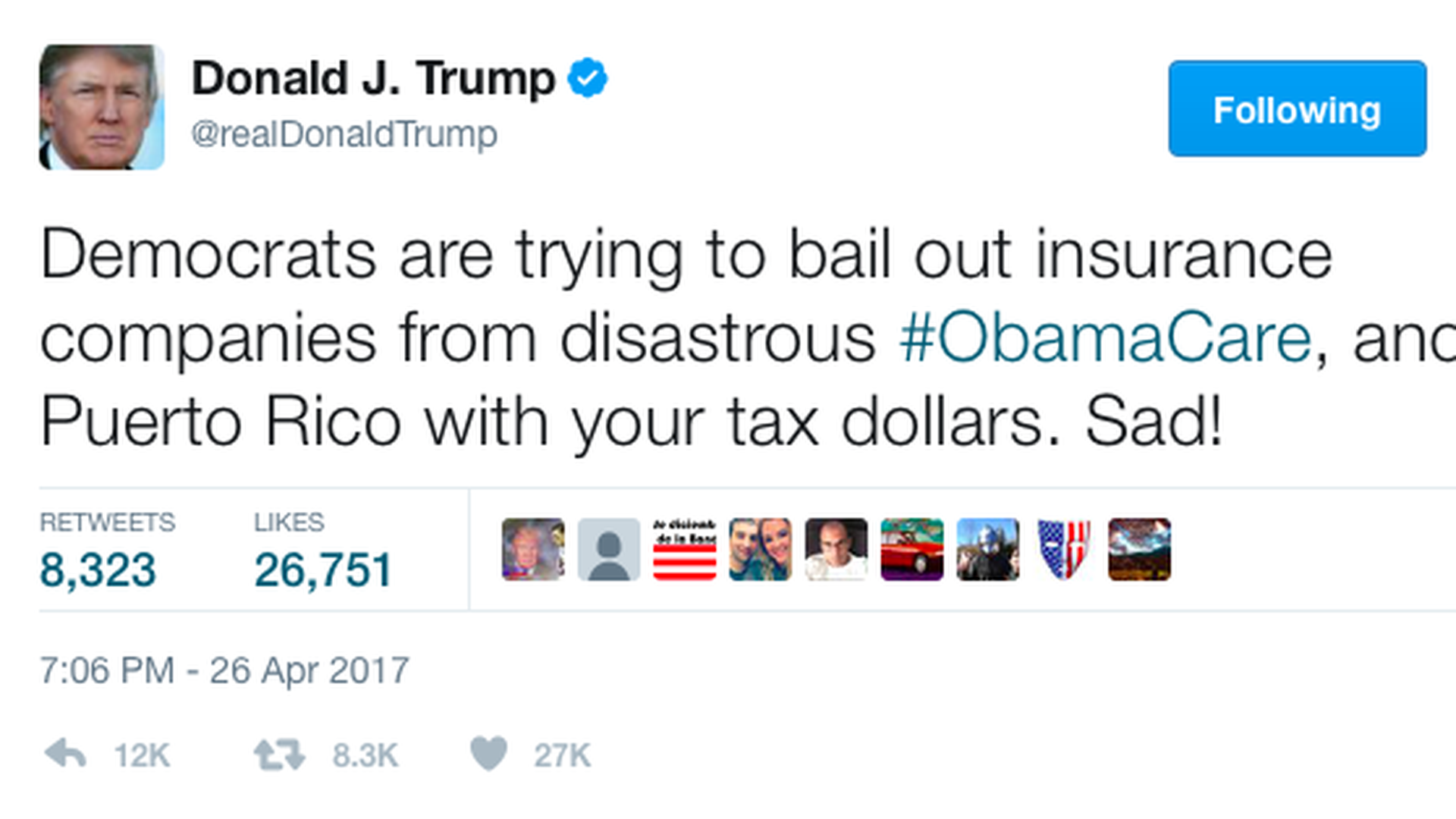 How excited should you get about the Trump administration promising it will keep making the ACA payments to insurers? Not very. The administration is only saying it will keep paying for the cost-sharing reduction subsidies "for now," as one White House official told me. It hasn't decided whether the payments will continue in the long term. And that's the part insurers want to know.
Still, the assurances were enough to convince Democratic leaders to end the talk of a government shutdown if they didn't get the payments. House Minority Leader Nancy Pelosi had a terrible conversation with Office of Management and Budget director Mick Mulvaney in which Mulvaney wouldn't promise to make the payments next month. Then Pelosi got on the phone with White House chief of staff Reince Priebus, and that part was settled, at least.
What to watch: The House Republican lawsuit against the payments still has to be resolved before there can be a long-term solution. Lawyers for Congress and the Justice Department are supposed to give their next update to a federal appeals court on May 22. They asked for more time to work things out so the court doesn't have to decide the case, but that doesn't seem to be happening. (Unless there's a permanent appropriation later, but it's not happening now.)
On the bright side: Congress is going to pass a one-week spending bill to keep the government open through May 5 while they work out a final funding deal.
What we learned: Always put congressional Democrats on the phone with Priebus. Never put them on the phone with Mulvaney.
The rising and fading optimism among insurers
Centene CEO Michael Neidorff thinks the cost-sharing reductions in the ACA have "bipartisan support," and Anthem CEO Joseph Swedish said his company will file 2018 rates assuming the subsidies get funded before early June. Bob Herman notes that those are encouraging statements from the two biggest national exchange insurers. But there's still no guarantee that the Trump administration will keep making the payments in the long term.
If cost-sharing subsidies are not funded, Swedish said Anthem would:
Hike premiums by more than 20%.Eliminate some ACA health plan products.Reduce participation or exit some markets entirely, perhaps starting a chain reaction.
Why this matters: This is the worst fear of health policy analysts and consumers. Anthem is still on track to break even or even make a profit on its ACA plans this year — a fact that should not be lost in the debate — but Swedish said Anthem will only stay in marketplaces that have a "visible path toward sustainability." No cost-sharing reductions = no sustainability for most insurers.
A defense of the pre-existing conditions compromise
Christopher Condeluci, a member of the Axios board of experts and a former Senate Republican aide, wrote a piece for us that argues the GOP health care compromise has a narrower impact on pre-existing conditions than a lot of the coverage has suggested. It doesn't end the requirement for insurers to cover people with pre-existing conditions, he writes, or even let all insurers charge higher premiums for sick people.
His conclusion: the impact is pretty limited. In states that get waivers, people with health conditions could be charged more if they lose coverage and don't replace it within 63 days. And even if that happens, states only get those waivers if they have high-risk pools or an "invisible high-risk pool" program (which compensates insurers for covering expensive patients). So if regular insurance gets too expensive, they'll have a backup way to get coverage.
But those state waivers are pretty easy to get
Maybe too easy for the amount of trouble they could cause people with pre-existing conditions, according to Yvette Fontenot, a former Senate Democratic aide and another member of the Axios board of experts. She says there's a big difference between the state waivers that the Affordable Care Act already allows and the ones the GOP is proposing:
The waivers under the ACA require a state to maintain coverage that is at least as comprehensive and affordable as would be provided absent the waiver, provides coverage to a comparable number of residents, and does not increase the federal deficit.
They also require public hearings "sufficient to ensure a meaningful level of public input" and a notice and comment period at the state level.
Under the House proposal, a state only has to promise that waiving an individual's right to essential benefits and a fair premium will "increase the choice of health plans."
Her conclusion: "Given the potential impact on an individual's health coverage possible under this amendment, that lack of transparency and protection is very concerning."
Medical device companies hate India's new price cap
Do you hear a sound coming from halfway across the globe? Bob Herman does, and it's the U.S. medical device industry crying foul over a price cap in India. India's government caps payments for drugs and medical devices (an idea that's anathema to almost all politicians and executives here), and in February, it slashed the ceiling price for heart stents by about 85%.
The fallout: Abbott and Medtronic have already yanked a couple of their highest-priced stents off the Indian market, according to India's Financial Express, and Boston Scientific may follow suit with some of its stents as well.
Yes, but: Many companies are still selling heart stents in India. It's difficult to walk away from a market with 1.3 billion people.
What we're watching today: Senate HELP Committee vote on Gottlieb (Take 2), 10 a.m. Eastern; Trump signs executive order creating an Office of Accountability and Whistleblower Protection at the Department of Veterans Affairs; HHS secretary Tom Price speaks at Health Datapalooza, 8:10 am Eastern.
What we're watching this week or next week: Maybe that big health care vote we were all promised last month?
Thanks for reading, and always remember to send tips and feedback: [email protected]