Axios Vitals
February 15, 2017
Happy Friday! (You wanted to believe me, didn't you?) The road to Obamacare repeal isn't getting any smoother, and Humana became the first big insurer to say it's quitting Obamacare completely. Oh, and Cigna is quitting Anthem, and making it official with a nasty lawsuit.
The Obamacare repeal suspense builds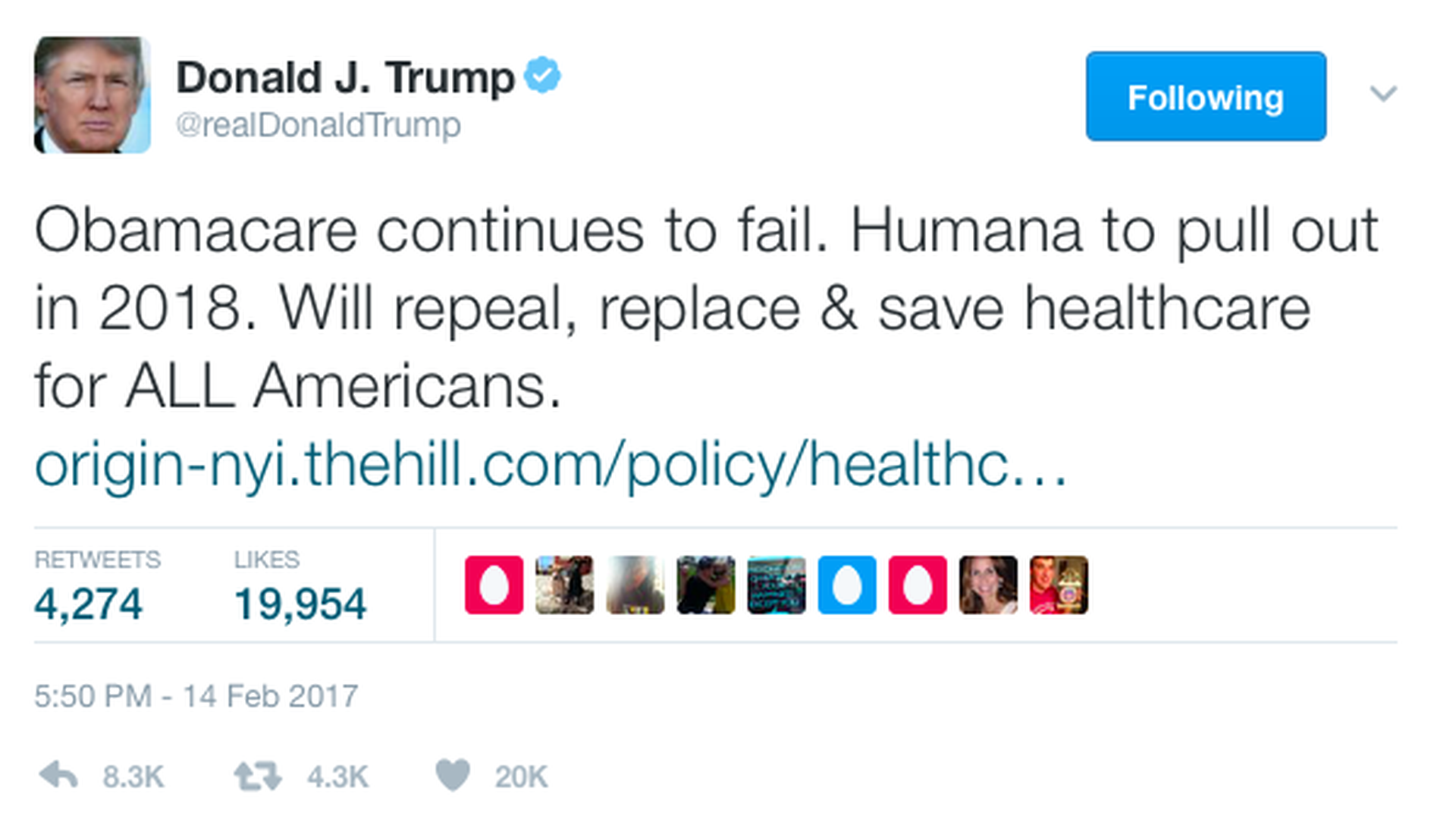 If you were following Obamacare developments yesterday, you probably got as dizzy as we did. So here's the quick rundown:
The "repeal first" Republicans are getting louder, in both the House and the Senate.
They're less interested in a replacement than other Republicans, and they don't want the search for a replacement to slow down the process.
But Republican leaders are still planning to put as much replacement as possible into the repeal bill.
One of the biggest sticking points, as Caitlin Owens reported last night, is the future of Medicaid expansion.
While Republicans are figuring it out, Humana announced it's pulling out of all Obamacare exchanges next year, per Bob Herman.
President Trump saw the Humana news and tweeted about it.
What it means: Republicans keep promising a smooth transition after Obamacare is repealed — but health insurers don't seem to be buying it. A meltdown in the Obamacare health insurance markets could become a real thing. If it does, it doesn't matter if Republicans promise to keep covering Obamacare's customers, because there won't be enough health insurers left to take them.
What's less than "Obamacare Lite," but more than nothing?
That's going to be the key to whether Republicans can bring their factions together to actually pass a repeal bill. They're not going to get a lot of their members with a straight repeal and no replacement, and House Speaker Paul Ryan is still pitching his "Better Way" plan as the template for their replacement goals.
But the Freedom Caucus and other hardliners are making it clear they don't want to pass anything that could be seen as "Obamacare Lite," as Rep. Raul Labrador put it yesterday. Outside conservative groups have been warning about that too. They don't want Republicans to try to measure their replacement by Democrats' goals, including trying to cover as many people, because they don't think Republicans will ever beat Democrats at that.
Key quote: " If we're just going to come back with something that does the same thing, but changes a couple of things and we just call it TrumpCare or RyanCare, then what was our fight about for the last six years?" — Labrador
Yes, but: Not everyone in Republican circles is sweating it. "We're doing the same repeal we did last time and adding as much replace as possible, which is what everyone says they want," one senior GOP aide told me. And don't forget, the conservatives have every incentive to push for "repeal first" as much as they can — but no Republican has any incentive to let the whole effort fall apart.
The IRS may be looking the other way on individual mandate
Reason's Peter Suderman discovered a big change the IRS made while no one was looking: It's going to stop requiring people to fill out the line on your 1040s where you're supposed to say whether you had health coverage. In other words, it's not really enforcing the individual mandate. In a statement to Reason, the IRS acknowledged a link to President Trump's executive order that told agencies to start relaxing the rules on Obamacare: "The recent executive order directed federal agencies to exercise authority and discretion available to them to reduce potential burden."
Who had the worst Valentine's Day? Anthem and Cigna
Oh, Anthem and Cigna — why were you trying to get together in the first place? You were a terrible couple. Cigna sued Anthem yesterday to stop the merger efforts, after a federal judge ruled against them last week (Anthem was thinking of appealing). Bob Herman has some great details on the back story: The two companies never got along, especially after Cigna CEO David Cordani wanted to run everything after the merger, and the lawyers fought all the time.
Look at the growth in high-deductible plans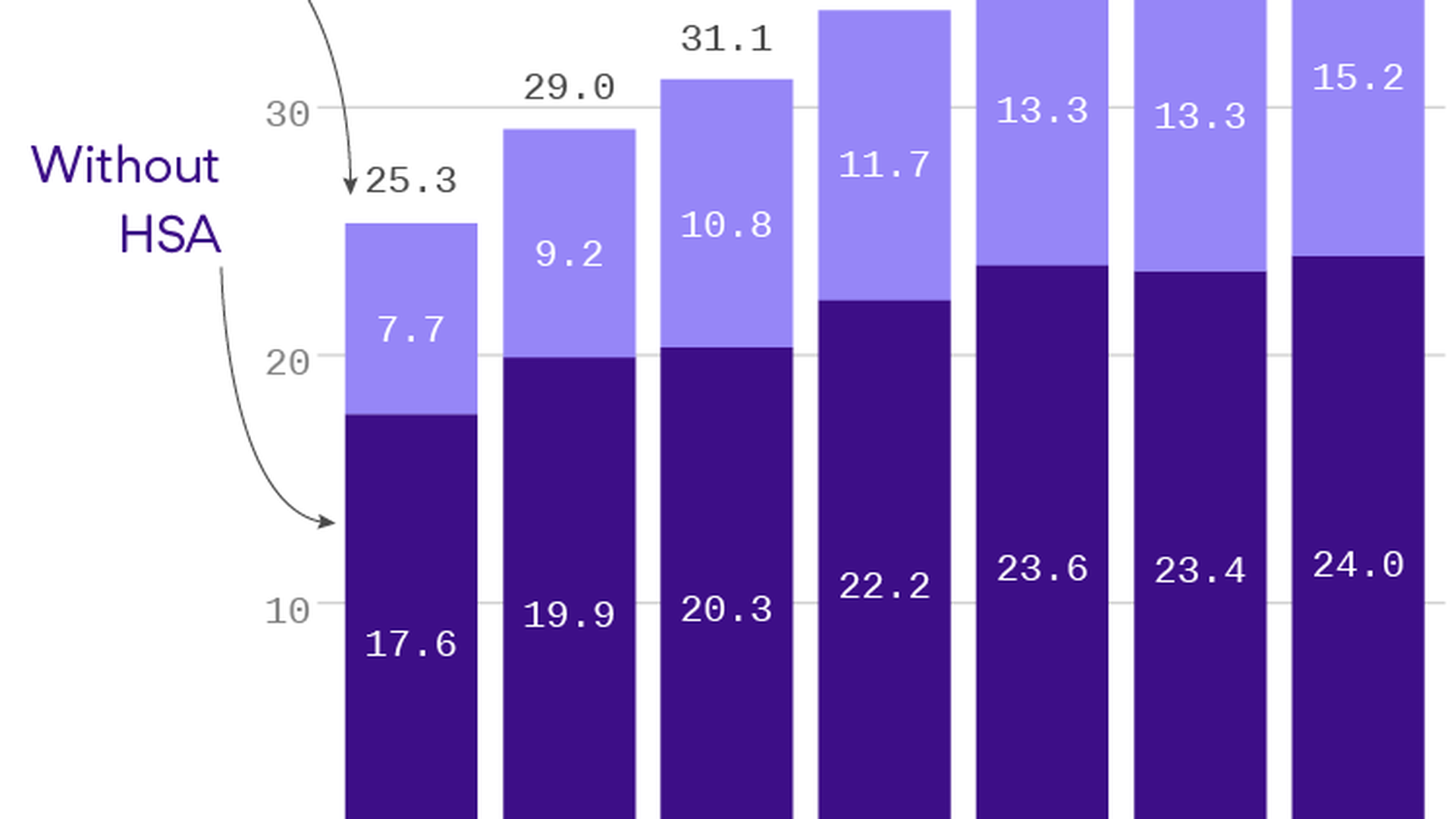 Bob Herman noticed a pretty important development in yesterday's release of new federal health insurance numbers: high-deductible health plans are on the rise, too. As of last year, more than 39 percent of all non-elderly Americans had a health plan with a big deductible, up from 25 percent in 2010. That includes people who had a health savings account as well as people who just have to pay the costs straight up.
The policy problem: Higher out-of-pocket health care costs may make people more cost-conscious, but they also hit lower-wage workers harder than everyone else. Families USA's Lydia Mitts wrote about the results, based on a recent Health Affairs study: less preventive care, more hospital care for avoidable health issues.
The political problem: This is happening everywhere, not just in Obamacare, but Republicans have turned the high-deductible Obamacare plans into one of their most powerful attacks on the law. And yet, they're still pushing for wider use of health savings accounts, which are tied to high-deductible health plans. The reality, as the latest numbers show, is that big deductibles are becoming a common way to keep health insurance premiums down — for employers as well as Obamacare, and whatever comes after it.
The dangers of "reciprocal approval" of drugs
On Monday, I wrote about the idea of giving "reciprocal approval" of drugs that have already been approved in other countries with high regulatory standards. Turns out there's a new study in BMJ Open about what would have happened if we'd had that kind of system between 2001 and 2010. The conclusion: It would have helped people with rare diseases, but it could have been dangerous for the larger population of patients. (One of the study's authors, Frank David, was nice enough to translate it into English for Forbes.)
Important note: Reciprocal approval was one suggestion from the Manhattan Institute's Paul Howard on how to address problems like the Marathon price hike. But Howard recommended making it optional for the Food and Drug Administration — not mandatory, as Sen. Ted Cruz has suggested — so the FDA could reject the option if it had a strong reason to believe the drug shouldn't be approved.
Don't believe the hype about Patrick Soon-Shiong
The billionaire has had a way of drawing attention to himself and his work — advising former Vice President Joe Biden on his "cancer moonshot" effort, promoting his own "Cancer MoonShot 2020" initiative, and even talking to President Trump about a senior health care role in the new administration. But STAT's Rebecca Robbins had a devastating look at the reality of his cancer research work: it really hasn't made much progress at all.
Key quote: "The initiative appears to be an elaborate marketing tool for Soon-Shiong — a way to promote his pricey new cancer diagnostic tool at a time when he badly needs a business success, as his publicly-traded companies are losing tens of millions per quarter. STAT also found several instances of inflated claims, with the moonshot team taking credit for progress that doesn't appear to be real."
What we're watching today: Health and Human Services secretary Tom Price talks to Senate Republicans about Obamacare repeal; national health expenditures report to be released.
What we're watching this week: Senate Finance Committee confirmation hearing for Seema Verma, Thursday; the release of the HHS rule to stabilize the Obamacare markets, any day now. Could even be today.
Gimme a shout if you've figured out how the repeal drama is going to end: [email protected].