Axios Vitals
September 13, 2018
Good morning ... Situational awareness: The Senate's vote on opioids legislation, initially scheduled for this week, will slip to next week.
1 big thing: Medicaid is the ACA's workhorse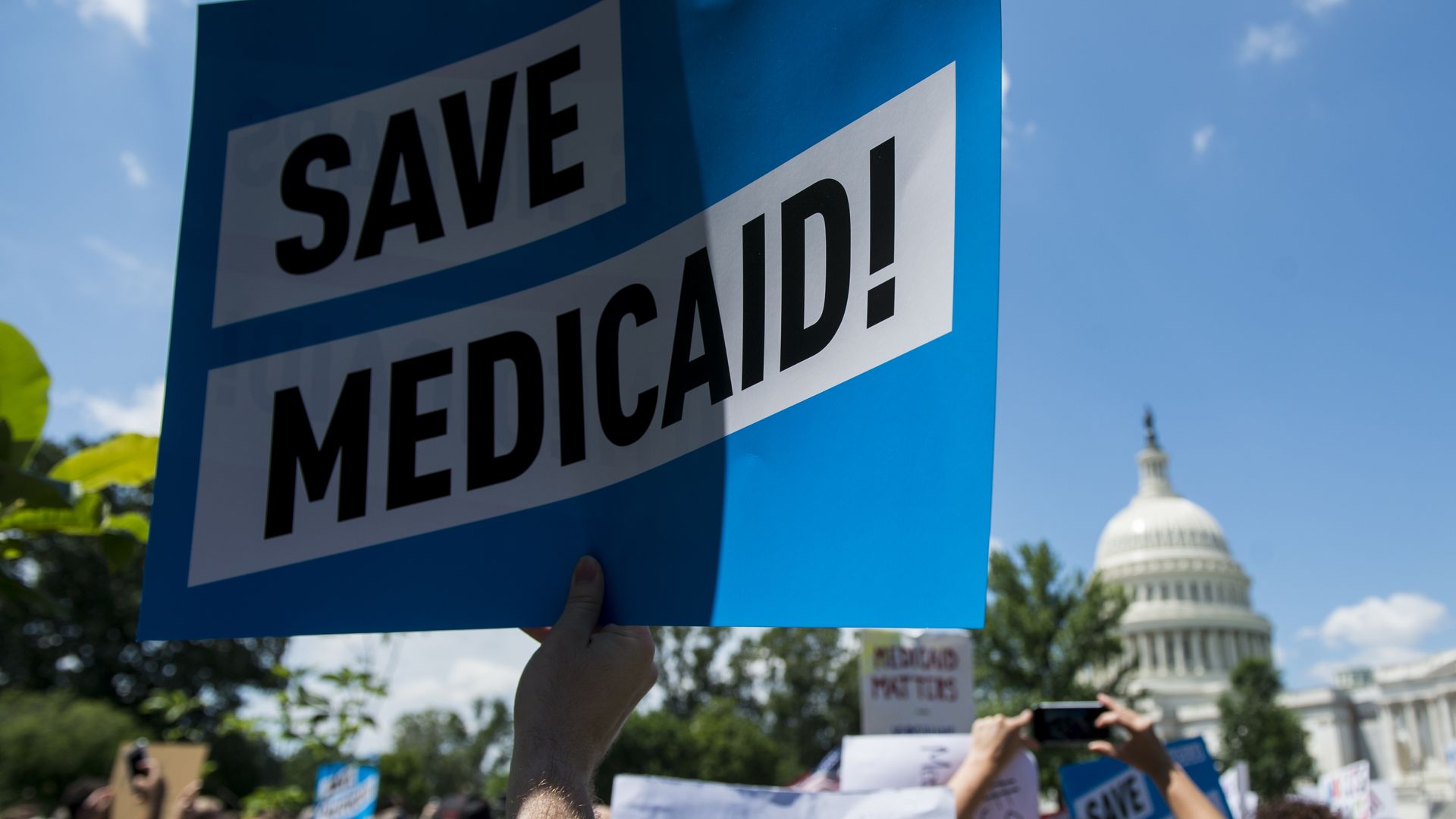 The Affordable Care Act's insurance exchanges have been the law's headline feature over the past eight years, but the law's Medicaid expansion has covered just as many people, and its rolls are more likely to grow under the Trump administration.
Driving the news: Roughly 8.8% of Americans were uninsured last year, according to new Census figures released yesterday — essentially unchanged from 2016. That means the Trump administration has not kept the ACA's coverage gains going, nor has it successfully rolled them back — at least, not yet.
However you slice it, states that expanded Medicaid cover more people, with more stability.
The uninsured rate rose last year in non-expansion states, even as it held steady nationally.
It's no big surprise that more low-income families would have insurance in expansion states than non-expansion states. But expansion states cover more people across the board, including people whose incomes would make them ineligible for Medicaid.
What's next: The Trump administration has mostly muddied the waters for the ACA's exchanges, rather than blown them up. Its biggest threat to the Medicaid expansion is its willingness to approve work requirements for the program.
Those new rules are just getting started, and the impacts can be significant: Arkansas has booted more than 4,000 people off the program in just one month.
Yes, but: More states are also likely to opt into the expansion this year or next, and work requirements are facing a challenge in the courts.
The same judge who previously blocked Kentucky's work requirements from taking effect will also decide the fate of Arkansas' policy. Judge James Boasberg said yesterday that the two are related and he'll keep them both.
2. Looking ahead on the PBM rebate rule
HHS Secretary Alex Azar spoke with Bloomberg  yesterday about drug prices, and one particular quote stood out to my colleague Bob Herman. It's tied to the still-mysterious proposal to alter drug rebates:
"There will be margins, there will be businesses," [Azar] said, implying the changes aren't designed to dismantle companies. "They will reorient their business models, and the channel will reorient around any changes we make to the rules of the road." 
Between the lines: Some analysts have wondered if Azar would make drug rebates illegal altogether, considering that pharmacy benefit managers have been an easy political target in the drug pricing debate.
But Azar's comments indicate that PBMs aren't going to face catastrophic change — and that the administration may be overselling some of its drug pricing reforms.
Situational awareness: Azar also spoke to Wall Street investors and pharmaceutical companies yesterday at the Morgan Stanley Global Healthcare Conference in New York. There was no public livestream, and audio/transcript of his speech was not immediately available.
He's slated to speak this afternoon at the Financial Times' Pharma Pricing and Value Summit.
3. Apple Watch is now (kind of) a heart monitor
Apple expanded its health care footprint yesterday with its latest Apple Watch, adding features that can monitor users' heart rates and also detect falls.
The big picture: Apple is carving out a consistent niche for itself as the tech industry more broadly searches for ways into the health care market.
The fitness and health monitoring functions of the Apple Watch are already one of the company's selling points, and its recent move to help consumers more easily access and store their own health records has gotten good reviews.
There are limits to the watch's new capabilities. The Food and Drug Administration signed off on Apple's heart-monitoring features, but said consumers should use them "for informational purposes only" and should not use them as the basis for any clinical decisions without consulting a doctor first.
Doctors said the new features could help patients quickly identify an irregular heartbeat, but could also lead to false positives and over-treatment.
One cardiologist "said it isn't clear whether the watch's benefits in detecting asymptomatic cases outweigh such risks," the Wall Street Journal reports.
He's not alone, as UCSF scientist Ethan Weiss tweets:

4. Poll: Nobody's doing enough on drug prices
Voters say pretty much everyone in Washington is dropping the ball on prescription drug prices, according to a new survey from the nonpartisan West Institute and NORC at the University of Chicago.
By the numbers: 50% of those surveyed said they disapprove of the way congressional Republicans are handling drug prices, compared with 46% disapproval for Trump and 43% for congressional Democrats.
23% said they approve of President Trump's approach to the issue, compared to 20% for Democrats and 16% for congressional Republicans.
Three specific policy proposals scored an approval rating of 80% or higher: direct Medicare price negotiations, more generics, and "requiring drug companies to release information to the public on how they set their drug prices."
Echoing a slew of other polls, this survey also found that health care — and costs, specifically — is one of voters' top concerns in the midterm elections.
5. "Recovery houses" resist a powerful tool
Medication-assisted therapy is gaining more widespread acceptance as an effective treatment for opioid addiction, but there's still at least one important holdout: "recovery houses" where people battling addiction live together.
"A lot of recovery house operators are closely aligned with 12-step programs, which often count methadone or buprenorphine — technically opioids — as a violation of their abstinence-only rules," NPR reports.
Why it matters: Public health experts have largely praised the growing acceptance of medication-assisted therapy, especially from some of the Trump administration's top health care officials. But there's still a stigma to overcome, despite evidence these products can make a big difference for people in recovery.
I always welcome your tips and suggestions: Simply reply to this email or find me at [email protected].