Axios Vitals
March 01, 2019
Good morning ... Was this email forwarded to you? Sign up here.
1 big thing: What pharma does with its money
Critics often point to pharmaceutical companies' fat profits as proof that they don't need to charge so much for drugs. Those companies, on the other hand, point to their research budgets to argue that they're using their sales to fund new treatments.
Axios' Caitlin Owens wanted to know who's right.
Reality check: The biggest drug companies generally spend more money on research than they keep in profits — although their profits are still healthy.
Between the lines: Drug companies have plenty of other costs besides research, including their ample marketing budgets.
Many of these companies spend less than a quarter of their total revenues on research and development.
And drugmakers are still wildly profitable — far more than any other part of the health care industry. They brought in just 23% of the health care industry's revenue in the third quarter of last year, but accounted for 63% of its profits.
2. What people think pharma does with its money
The public believes research costs and industry profits are both big factors in drug pricing — a perception that's pretty well aligned with the reality of where pharma's money goes.
By the numbers: The Kaiser Family Foundation's latest tracking poll asked respondents to identify the "major factors" contributing to high drug prices. They could pick more than one.
80% said industry profits are a major factor.
Smaller-but-still-pretty-big majorities cited the factors that drugmakers usually point to instead.
69% identified research costs as a major cost driver, and 63% put "major" responsibility on pharmacy benefit managers.
On balance, the public seems skeptical of pharma.
Most people — 71% — said they trust drug companies to come up with new and effective drugs, and to be honest about those drugs' safety and effectiveness.
But just 25% said they trust the industry to price its products fairly.
Yes, but: This poll also indicates that drug prices aren't a problem for most people.
75% said it's easy to afford their prescriptions, and 45% said they pay less than $25 per month. Unsurprisingly, poorer people and those in worse health had a harder time covering their bills.
3. FDA: Beware robotic surgery for cancer
Researchers have long been skeptical about whether surgical robots lead to better clinical outcomes than traditional surgical techniques. And now the FDA wants to make sure more patients and surgeons are aware of the pitfalls, my colleague Bob Herman reports.
What they're saying: Surgical robots have not been officially labeled as safe or effective "in mastectomy procedures or the prevention or treatment of cancer," the FDA wrote Thursday in a public safety notice.
Translation: Patients should be studious. Doctors should fully explain the risks or robotic surgery, and shouldn't hype it up.
By the numbers: Intuitive Surgical, one of the world's largest makers of surgical robots, collected more than $1.1 billion of profit from $3.7 billion of revenue in 2018. Intuitive's stock is up 161% since the start of 2017, putting the company's market value around $63 billion.
4. The once and future marijuana industry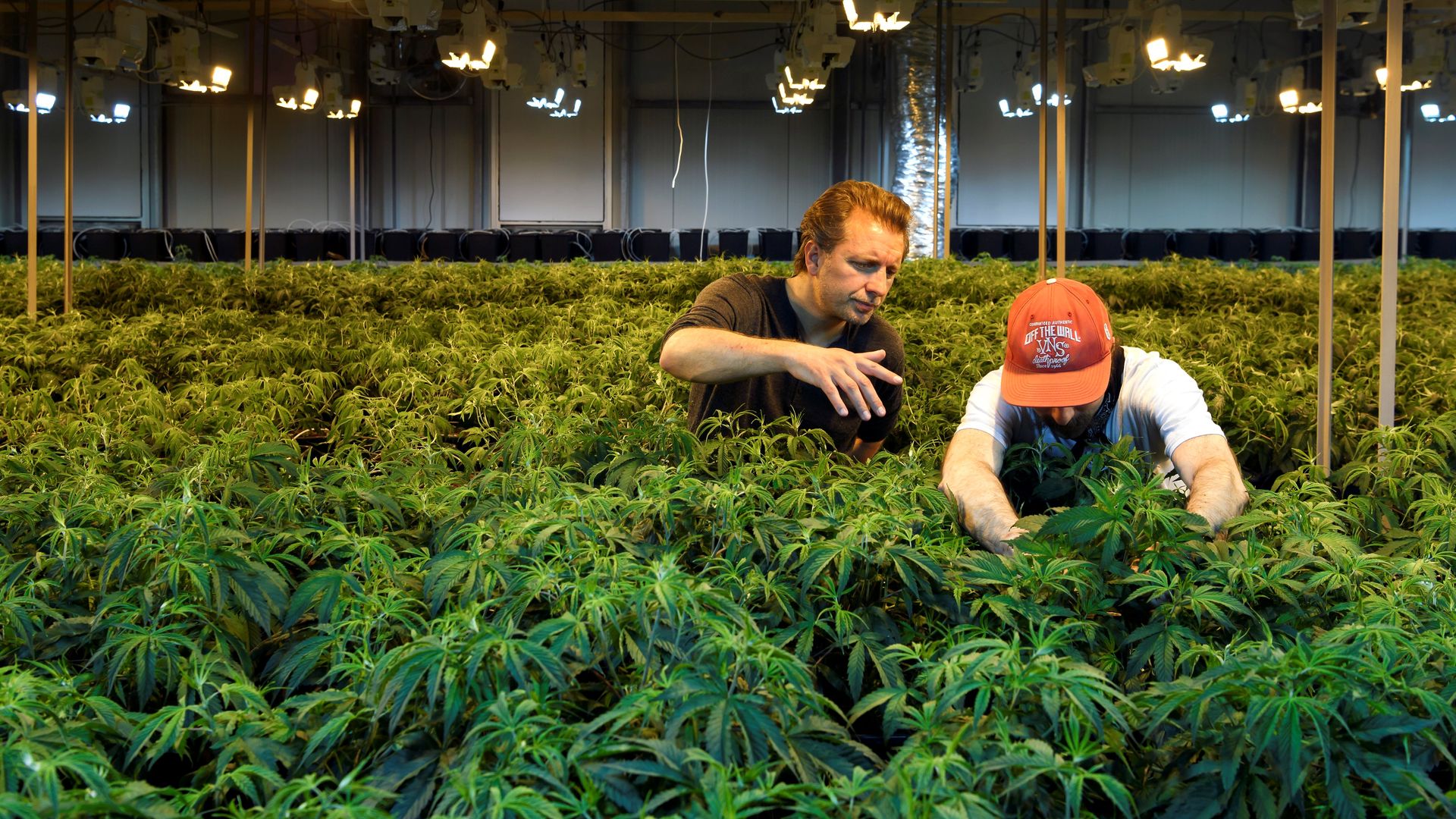 Everything old is new again for medical marijuana.
Business is booming. Short sellers got hammered this week as marijuana stocks continued to climb, driven in part by a Canadian company's plans to sell a new medical patch that relies on cannabis oil.
Today's weed industry is dominated by relatively small startups. But one of the biggest names in prescription drugs also used to have a hand in medical marijuana.
Eli Lilly once owned more than 150 acres of marijuana farms, according to this fascinating history lesson from Indianapolis Monthly.
Several drug companies imported cannabis from India in the 1800s, the magazine says — including Lilly, which sold 23 cannabis-based products.
After World War I, those imports were harder to come by, so Lilly bought up some Indiana farmland and started growing its own. A 1927 catalog boasted of "advanced methods of seed selection and cultivation," producing "cannabis of high potency."
Lilly has no plans to try again now that weed is back in the mainstream.
"For a time in the early 20th century, we manufactured cannabis-based medicines before cannabis was classified as a controlled substance. Lilly is not engaged in cannabis research and does not plan on being engaged in cannabis research in the future," a company spokeswoman told Indianapolis Monthly.
5. 1 fun thing: The low bar for "Top Docs"
You've probably seen those glossy lists of Top Doctors/Top Docs/Super Docs/etc. If you're like me, you've probably just kind of assumed it's probably B.S., but not interrogated it any further. Turns out, you were right.
ProPublica journalist Marshall Allen tells the story of how he became an "official" Top Doctor, despite not being a doctor at all.
It started with an unsolicited phone call, Allen writes, telling him he'd been nominated by his fellow doctors as a "leading physician," and could memorialize this achievement with a very nice plaque for just $289.
The offer still stood even after Allen disclosed that he's not a doctor, and in fact the price came down to $99.
Other doctor-listing companies told Allen they compile their lists using a referral system.
One emphasized that it checks nominees' backgrounds, which Allen notes anyone can do using public records.
Another, which lists Super Doctors, pointed to a legal disclaimer that says calling someone a Super Doctor is not a statement about whether they are a good doctor.
The best part is a New York doctor who was in the same listing as Allen, and explained that he's not surprised he was nominated because "I'm sort of in that echelon or class."
He changed his tune, Allen writes, once he found out a journalist was also a Top Doctor.