Axios Vitals
March 21, 2017
Good morning ... Republican leaders are changing the House Obamacare replacement bill, but not enough to put down the conservative rebellion, which is fine because it's only Tuesday and we're supposed to hold our breath until Thursday night. Meantime, President Trump is still talking about taking on drug prices in this bill, and Republicans aren't sure why.
Trumpcare gets a makeover, but not an extreme one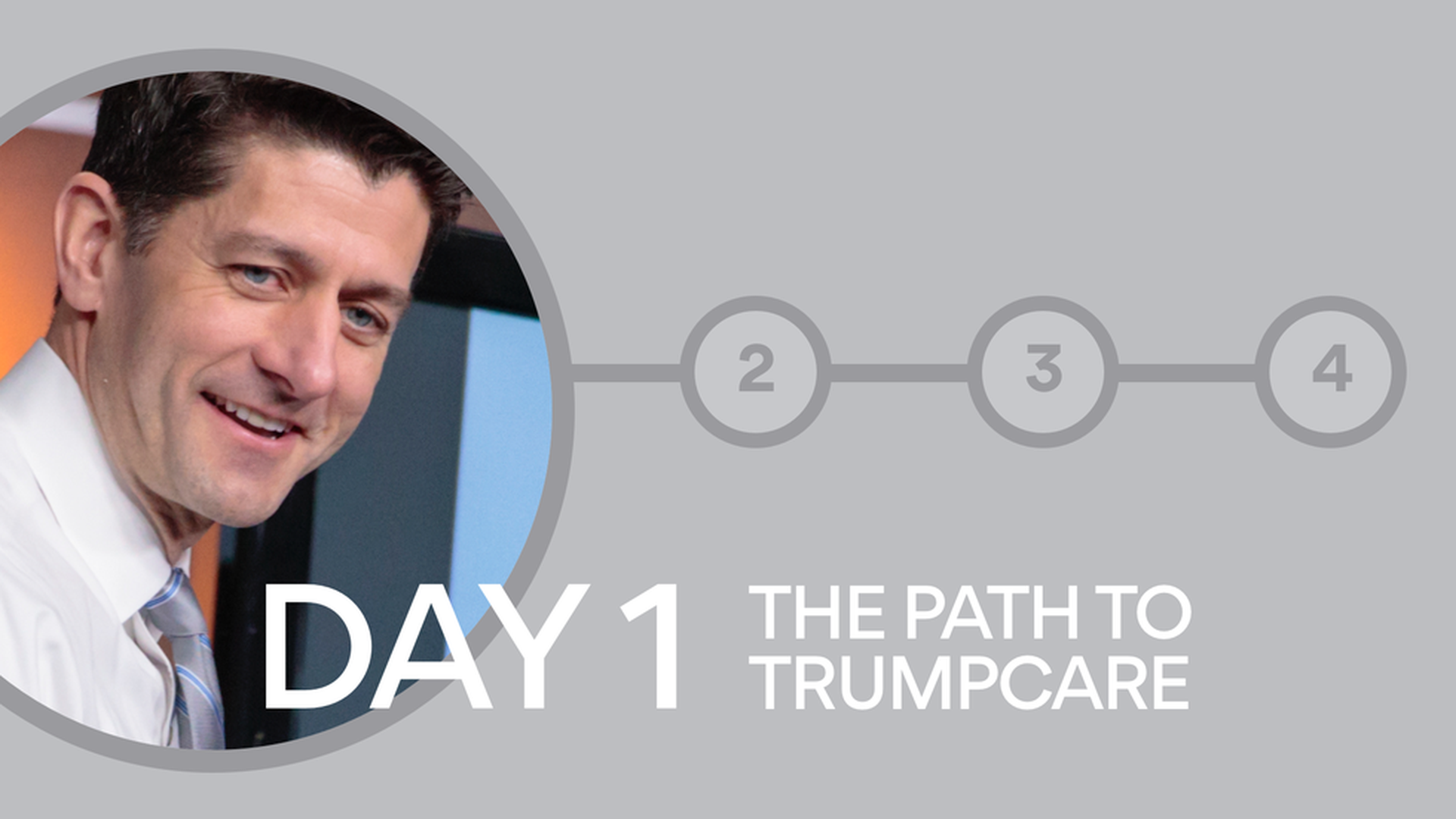 So after all of that talk about big changes to the House Obamacare replacement bill, Republican leaders skipped some of the biggest ones they could have made. They did give some concessions to conservatives and moderates in the manager's amendment they released last night, but they also did a lot of punting. That means we will still have lots of drama between now and Thursday night.
The biggest actual changes the House GOP is making:
States can now choose Medicaid per capita caps or block grants.
There will be an optional Medicaid work requirement (with extra federal funds for states that do it).
There will be a more generous Medicaid inflation adjustment for the costs of elderly and disabled.
Obamacare taxes get repealed a year earlier.
The punting change:
A reserve fund to beef up the tax credit, especially for the low-income elderly, but no actual change to the tax credit. That's up to the Senate.
What they left out:
It doesn't end the Medicaid expansion earlier, as conservatives wanted. Rep. Joe Barton could still bring that to the Rules Committee on Wednesday.
It doesn't try to repeal Obamacare's insurance regulations. GOP leaders say that can't be done in a budget "reconciliation" bill, but conservatives want them to try.
These may not be good enough for the Freedom Caucus. Chairman Mark Meadows told Jonathan Swan that "our leadership is going to put forth a bill that does not address any of the concerns in a meaningful way and will dare us to vote against it." He says the group won't take a formal position against it, so that frees up some group members to vote for it.
But not Rep. Justin Amash, who tweeted: "They haven't changed the bill's general framework. They don't have the votes to pass it. They have seriously miscalculated." Get ready for suspense!
Sometimes Trump just says stuff
Here's what he said in Kentucky last night: "We are also going to work on bringing down the cost of medicine by having a fair and competitive bidding process....We're trying to add it to this bill and if we can't we're going to do it right after."
Sounds like drug pricing, right? Specifically, letting Medicare negotiate drug prices, like he talked about with Reps. Elijah Cummings and Peter Welch? I've asked some Republican aides. They didn't know anything about it.
A former Price colleague will handle health tech for HHS
Didn't see this one coming: former Rep. John Fleming is going to join Health and Human Services secretary Tom Price's team as the new deputy assistant secretary for health technology, NOLA.com reports. How does Price know him? Fleming was a vice chairman of the GOP Doctors Caucus, the group Price belonged to when when he was in the House.
Fleming says he wants to encourage doctors to use technology rather than considering it a headache. He wants to make it easier to transfer information to new digital filing systems and give incentive payments to doctors who use technology.
Reminder: Price doesn't like bundled payments
It shouldn't come as a surprise, then, that the federal government delayed the start date yesterday of a big bundled payment program from July 1 to October 1, per Bob Herman. The bundled payment programs pay hospitals in certain metro areas lump sums of money for specific procedures, like heart attacks and joint replacements, for a 90-day period. The Obama administration championed bundled payments as a way to save money and reduce incentives for unnecessary care, but Price (an orthopedic surgeon) believes the mandatory programs "commandeer clinical decision making."
What it would actually take to help the low-income elderly
Even if Republicans do beef up the tax credits in their bill to help the low-income elderly, the Center on Budget and Policy Priorities is warning that they're not likely to make up the damage that the bill would do through higher premiums and reduced tax help for the older adults. Here's how much the liberal think tank says the GOP would have to increase its tax credits to make them whole:
If insurers can charge higher premiums to older people compared to Obamacare: $13,000 (in 2026)
If they're not allowed to charge more: $9,000
Related: AARP is out with a poll this morning that shows 55 percent of voters age 50 and older believe the bill has an "age tax" by letting insurers charge older customers five times as much as young adults.
Infant mortality is declining, but still not great
How about some marginally good news? Bob Herman reports that the number of babies who die in the United States within a year of birth is falling, according to new numbers released this morning by the Centers for Disease Control and Prevention. In 2005, the United States had 6.86 infant deaths per 1,000 live births, and that figure dropped to 5.82 in 2014. Rates dropped for each race over that time span.
Yes, but: The United States still has relatively awful outcomes. The improved infant mortality measure places the United States in 31st place among developed countries, according to the Organization for Economic Cooperation and Development. And babies with a black mother are more than twice as likely to die as babies with a white mother.
What we're watching today: Trump visits Capitol Hill to meet with the House Republican Conference, 9:15 a.m.; speaks to the National Republican Congressional Committee March dinner, 7:30 p.m. House begins considering a bill to eliminate the antitrust protection for insurance providers. Also, Senate HELP Committee will hold a hearing on reauthorizing the Food and Drug Administration's user fee agreements, 10 a.m. Livestream here.
What we're watching this week: House Rules Committee takes up the Obamacare replacement package, Wednesday. Then, the big House vote, Thursday. The House will also vote on a bill to create association health plans.
Thanks, and pace yourselves for the huge health care week: [email protected].