Axios Vitals
January 05, 2021
Good morning.
Today's word count is 940, or a 4-minute read.
1 big thing: Most nursing home residents remain unvaccinated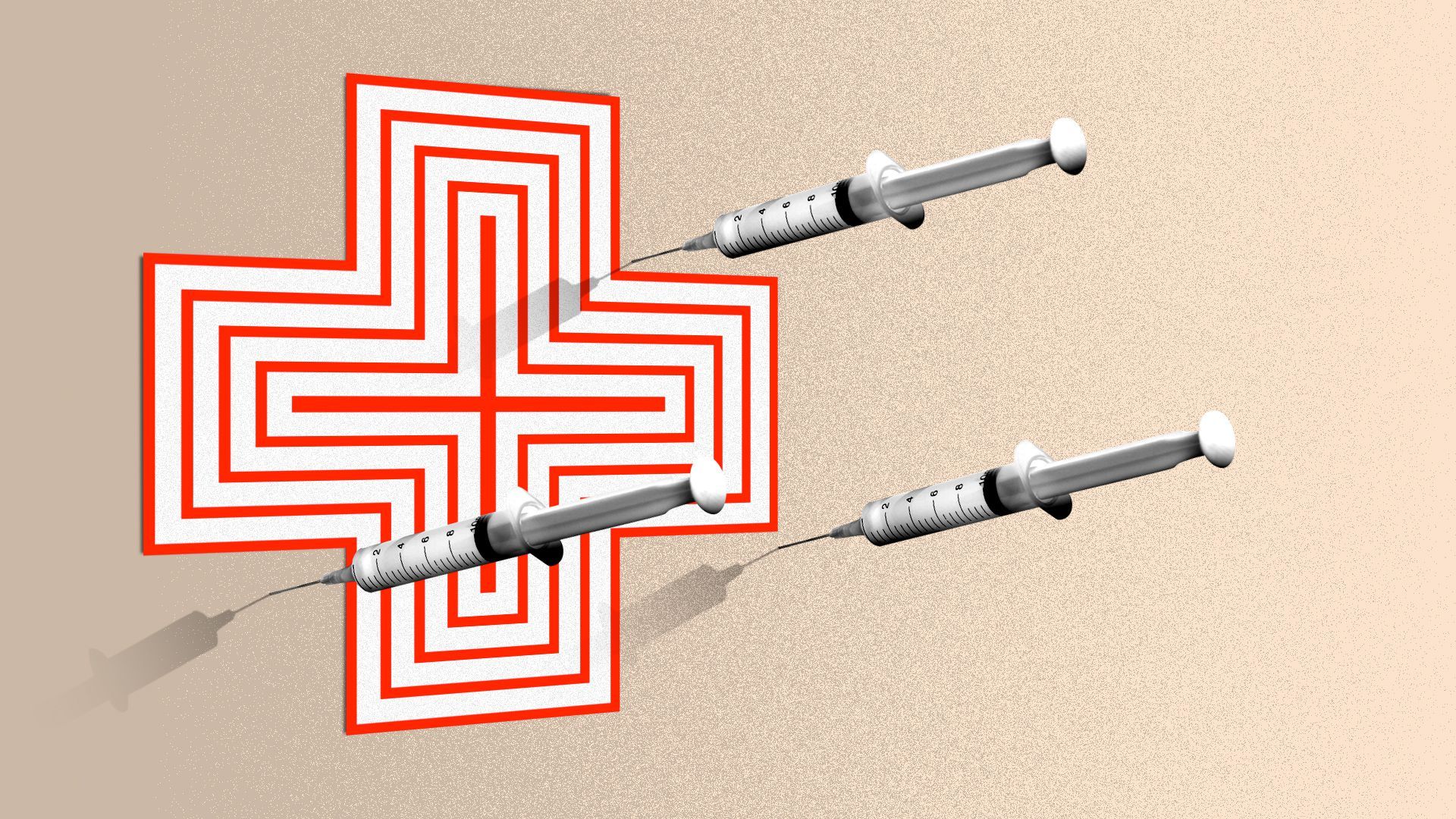 Only about 14% of the roughly 2.5 million COVID-19 vaccine doses distributed to nursing home residents and staff have been administered, according to data from the Centers for Disease Control and Prevention.
Why it matters: The slower-than-ideal rollout illustrates the complexity of vaccinating what should be one of the easiest populations to reach — and one that remains extremely vulnerable to the virus, Axios' Marisa Fernandez and I report.
The state of play: The federal government has partnered with CVS and Walgreens to administer vaccines to the vast majority of long-term care facilities.
CVS — which expects to vaccinate up to 4 million residents and staff at more than 40,000 facilities — began administering shots in 12 states the week of Dec. 21, and in another 36 states plus Washington, D.C. last week.
A CVS spokesperson said the rollout is going largely according to plan: "We've encountered no delays, save for some difficulties in getting confirmation from facilities on clinic dates and requests to avoid vaccinating on or around the holidays."
And some states began vaccinations in a specific subset of long-term care facilities, the spokesman added.
The other side: West Virginia opted out of the federal program, and Gov. Jim Justice said last week that every long-term care facility in the state now has doses in hand.
"West Virginia is a smaller state, but this still speaks to the delays with the federal model when they are wrapping up the first round and many long-term care facilities in other states have yet to be even offered the vaccination," said David Grabowski, a health policy professor at Harvard.
Between the lines: Vaccine hesitancy is a problem, especially among staff.
Getting consent from residents "has also slowed things down," Grabowski said.
2. Vaccine distribution leaves information vaccum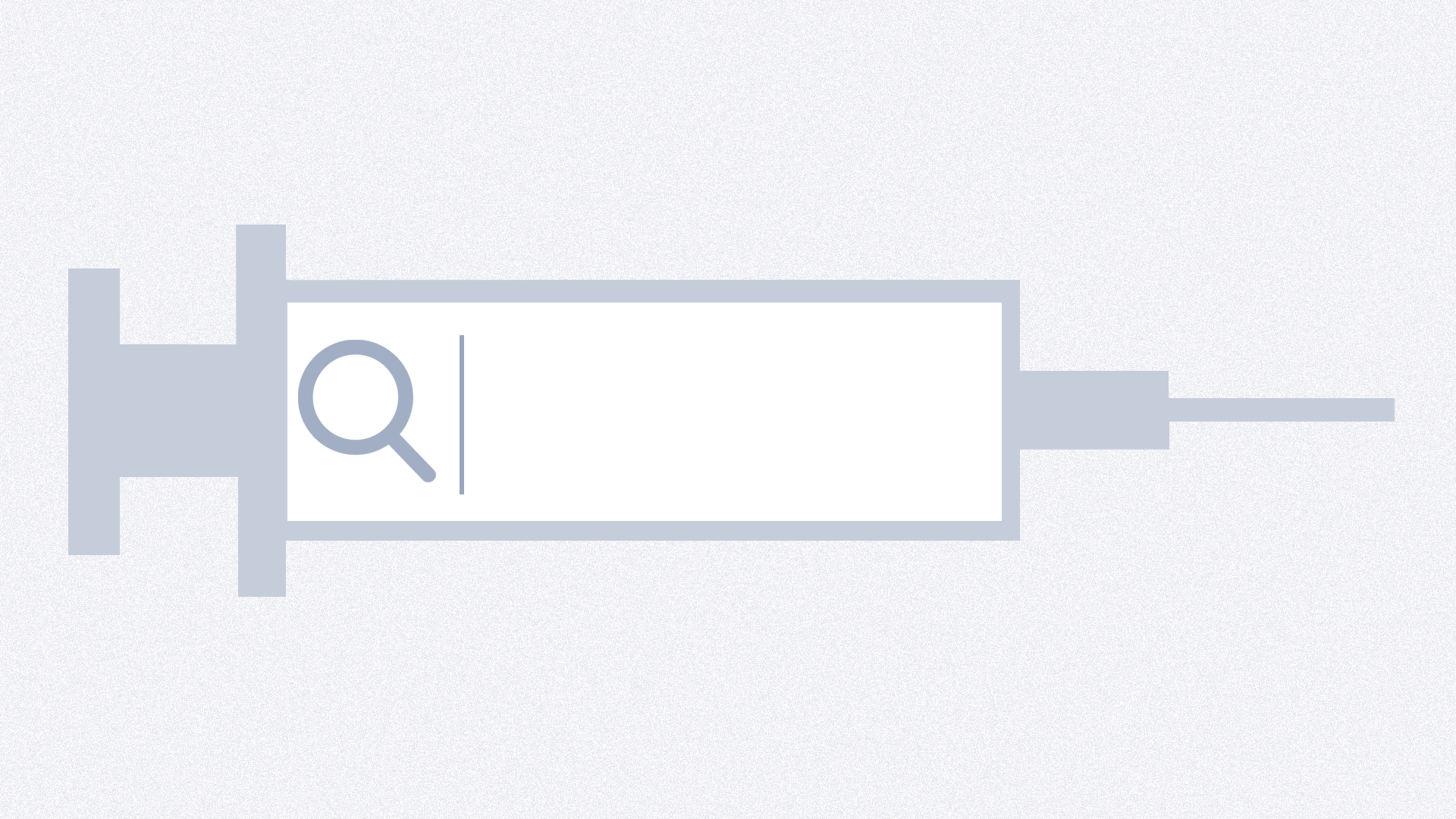 Local health officials are turning to online services like Eventbrite to improvise distribution schemes for the COVID-19 vaccine in the absence of federal support or a national plan, Axios' Ashley Gold and Sara Fischer report.
Why it matters: Millions of lives, along with the country's economic recovery, depend on a speedy and successful rollout of the vaccine.
But as people hunt for scarce information about vaccine availability and delivery processes, the lack of coordinated communication risks opening an information vacuum — into which misinformation could easily pour.
Driving the news: In Florida, a number of counties are using events platform Eventbrite, a platform known for selling concert tickets and coordinating happy hours, to schedule COVID-19 vaccine appointments.
What to watch: A lack of coordinated messaging around the vaccine rollout has left millions of people to search for answers online and via social media, opening space for confusion and misinformation.
Experts worry that big tech platforms, already reeling from election misinformation problems, are not equipped to help vet and verify vaccine rollout information.
3. Debating the origins of COVID-19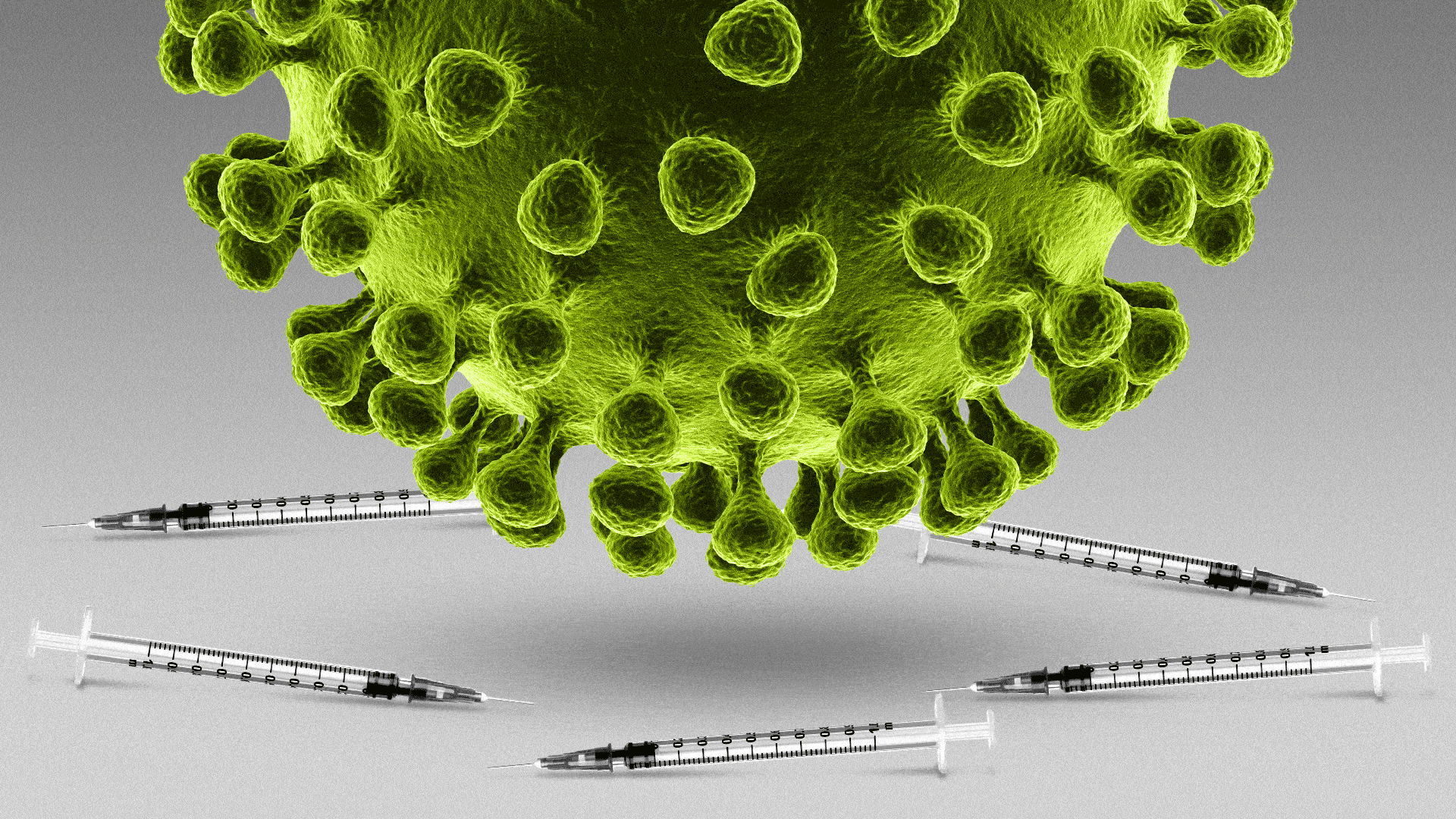 A World Health Organization team is beginning a long-delayed investigation in China into how SARS-CoV-2 emerged, as a theory about a possible lab accident is raised in a major magazine.
Why it matters: Understanding the origins of COVID-19 is vital if we're going to prevent the next pandemic, Axios' Bryan Walsh reports.
Driving the news: A year after the first COVID-19 cases were reported in China, a team of 10 international scientists under the auspices of the WHO is set to investigate the origins of the outbreak in the city of Wuhan.
The investigation will likely focus on fleshing out the prevailing theory of how the outbreak began: a bat coronavirus that somehow made its way to human beings in an example of zoonotic spillover.
The other side: But in a 12,000-word story published yesterday in New York magazine, the writer Nicholson Baker argued COVID-19 "was an accident."
Reality check: While Baker noted suspicious circumstances — like the fact that Wuhan is the only Chinese city that has a maximum security biosafety lab, where work had been done in the past on bat coronaviruses — there is little conclusive evidence in the piece that the virus originated in a lab.
"This article is filled with wild speculation about SARS-CoV-2's origins and signifies a lack of understanding around basic genetics and viral evolution," tweeted Nsikan Akpan, a pathobiologist and health and science editor at the radio station WNYC.
Yes, but: Speculation aside, there are still major questions about how COVID-19 emerged.
4. FDA says stick to the vaccine plan
The Food and Drug Administration released a statement last night throwing cold water, for now at least, on ideas to shake up coronavirus vaccine dosing regimens in order to stretch limited supplies.
What's happening: Some experts have been pushing ideas like delaying the administration of second doses or halving the vaccine dosage given in order to vaccinate more people sooner, but none of these methods have been tested in clinical trials.
What they're saying: "These are all reasonable questions to consider and evaluate in clinical trials. However, at this time, suggesting changes to the FDA-authorized dosing or schedules of these vaccines is premature and not rooted solidly in the available evidence," the FDA said in a statement.
"Without appropriate data supporting such changes in vaccine administration, we run a significant risk of placing public health at risk, undermining the historic vaccination efforts to protect the population from COVID-19."
Go deeper: America's vaccine rollout: What went wrong
5. Catch up quick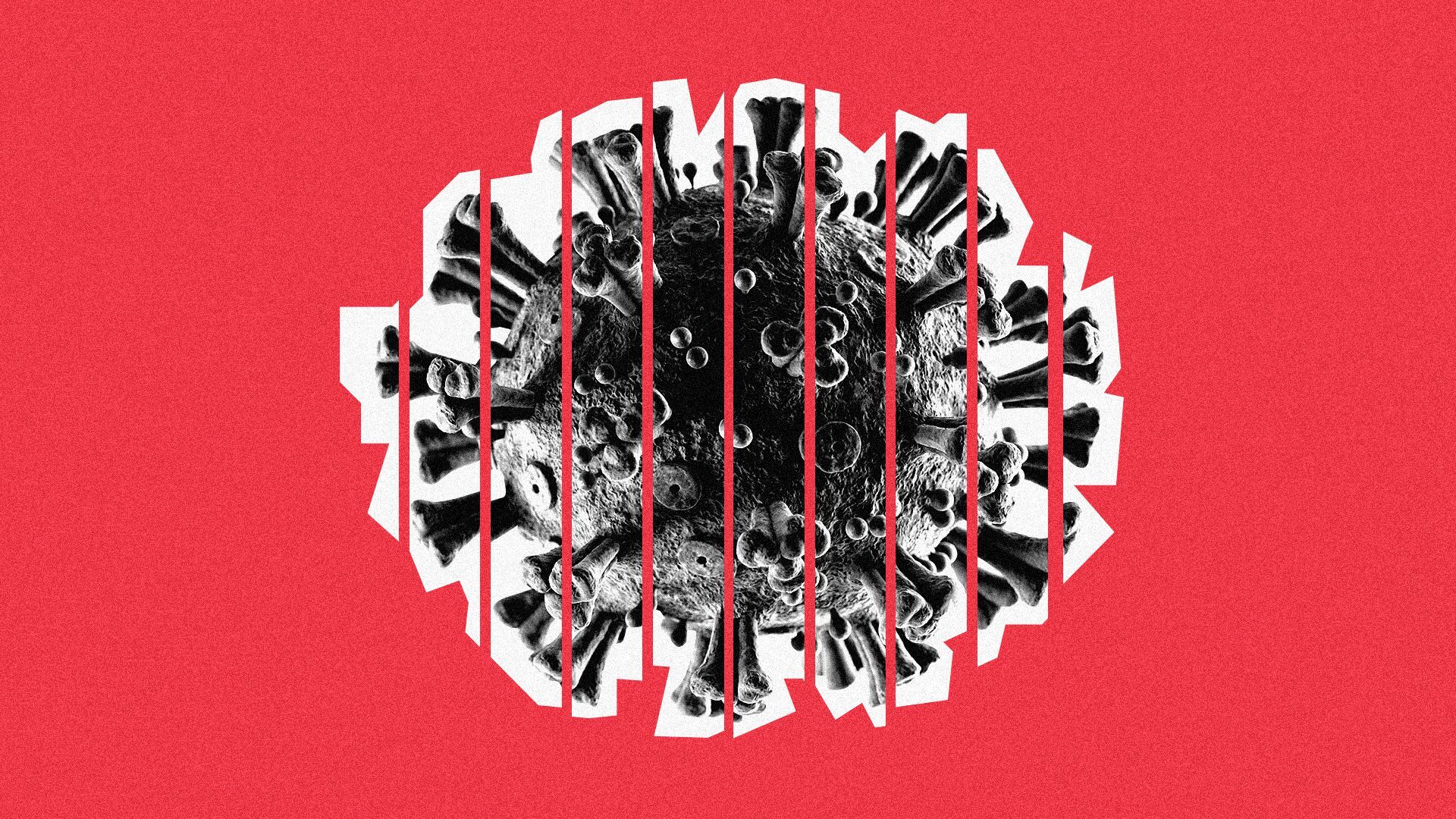 A New York resident with no known travel history has tested positive for the coronavirus variant spreading rapidly in the U.K., Gov. Andrew Cuomo confirmed Monday.
Hospitals in Los Angeles are so overwhelmed that "ambulance crews have been advised to try to cut back on their use of oxygen and not to bring to hospitals patients who have virtually no chance of survival," the LA Times reports.
U.K. Prime Minister Boris Johnson announced on Monday that England will enter a six-week lockdown, as the spread of a highly contagious new coronavirus variant threatens to overwhelm the National Health Service.
As disruptive as this pandemic has been, it's not the big one that keeps public health experts up at night — but that big one could be coming, Kaiser Health News reports.