Good morning ... If you're trying to sign up through HealthCare.gov today, I'd love to hear about your experience — how well the site's working, the wait times at call centers, good or bad, let me know how it's going. I'm at baker@axios.com.
ACA enrollment won't make things better, but it could get worse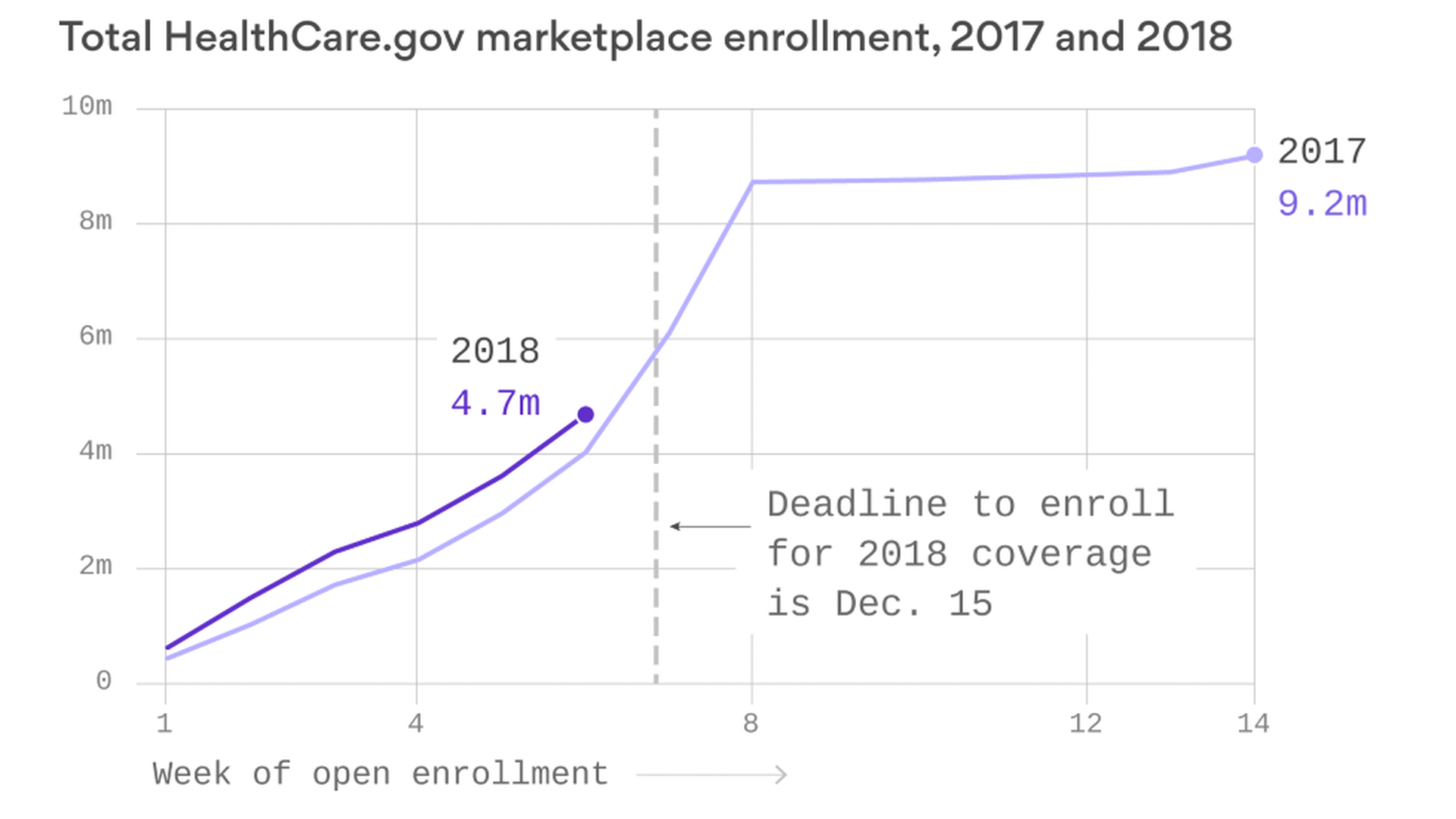 Today is the last day for people in most of the country to sign up for coverage through the Affordable Care Act. And the final results from this signup period will help insurance companies figure out whether their outlook for the future is terrible, or merely bad.
Be smart: Insurers are already beginning to look ahead to 2019 — and they're seeing a policy landscape that leads directly to higher premiums, if not to giving up altogether on some of the ACA's exchanges. It's impossible for ACA enrollment to make that outlook much better, but a disappointing number this year could make things even worse.
Where it stands: Enrollment ends today in the vast majority of the country. A few state-run exchanges, including New York and California, have extended enrollment into January.
The number of sign-ups is surging right now, as the deadline approaches. But it was already so far behind that the totals are highly unlikely to match last year's.
What's next: Congress appears highly likely to repeal the ACA's individual mandate. And the Trump administration will also move ahead soon with regulations expanding access to cheap, skimpy short-term health plans.
The bottom line: No outcome from the enrollment period that ends today could make that landscape look much better.
There's simply no universe in which enrollment will be good enough to make ACA insurers comfortable with the loss of the individual mandate and the return of short-term plans.
Particularly low enrollment, however, could make this bad landscape look even worse, because fewer insurers would have fewer customers to help absorb the blow from future policy changes.
What insurers are seeking as enrollment wraps up
Yesterday, my colleague Bob Herman talked with a few health insurers that sell ACA plans to see how open enrollment has fared ahead of today's deadline.
What we're hearing:
L.A. Care Health Plan CEO John Baackes said his company, which has 25,000 ACA members this year, is on track to more than double its enrollment. Roughly 32,000 new enrollees have signed up this period. Many of them are coming from Anthem, which pulled out of many California markets.
A similar picture is playing out in Utah. Heidi Castaneda, the sales director for individual and small employer plans at Intermountain's SelectHealth, said many people are migrating to her company from Molina Healthcare, which exited the state's ACA marketplace. "We're really encouraged," she said.
UPMC Health Plan, which has 130,000 ACA members in Pennsylvania, has seen a surprisingly large amount of interest in its call centers. "We didn't anticipate it to be as strong as it has been," UPMC's Adam Pittler said.
The Trump administration's decision to end cost-sharing reduction subsidies has created a lot of confusion, Castaneda said. Some people have asked her company whether the ACA still existed. (Reality check: It does.)
Consequently, the insurers told Bob, they've had to spend considerable resources explaining to people that subsidies — both for premiums and cost-sharing — still exist.
Device makers: Delay our tax now, not later
There's a decent chance Congress won't get around to delaying the ACA's tax on medical devices until next year, and the industry is not happy about it.
In that scenario, the tax would still be delayed retroactively, so device makers would ultimately get their money back — but that would be an unnecessary and costly hassle for companies as well as the IRS.
What they're saying: That's what the industry's leading trade group, AdvaMed, writes in a new letter to congressional leaders:
"Companies will spend millions in compliance costs to ensure processes and reporting are up and running to be ready to submit money to the IRS and avoid steep compliance penalties. Many companies have delayed these efforts in anticipation of repeal or further suspension of the tax, and will be incurring new costs that are not recoverable in a retroactive fix."
Between the lines: The device industry is by no means alone here in wishing Congress would move more quickly on what was once its end-of-year to-do list. It still hasn't reauthorized funding for the Children's Health Insurance Program, or dealt with a separate ACA tax on insurers, or figured out a deal to avert a government shutdown, or advanced Trump's nominee for Health and Human Services secretary.
ACA repeal and the tax overhaul have pushed everything else aside. But with only a few legislative days left in the year, this may just be the world we live in now.
The biggest health care winners under the GOP tax bill
A report from banking giant Credit Suisse shows which 15 companies would benefit the most from the Republicans' plan to lower the corporate tax rate to 20% (or maybe 21%). Health care made up half of the group, according to Bob:
UnitedHealth Group, CVS Health, Anthem, Aetna, Walgreens Boots Alliance, Express Scripts, Cigna and Humana together would have pocketed an additional $27.5 billion in profit over the past five years if the corporate tax rate had been 20%.
Reminder: CVS and Aetna are merging.
Quick take: It's not surprising health insurers would get huge windfalls, as Bob reported earlier this week. And at least some of those savings could trickle back to consumers through lower premiums, although insurers have plenty of ways to hang onto the extra cash.
Bipartisanship? On drug prices? Maybe!
A handful of Democratic and Republican lawmakers seem to be maybe, potentially, showing initial signs of beginning to agree with each other about ways to bring down the cost of prescription drugs.
What's happening: According to Bloomberg, the ideas that appeared to get some bipartisan interest yesterday at a Senate HELP Committee hearing include:
Cracking down on "pay-for-delay" settlements, in which brand-name companies end up paying generics to stay off the market.
Greater scrutiny of the ways drug companies use minor tweaks to their products as a way to extend patent protection and keep competitors at bay.
Revisiting rules that make it easier for brand-name manufacturers to physically keep their products away from would-be generic competitors, making them harder to copy.
Sound smart: These are all similar proposals — they would aim to lower drug prices by clearing away obstacles to generic competition. That's an approach the Food and Drug Administration has also embraced; it aligns with Republicans' free market ideas; and it's probably the best Democrats are going to get for the time being.
AI advances at detecting cancer — but it can't see you now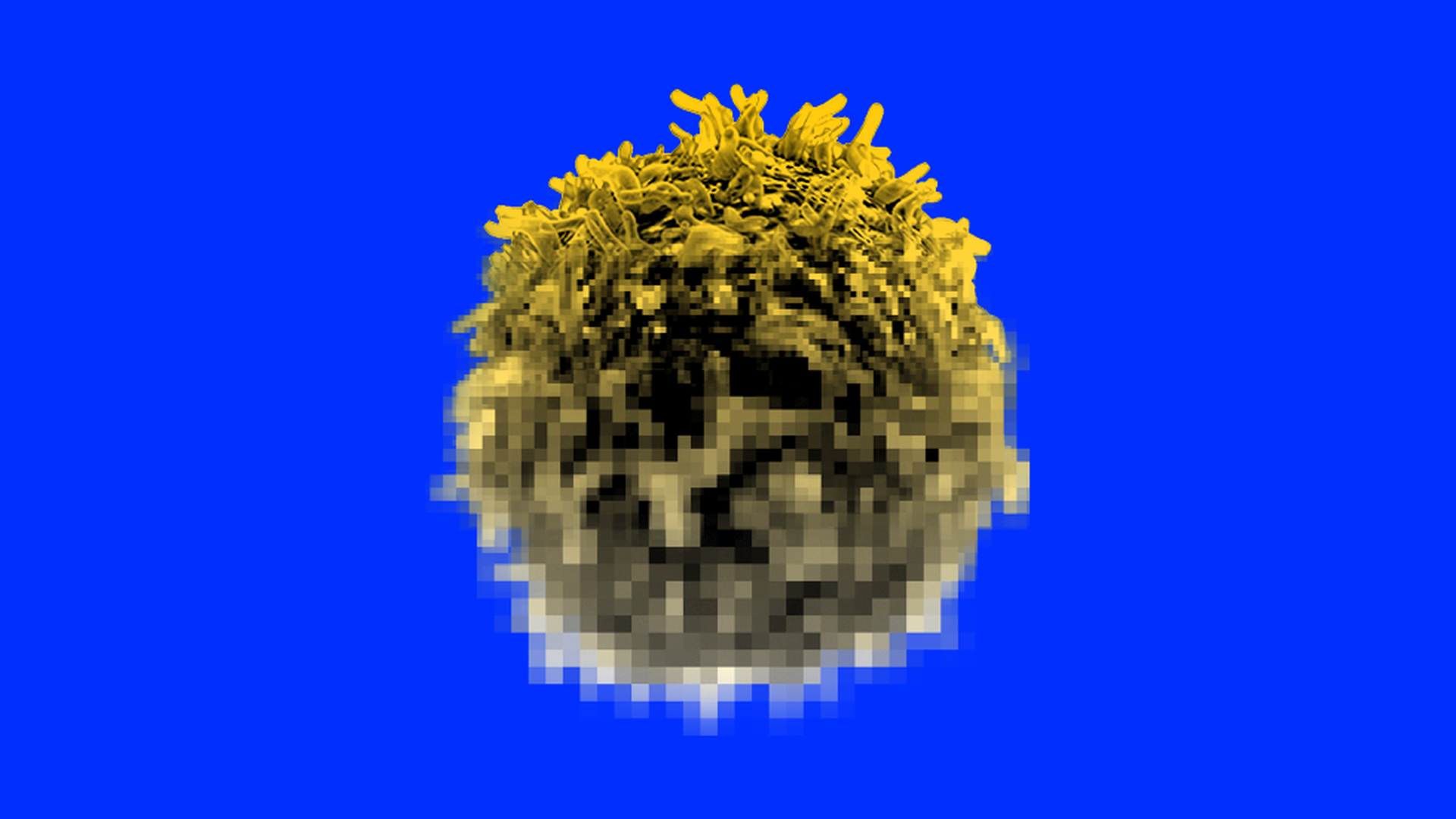 Medicine is poised to be one place where AI makes a mark. In a study published this week, researchers report that a machine algorithm was as good — or better — than pathologists at detecting the spread of a type of breast cancer, my colleague Alison Snyder writes.
For all the talk about the promise of AI radically changing medicine, this is one of the first peer-reviewed studies to back claims that algorithms can detect abnormalities in pathology slides, says Eric Topol from the Scripps Research Institute.
The bottom line: Radiologists and pathologists are likely to be the first in medicine affected by AI. But researchers working on the technologies don't see them replacing doctors, and instead aiding them. And even that role will require more data about the impact on the medical profession and whether AI is accurate enough to diagnose patients.
What we're watching today: How HealthCare.gov handles its crowds; whether HHS will (finally) say whether it plans to let people who are "in line" at the end of the day today come back and finish their applications after enrollment technically closes.