Axios Vitals
March 27, 2018
Good morning ... Robert Redfield is now officially on the job as the new director of the Centers for Disease Control and Prevention.
What states' ACA markets are up against
Most state governments probably won't be able to pass their own bills to help stabilize the Affordable Care Act marketplaces — or at least not in time to help stave off the next big round of premium increases. And those markets could become even shakier before insurers have to file their rates.
The latest:
Federal officials told state regulators yesterday that new rules on short-term plans wouldn't be finalized until the fall, Inside Health Policy reports (subscription required).
That would give insurers very little time to adjust their premiums to account for the finalized regulations — which would probably make them more likely to err on the side of caution and seek bigger initial increases.
Short-term plans don't have to comply with many of the ACA's requirements, like the mandate to cover pre-existing conditions.
Consumer representatives with the National Association of Insurance Commissioners released a report on this issue ahead of yesterday's meetings with federal officials. The paper outlines how the Trump administration's proposal to expand access to those plans could split healthy and sick people into separate markets, causing costs to rise and options to dwindle for the sicker patients.
Yes, but: Federal regulators also said they won't dictate that short-term plans must be renewable, per Inside Health Policy. It's debatable how much of a difference that will ultimately make, but it should bring at least some small measure of comfort to ACA supporters.
A closer look at the uninsured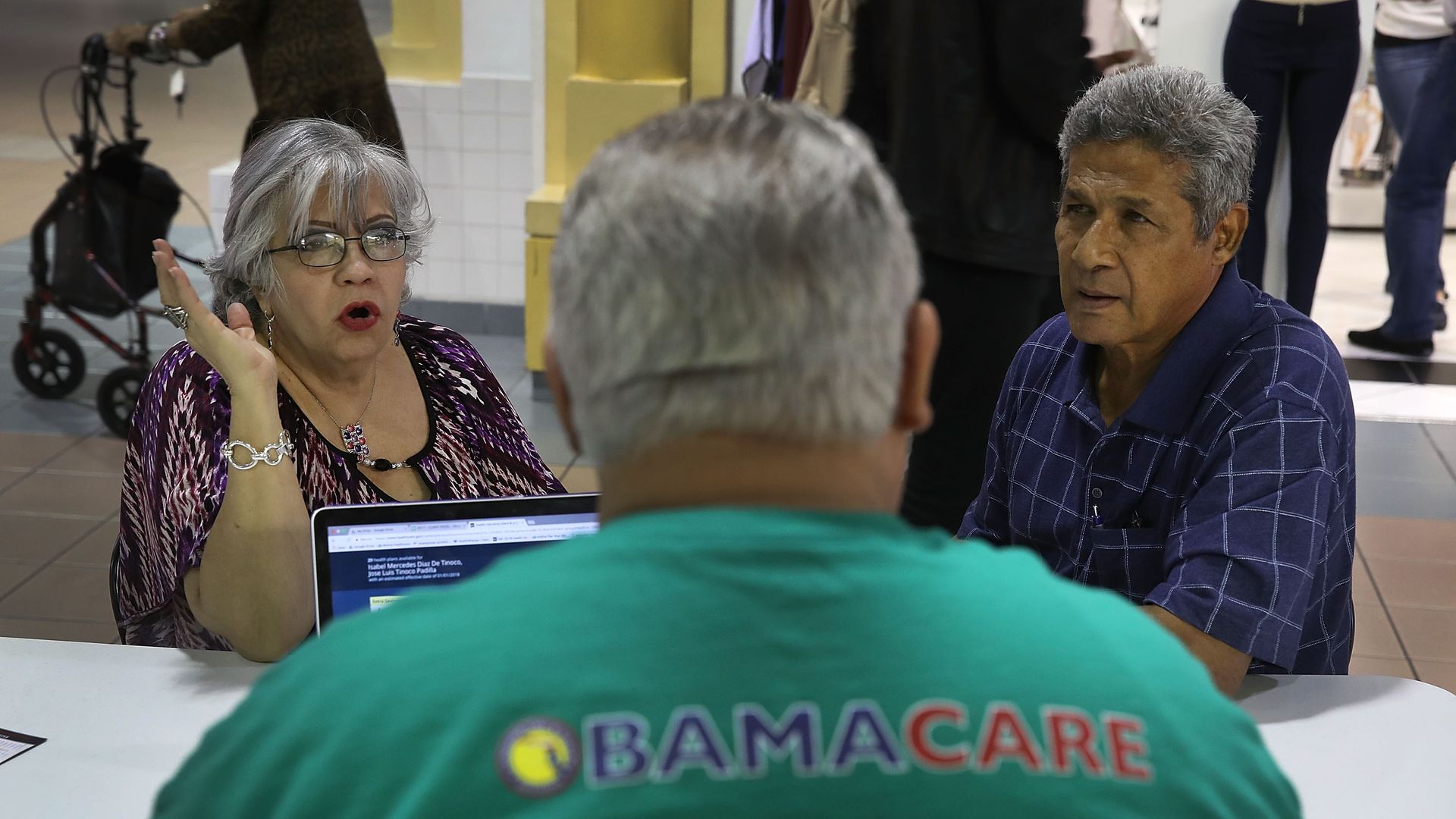 We talk a lot about the trade-offs involved in health policy. Bloomberg launched an ambitious project yesterday to see what those trade-offs look like in real life: It's following 12 families who've decided the cost of health insurance simply isn't worth it.
The gritty details, via Bloomberg: "Every single decision that you make has to be very carefully calculated so that your finances don't fall apart," said one mother, whose family is a microcosm of all the competing priorities the debate over the ACA has brought to light.
Their daughter was born with severe birth defects and her medical bills reached $1 million by the time she turned 3. Before the ACA, insurers wouldn't cover her pre-existing conditions.
The family has covered her through an ACA plan, but the parents and their son are still uninsured. They would have had to pay a $6,000 deductible, so they're just paying out of pocket and putting the savings from their own premiums into their daughter's care.
Another popular opioid idea: smaller prescriptions
Sen. Lamar Alexander released a bill yesterday that would allow the Food and Drug Administration to require drugmakers to package opioids in blister packs with only a certain number of pills. Support for the idea is bipartisan.
The legislation also encourages drugmakers to provide ways to get rid of unused opioids. 
The House Energy and Commerce Committee is considering similar legislation as part of its opioid effort, and FDA commissioner Scott Gottlieb supports the concept of smaller prescriptions as well.
Why it matters: Opioid prescriptions are often unnecessarily large — for example, 30 pills for a wisdom tooth extraction. Extra pills then often sit around in medicine cabinets. This legislation aims to more accurately match the prescription to the pain it's treating, while keeping the extra pills from being abused, stolen or sold.
Updates in health care lobbying
Axios' Bob Herman recently combed through the latest federal health care lobbying filings and found a few worthy of your attention:
Dexcom, a company in the booming business of making monitoring devices for people with diabetes, hired Alston & Bird to lobby for federal payments for its devices. One of the lobbyists used to work at the Centers for Medicare & Medicaid Services.
Just three days before 340B Health announced CEO Ted Slafsky was resigning immediately for undisclosed reasons, the drug discount advocacy group tapped the Baker Donelson law firm to lobby on its behalf.
Innovative Health Solutions has called on an independent lobbyist, Jeffrey Gabriel Jr., to "make it easier to get Medicare/Medicaid coverage" for its medical device that allegedly helps people fight opioid withdrawal. But the clinical evidence for the device is considered by some experts to be weak at best.
The billionaires who are fighting pharma
STAT has an interesting profile of John and Laura Arnold, the billionaire couple with a leading role in the advocacy fight over drug prices. John Arnold made his fortune first as an energy trader at Enron, then at a hedge fund. And now the couple is pouring tens of millions of dollars into a campaign for lower drug prices.
How it works, per STAT:
They fund the Action Now Initiative, an overtly political group that advocates for passage of the CREATES Act and will attempt to make drug prices a salient issue in the midterms.
They also sponsor state-level experiments, like an Oklahoma program that ties Medicaid payments to drugs' efficacy.
The groups funded by the Arnolds don't always agree. For example, one of their grant recipients has criticized the cost of new cancer treatments, but the Arnolds also fund ICER, an organization that tries to quantify the value of certain procedures, which has said those cancer treatments are a good deal.
Why it matters: The uproar over drug prices has mostly come from individuals and individual politicians. It's not especially organized, and it's up against one of the wealthiest, most effective industry lobbies in Washington.
Any countervailing advocacy structure could lend the anti-pharma campaign some muscle, although the Arnolds' contributions pale in comparison to the industry's spending.