Axios Vitals
October 23, 2019
Good morning. Today's word count is 919 words, or ~3.5 minutes.
1 big thing: The ACA is ... fine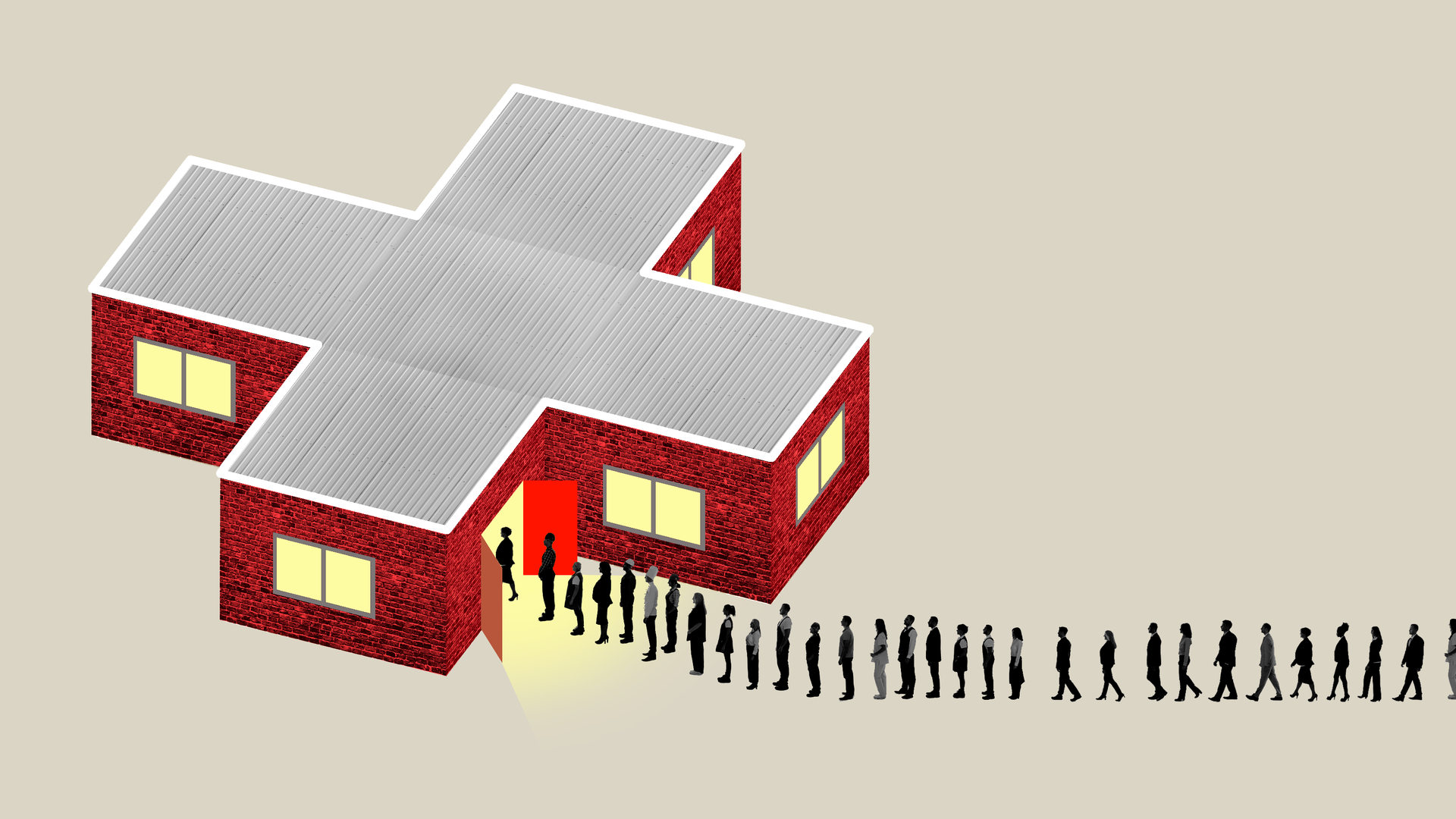 Premiums are going down and competition is going up as we head into the next Affordable Care Act enrollment period, Axios' Sam Baker reports.
The big picture: Those are both good signs. But those metrics are improving, in part, because they got so much worse over the past several years.
By the numbers: The average premium for a 27-year-old, for a middle-of-the-road plan, will be 4% lower in 2020 than it was this year, the Health and Human Services Department announced yesterday.
There will be 20 more insurers selling plans through HealthCare.gov, for a total of 175.
Yes, but: These lower premiums and increased competition will benefit people who get federal help paying their premiums, but unsubsidized consumers have fled the market and aren't likely to come back.
The Trump administration has not tried to stop that exodus. Instead, it has opened up more access to inexpensive, often bare-bones options outside of the exchanges.
Insurers initially mispriced their plans, then settled into a more stable market, then freaked out in response to many of Trump's actions, and are now settling back down again.
Sam's thought bubble: The Affordable Care Act is neither collapsing nor thriving. It is, like all of us, hangin' in there.
Flashback: The ACA is smaller, weaker and more liberal than Obama intended
2. Biogen's drug revival met with skepticism
Biogen was a shattered biotech company in March after it pulled the plugged on its new Alzheimer's drug, but it recaptured Wall Street's good graces by looking at its data again and deciding to shoot for FDA approval after all, Axios' Bob Herman reports.
Reality check: Alzheimer's affects almost 6 million Americans, and those patients and their families have desperately sought an effective treatment. But independent experts have not reviewed Biogen's data, and the industry isn't exactly on good footing right now when it comes to being forthright about its data.
What they're saying: Many stock traders are skeptical of Biogen's new Alzheimer's claims, Stat reported.
One of the two large clinical trials still failed.
Everything depends on whether patients actually improved their cognitive functions on higher doses of the drug, called aducanumab.
Yes, but: That skepticism doesn't mean the drug won't get FDA approval.
The FDA has shown a willingness recently to approve drugs, sometimes controversially, if they treat conditions with a dearth of options and if companies agree to conduct post hoc studies.
The big picture: The public should always be skeptical of drug company data and claims — especially with this drug, and in the industry's current state.
Any drug treating Alzheimer's would greatly alter society, both clinically and financially, so there's a lot of pressure to get something like this right.
There's also a lot of pressure to make sure drug companies aren't manipulating the results. Novartis recently got approval for Zolgensma, the world's most expensive drug, but the FDA later found out the company's data was faulty — and Novartis knew about it.
Go deeper: The outlook for Alzheimer's research keeps getting bleaker
3. Private equity's failure to care for sick kids
A nursing company controlled by private equity firms left a trail of injury reports and seven child deaths last year as it pushed to maximize its profits, Bloomberg News reports, citing inspection reports, internal documents and interviews from former employees.
The big picture: "Home health care is considered an especially promising private-equity investment because it can save on expensive hospital stays, while generating revenue for years," according to Bloomberg.
The company, Aveanna Healthcare, is controlled by private equity firms Bain Capital and J.H. Whitney Capital Partners, Axios' Marisa Fernandez writes.
Aveanna had an abundance of violations in some of its biggest markets.
Its vetting process had failed background checks, face-to-face interviews and reference checks, per Bloomberg.
More than 12 former employees said they felt pressured to meet financial goals, which jeopardized the quality of care for children.
The other side: Aveanna said deaths were rare and cited surveys of thousands of patient families that said 97% were satisfied with their care.
Go deeper: Private equity's thirst for health care providers
4. Schools giving students mental-health days
Some states and school systems are letting students stay home for mental health reasons in light of rising youth anxiety, depression and suicide rates, the Washington Post reports.
Why it matters: The suicide rate for people ages 10 to 24 increased by 56% between 2007 and 2017, according to a study by the Centers for Disease Control and Prevention released this month.
Details: Utah and Oregon have enacted laws allowing mental health days, and students in Colorado, Florida and Washington are pushing similar bills.
The other side: The laws didn't pass without controversy. Some lawmakers argued that students need to toughen up or that the new rules could affect athletics or absenteeism.
"The bottom line of this is there will be students that will abuse the system but there will be students that this will save," Oregon high school senior Derek Evans responded.
Go deeper: Why we're failing to stop teen suicide
5. A growing emergency medical services problem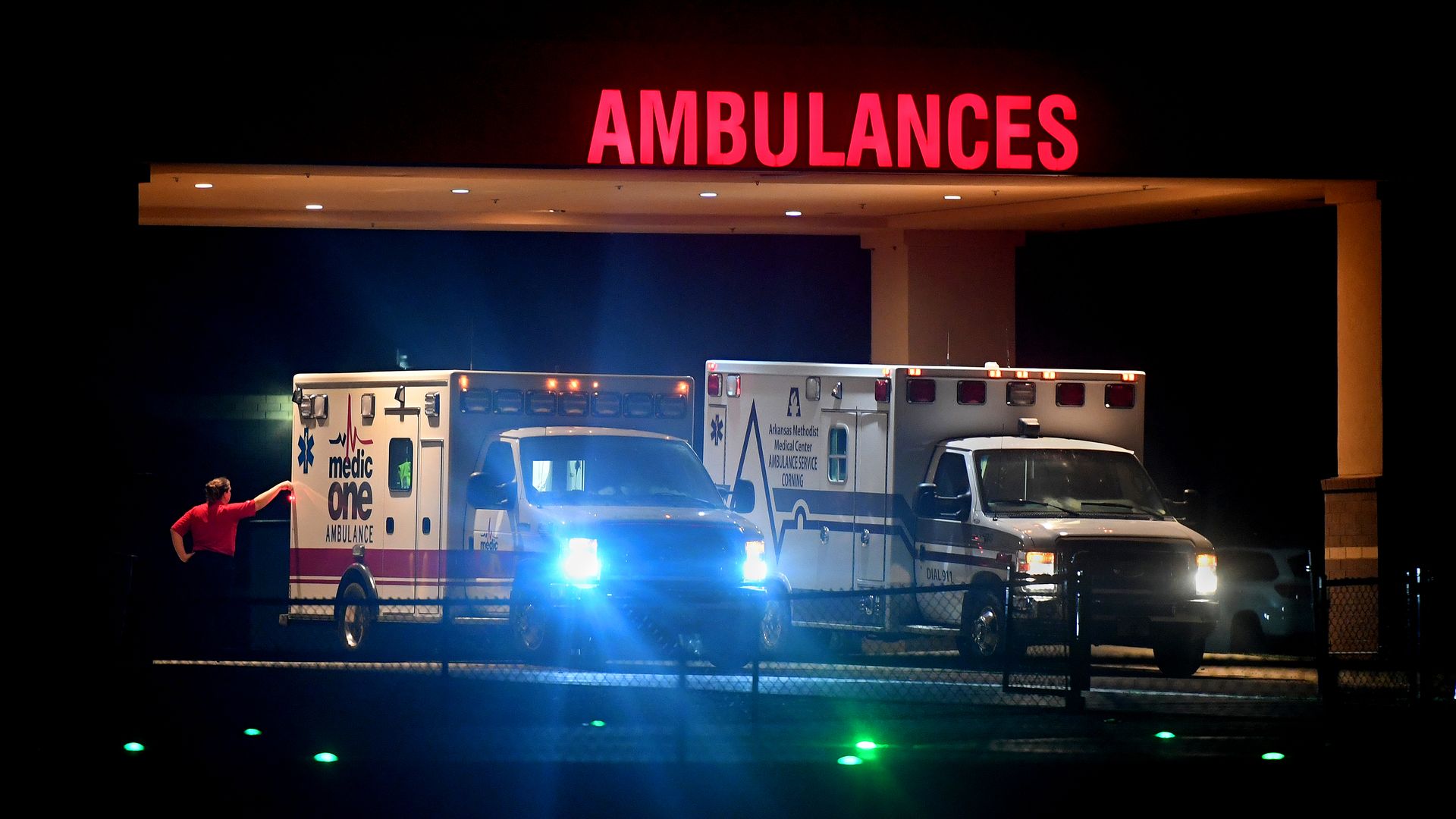 Ambulance services are closing in record numbers across rural America after failing to make ends meet, leaving 60 million Americans at risk of having no help in a medical emergency, NBC News reports.
The big picture: Some states are giving money to emergency medical services, but experts say it's not enough to solve the problem.
Between the lines: This is partially a staffing issue — which also drives the rural doctor shortage.
Rural areas tend to be populated with older, sicker and lower-income people than urban areas.
Not only does this create an unmet demand for health care services, but it also means there aren't many people in the community to serve — often on a volunteer basis — as emergency medical personnel.
The issue is compounded by rural hospital closures. Ambulances have to transport patients farther than they did before.
Since EMS programs are reimbursed per call, longer drives means less calls and thus less revenue.
Go deeper: The plight of America's rural health care
Don't forget to reply to this email with tips, feedback or fun "Bachelor" content. Have a great day!