Axios Vitals
November 18, 2019
Good morning.
Do you remember Friday? All the news? Well, the consequence is today's behemoth edition of Vitals: 1,210 words, or <5 minutes.
1 big thing: Warren's path to Medicare for All is rocky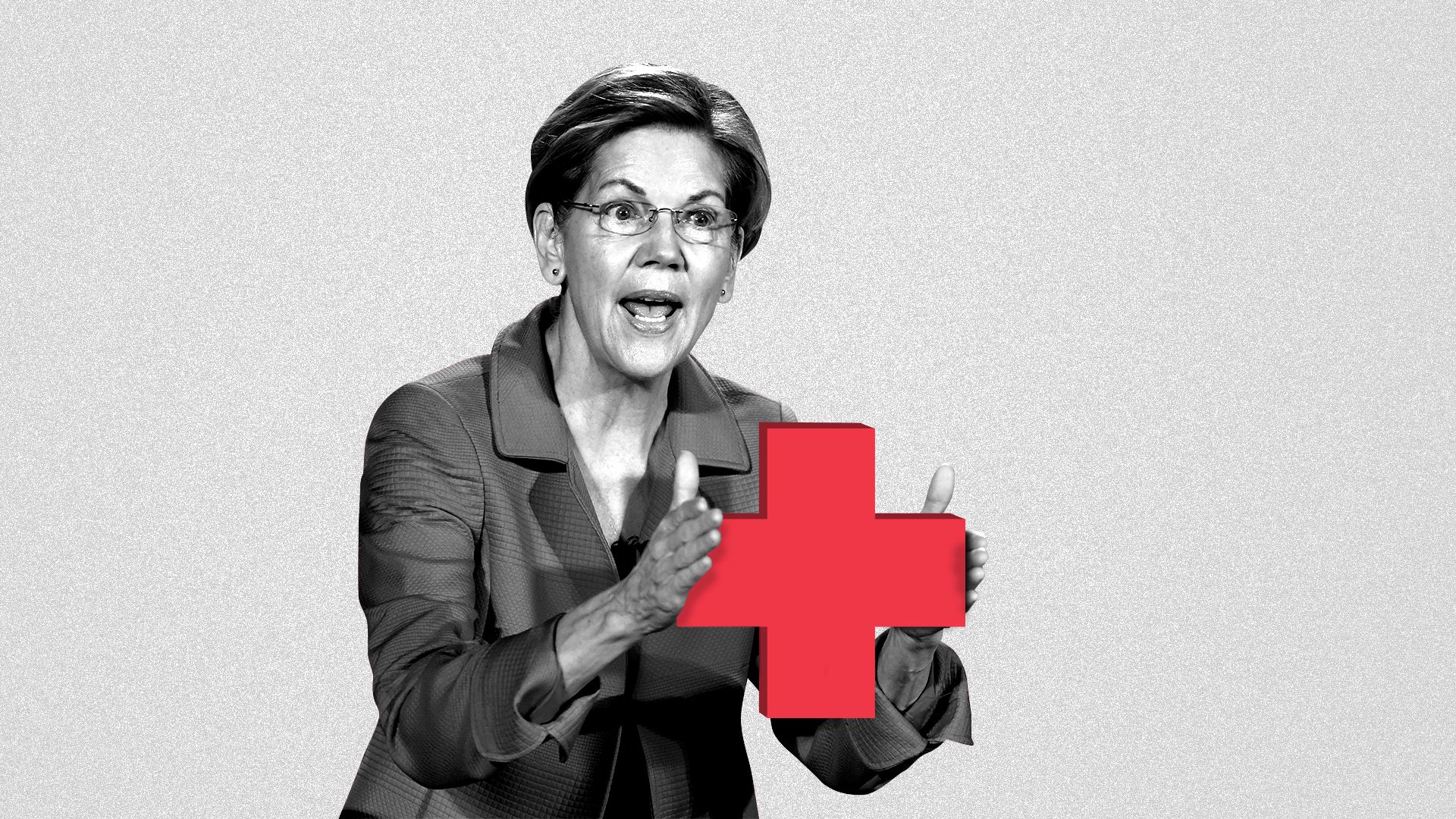 Sen. Elizabeth Warren's two-part plan to pass a public option as a transition into "Medicare for All" — and then full-blown "Medicare for All" a few years later — has revealed the difficulty of appealing to both the pragmatic and progressive wings of the party.
The big picture: Warren's already being criticized by progressives for not being a "Medicare for All" purist, and because of the realities of governing, they may have a point: Passing two major health reforms in one term is unheard of.
"In my first week as president, we will introduce Medicare for All legislation," Sen. Bernie Sanders tweeted on Friday.
Details: Warren's transition plan — which she said she'll try to pass within her first 100 days in office — would allow anyone over 50 to enroll in an "improved Medicare program," and "every person in America" could get coverage through a "Medicare for All option."
Coverage under the public option would immediately be free for children under 18 and families making 200% of the federal poverty level or less. Over time, it'd become free for everyone.
Then, by no later than her third year in office, Warren would push Congress to pass full-blown "Medicare for All."
Reality check: The political capital that it'd take to pass Warren's public option, even through a special procedure called "budget reconciliation" that'd allow her to bypass GOP opposition, would be enormous.
What they're saying: "Passing one major piece of health care legislation with a knock down, drag out fight, followed by another one three years later, sounds pretty difficult," said the Kaiser Family Foundation's Larry Levitt.
"A more likely scenario is that a public option would pass, and be given time to work. Depending on how that debate went, Medicare for [A]ll could be a rallying cry for a reelection campaign."
2. Hospitals vow to take Trump to court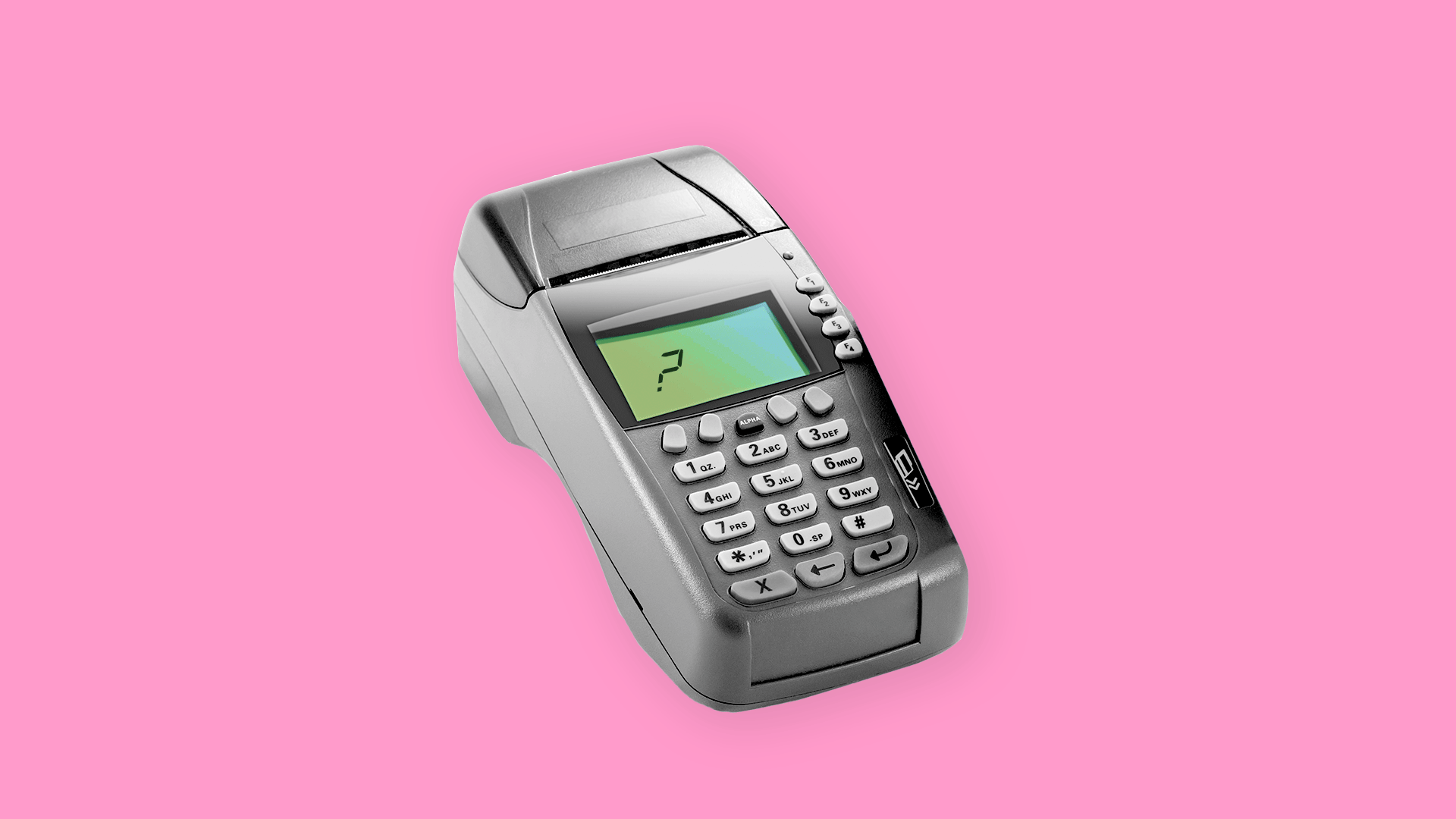 Hospitals immediately promised to sue the Trump administration after it released two new price transparency regulations on Friday, threatening the future of one of the president's most ambitious health policies.
Why it matters: Politically, the Trump administration could use a win. Most of its other signature health reforms either didn't come to fruition or are tied up in court.
The big picture: Both of the administration's new proposals would require the health care industry to release more information on prices.
The hospital price transparency rule, which requires the disclosure of negotiated rates, is final and will be implemented in January 2021 — if it withstands the legal challenges against it.
A second regulation, which is just a proposed rule for now, would require insurers to tell patients their out-of-pocket obligations ahead of time and to disclose negotiated rates with providers.
Details: Tom Nickels, executive vice president of the American Hospital Association, told me that the hospitals plan to sue on three grounds:
The administration doesn't have the authority to require them to disclose their negotiated rates.
The rule violates their First Amendment rights to have private conversations with insurers, and this intrusion into that right isn't narrow, as courts have said intrusions must be.
The rule deals with trade secrets, and again, courts have said that to overrule these the focus must be narrow.
The other side: Health and Human Services Secretary Alex Azar told reporters on Friday that "we feel we're on a very sound legal footing for what we're asking."
3. PhRMA's cash load stayed steady in 2018
The drug industry lobbying group PhRMA registered $460 million of revenue in 2018, a shade more than 2017, according to its latest tax returns obtained by the Center for Responsive Politics.
The bottom line: PhRMA's influence continues to touch almost every corner of state and federal politics, especially conservative groups, and is a big reason why the country's high drug prices have not changed, Axios' Bob Herman writes.
By the numbers: PhRMA's 2017 tax returns showed a large uptick in member dues and spending, largely due to President Trump painting the industry as public enemy No. 1. Those dues and spending amounts remained lofty in 2018.
Hundreds of millions of dollars were funneled to law firms, advertising agencies, patient groups, political campaigns, think tanks, astroturf organizations and executive pay.
As in 2017, PhRMA donated millions of dollars in 2018 to conservative groups that have advocated against policies that would chip away at the industry's profitability, including the Trump administration's newer international reference pricing model.
PhRMA also continues to put money in the bank accounts of both Republican and Democratic campaigns.
The big picture: PhRMA, the American Hospital Association and the American Medical Association are three of the most dominant lobbying groups not just in health care, but in all of Washington.
4. More older Americans need Medicare and Medicaid
Retirement in America is growing less secure, physically and financially, given the omnipresent threat and cost of serious illness or disease, Bob reports.
Why it matters: Qualifying for Medicare does not guarantee that older adults will skirt potentially ruinous medical bills. Millions of seniors have also come to rely on the taxpayer-funded program for lower income people — Medicaid — and there's no indication that will slow down.
By the numbers: More than 12 million Americans — most of them over 65 — have both Medicare and Medicaid coverage.
That represents about one-fifth of all Medicare enrollees, a percentage that has stayed stable over time even as more baby boomers enter the program.
This low-income population has some of the most expensive health care conditions and disabilities — averaging roughly $30,000 in annual spending per person, or double the average Medicare enrollee.
Between the lines: Some people who age into Medicare have very few assets and income, and therefore automatically qualify for Medicaid.
But retirees who consider themselves middle-class increasingly have to resort to Medicaid because high costs, like dementia or nursing home care, consume their entire nest egg.
What to watch: The federal government has been experimenting with ways to coordinate care better for this population, but that's a reaction to seniors falling into poverty due to health care costs.
Unless policymakers address the high and rising costs of care, more retirees and their families will have to depend on both Medicare and Medicaid.
5. The jobs with the highest rates of suicide
The Centers for Disease Control and Prevention in 2018 analyzed suicide deaths among working-age Americans in 17 states to understand how different types of work influence a person's risk of killing oneself, Axios' Jacob Knutson reports.
Why it matters: The CDC found that the suicide rate for people ages 16–64 years old rose 34% between 2000 and 2016, from 12.9 to 17.3 suicides per 100,000 workers.
The federal agency also reported that suicide rates varied widely across occupational groups and that people involved in certain types of work, such as construction and extraction or production jobs, may be at a higher risk of suicide than other workers.
A note about causation: Determining how specific occupations influence suicide is complex because both work and non-work factors affect a person's risk of self-inflicted death, the report noted.
Comparing the suicide rates to BLS salary data from 2014 reveals a correlation between occupation group salary and suicide rate.
The highest paying professions did not have high suicide rates. Correlation does not mean causation, but the relationship between salary and suicide merits more research.
6. While you were weekending...