Good morning. This is really happening: Two House committees are going to take up the Obamacare repeal and replacement bills tomorrow, and if this actually gets to President Trump's desk, Republicans are going to own whatever happens next. Note that we said "if." Keep an eye on the conservatives — and the Republicans from states that expanded Medicaid.
Hope you've signed up for our newest newsletters — Sneak Peek, by Jonathan Swan, and Generate, by Ben Geman. And next week, we're being joined by Login, a tech newsletter by Ina Fried in San Francisco and Kim Hart and David McCabe in D.C. You can sign up for all of our newsletters and alerts here.
Trumpcare: What to watch next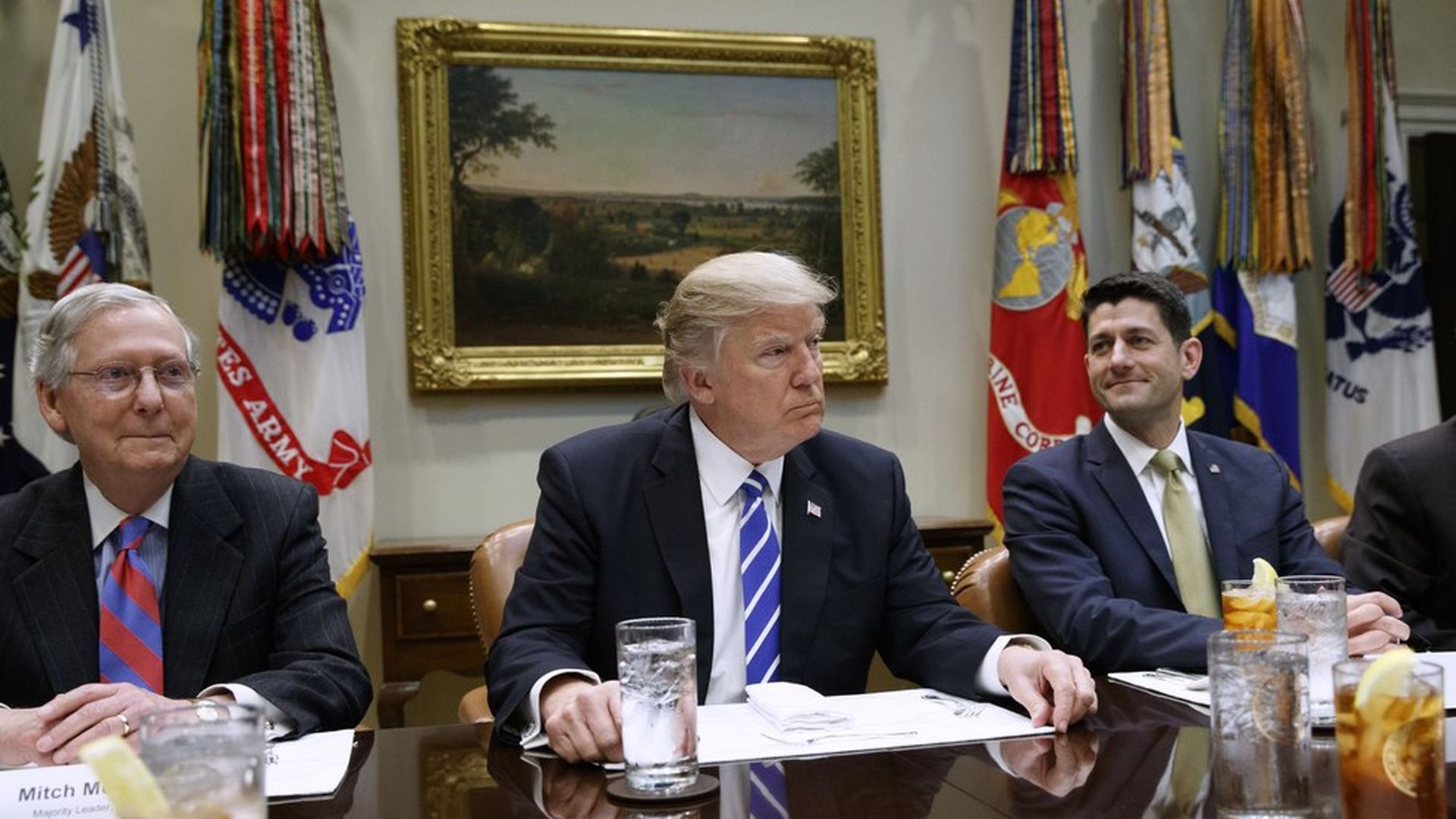 Well, you wanted to know what the Obamacare replacement plan was, right? The bills are out, and the House Energy and Commerce Committee and the Ways and Means Committee are going to "mark up" their pieces at the same time on Wednesday. Here's my speed-read writeup, or if you'd rather read the summaries yourself, you can take a look here and here.
The main plot lines to watch in the coming days:
How will the conservative Republicans react? They're the ones who threatened to vote against anything less aggressive than the 2015 repeal bill, which this definitely is. Freedom Caucus chairman Mark Meadows said on Hannity last night that "we're making progress," but other early signs aren't good: Rep. Jim Jordan reportedly doesn't like it, a Republican Study Committee memo calls it a "Republican welfare entitlement," and Rep. Justin Amash tweeted that it was "Obamacare 2.0."
Will there be a Medicaid backlash? That looked like a serious danger after four GOP senators from states that expanded Medicaid said they wouldn't support the changes they saw in an early draft. But they softened their tone after a meeting with Senate Majority Leader Mitch McConnell Monday night, Caitlin Owens reports. "It's moving in the right direction," said West Virginia's Shelley Moore Capito, one of the worried senators.
How many people would be covered? Normally, the Congressional Budget Office would tell them that. But not this time — because the committees are plowing ahead without waiting for the cost and coverage estimates.
No Congressional Budget Office score? Really? They're going to take a lot of heat from Democrats for that decision — Democrats are already accusing them of trying to hide the likely losses of coverage. The key, though, is how many Republicans are uncomfortable with it too. "That seems problematic." Sen. Bill Cassidy told Caitlin, adding: "I'm trying to be diplomatic."
Do they actually know how to pay for it? Here's what House Republicans answer the "how will you pay for it" question in their FAQs: "We are still discussing details, but we are committed to repealing Obamacare and replacing it with fiscally responsible policies that restore the free market and protect taxpayers."
Quick deep dives: What they got right and wrong
It would be easy to get overloaded with reactions, so we asked for quick takes from two members of the Axios board of independent experts: Stanford University's Lanhee Chen, Mitt Romney's former policy director, and Venrock's Bob Kocher, a former Obama administration adviser who worked on the law.
We also checked with Avik Roy, a conservative health care expert who has written about the trouble with flat tax credits (he thought they should have been means tested).
The highlights:
Chen, on the tax credit: "it seems to me they've got the best of both worlds. They've got a phase-out to help deal with cost and age-rating to help deal with coverage (as well as retaining the simplicity of administering the credit generally)."
Chen, on Medicaid: "I do think they've struck an appropriate balance. The non-expansion states get access to extra money during the phase down of the expansion and a little beyond ... The per capita caps are set based on 2016 spending, so the expansion states aren't left completely hanging."
Kocher, on the coverage impact: The plan would "increase, dramatically, the number of uninsured and re-create an individual insurance market based upon high cost sharing, very low actuarial value benefits, elimination of preventive care, and no essential benefits."
Kocher, on continuous coverage: If anyone has a break in coverage, "they may never be able to afford to get back in the market with such small tax credits. Overtime, this could lead to more rapidly rising premiums and fewer people covered."
Roy, on the tax credit: "They phased out the subsidy for high earners, which is an improvement, but they left in the benefit cliff between Medicaid and the tax credit for those at the poverty line. The effect is to trap people in poverty and discourage them from seeking work."
The headline of Roy's Forbes summary this morning: "House GOP's Obamacare Replacement Will Make Coverage Unaffordable For Millions — Otherwise, It's Great."
Is "access" enough? The GOP is about to find out
Republicans made a decision early on that they weren't going to try to compete with Democrats on how many people they could cover, because they'd never win. Now, they're about to find out whether the ideas they've been building up for years will give them coverage numbers they can at least live with.
GOP staffers don't know what the losses would be, But there was a lot of buzz yesterday about an article in The Federalist by Chris Jacobs, a conservative health care analyst and former Bobby Jindal adviser, based on an earlier draft. He reported that the Congressional Budget Office told Hill staffers that 10-20 million people would have lost their employer health coverage under the original draft.
The big gamble: The bill has changed since then, of course — but what does CBO say about the new version? The House health care committees are going to plow ahead before they find out.
Why it matters: Will the new coverage estimates be less terrible? Republicans won't know before the committee markups. They've said all along that they want to compete on their terms — by guaranteeing "access" to health coverage, but not forcing people to buy health insurance plans they don't want. Eventually, the new CBO numbers will catch up with them. Then they'll find out whether they can survive all of the headlines about coverage losses.
If you think you're see more pharma ads, it's because you are
There's a good chance you're digesting more prescription drug advertisements than you realize. The pharmaceutical industry spent $5.6 billion on direct-to-consumer ads in 2016, Bob Herman reports. That was a 9% spike from the year before, according to a Medical Marketing & Media report that analyzed Nielsen data of TV, magazine, newspaper, movie and other media ads.
No company spent more than Pfizer, the maker of Viagra, which spent almost $1.2 billion last year. Bristol-Myers Squibb came in a remote second, with $458 million, after it heavily marketed its cancer drug Opdivo.
Why this matters: The United States and New Zealand are the only two countries that permit pharmaceutical ads targeted to consumers. Although spending on drug advertising continues to rise at a rapid pace, skepticism is increasing, too. The American Medical Association notably called for a ban on pharma ads in 2015, saying they mostly exist to drive drug sales.
Oops! Telehealth causes more spending, not less
The big promise of telehealth — giving people 24-hour access to physicians by phone or videoconferencing when they have minor illnesses — was that it would help bring health care spending down. Actually, it's probably doing the opposite, according to a RAND study featured in the new issue of Health Affairs. Why? Because even though it's cheaper to talk to a doctor online than to go to a doctor's office or emergency room, those patients use so many other medical services — like follow-up appointments, testing and prescription drugs — that it cancels out the savings.
Telemedicine visits that replaced doctors' office or emergency room visits: 12 percent
New use of medical services: 88 percent
Why patient-centered medical homes may be falling flat
Health Affairs is just full of downers this month. Here's another one: CareFirst's experiment with patient-centered medical homes — where there's supposed to be better coordination of medical services, and therefore lower costs — didn't really save money after all. A team of researchers found that there was "no significant effect on total spending," in part because the physicians "were not fully engaged with the initiative and did not make full use of its tools."
The bottom line: The study concludes that "patience may be necessary" while doctors get used to this and other new ways of paying for medical care. But the idea of patient-centered medical homes has been around for years — it was one of the cost-control experiments Obamacare was supposed to encourage. Seven years is a long time for a payment reform idea to take hold.
What we're watching today: The Americans, of course. Oh, and House Ways and Means Committee chairman Kevin Brady and Energy and Commerce Committee chairman Greg Walden press conference on Obamacare repeal, 11 am Eastern.
What we're watching this week: House Ways and Means Committee and Energy and Commerce Committee markups of the the Obamacare repeal bills, both Wednesday. In your spare time, you can also catch a House Appropriations Labor/HHS subcommittee hearing, also Wednesday.
What we're watching next week: House Budget Committee is expected to mark up the budget "reconciliation" package with Obamacare repeal and replacement, assuming Ways and Means and Energy and Commerce approve their pieces.
Thanks for reading, and if you find any surprises in the health care bills, let me know: david@axios.com.