Good morning, and welcome to the post-launch hangover edition of Vitals. Thanks for all of your wonderful feedback yesterday on the brand new site and the news stream. Now that you see what we're trying to do, please keep the feedback coming. It may take a while to get back to you, but we really are reading all of it, and we appreciate any suggestions on how to do it better.
And thanks for the shout-outs. Best one: @DebraMessing tweeting Caitlin Owens' roundup of the Tom Price hearing. Welcome back, Will and Grace!
Why Republicans are getting interested in auto-enrollment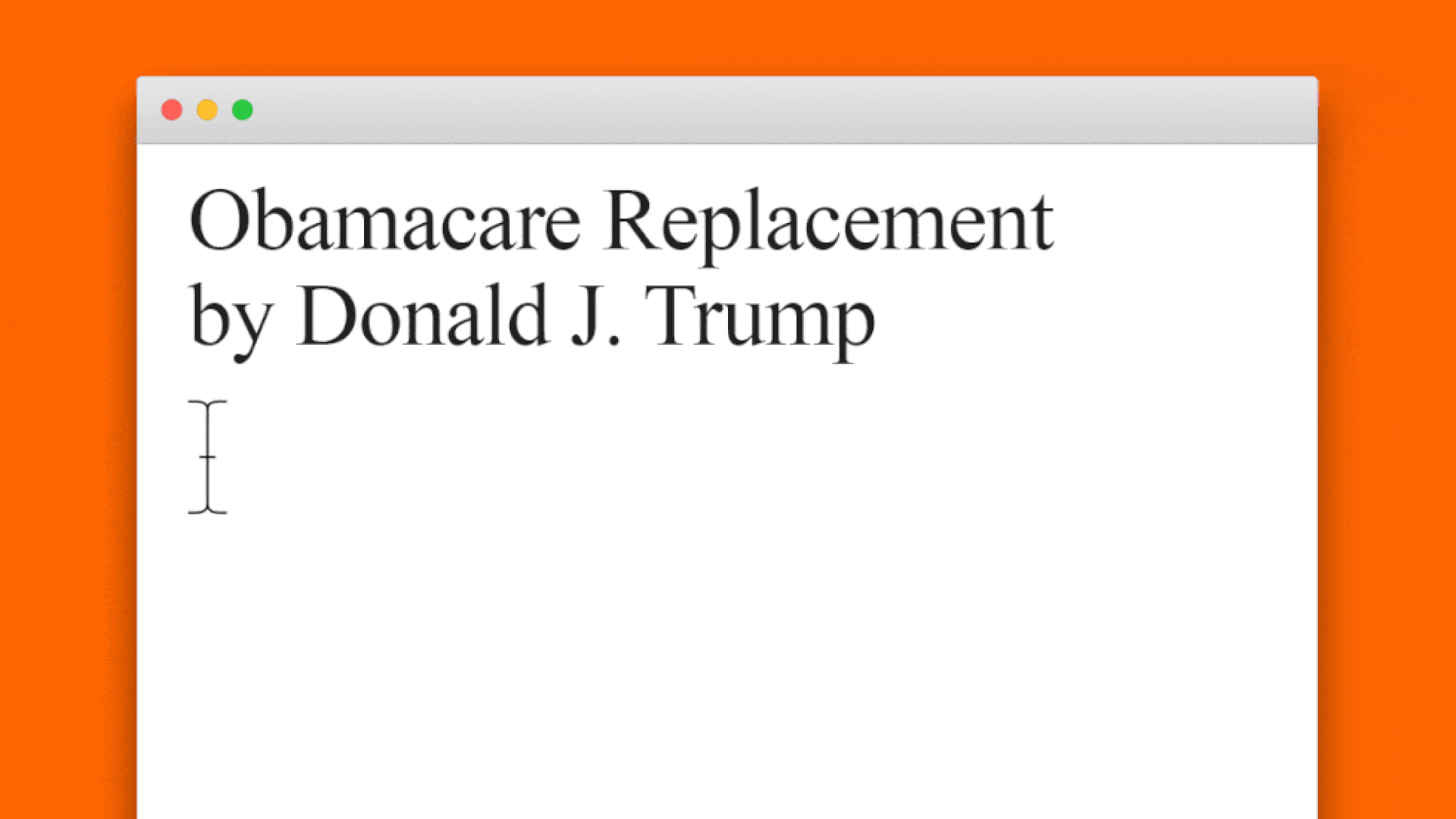 How would an Obamacare replacement ever sign up enough healthy people if there's no individual mandate? That has been Republicans' dilemma all along, but as Caitlin Owens reports this morning, they're starting to take a serious look at auto-enrollment as an alternative. Anyone who doesn't have another source of health insurance would be signed up for a bare-bones health plan, and if they didn't want it, they could opt out.
OK, but how would that work, exactly? And how would that not be big-government coercion? There are a ton of details to be worked out, but Republicans who are looking into it think they can make the idea work. As long as the default plan has the same value as the amount of financial help they'd also get, they don't think people would see it as heavy-handed.. Check out Caitlin's story in the Axios news stream.
The most awkward moment of the Tom Price hearing
No, it wasn't the Democratic poking and prodding about his stocks, although that was certainly awkward. It was when the Senate HELP Committee Democrats played divide-and-conquer on President-elect Trump's insistence that Medicare should negotiate drug prices. They knew Price wasn't really into the idea, like most Republicans, so they asked him about it. He suggested he'd just do what Trump wants: "The boss that I have will be the president of the United States."
What to watch: Will Price be an outspoken advocate for the idea, someone who might try to change the minds of his former Republican colleagues? Or will he just go along with it? He didn't show any enthusiasm, so it could well be the latter — but things have a way of changing once a Cabinet nominee is actually in the Cabinet. If you tuned out in hour three or four of Price's testimony yesterday, Caitlin has the highlights here.
Why so many uninsured? Price is about to find out
One striking moment in Price's testimony: The part where he wondered aloud why so many Americans still don't have health insurance, even under Obamacare, and what can be done to help them get it. He might start by reading this Kaiser Family Foundation analysis of the 27 million people who are still uninsured. A few stats stand out:
About 20 percent are undocumented immigrants. They're not eligible for Obamacare.
Another 10 percent live in states that didn't expand Medicaid.
And 16 percent are ineligible for Obamacare because they could get coverage through the workplace.
Most of the rest could get financial assistance from Obamacare — either through Medicaid or through tax credits — to buy health insurance, but they don't.
Price told Sen. Susan Collins he wants more people to end up with health coverage after Obamacare is gone, but all of these findings should show why that's going to be a tough task even if a Republican replacement does lower costs.
For Obamacare replacement: Mark your calendars
Senate HELP Committee Chairman Lamar Alexander repeatedly said at the Wednesday hearing that he considered March 1 a deadline to get moving on an Obamacare replacement — and tried to get Price to agree with him. (Price dodged the question.) So that should give a pretty good idea of the timeframe Alexander wants to use to act on Obamacare replacement.
The catch: Other Republicans have to agree with him, including other committee chairmen. We should know more about House timing after the GOP retreat next week.
Obamacare payment models are getting more popular
You know how lots of people are still signing up for Obamacare even though it's about to go out of business? Seems that the same is true for hospitals and physicians, too. Bob Herman spotted a Centers for Medicare and Medicaid Services report that found more of those health care providers signing up to participate in new payment models, like accountable care organizations, that are being encouraged by Obamacare. Read his story here.
How the election affected one health system's bottom line
Bob Herman reports that the grueling presidential campaign disrupted the patterns of patients and physicians, at least for those at Bon Secours Health System.
Bon Secours — a $3 billion not-for-profit Catholic system that operates in six states — told bondholders its operating margin fell by almost half in the first quarter of its fiscal year, from 2.4% to 1.3%, due in part to "the uncertainties of the presidential election" and the mass shift toward more outpatient procedures. The system's quarter ended Nov. 30, three weeks after Trump and Republicans swept the field.
Other big factors: the pending changes to Medicare physician payments through MACRA and higher pharmaceutical costs, especially for oncology drugs.
A 'doctor's office that looks more like an Apple store'
My colleague Kia Kokalitcheva passes on this great read from Fast Company about Forward, a startup that's trying to build up the idea of "direct primary care" — where the patients pay a flat monthly fee, rather than paying for every service. The idea is taking off in Silicon Valley, and this startup was founded by a couple of former executives from Google and Uber who were convinced that doctors' offices need an "Apple store makeover." Along with the usual medical services, Forward offers high-tech services like genetic screening tests, wearable sensors, and artificial intelligence software.
The catch: The monthly fee is $149, which could be pretty expensive if they ever try to take the idea outside of San Francisco. So Forward's challenge, according to the story, will be to attract enough low-maintenance patients to balance out the costs of the expensive ones — and help pay for all that technology.
What we're watching today: Senate Finance Committee roundtable on Medicaid, 2 p.m.
What we're watching next week: Senate Finance Committee confirmation hearing for Price, Tuesday, Jan. 24; Republican retreat in Philadelphia, Jan. 25-27.
Thanks for reading — go get on with your morning. Let me know what we missed: david@axios.com.