Good morning ... President Trump dropped in some unplanned candor about the midterms as he addressed a Susan B. Anthony List gala last night.
"Your vote in 2018 is every bit as important as your vote in 2016," Trump said. "Although I'm not sure I really believe that, but you know. I don't know who the hell wrote that line. I'm not sure. But it's still important. Remember that."
https://www.axios.com/newsletters/axios-vitals-db81b999-5c52-404d-ae70-72cefa0781ff.html?chunk=0#story0
1 big thing: The Title X cuts are here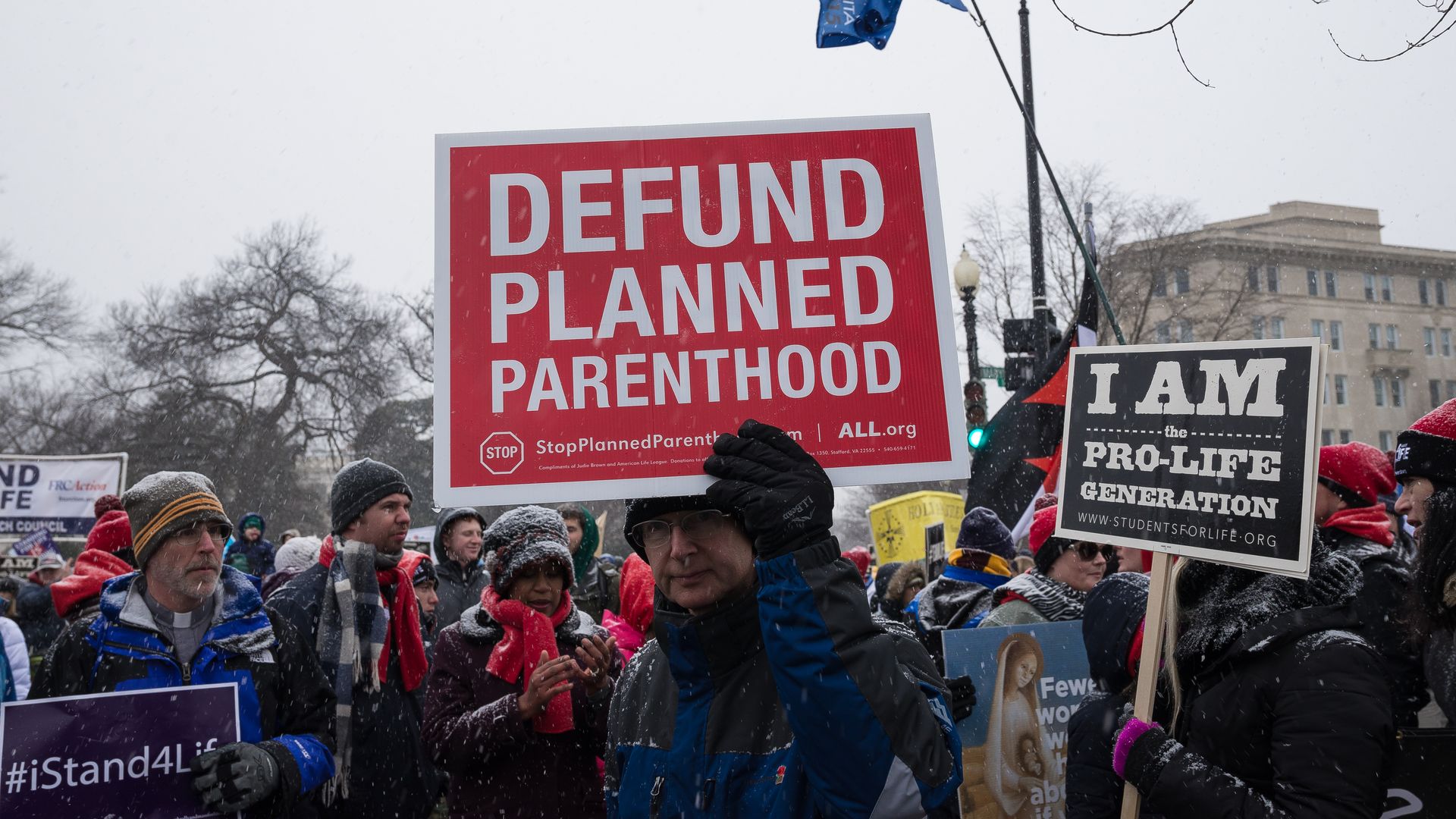 As promised, the Health and Human Services Department has officially released new regulations that would cut off federal family-planning funds to any entity that performs abortions. That includes — but is not limited to — Planned Parenthood.
How it works: The policy, in its own words, "would prohibit recipients from using Title X funds to perform, promote, refer for, or support abortion as a method of family planning."
Right now, a clinic is allowed to perform functions that are funded by Title X, and also to perform abortions — it just can't use the Title X money to cover the costs of its abortion services.
Under these new rules, those two functions could not share any physical resources — buildings, personnel, or even electronic health records systems.
What to watch: There will be a lengthy back-and-forth of revisions and public comments before these rules are finalized. But abortion-rights advocates will be suing over this policy any minute now, touching off what will surely be a protracted and intense legal battle.
On the right, meanwhile, Trump is correct to call this a "promise kept." Social conservatives have gotten just about everything they had hoped for from this administration.
https://www.axios.com/newsletters/axios-vitals-db81b999-5c52-404d-ae70-72cefa0781ff.html?chunk=1#story1
2. Big banks make millions off hospital debt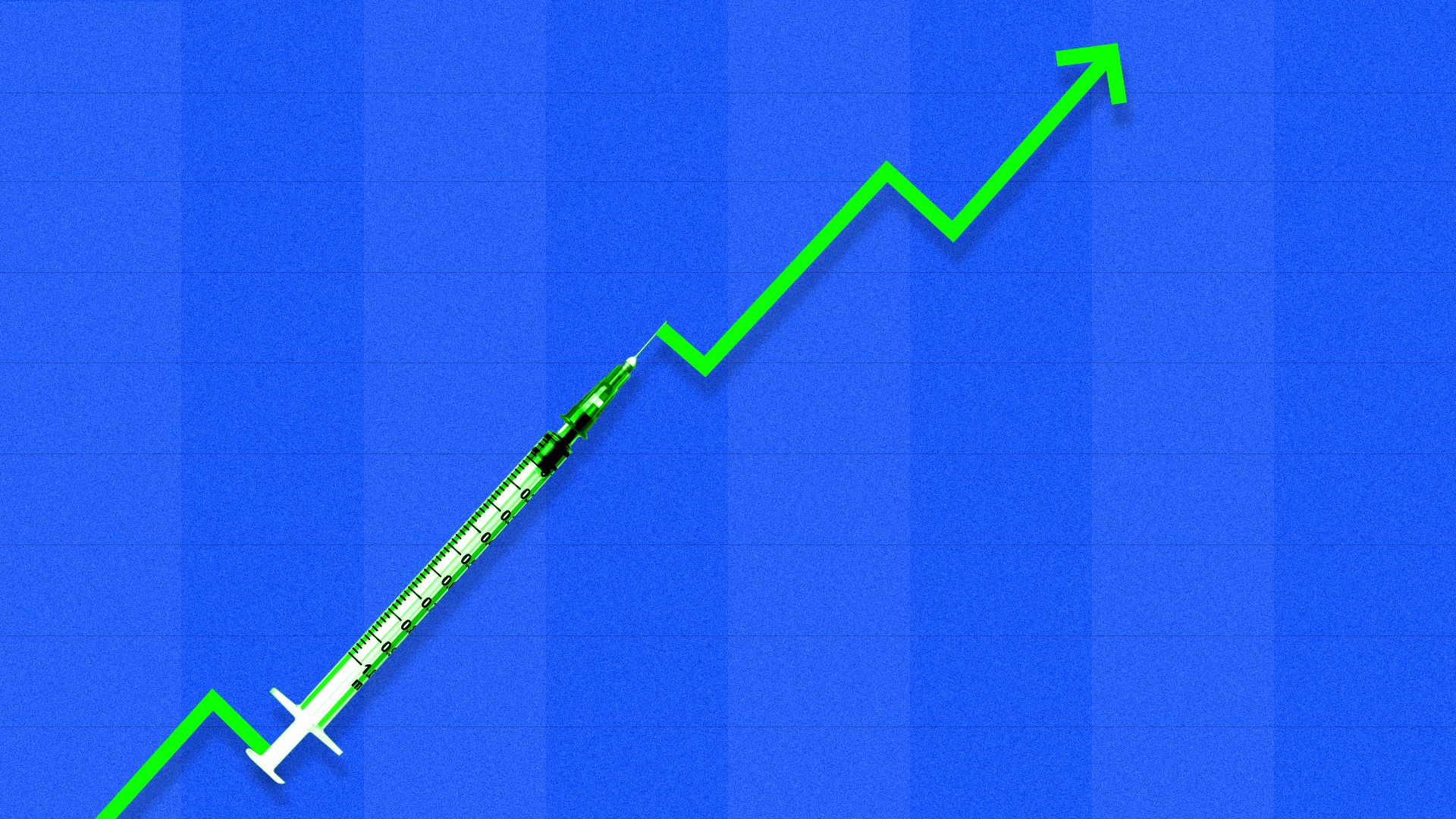 Not-for-profit hospitals are paying bankers, lawyers and other financial advisers hundreds of millions of dollars every year to help them with a relatively routine task: issuing debt.
Why it matters: Collecting debt fees from hospitals is a steady source of money for Wall Street interests like Goldman Sachs and Wells Fargo. But those costs could encourage hospitals to chase revenue through higher prices, Axios' Bob Herman reports.
"Their goal is to maximize revenue, increase volume and increase price so they can afford the debt," said Ge Bai, a health care finance researcher at Johns Hopkins.
By the numbers:
In just 21 debt deals, all conducted this year, hospitals have paid banks, law firms, credit rating agencies and other financial advisers $70.1 million.
More than a third of that $70.1 million went to banks in the form of underwriting fees.
Over the past 9 years, hospitals sold an average of $20 billion in tax-exempt bonds per year, according to HFA Partners.
That easily translates into $300 million per year for bankers and lawyers who manage hospital debt — a rounding error in what the U.S. spends on hospital care, but still a cost the health care system has to bear.
What they're saying: "Everyone likes to have the newest and fanciest toys. It might allow hospitals to attract doctors or reputation. Whether you're getting improved effectiveness is an open question," said Thad Calabrese, a professor at NYU Wagner who studies nonprofit finances.
Go deeper: Bob rounds up the most notable transactions.
https://www.axios.com/newsletters/axios-vitals-db81b999-5c52-404d-ae70-72cefa0781ff.html?chunk=2#story2
3. Employers' health costs are still growing slowly
The growth in health care costs for employer-based coverage is still pretty well under control, all things considered, according to the latest installment of the Milliman Medical Index — one of the most widely respected measurements of those costs.
Key number:
The cost of employer-based health coverage rose by about 4.5% from 2017 to 2018, per Milliman.
🤔:  On the one hand, that's the second-lowest rate of growth since 2001. On the other hand, it's still a spike of more than $1,200 for the year.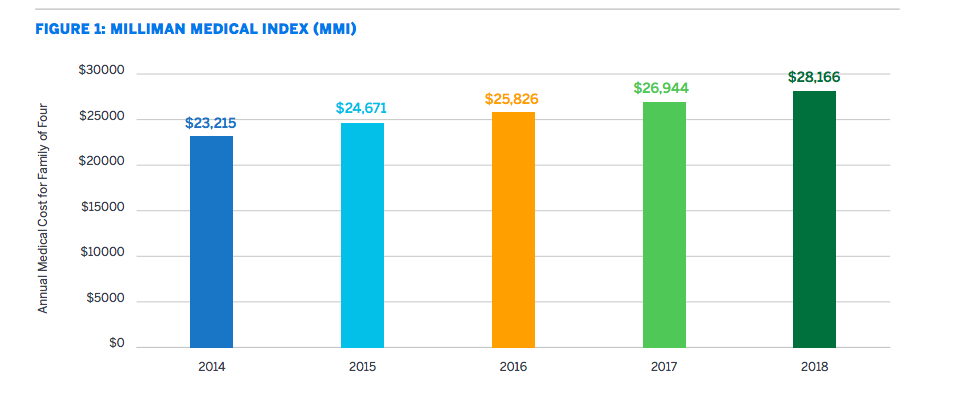 Annual medical costs for family of four. Chart: Milliman Medical Index
Employees are paying more: Milliman confirms a trend that others have reported, as well — employers are keeping their costs in check partly by pushing more of the total bill onto employees. That comes through higher employee premiums as well as increased cost-sharing (like higher deductibles).
One number you'll hear about again: Prescription drug coverage got 6% more expensive last year — down from double-digit growth rates a few years ago, when new and expensive hepatitis drugs came on the market.
https://www.axios.com/newsletters/axios-vitals-db81b999-5c52-404d-ae70-72cefa0781ff.html?chunk=3#story3
4. Why the U.S. doesn't have universal coverage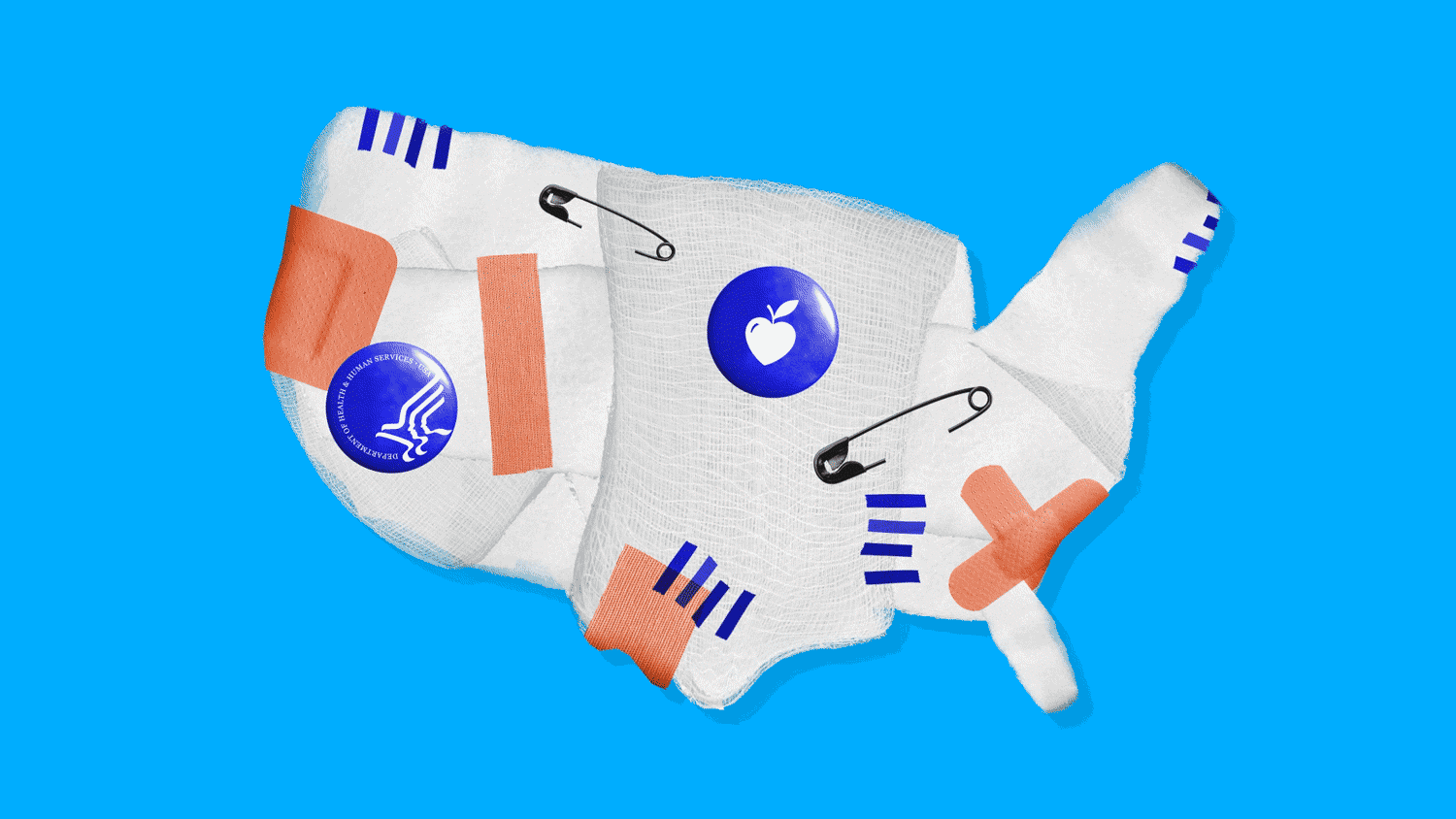 Illustration: Caresse Haaser/Axios
Every fight over the Affordable Care Act — or over Medicaid, or over which section of Medicare certain prescription drugs belong in — is a reminder of the bigger truth about the U.S. health care system: It's really a patchwork.
One big question we hear a lot from people who are just trying to use the U.S. health care system: Why is it like this?
Here's an answer. Together with the Axios Visuals team, we put together a look at how the U.S. system developed and why it doesn't provide the same kind of safety net other countries have. All in less than two minutes.
https://www.axios.com/newsletters/axios-vitals-db81b999-5c52-404d-ae70-72cefa0781ff.html?chunk=4#story4
5. Chinese fentanyl is big business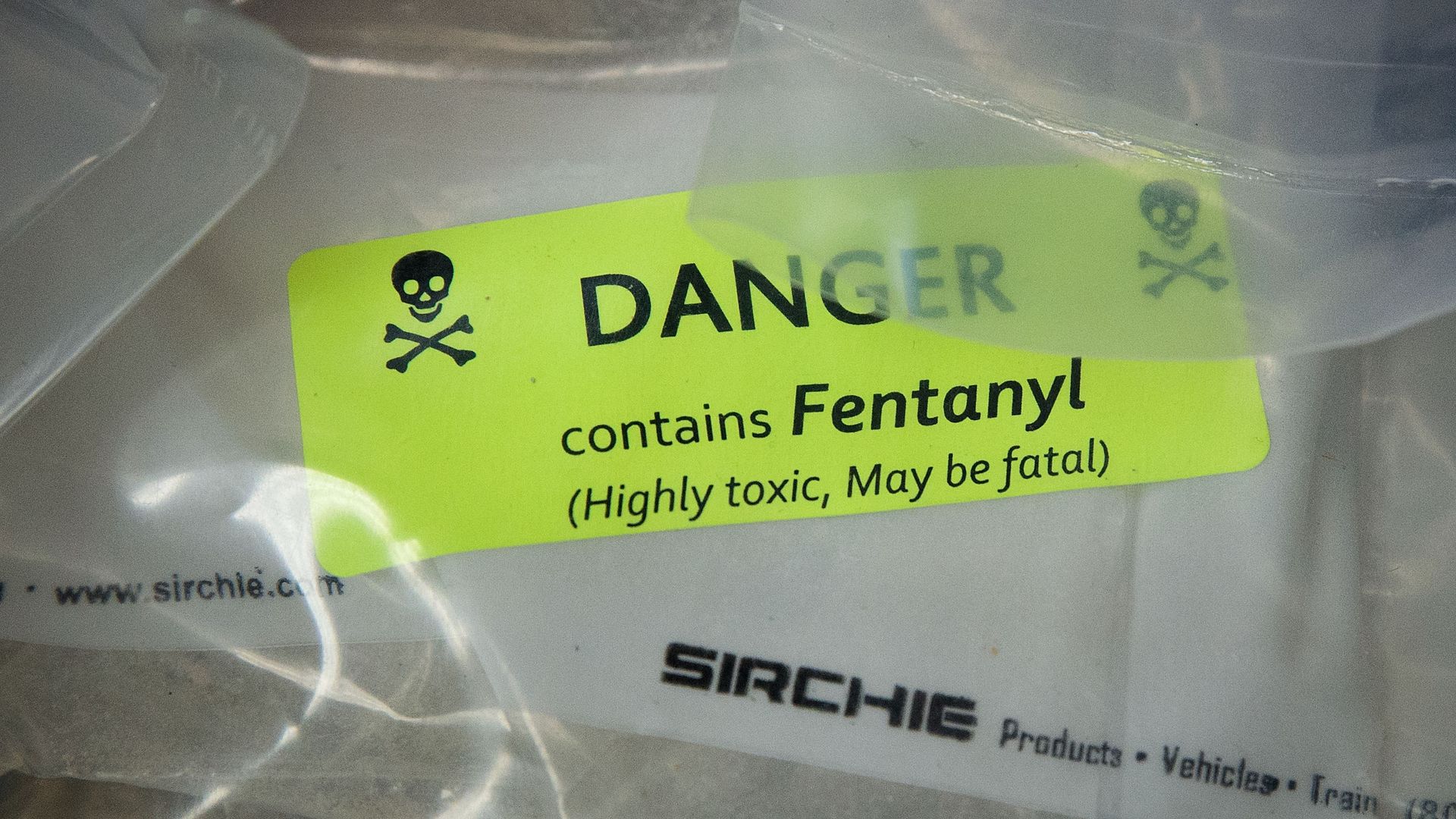 As the worst addiction crisis in American history has shifted from prescription painkillers to heroin and now to illegal synthetic opioids like fentanyl, the death toll and drug dealers' profits have risen together.
Some startling numbers from a Bloomberg dive into the fentanyl supply chain:
A pair of undercover detectives were able to buy a kilogram of fentanyl from China for $3,800. Once turned into tablet form and resold on the street, that's enough to yield more than $30 million in profit.
A kilo of heroin, by contrast, would turn a mere 400% profit — and it's a lot harder to get.
Fentanyl is incredibly potent. So a little bit of raw supply can go a long way. And it's synthesized unpredictably, making it hard to know how much you're taking (and thus more likely to overdose).
It's also easy to synthesize, and China only recently outlawed some forms of fentanyl. For years, manufacturers have been shipping illicit compounds across the globe, including into the U.S., without violating Chinese law, Bloomberg writes.
"The two countries play by different rules," Markos Kounalakis, a visiting fellow at Stanford University, told Bloomberg. "What's bad for America is not necessarily bad for China."