Good morning ... If the Affordable Care Act is really hurting health insurers, their first-quarter earnings aren't showing it. And today's the day when the Congressional Budget Office will finally tell us what all those last-minute changes to the House health care bill actually did.
Don't forget our Axios News Shapers event this morning, where Mike Allen will have one-on-one conversations with House Speaker Paul Ryan and Bob Woodward. For the health care crowd, Ryan is the one to watch, of course. Details here. And if you didn't RSVP, you can watch Ryan on his office's livestream at 8:15 am Eastern.
https://www.axios.com/newsletters/axios-vitals-d9bc512b-ebfc-4246-b8c5-e1e597868f8e.html?chunk=0#story0
Health insurers are doing fine, thanks
We're supposed to be worried about imploding Affordable Care Act marketplaces and massive losses for insurers, but Bob Herman reports this morning that they actually made historically large profits in the first quarter of this year.
Aetna, Anthem, Cigna, Humana and UnitedHealth Group — the big five for-profit insurers — cumulatively collected $4.5 billion in net earnings in the first three months of 2017. That was by far the biggest first-quarter haul for the group since the ACA exchanges went live in 2014. Other major insurers, such as the Blue Cross Blue Shield company Health Care Service Corp., also are improving their ACA operations.
For more, read Bob's story here.
https://www.axios.com/newsletters/axios-vitals-d9bc512b-ebfc-4246-b8c5-e1e597868f8e.html?chunk=1#story1
If there was a trailer for a CBO score ...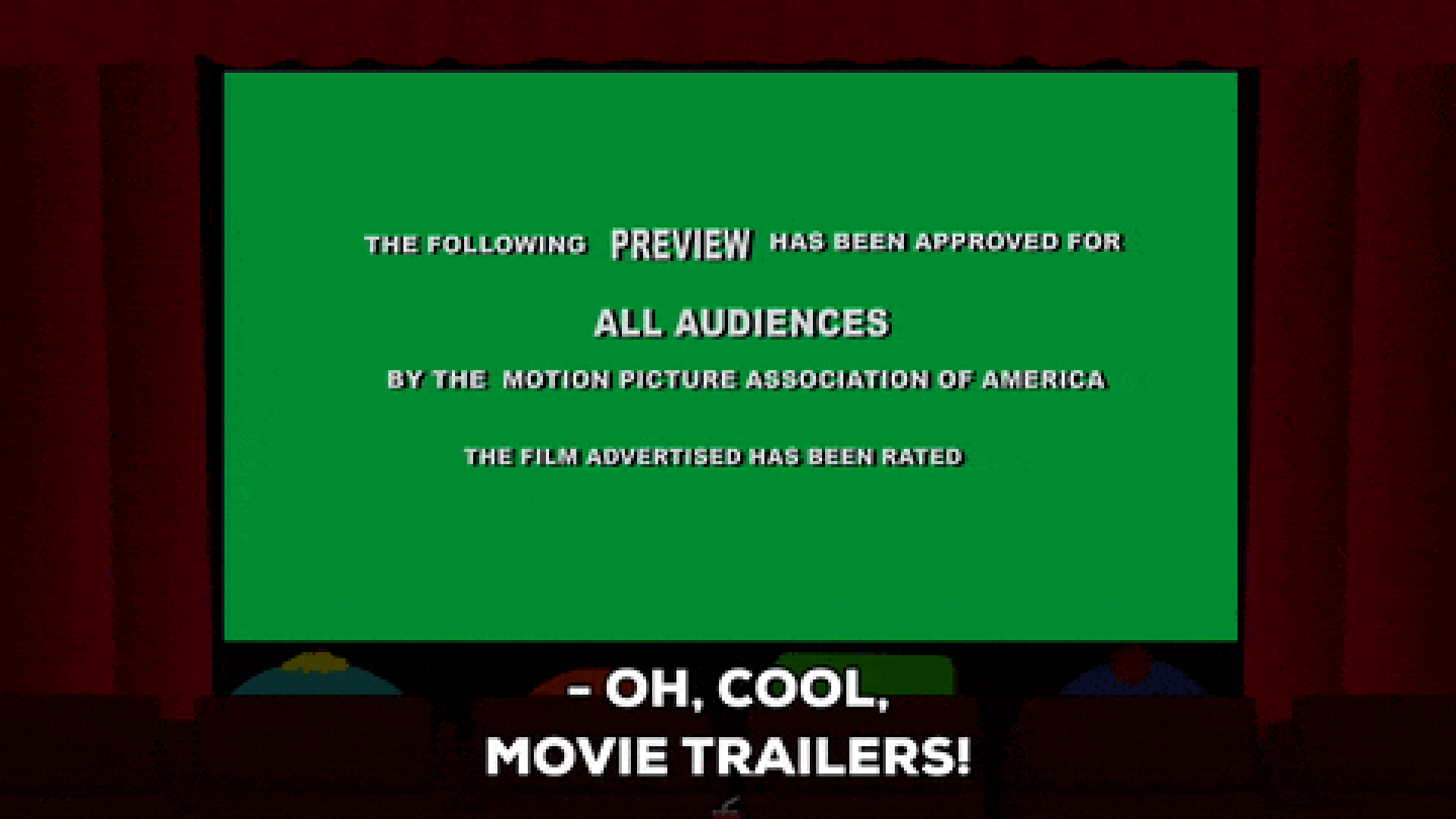 It would be really boring, so you'd better read this instead. The Congressional Budget Office estimates for the final version of the House health care bill are coming this afternoon, and they'll be pages and pages of words and numbers. So just skip to these parts:
Coverage: How many people would have health insurance? Would it still be 24 million fewer than under the Affordable Care Act? Or will coverage improve now that the bill has changed?
Quality: If the coverage improves — thanks to the state waivers that have been added to the bill — what kind of coverage would people have? If it's cheaper insurance, would it also be skimpier?
Costs: Does it still save enough money to hit the budget targets? (The last CBO estimate showed that it would save $150 billion over 10 years.)
Pre-existing conditions: How many people with health problems might have to pay higher premiums, if their state gets a waiver from ACA pricing rules and they have a lapse in coverage?
https://www.axios.com/newsletters/axios-vitals-d9bc512b-ebfc-4246-b8c5-e1e597868f8e.html?chunk=2#story2
One thing that won't change: huge Medicaid coverage losses
The private health insurance estimates might change, but the Medicaid estimates probably won't, Caitlin Owens reports — because that's one part of the House bill that didn't get rewritten before they passed it. And that part is expected to cause 14 million people to lose their Medicaid coverage — more than half of the coverage losses in the entire bill. Read Caitlin's story here.
https://www.axios.com/newsletters/axios-vitals-d9bc512b-ebfc-4246-b8c5-e1e597868f8e.html?chunk=3#story3
What might survive from the Trump budget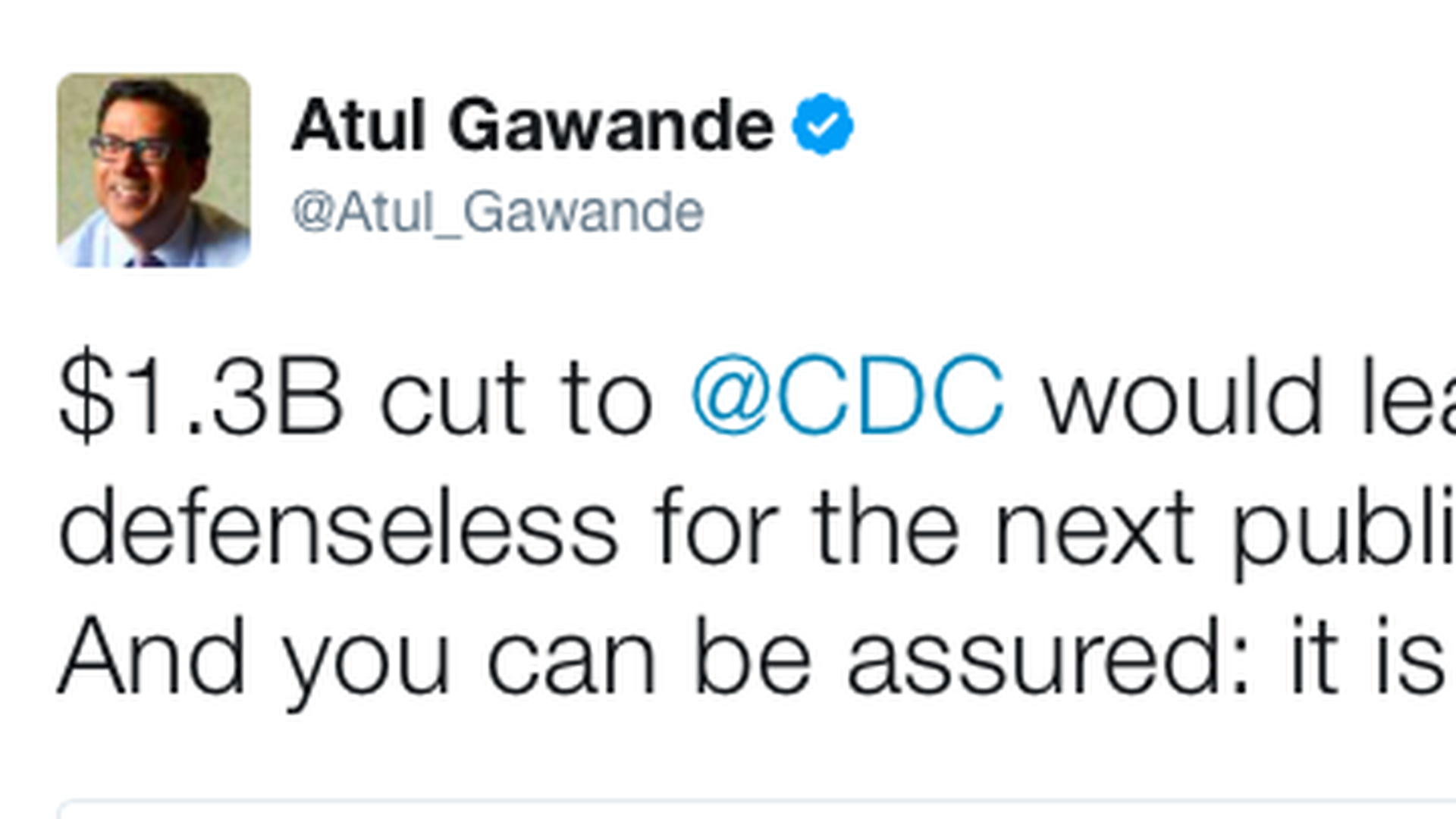 There's a lot in President Trump's budget that you can ignore. The National Institutes of Health cuts aren't likely to get past the top Republican appropriators. And the extra Medicaid cuts on top of the ones in the House health care bill? As much as $1.6 trillion total (according to Brookings Institution estimates)? Congressional Republicans aren't going for that.
But here's what you should pay attention to:
Medicaid cuts are still happening. As long as the ACA repeal bill is alive, the bill's original set of Medicaid cuts — around $880 billion over 10 years — are still on the table.
Public health cuts are still possible. Even with supporters like Rep. Tom Cole speaking up for them, public health advocates are worried that the Centers for Disease Control and Prevention — which faces a $1.3 billion cut — doesn't have as powerful outside advocates as the NIH does.
Agencies will still have to fight for funding. With the CDC cut, and deep reductions planned for the Food and Drug Administration and the Substance Abuse and Mental Health Services Administration, it's going to be hard for anyone to escape a hit.
International family planning is in trouble. That's an area where most anti-abortion Republicans can agree. Melinda Gates said in a statement that the cuts "would lead to more unintended pregnancies, more maternal deaths, and more missed opportunities" for women around the world.
The Agency for Healthcare Research and Quality is at risk. This has been on the GOP hit list for years, and the Trump budget would eliminate it and merge it with NIH. It survived under President Barack Obama, but it may only have so many lives.
https://www.axios.com/newsletters/axios-vitals-d9bc512b-ebfc-4246-b8c5-e1e597868f8e.html?chunk=4#story4
HHS vs. the Affordable Care Act
The data-rich reports on the ACA have always come from HHS's assistant secretary for planning and evaluation. Last night, they put out one under the new HHS leadership — and this time, it was an indictment of the law's impact on the individual market. According to the new report, average premiums more than doubled between 2013, the year before the law took full effect, and 2017.
Who they studied: The report looked at the 39 states that use the federal marketplace.
Yes, but: The huge jump in premiums reflects the fact that individual health insurance not only covers more things now, but serves customers it didn't have to serve before, like people with pre-existing conditions. As the report itself notes: "Older and less healthy people are a larger share of the individual market risk pool now than in 2013."
https://www.axios.com/newsletters/axios-vitals-d9bc512b-ebfc-4246-b8c5-e1e597868f8e.html?chunk=5#story5
Why Trump may sound different
My former STAT colleague Sharon Begley took on a challenging topic yesterday in a story that got a lot of attention. She compared the way Donald Trump used to talk in interviews in the 1980s and 1990s — articulate, sophisticated, and polished — with the way he talks now. And she asked linguistics experts and psychologists to try to explain why he's changed, using simpler words and sometimes drifting from one thought to another in mid-sentence.
The key point: "Research has shown that changes in speaking style can result from cognitive decline."
Between the lines: This is one of the most difficult topics for any journalist to take on, because medical experts are hesitant to evaluate someone they've never seen as a patient. The most they'll say, as one New York psychologist put it: "In fairness to Trump, he's 70, so some decline in his cognitive functioning over time would be expected."
But check out the then-and-now videos in Sharon's piece. If you haven't seen '90s-era Trump, and all you know is what you hear now, the difference is pretty startling.
https://www.axios.com/newsletters/axios-vitals-d9bc512b-ebfc-4246-b8c5-e1e597868f8e.html?chunk=6#story6
What California would pay for single payer
This one doesn't need a lot of explanation. From California Healthline, quoting a legislative analysis of a single-payer proposal for California:
Cost per year: $400 billion
What California spent on all health care last year, public and private: $367 billion