Good morning ... Vitals is off next week, and so am I! See you a week from Monday. In the meantime, please bookmark and check the Axios health care news stream every day for the latest in health care politics and business.
https://www.axios.com/newsletters/axios-vitals-d7681b6b-0891-4206-9203-5d57471d5d2c.html?chunk=0#story0
Bernie Sanders tries to flesh out "Medicare for All"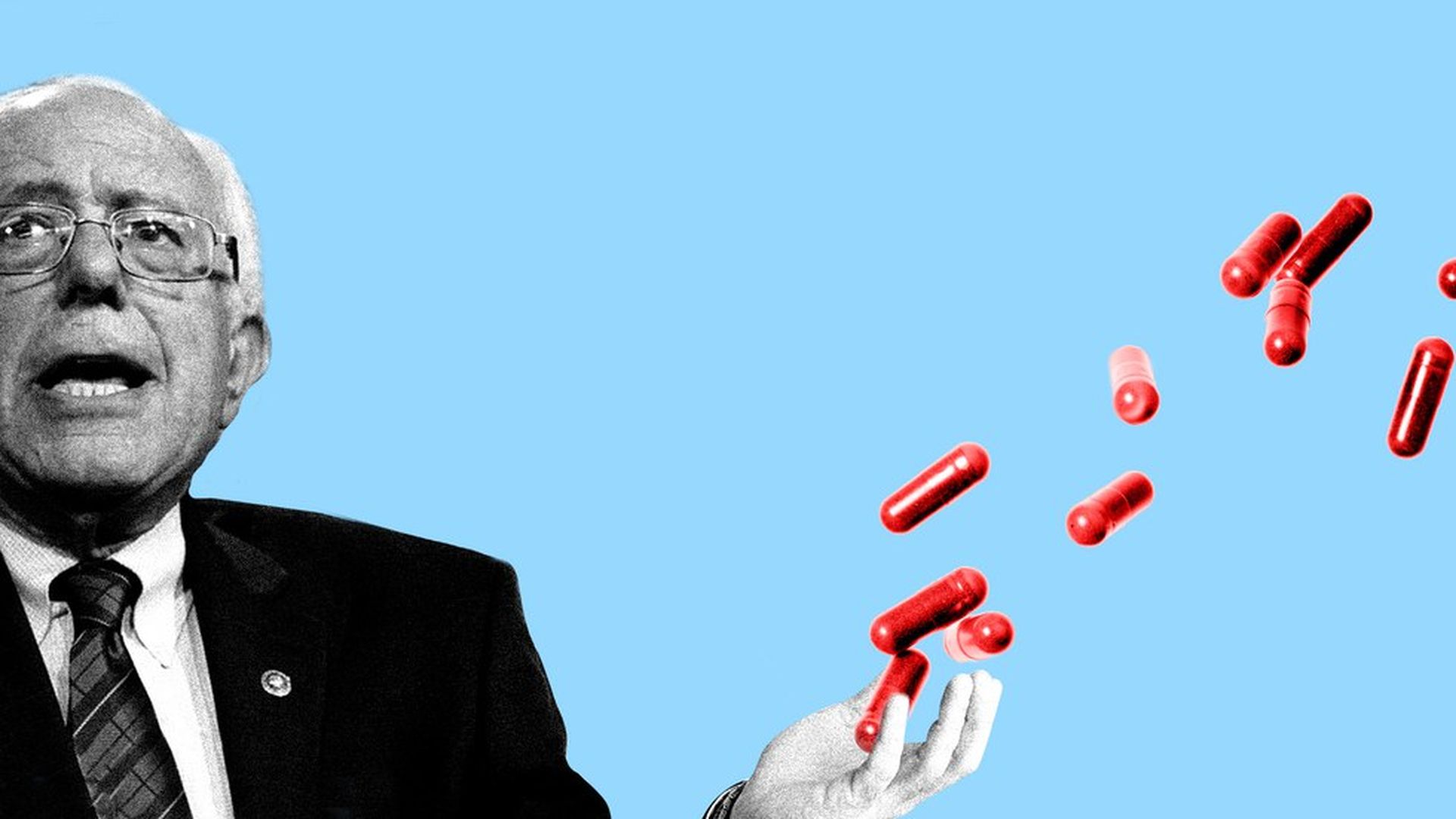 There's been a lot written lately about how Democrats are going to have to start working out details about single payer if they're serious about running on it. Now, we're getting a better idea of how Bernie Sanders will address some of them — though not all of them — in the "Medicare for all" bill he hopes to introduce next month.
The bottom line: It will give some basics on how to handle one of the main practical issues: how to manage a transition to the new system, according to aides. But don't expect a detailed explanation of how to pay for it, which of course is one of the biggest questions everyone will ask. And no, private insurance companies wouldn't have much of a role to play.
For more about what we're likely to see, read my story here.
https://www.axios.com/newsletters/axios-vitals-d7681b6b-0891-4206-9203-5d57471d5d2c.html?chunk=1#story1
Trump vs. McConnell
There's been so much drama between President Trump and Senate Majority Leader Mitch McConnell this month that you may be wondering why McConnell would ever take another crack at Affordable Care Act repeal, as Trump wants. And it's not helping Trump's influence with Congress that Republicans have to disavow everything he says about Charlottesville, white supremacists and neo-Nazis.
The bottom line:
Whatever McConnell does next will be dictated by whatever he thinks in Republicans' best interests, not what's in Trump's interests.
If he can get enough of a win for Republicans out of a bipartisan deal to stabilize the ACA markets — like a deal with beefed-up state waivers — he'll try to pass that.
A McConnell ally pointed out to me that the majority leader has said he won't bring up anything that doesn't already have enough votes to pass.
But safe to say, Trump hasn't exactly made himself another LBJ in his influence with Congress.
https://www.axios.com/newsletters/axios-vitals-d7681b6b-0891-4206-9203-5d57471d5d2c.html?chunk=2#story2
The hospital hiring bubble
Hospitals continue to add more jobs to the economy, though at a slower rate than the past. Bob Herman points out that something will have to give. Either hospitals will run up the national health care spending tab through bigger payrolls, or layoffs are coming (and some already are).
Bob reported in March how labor costs are outpacing the revenue that hospitals are collecting. He found more of that after digging through new financial reports of large not-for-profit health systems:
Providence St. Joseph Health, based in Washington state, is clutching onto razor-thin profit margins. Its operating margin in the first half of this year was 0.4%, and that was an improvement from last year's 0.1%. Layoffs are on the way, and Providence executives told bondholders that "increasing labor and supply costs remain" as one of their most significant challenges.Edward-Elmhurst Health in suburban Chicago will lay off employees as its operating profit dwindled to just above break-even.Operating income at Fairview Health, a large system in Minnesota, dropped 39% in the second quarter of this year. Fairview executives cited "higher salaries and benefits" as a major reason for the decline.Employee costs at Inova Health, a hospital system in the Virginia and D.C. regions, increased by $67 million, or 9%, in the first half of this year and outpaced revenue growth. Inova has employed a lot more physicians and also paid premium bucks for temporary workers in its operating rooms and critical care units.
https://www.axios.com/newsletters/axios-vitals-d7681b6b-0891-4206-9203-5d57471d5d2c.html?chunk=3#story3
Price claims EpiPen as a drug costs victory
Health and Human Services secretary Tom Price has been looking for anything he can call a victory over rising drug prices. Yesterday, he found one: Mylan's agreement with the Centers for Medicare and Medicaid Services to reclassify the EpiPen as a brand-name rather than a generic, which would require it to pay bigger rebates to Medicaid.
What Price said: "CMS Administrator Seema Verma and the team at HHS are working every day in support of President Trump's goal of lowering the costs of drugs and medical devices in our country and making healthcare more affordable."
Reality check: The agreement may help the taxpayers who pay for the Medicaid program, but most people will be focused on what they pay out of their own pockets for prescription drugs. And Republican Sen. Chuck Grassley wasn't impressed anyway: He said the settlement amount "shortchanges the taxpayers," given that they may have overpaid for the EpiPen by nearly $1.3 billion over 10 years.
What CMS said: Verma's victory statement was more narrow: "This announcement puts drug manufacturers on notice that CMS remains vigilant in our duty to protect the integrity of the Medicaid program."
https://www.axios.com/newsletters/axios-vitals-d7681b6b-0891-4206-9203-5d57471d5d2c.html?chunk=4#story4
Humana CEO's thumbs up for 23andme
Bruce Broussard, Humana's president and CEO, has a LinkedIn post about the 23andMe home genetics tests that gives the company a strong defense — calling it an example of "the disruptive power of technology in health care." Here's why:
"Some might argue that home genetic tests tread on doctors' turf and complicate their jobs. But the opposite is true -- patients who have a detailed understanding of their genetic risks let doctors focus on the sickest patients.
Given how little time physicians, clinicians, nurses and other care professionals have in their day-to-day schedules, empowered patients are good for the system. And, as other highly regulated industries have learned, dramatic change can make life better for all of us."
Yes, but: There's still a lot of ways people can misinterpret the tests. They can make you think you're at greater risk for a disease than you actually are — and they can also make you think you're in the clear when you're actually not. Read STAT's Sharon Begley for a smart breakdown of how the tests really work.
https://www.axios.com/newsletters/axios-vitals-d7681b6b-0891-4206-9203-5d57471d5d2c.html?chunk=5#story5
What AI in medicine still has to prove
We'll do one more entry in our running dialogue on the use of artificial intelligence in medicine. This time we're returning to Joel Zivot of Emory University, an anesthesiologist who has a background in bioethics, whom we quoted in my first piece about the Human Diagnosis Project's AI initiative:
"The wisdom of crowds is understood as a limited concept. The doctor needs to listen and the patient needs to explain. Doctors can be bad listeners, both singularly and collectively. Some patients are unable to clearly explain their complaint."
"Any reasonable review of a claim that this project is solving a problem will first need a clear articulation of said problem and a thorough evaluation of data by impartial individuals."
"The doctor-patient relationship is not simply strengthened with more opinions made by an international crowd of nameless physicians. The doctor-patient relationship is strengthened with trust."
"Machine intelligence intends to exceed its program and AI 'physicians' will make very different decisions about human patients more than anyone might reasonably imagine."
Stay tuned: This is a worthy running dialogue, so we'll do more of it when we can. Please keep reading Vitals, and Axios, for more on this debate — because it's going to affect all of us.