Axios Vitals
January 10, 2018
Good morning ... Apparently it's only Wednesday?
Azar you ready for a new HHS secretary?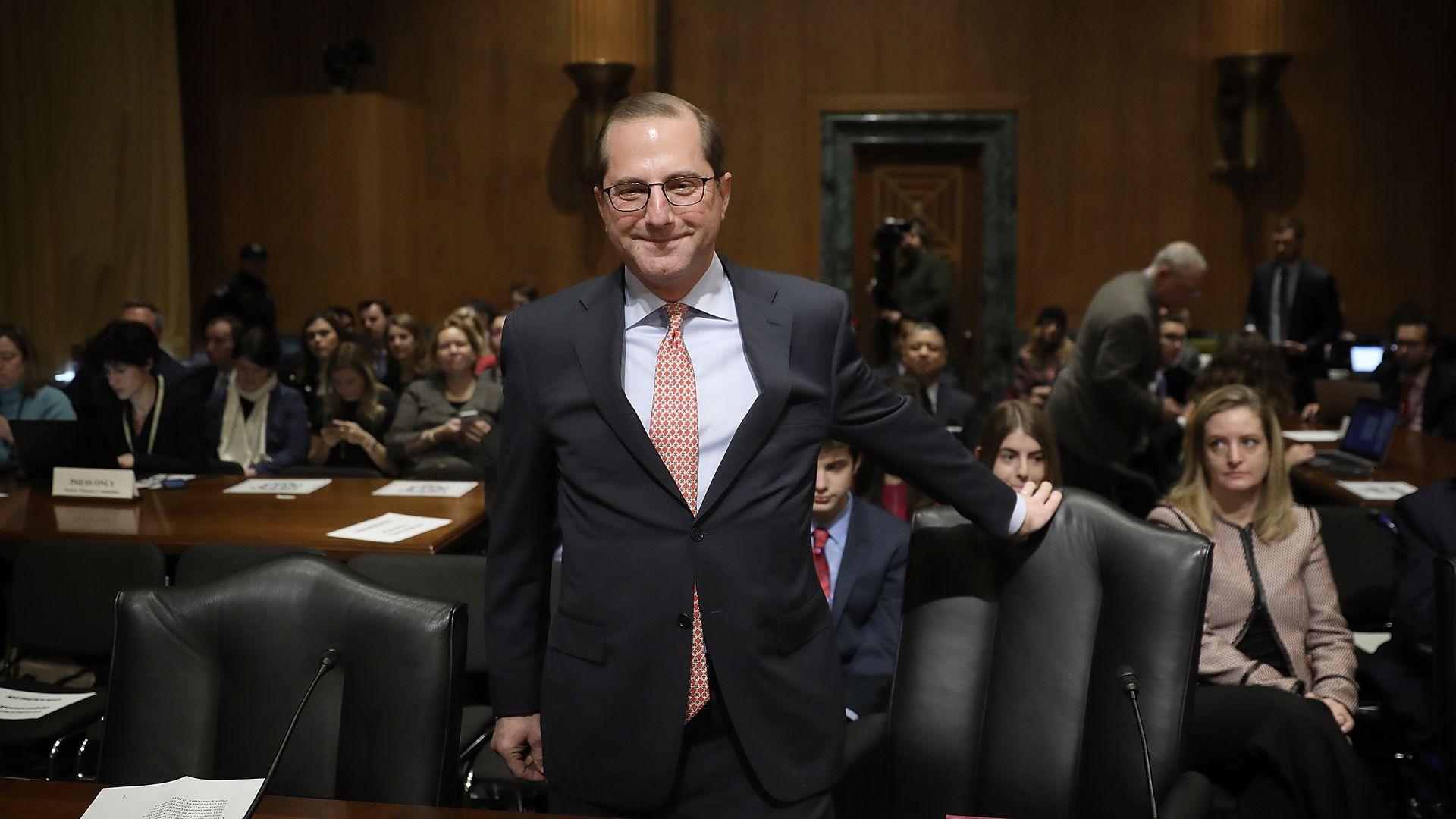 Here's what you need to know out of Alex Azar's confirmation hearing yesterday to be Health and Human Services secretary:
He's probably going to be confirmed.
Azar did what every White House loves and every reporter hates — largely avoided making much news or saying anything controversial. Barring any huge surprises, the Azar era will be under way relatively soon.
He might be open to mandatory pilot programs.
"If, to test a hypothesis around changing our health care system, it needs to be mandatory as opposed to voluntary to get adequate data, then so be it," Azar said.
Why it matters: These comments came as Azar said he believes the Center for Medicare and Medicaid Innovation, created under the Affordable Care Act, can help transition Medicare payments to a system that rewards quality over quantity.
Under former secretary Tom Price, HHS rolled back a couple of mandatory CMMI pilot projects begun under the Obama administration.
The debate over drug pricing is staying at the margins.
Azar said, as he has before, that "drug prices are too high," in response to persistent Democratic questioning about how a former Eli Lilly CEO could make good on Trump's campaign pledge to lower the cost of drugs.
Asked about price negotiations in Medicare Part D, Azar said relying on pharmacy benefit managers has already given the government enough power there. He said he might be open to expanding PBMs' role into Part B, which covers drugs that are administered at a doctor's office.
The latest from #JPM18
My colleague Bob Herman was back at it yesterday in San Francisco, for the big J.P. Morgan Healthcare Conference. Here's the latest:
Drug wholesalers and opioids:
"We think it's absurd…it's dismaying that people think that we are complicit in any part of this process," AmerisourceBergen CEO Steve Collis said of lawsuits against opioid manufacturers. He added his company flags about 200 suspicious orders per week.
Tech's health insurance darling, Oscar, speaks.
"Our business model is working," Oscar Health Insurance CEO Mario Schlosser told a packed room.
Oscar's medical loss ratio, which shows how much of its premiums were spent on medical care, was 120% in 2016 and declined to 95% in 2017 — numbers that would put most insurers out of business. But Oscar has raised more than $700 million, along with some patience, from investors.
Schlosser said he hopes that ratio will be in the mid-80s this year, after premium increases.
Medicaid managed care grows in the South.
North Carolina is prepping to move its 2 million Medicaid recipients into private health plans by 2019. Health insurers, including WellCare Health Plans, are working with the state now to flesh out how it should work.
"We don't think this is going to be rushed," WellCare CEO Ken Burdick said when Bob asked him about concerns North Carolina could replicate mistakes made in Iowa.
Corporate-speak of the day:
Cigna CEO David Cordani called tax reform a "shareholder value creation opportunity."
Bob's take: "Kind of like how a punch to my face is a 'cranial swelling impairment event.'"
People spend their tax refunds at the doctor
New data from the JPMorgan Chase Institute suggests that when Americans get a tax refund, they use it to take care of health care needs they had been delaying.
The details:
Out-of-pocket health care spending rose by 60% in the week following a tax refund, according to a JPMorgan survey of more than 1 million checking accounts.
Most of that extra spending is in-person payments to providers — in other words, people are mostly using their extra cash to go to the doctor, not just to make other payments.
Health care spending remained higher for about 75 days after getting a tax refund, then returned to normal.
Payments using debit cards spiked by more than 80%. Credit card payments didn't change.
The bottom line: All of this adds up to one clear conclusion — People put off health care services based on their ability to pay. And that has some pretty significant implications as the system keeps heading toward insurance plans with higher out-of-pocket costs.
On the one hand, making people more attuned to what they spend on health care is a big part of the case for high-deductible plans.
But if people are putting off care they really need until they come into some extra cash, that's not good for them or their long-term health care costs.
Hey, remember Alexander-Murray?
Anti-abortion advocates lobbied Vice President Mike Pence personally to scuttle the bipartisan ACA bill sponsored by Sens. Lamar Alexander and Patty Murray, the Daily Beast reported yesterday.
Advocates said the bill, which would restore funding for the ACA's cost-sharing subsidies, doesn't include sufficient restrictions to prevent that money from finding its way to insurers that cover abortion.
Quick take: Alexander-Murray was already on the rocks and its future still isn't clear. Senate Majority Leader Mitch McConnell still appears determined to at least hold a vote, to follow through on a promise to Sen. Susan Collins, but there's just not much of a constituency behind this bill any more.
Except Alexander. Alexander is still optimistic.
"I'm meeting with Sen. Murray. I'll be talking with Sen. Collins. It's really a matter now for the Republican leaders and the Democratic leaders and the president to take the work product that we've done and see if they can agree on it," Alexander told my colleague Caitlin Owens yesterday.
"So I'm reluctant to say that I'm negotiating. I think we had a very good and intense negotiation that produced a good result. Now it's for other people to read and look at and see whether they can support it."
Medicare has a new way of paying (some) providers
Medicare has launched its first major payment initiative of the Trump administration — a new system of "bundled payments," which will set a defined budget for the totality of certain procedures, rather than treating each individual doctor's part of the process as its own procedure.
The details: These are the kinds of pilot initiatives Azar was saying he might be willing to mandate, but this one is voluntary. Providers who participate in the new program will get a piece of any savings they generate for Medicare, if they meet certain other criteria, and will also face financial risk if they don't perform as well as they had hoped.