Axios Vitals
April 30, 2020
Good morning.
Today's word count is 1,486 words, or a 6-minute read.
1 big thing: Why Gilead's coronavirus drug is not a "silver bullet"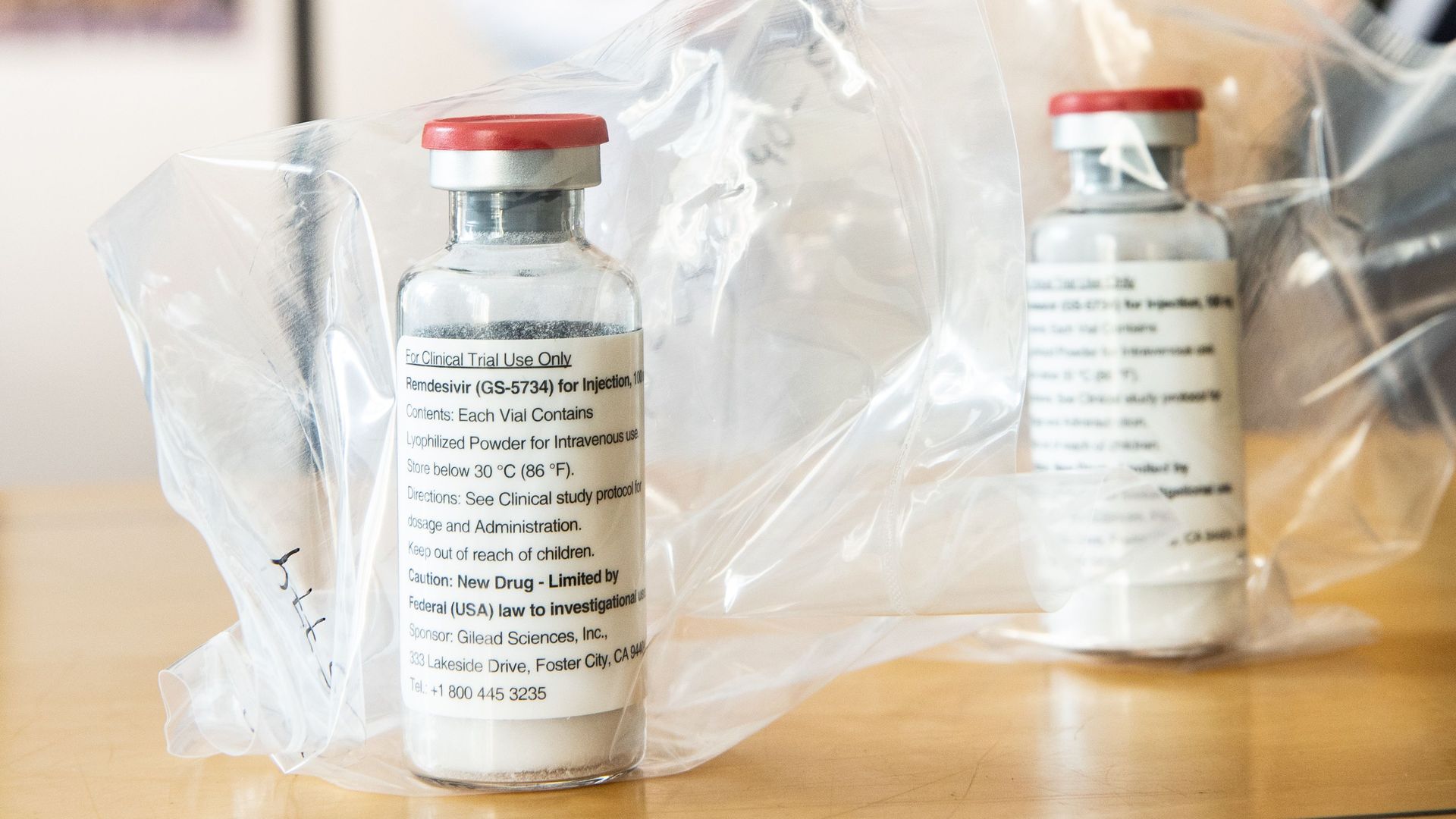 If you feel like you're suffering whiplash from the new, conflicting study data on Gilead Sciences' experimental coronavirus drug, remdesivir, you're not alone.
The big picture: Remdesivir could provide some help and lay the groundwork for more research, but this drug on its own does not appear to be any kind of "cure" for the novel coronavirus, Axios' Bob Herman reports.
What's happening: Remdesivir helped coronavirus patients get out of the hospital modestly quicker, based on early reads of an important and rigorously designed trial run by the National Institutes of Health,
That could be encouraging for those who get sick.
Yes, but: Analysts and experts were cautious about drawing too many conclusions without the full data from NIH — especially considering the primary outcome was changed mid-trial, and a separate randomized trial concluded remdesivir does little, if anything, to combat the virus.
"Remdesivir is a real drug for COVID ... but again, not a silver bullet," Umer Raffat, a pharmaceutical analyst at Evercore ISI, wrote to investors on Wednesday.
And because the drug has limited efficacy and likely works best before the infection gets too serious, "its availability is not going to move the needle on social distancing relaxation," tweeted Peter Bach, a physician and drug researcher at Memorial Sloan Kettering.
The bottom line: This near-constant back-and-forth over remdesivir reinforces how strong the science and data need to be for any treatment, or for the world's best hope: a vaccine.
Go deeper: The high stakes of low scientific standards
2. Contract tracing is the next big hurdle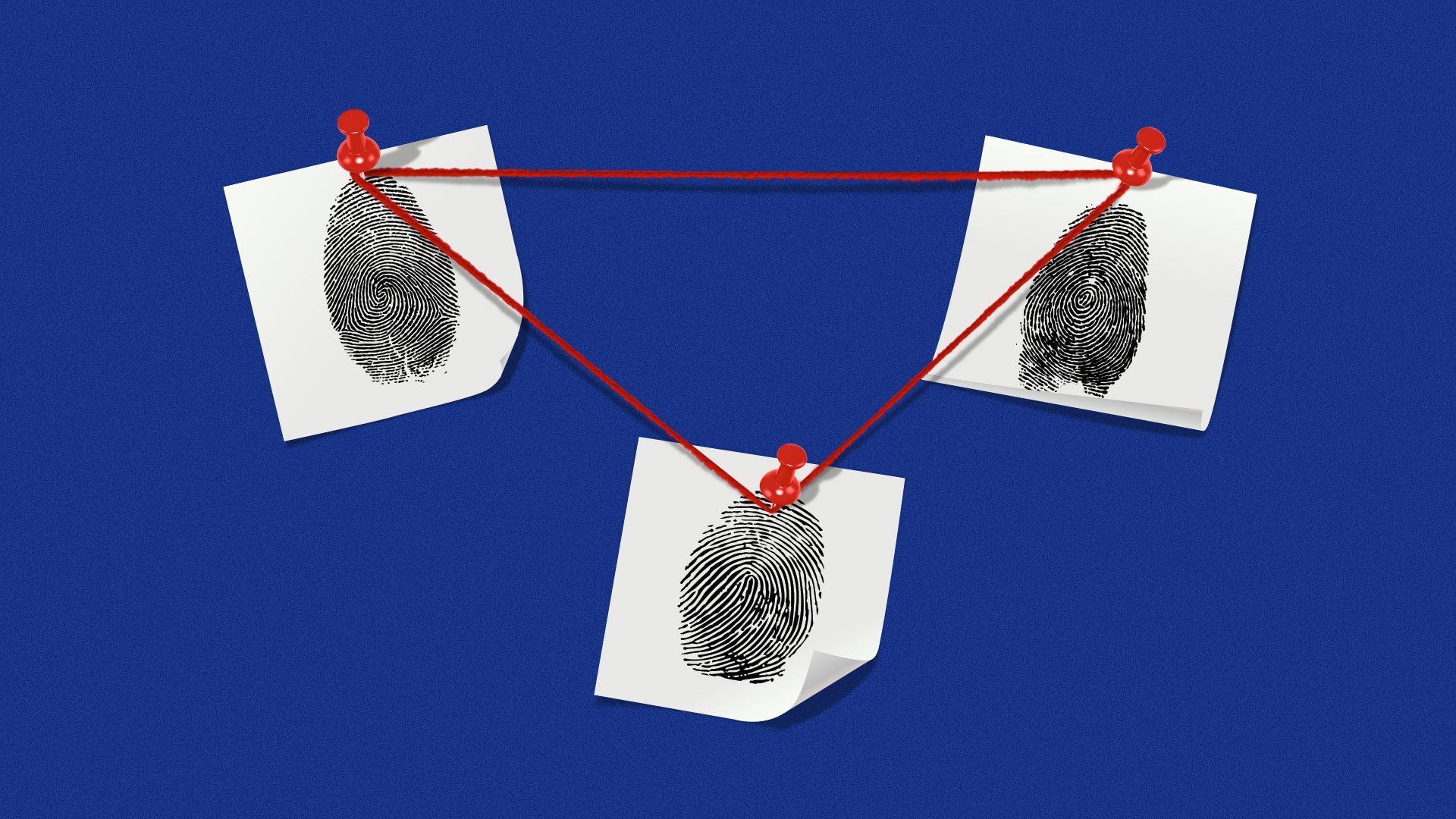 As some states take steps to partially re-open their economies, public health officials and local governments are trying to aggressively ramp up contact tracing to track the spread of COVID-19 in their communities, Axios' Kim Hart and Margaret Harding McGill report.
Why it matters: If we are indeed in the midst of a war against an invisible enemy, a contact-tracing offensive — launched by both an army of human tracers and an arsenal of technological tools — will be a big part of the key to winning. 
Between the lines: State and city budgets are being hammered by the economic fallout of COVID-19, making it harder to find the resources to hire and train people to contact trace or acquire needed technologies.
Some governments are recruiting volunteers, retirees and students to do the work. But the sheer number of people needed — at least 100,ooo across the U.S., per Johns Hopkins — and the open-ended duration of the work makes that a very daunting task.
"We haven't seen a big push coming from the federal government in either traditional contact tracing or these technology-based approaches," said Josh Michaud, associate director for Global Health Policy at the Kaiser Family Foundation. "That leaves most of the legwork and decision-making to the states and local authorities."
In the U.S., the most likely scenario for widespread, tech-enabled contact tracing lies with work done by Google and Apple.
The success of the effort will depend on widespread adoption of the technology.
3. The latest in the U.S.
The novel coronavirus has now killed more than 60,900 Americans and infected over 1 million others in less than three months since the first known death was reported in the U.S., Johns Hopkins data shows.
The National Institutes of Health is spending $1.5 billion in federal stimulus money to speed the development of COVID-19 tests, with a goal of creating "millions" of quick tests every week "by the end of summer 2020, and even more in time for the flu season," the federal agency said Wednesday.
A new technology has been developed using CRISPR-based molecular diagnostics to run thousands of tests for diseases simultaneously, per a paper published in Nature yesterday.
Florida Gov. Ron DeSantis (R) announced on Wednesday that phase one of the state's reopening will begin in most counties on Monday, with stores and restaurants permitted to operate at a 25% occupancy limit.
Trump administration advisers are hinting at a willingness to spend billions and elevate their risk tolerance in the hope of getting coronavirus treatments out this year.
Maryland Gov. Larry Hogan (R) issued an executive order Wednesday requiring universal coronavirus testing for all of the state's nursing home residents, the Baltimore Sun reports.
Assistant Secretary of Health Adm. Brett Giroir, the official leading the federal government's coronavirus testing response, told Time Tuesday "there is absolutely no way" the U.S. will be able to conduct 5 million coronavirus tests per day, contradicting comments President Trump made at a press briefing later in the day.
A watchdog group has filed more than 200 Freedom of Information Act requests across 50 states, seeking communications between the Trump administration and state policymakers that contradict public coronavirus messaging or show how federal efforts fell short, particularly around testing.
4. The latest worldwide
One worst-case scenario caused by the novel coronavirus is that the number of malaria deaths in sub-Saharan Africa could double, World Health Organization Director-General Tedros Adhanom Ghebreyesus said.
Some Latin American leaders, like Brazilian President Jair Bolsonaro, have denied the severity of the coronavirus pandemic or decided not to take action to mitigate it, the New York Times reports.
South Korea says some business travel will resume with China, which would be Beijing's first formal bilateral action to ease the border controls it imposed to control the coronavirus, WSJ reports.
5. Employers split from health care industry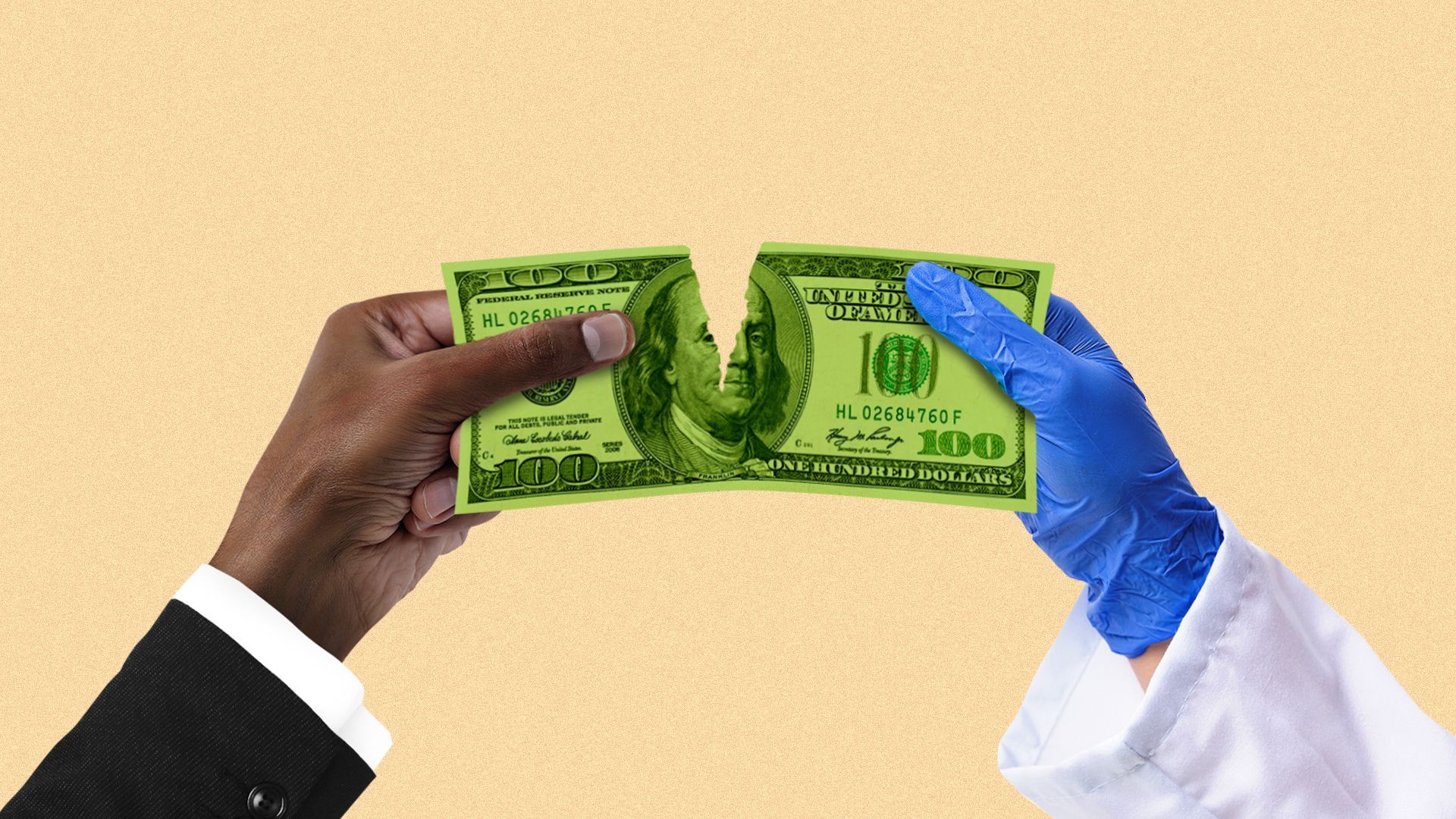 Several large employer groups this week refused to sign on to funding requests they consider a "handout" for hospitals and insurers, according to three people close to the process.
The big picture: Coronavirus spending bills are sharpening tensions between the employers that fund a significant portion of the country's health care system and the hospitals, doctors and insurers that operate it, Bob reports.
Driving the news: The industry's most recent request — written primarily by the large hospital and health insurance lobbying groups — focused on a few items for the next coronavirus legislation:
Providing subsidies to maintain employer-sponsored insurance, which already receives a large tax break, as well as providing subsidies for COBRA for people who have lost their jobs.
Increasing subsidies for Affordable Care Act plans and creating a special ACA enrollment window.
Opposing the use of the industry's bailout funds to pay for uninsured COVID-19 patients at Medicare rates.
Between the lines: Employers know they get charged a lot more for health care services compared with public insurers, but many weren't keen about urging Congress to "set up a government program to pay commercial reimbursements," said an executive at a trade group that represents large corporations.
The other side: Several health care groups that signed the letter dismissed the idea of any disagreement with employers.
Go deeper: The coronavirus is exposing the holes in employer health insurance
6. Why the coronavirus feels so risky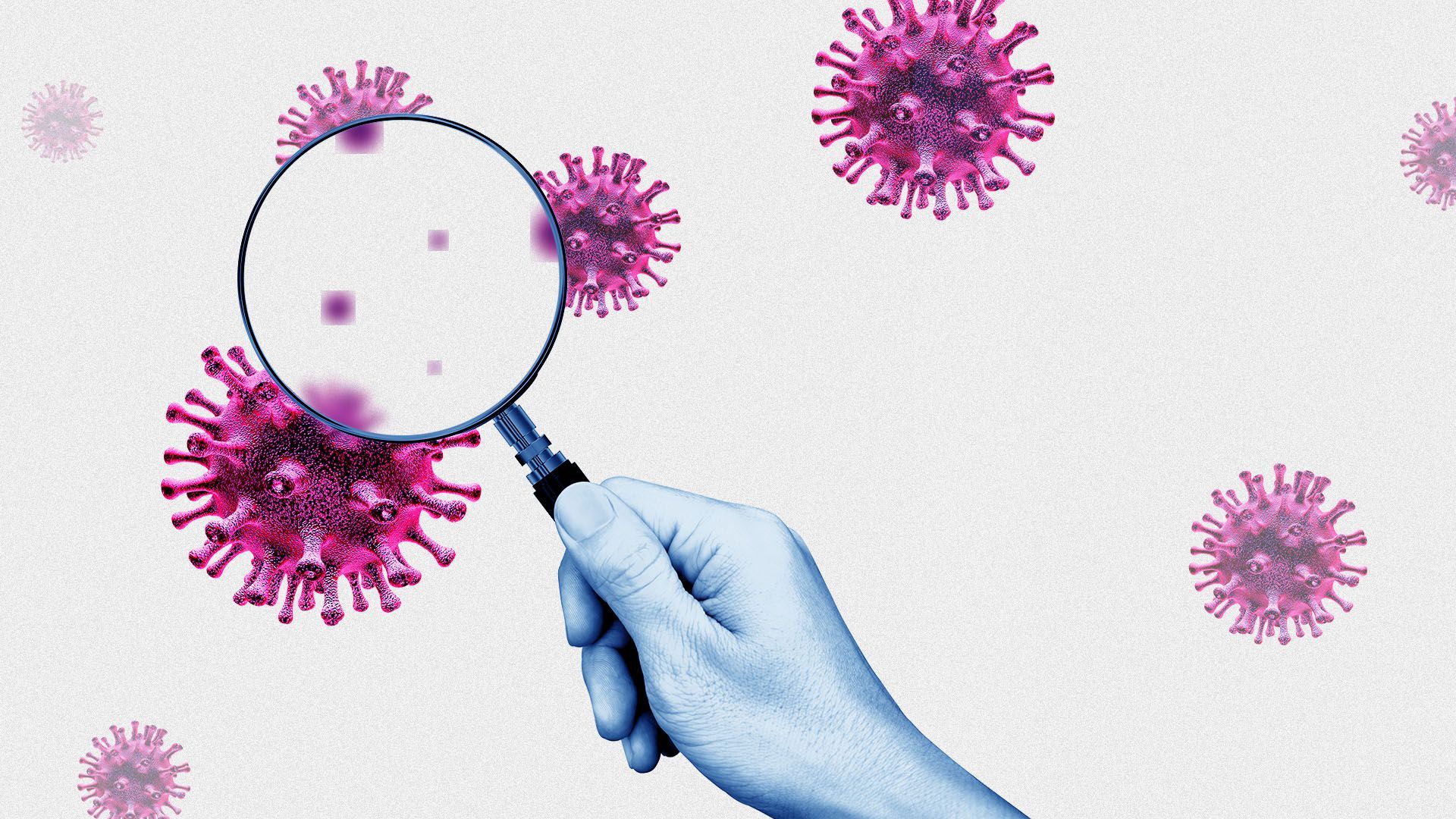 With deaths from the novel coronavirus potentially cresting and some U.S. states taking early steps to reopen their economies, the COVID-19 pandemic is at a critical moment.
Why it matters: Properly managing the pandemic on a social and personal level will require hard honesty about what we know and what we don't, Axios' Bryan Walsh writes.
The big picture: "We still don't know how the coronavirus is killing us," David Wallace-Wells recently wrote in New York magazine.
The big question then is how can we accurately understand the risk COVID-19 poses to each of us — let alone make decisions about how to ease off the lockdown that has suffocated the U.S. economy?
7. Jackpot for liability lawyers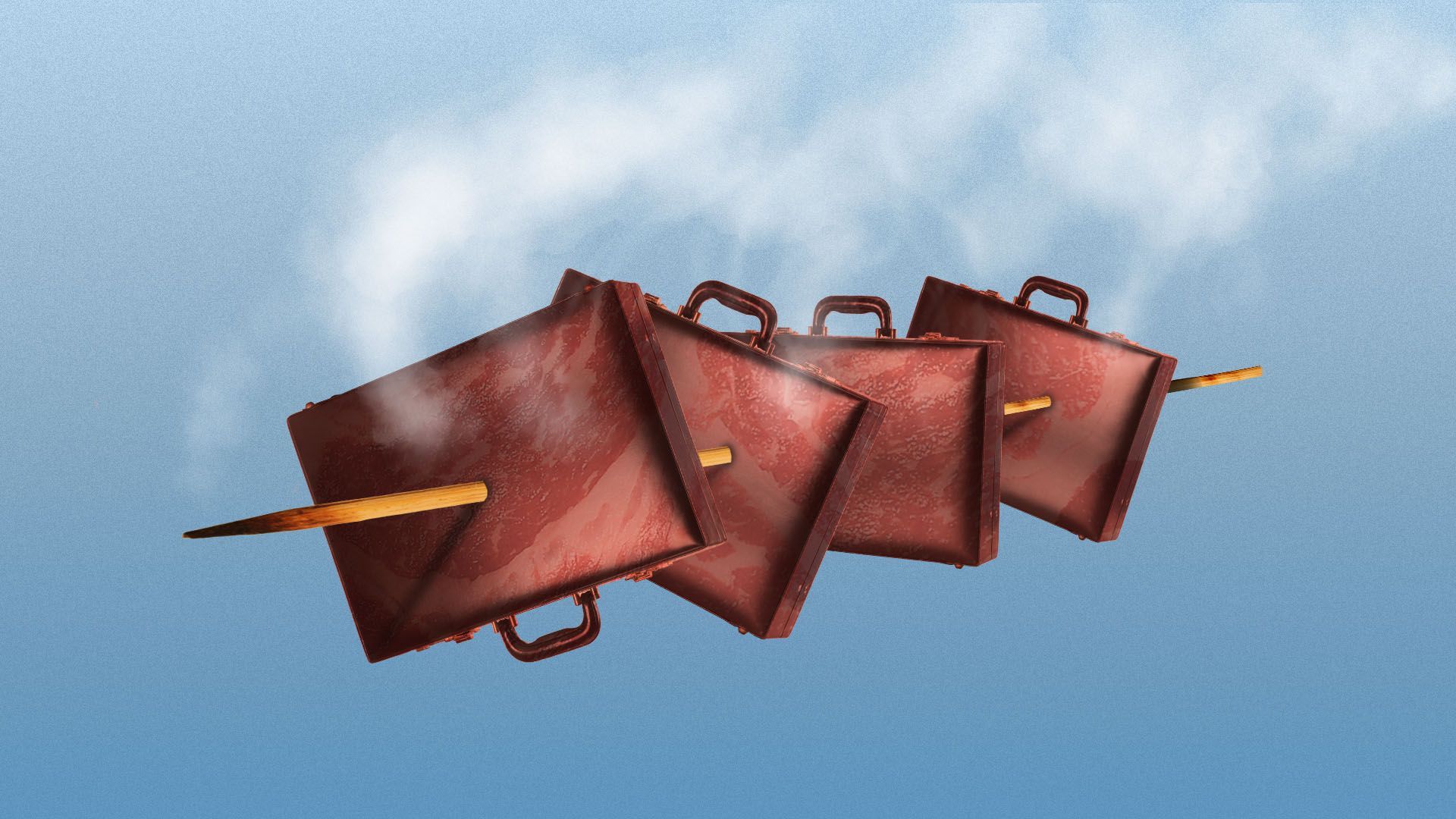 President Trump's order to reopen meat processing plants — despite the fact that they're coronavirus hot spots — raises a tangle of liability issues that could keep courts and trial lawyers busy for years, Axios' Jennifer Kingson writes.
Why it matters: The scrap over meat plants — which is just heating up — raises a host of liability issues that may be a microcosm of the ones other businesses will face once commerce opens up more broadly.
What they're saying: As corporate responsibility for workers' and customers' COVID-19 infections turns into a political and financial flashpoint, the beneficiaries will likely be trial lawyers, bringing torts of all kinds.
"I envision that you are going to see a spike in litigation," Eric Swan, a tort litigation attorney at Lathrop GPM, tells Axios. "You're going to see personal injury claims from consumers against businesses — you're already seeing this a little bit with employees against employers."
He cited a wrongful death suit against Walmart in Illinois brought by the family of an employee who died of COVID-19. The family said the company didn't do enough to protect him.
The issue is fraught. On one side are groups like the U.S. Chamber of Commerce, which sent a letter to Trump on Tuesday pushing him to curb the amount of liability businesses could face.
On the other side are consumer advocates and unions, some of which sent a letter to Congress saying, "legal liability is one of the most powerful incentives we have to ensure that businesses operate safely."