Good morning … Let's get one thing straight right here, right now, forever: Health care is two words. If the AP wants to try to change its style on this, I will not follow. I will remain on the side of the light, and I hope you will, too.
https://www.axios.com/newsletters/axios-vitals-d442d957-2b60-4663-8cd7-91bc898b7e6f.html?chunk=0#story0
The health care taxes Congress needs to reconcile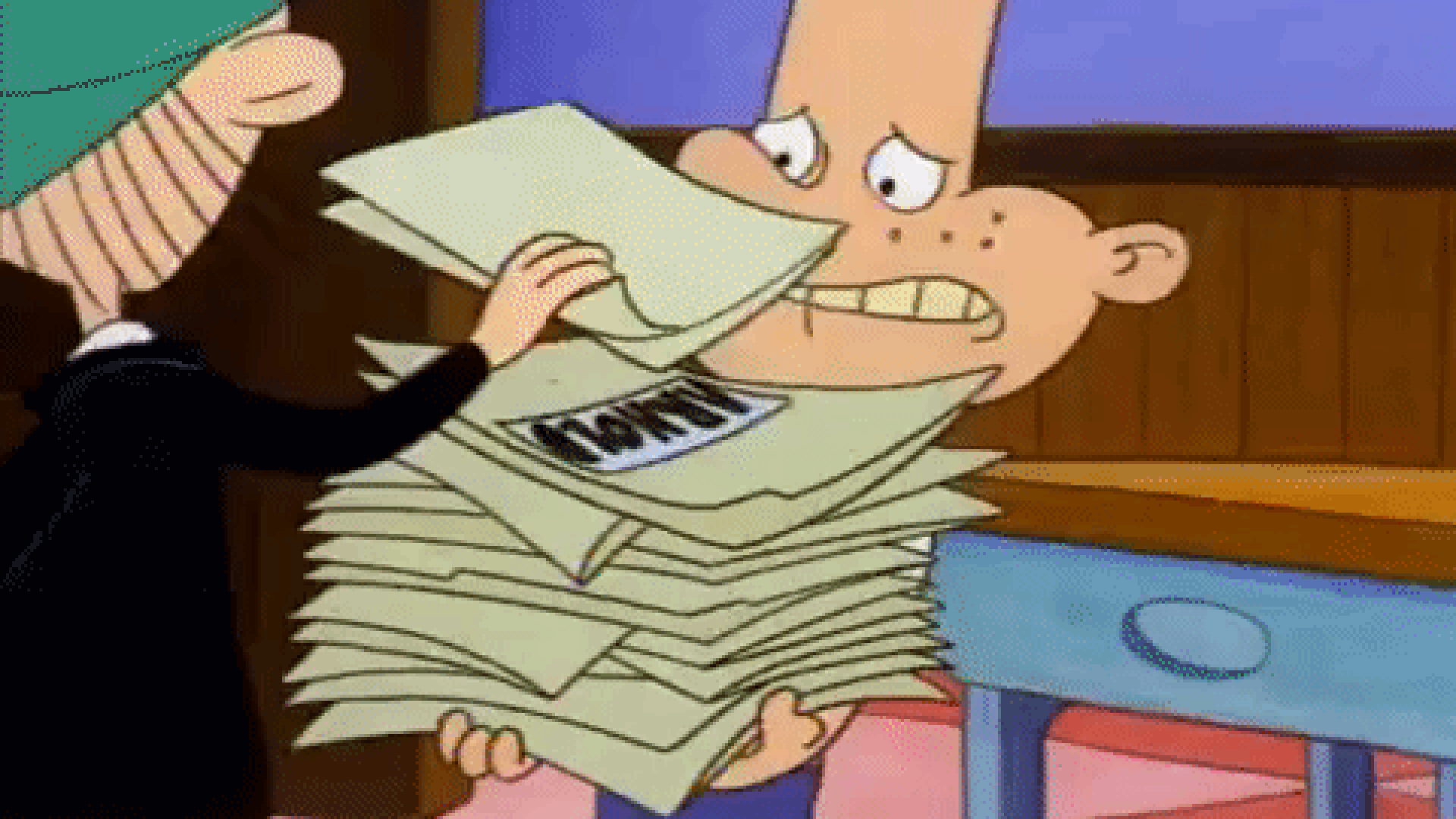 The House and Senate are on their way toward reconciling the differences between their two tax bills, as they head toward final passage. Here are the health care provisions they need to square:
Individual mandate: The Senate bill would repeal it; the House's wouldn't. The reconciled version will probably repeal it.
Deduction for medical expenses: Current law allows people to deduct certain health care expenses that add up to more than 10% of their annual income. The House bill would repeal this deduction. The Senate bill would not only keep it, but expand it — lowering the threshold to 7.5% of income.
Tax credit for orphan drugs: Today, drug companies can claim a 50% deduction for clinical trials of drugs that treat rare diseases. The House bill would repeal that credit; the Senate bill would limit it but not repeal it entirely.
Collins' demands: Sen. Susan Collins demands three things in return for going along with repeal of the individual mandate:
A vote on the Affordable Care Act stabilization bill from Sens. Lamar Alexander and Patty Murray.
A vote on the bill she cosponsored with with Sen. Bill Nelson to establish a new reinsurance program, compensating insurance companies for their most expensive customers.
A waiver blocking automatic cuts to Medicare payments, which normally would be triggered by the fact that the bill would add to the deficit.
Threat level: Collins' demands will be the heaviest lift, and some of them — particularly her reinsurance fund — may never be possible. But, at least for now, none of this seems likely to derail the tax overhaul, or even slow it down.
https://www.axios.com/newsletters/axios-vitals-d442d957-2b60-4663-8cd7-91bc898b7e6f.html?chunk=1#story1
Insurance CEO: Mandate repeal would be "death knell''
John Baackes, CEO of the safety net L.A. Care Health Plan, which covers 2 million Medicaid and marketplace enrollees, spoke with my colleague Bob Herman yesterday about the ACA's individual mandate and what would happen if the GOP tax bill eliminates it.
"It's the death knell, to me, for the individual market," says Baackes, who's also on the board of industry lobbying group America's Health Insurance Plans. The market would essentially be whittled down to the sickest and lowest-income consumers.
His company would continue to sell health insurance on the exchange, but he says he would not be surprised if there was an exodus of most other plans. In some states, this would create marketplaces with no options.
And that's when the problems could reach a tipping point. "If there's no plan available in those exchanges, there's no vehicle for tax credits," Baackes said.
The bottom line: Baackes' remarks are another indication that if the tax plan repeals the individual mandate, Republicans almost certainly will have to tackle health care again — and soon.
https://www.axios.com/newsletters/axios-vitals-d442d957-2b60-4663-8cd7-91bc898b7e6f.html?chunk=2#story2
​Mandate repeal – not as popular as you might think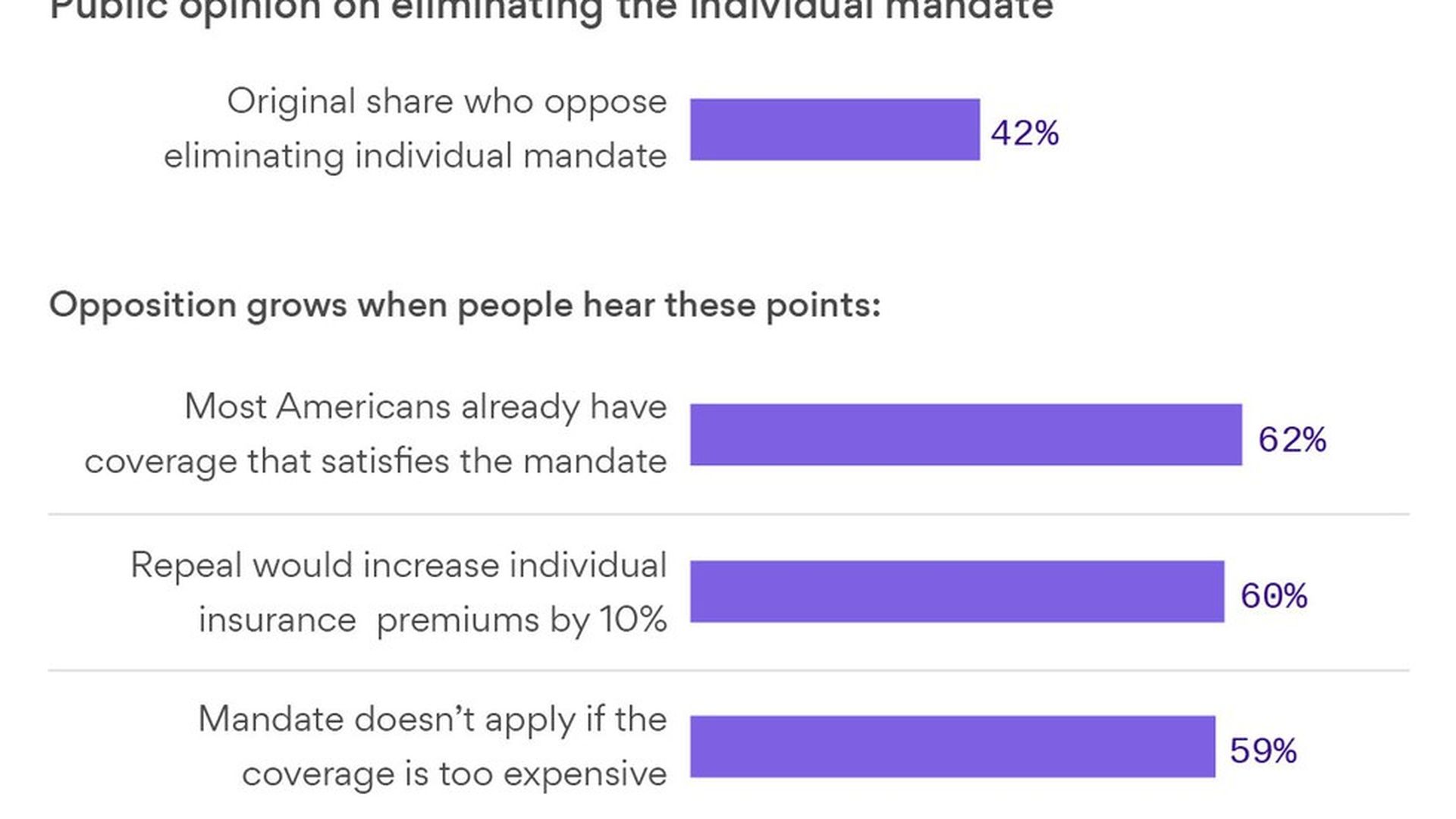 The individual mandate is unpopular, and repealing it is therefore popular. But, as Kaiser Family Foundation president Drew Altman explains in his latest Axios column, the numbers start to shift once people gain a greater understanding of what repealing the coverage requirement really means.
When people know how the mandate actually works, and are told what experts believe is likely to happen if it's eliminated, most Americans oppose repealing it in the tax plan.
The numbers:
When people learn that they would not be affected by the mandate if they already get insurance from their employer or from Medicare or Medicaid, 62% oppose eliminating it.
When people are told that eliminating the mandate would increase premiums for people who buy their own coverage, as the Congressional Budget Office says it would, 60% oppose eliminating the mandate.
And when they're told that 13 million fewer people would have health coverage – another CBO projection – 59% oppose eliminating the mandate.
Why it matters: People will learn about these impacts sooner or later, and Kaiser's polling also suggests they'll blame Republicans for disruption in the health care market.
https://www.axios.com/newsletters/axios-vitals-d442d957-2b60-4663-8cd7-91bc898b7e6f.html?chunk=3#story3
​Looking beyond Amazon in the CVS-Aetna deal
CVS CEO Larry Merlo and Aetna CEO Mark Bertolini have been making the rounds, explaining why they believe the merger of their two health care companies will be good for everyone.
They've rarely addressed how Amazon played into their decision, although multiple reports have suggested that the e-commerce giant's pending jump into the industry played some role in their thinking.
Get smart: Amazon is an economic force to be reckoned with, but Bob notes that this deal is just as much about Aetna and CVS finding new ways to make money. What are the easiest ways to get there?
Merging and mimicking the business model that UnitedHealth Group has created through its UnitedHealthcare and Optum units.
Converting Aetna's insurance customers into CVS prescriptions and MinuteClinic patients (instead of those people going to Walgreens and other urgent care centers).
Get even smarter: Bertolini told CNBC he and Merlo discussed merging two years ago — while Aetna was trying to buy Humana and when Amazon wasn't really in the picture.
https://www.axios.com/newsletters/axios-vitals-d442d957-2b60-4663-8cd7-91bc898b7e6f.html?chunk=4#story4
​Why ER bills are getting so much bigger
"Facility fees" are driving a staggering increase in spending on emergency room care. That's the central takeaway from the first installment in Vox's in-depth investigation of ER billing.
The gritty details, per Vox:
Facility fees are basically the price of admission to the emergency room. They're not fees for a particular service, but rather general charges. Hospitals say they're necessary to keep emergency rooms open and staffed all day, every day.
Spending on ER facility fees has risen by $3 billion since 2009, even as the number of ER visits has stayed about the same. The cost of those fees has risen by 89% over the same period — four times more than the growth in overall health care costs.
Facility fees rise with the complexity of a patient's care, and Vox's analysis suggests that hospitals are logging more and more patients as complex cases — which typically means more tests and other (billable) services, as well as a higher facility fee.
But it's not clear whether that's because hospitals are looking to pad their bottom lines, or patients' needs really are becoming more complex.
Why it matters: As Vox's Sarah Kliff notes, the Obama administration tried to level out facility fees, so that hospitals wouldn't make more money when cases were classified as complex. But that rule never got off the ground — another reminder that one person's cost control is another person's pay cut.