Good morning ... Hope you have a good weekend, but just a reminder that we're in for another round of drama next week over a possible government shutdown.
https://www.axios.com/newsletters/axios-vitals-d25a9162-0bff-4978-8b3a-8058b92119ec.html?chunk=0#story0
Republicans' reinsurance dilemma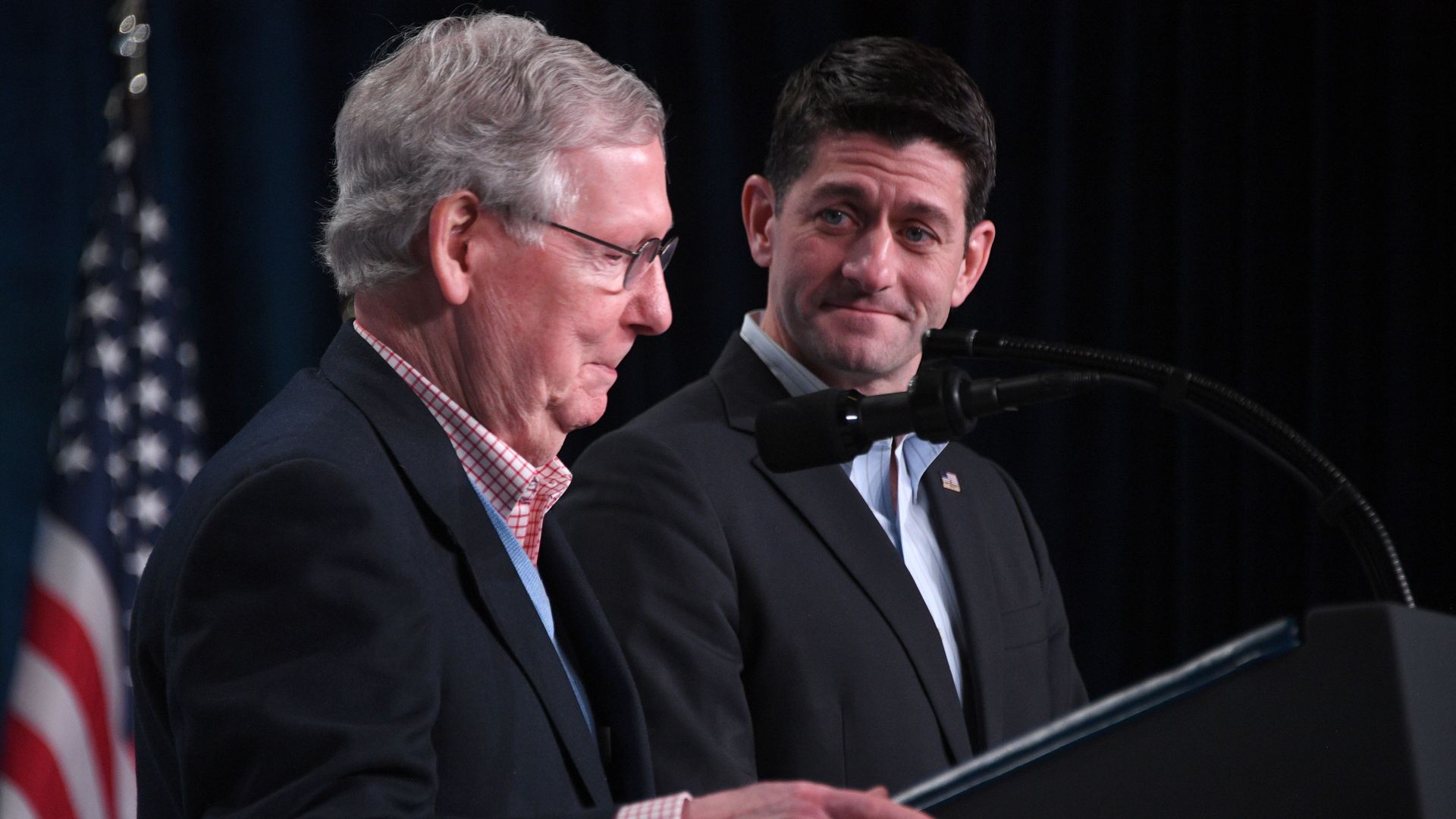 House and Senate Republicans are increasingly open to the idea of a reinsurance program that would pump billions of dollars into insurance markets to help stabilize the Affordable Care Act's exchanges. But they'll need to reconcile big differences over how much to spend and how much to leave up to states.
What they're saying: My colleague Caitlin Owens reports this morning that experts in general appear to prefer the House bill, which is also racking up co-sponsors in Congress — a somewhat stunning turn of events after even the Senate's less expensive proposal seemed like a long shot.
The House bill is sponsored by Rep. Ryan Costello and has recently gained some high-profile co-sponsors, like Rep. Cathy McMorris Rodgers.
It would provide $10 billion a year for 3 years, a substantially larger amount than the bill from Sens. Susan Collins and Bill Nelson. It also would temporarily fund the ACA's cost-sharing reduction payments.
The bottom line: Few experts really thinks Collins-Nelson is enough money to stabilize the marketplace after the repeal of the individual mandate. The question is how much money is appropriate, and what other stabilization measures should accompany funding.
Go deeper: Read Caitlin's full comparison of the two bills at axios.com.
https://www.axios.com/newsletters/axios-vitals-d25a9162-0bff-4978-8b3a-8058b92119ec.html?chunk=1#story1
Indiana boots 25,000 from Medicaid
This is a pretty eye-popping stat from Kaiser Health News: Indiana kicked about 25,000 people out of its Healthy Indiana Program — the Medicaid expansion program approved under then-Gov. Mike Pence — for not paying their premiums.
About half of those people got new health coverage in other ways, usually through a job. But that still leaves a lot of people who just lost their health coverage.
The idea of adding premiums to Medicaid is to get enrollees used to the world of private health insurance, where you can also lose your coverage if you don't pay your premiums. But most private insurance is job-based, where the risk of losing your coverage is lower because your share of your premium automatically comes out of your paycheck.
The big picture: Kentucky's recently approved Medicaid waiver made headlines because it imposed work requirements on Medicaid benefits, but it also added premiums to the program, ranging from $1 to $15 per month. This is a trend.
But the Indiana news could jump-start a debate over whether low-income people can afford to pay for their coverage at all.
What's next: HHS secretary Alex Azar is headed to Indiana today, possibly to announce the approval of its Medicaid work requirements. (HHS wouldn't confirm this.)
https://www.axios.com/newsletters/axios-vitals-d25a9162-0bff-4978-8b3a-8058b92119ec.html?chunk=2#story2
The high costs of unnecessary care
Unnecessary tests and procedures cost the health care system hundreds of millions of dollars every year, ProPublica reports, based on research from Washington state.
The details: Researchers combed through 1.3 million people's insurance claims, looking for 47 tests or procedures that are commonly overused or misused.
About half of that sample — some 600,000 patients — underwent an unnecessary treatment, at a cost of more than $280 million.
Those costs included lab tests for healthy patients ($80 million), heart tests for low-risk patients ($40 million) and redundant cervical cancer screenings ($19 million).
Why it matters: This is part of the reason controlling health care costs is so hard. Even if your risk of heart problems is low, if your doctor offers to run a few painless tests just to be sure you're doing OK, are you going to say no?
"It's easy for a single doctor and patient to say, 'Why not do this test? What difference does it make?'" Susie Dade, the primary author of the Washington study, told ProPublica.
https://www.axios.com/newsletters/axios-vitals-d25a9162-0bff-4978-8b3a-8058b92119ec.html?chunk=3#story3
Health care earnings update
Next week will be a busy one in the fourth-quarter earnings season, according to Axios' Bob Herman. Some of the companies that will post year-end numbers include hepatitis C drug giant Gilead Sciences and large Medicaid and ACA insurer Centene (both on Tuesday).
The bottom line: So far the fourth quarter is somewhat messy, Bob reports. Many companies are very profitable, but the new tax law has thrown off net profits — especially for companies, like AbbVie and Eli Lilly, that had to pay taxes on their newly repatriated overseas cash.
Quick take: Health insurers and some device companies raked in a lot of cash, and pharmaceutical companies are expecting 2018 to be a banner year due to lower taxes. The signs for pharmacies and drug distributors are mixed.
McKesson CEO John Hammergren rolled out the drug industry defense that spending on pharmaceuticals is "an investment that's well-made" and also voiced his displeasure with a new Canadian agreement that will slash the prices of generic drugs.
Go deeper: If numbers, rows and columns are your jam, remember to follow Bob's earnings spreadsheet.
https://www.axios.com/newsletters/axios-vitals-d25a9162-0bff-4978-8b3a-8058b92119ec.html?chunk=4#story4
Let the Medicare lobbying begin
ICYMI, the Centers for Medicare and Medicaid Services released its annual proposal yesterday explaining its proposed payment rates and new policies for Medicare Advantage and Part D plans — kicking off 60 days of lobbying from the industry. (Bob had this quick summary yesterday.)
Aside from the moderately high pay raise, Bob caught a couple other interesting nuggets in the 231-page document (and will continue to hunt for more).
What to watch:
"Given the urgency and scope of the national opioid epidemic," Part D plans would have to retroactively review claims to see if members are likely to overuse opioids, and plans would have to implement a limit on initial prescription fills.
CMS is finally going through with full cuts to Medicare Advantage plans offered by employers and unions. Watch to see how insurers and employers react — they hated the policy when it was first proposed two years ago.