Axios Vitals
February 18, 2020
Good morning. I hope you enjoyed your weekend.
Today's word count is 833, a 3-minute read.
1 big thing: Egg freezing isn't foolproof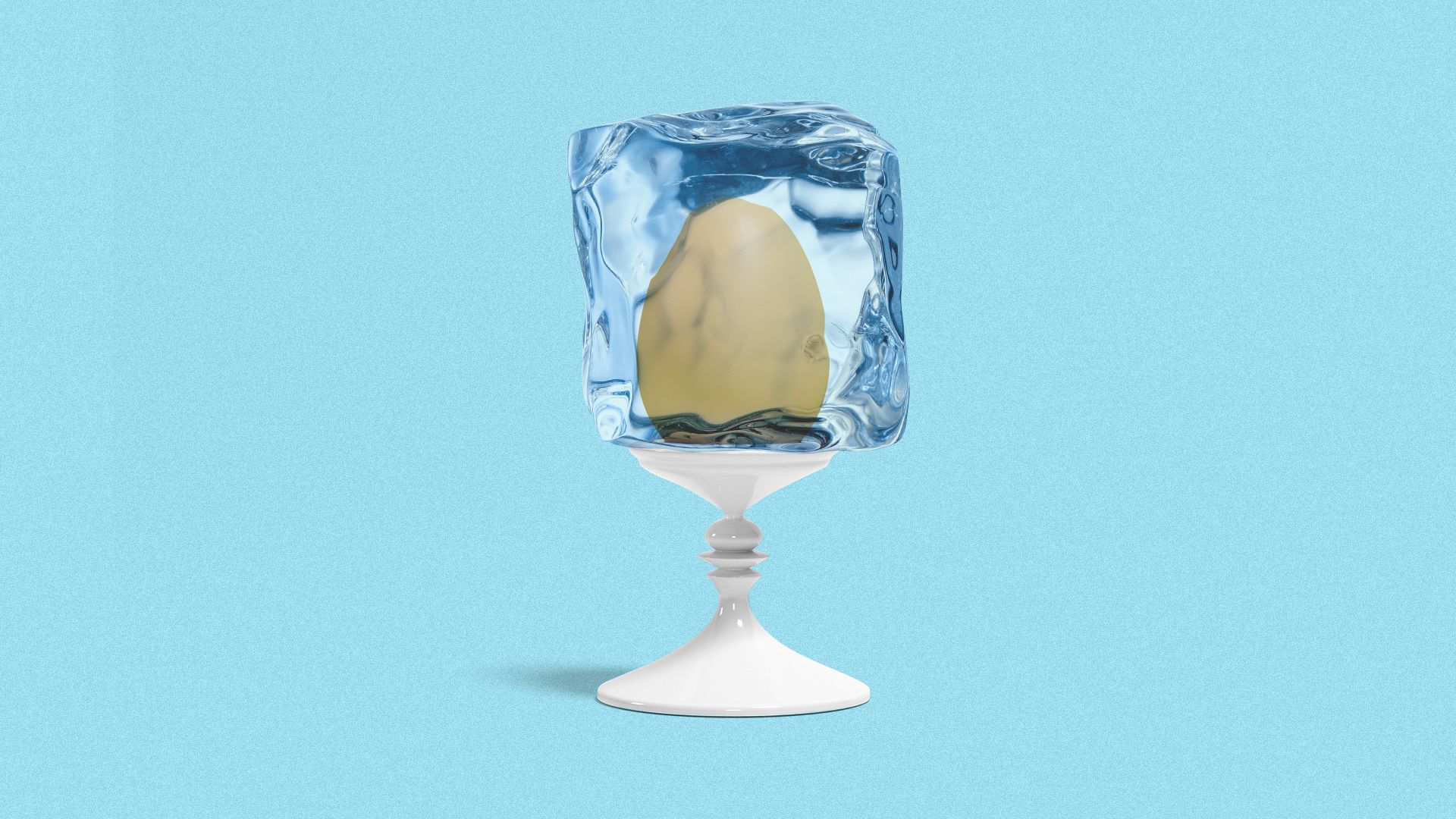 A lucrative industry for egg freezing has sprouted in the past 10 years, allowing women to postpone pregnancy, but experts say many women aren't using the eggs they put on ice, Axios' Marisa Fernandez reports.
The big picture: Nearly 90% of women said they were happy they froze their eggs, regardless of whether they will ultimately get used, according to FertilityIQ, an educational and reviewing site for fertility clinics.
A small 2017 study published in Human Reproduction found that more than 90% of patients who froze their eggs for non-medical reasons haven't tried to thaw them.
Context: While the U.S. birth rate is at an all-time low, women are regarding the fertility business as an extension of family planning. They're freezing their eggs as a precaution even if they're never diagnosed as infertile.
Egg freezing has become much more affordable. While some companies offer insurance coverage for the procedure, only 30 Fortune 500 companies offer coverage, CNBC reports.
By the numbers: Nearly 11,000 women froze their eggs in 2017, per the Society for Assisted Reproductive Technology. The market is projected to grow 25% annually over the next two years, FertilityIQ tells Axios.
On average, women spend $15,000 to $20,000 per extraction cycle in addition to about $1,000 a year to store them at a facility, FertilityIQ tells Axios.
To tap into those eggs for in vitro fertilization (IVF) could cost thousands of dollars more.
Yes, but: Egg storage and thawing is a very fragile process and therefore, the financial and physical expense women undergo isn't a guarantee come time for fertilization.
The bottom line: Women say freezing their eggs is more than being able to delay family, but that the procedure gives them a sense of insurance and freedom, the New York Times reports.
2. Nonprofit hospitals' charity care disparities
Nonprofit hospitals that did the best financially provided less charity care relative to their income than their less-well-off peers, according to a new study in JAMA.
The big picture: Nonprofits hospitals are required to provide charity care in exchange for their tax-exempt status, but they're increasingly under fire for their aggressive bill collection practices against low-income patients.
By the numbers: In 2017, nonprofit hospitals collectively generated $47.9 billion in net income and provided $14.2 billion in charity care.
The top-earning 25% of hospitals provided $11.50 in charity care for uninsured patients and $5.10 in charity care for the insured for every $100 of their overall net income, the study found.
But the third quartile of hospitals provided $72.30 in charity care for the uninsured and $40.90 in charity care for the insured for every $100 of their net income.
Hospitals in states that expanded Medicaid provided significantly less charity care than hospitals in other states.
What they're saying: "Nonprofit hospitals with substantial financial strength should consider more generous financial assistance eligibility criteria to reduce the financial risk exposure of disadvantaged uninsured and underinsured patients," the author concludes.
3. Beware of some of wellness industry's claims
A surge in misinformation has grown with the internet, making wellness strategies appear to have scientific foundations when instead they're fueling baseless and sometimes harmful theories, Marisa reports.
What's happening: Wellness products such as vitamins and supplements are under the purview of the Federal Trade Commission, meaning they are not subject to scrutiny or testing like prescription medication and medical devices, which are managed by the Food and Drug Administration.
By the numbers: The wellness industry, from personal care to nutrition and weight loss, is presently worth $4.2 trillion worldwide, jumping 12.8% between 2015 and 2017, Global Wellness Institute reports.
Between the lines: Some products are backed by misleading studies from predatory publishers — journals that are not peer-reviewed, the New York Times reports.
Such publications are more often free for readers and claim to be indexed and sourced, but are not, the FTC has said.
Flashback: Actress Gwyneth Paltrow's company Goop was fined $145,000 in California last year for "unsubstantiated claims" on three products on its website that could have harmed women, CNN reports.
Yes, but: Women are responding to gender bias and mistrust in medical research by starting their own health and wellness businesses in an attempt to find and offer alternatives to traditional medicine, the Global Institute notes.
Go deeper:
4. Rural communities face HIV outbreak risk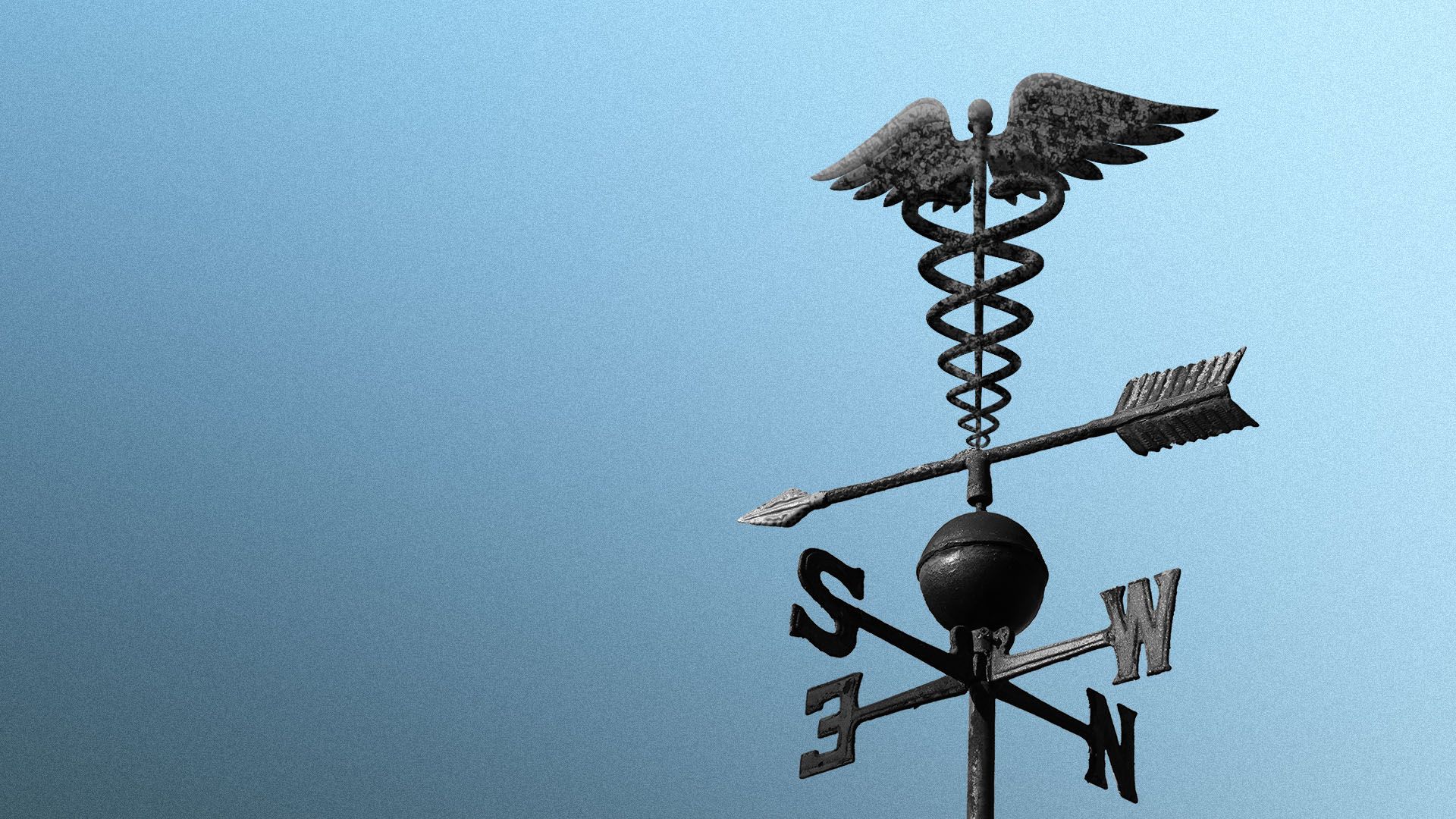 Rural communities at risk of HIV outbreaks tied to drug use often don't have working syringe exchanges, which help reduce the spread of HIV and Hepatitis C, NPR reports with Kaiser Health News.
Between the lines: Many of these rural communities have seen local opposition against syringe exchanges, which provide drug users with clean needles.
Why it matters: The Centers for Disease Control and Prevention has identified 220 counties as being at risk of drug-fueled HIV outbreaks, but KHN found that less than a third of them have working syringe exchanges.
When such an outbreak occurred in Austin, Indiana, five years ago — tied to opioid painkiller abuse — there was initially resistance to a syringe program, particularly by then-Gov. Mike Pence. He changed his mind after the number of infected people skyrocketed.
The bottom line: The ripple effects of the opioid epidemic are devastating and have no easy answers.
Go deeper: Large gaps in opioid treatment remain for rural areas
5. While you were weekending...
The drug industry will likely pay much less in compensation for its role in the opioid epidemic than what was once envisioned by those suing the companies, the New York Times reports.
The federal government is investigating how marketers may be obtaining seniors' personal Medicare information, AP reports.
328 American evacuees from the Diamond Princess cruise ship have been put into quarantine at U.S. military bases after arriving from Japan, including 14 infected with the novel coronavirus, U.S. government health officials told reporters Monday, Axios' Rebecca Falconer reports.