Good morning … Open enrollment is two days away.
https://www.axios.com/newsletters/axios-vitals-d023caed-43e4-4c15-8fa7-c55222c0bcfe.html?chunk=0#story0
ACA enrollees will see fewer choices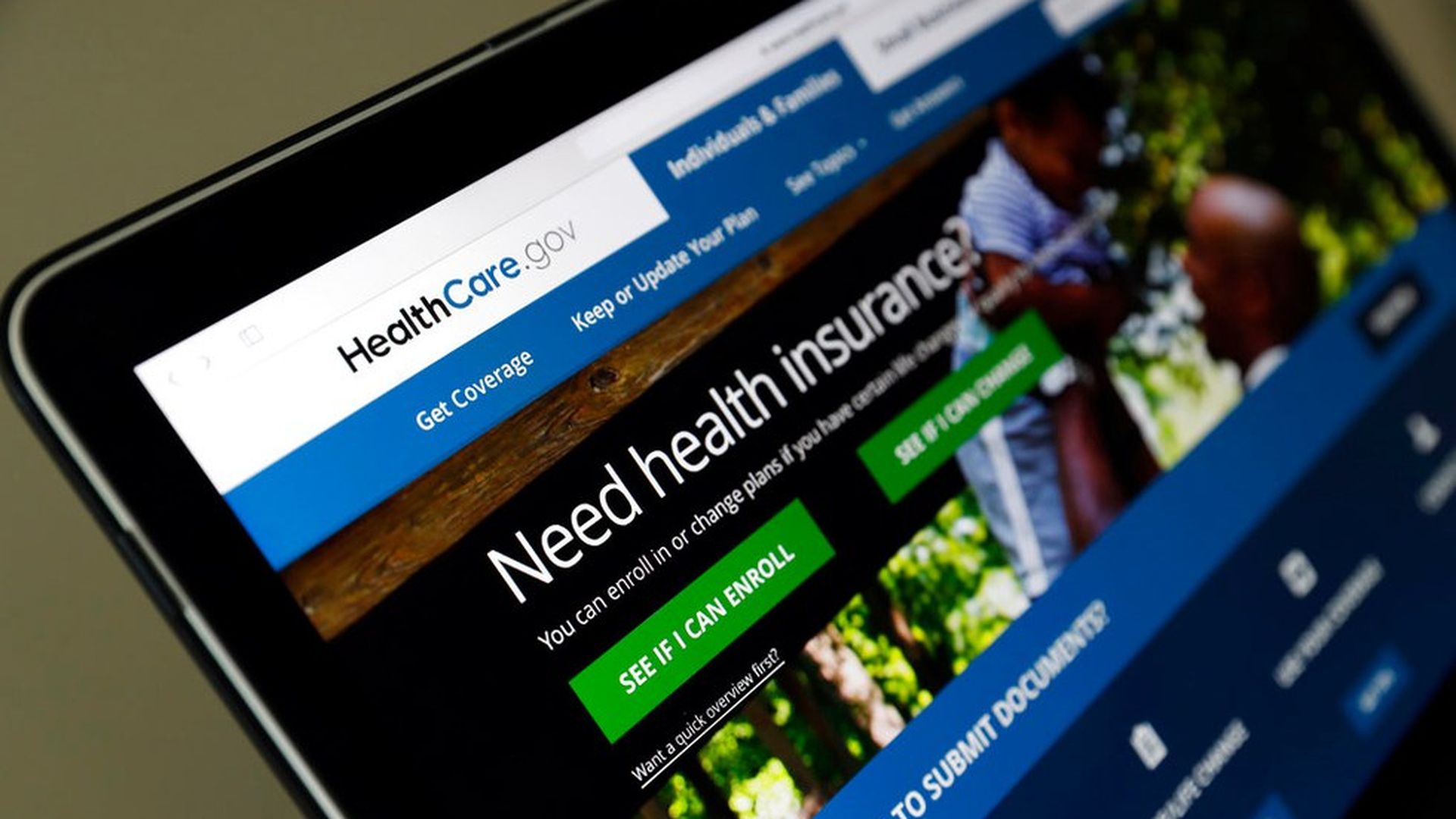 Every year before open enrollment for the Affordable Care Act begins, the Department of Health and Human Services puts out a report that details the available options and costs in the states using HealthCare.gov.
That report will come out later this morning, but I was able to see it early.
Here's a sneak peek at the upcoming enrollment period:
Competition is down no matter you slice it: Just 45% of enrollees live in areas with three or more competing insurers, down from 75% in the first open-enrollment window.
Roughly 30% of people who get coverage through the ACA will only have one insurance company to choose from next year, and 26% will only have two.
The average enrollee has a total of 25 specific plans to choose from — down from 30 last year and 51 during the first enrollment period.
Premiums are up — but so are subsidies.
HHS' data confirm that premiums will, in fact, be considerably higher for 2018 coverage. For the "benchmark" plans available to a 27-year-old consumer — plans that fall roughly in the middle of the road in terms of both coverage and costs — premiums are up, on average, by 37%.
Those increases are especially high because benchmark plans have borne the brunt of the drama surrounding the ACA's cost-sharing subsidies. Premiums for the cheapest plan available to that same 27-year-old are up a more modest (but still not small) 17%.
The ACA's premium subsidies, which are tied to the cost of those "benchmark" plans, will also be much more generous next year. The average subsidy, across all enrollees, will be 45% higher than it was this year.
That hypothetical 27-year-old, making $25,000 per year, would see the value of her subsidies rise by 73%.
That means subsidized consumers could end up paying substantially less next year than they have in the past, and in many cases will be able to get more generous coverage for the same price. Unsubsidized consumers will pay substantially more every month.
Be smart: President Trump's decisions on cost-sharing subsidies have contributed to the law's rising premiums and the resulting rise in subsidies. But he's not responsible for all of this. Competition, for example, took a big hit last year — when President Obama was still in charge.
https://www.axios.com/newsletters/axios-vitals-d023caed-43e4-4c15-8fa7-c55222c0bcfe.html?chunk=1#story1
​The GOP dilemma: repeal vs. results
The debate over the ACA's cost-sharing subsidies has reopened Republicans' broader divisions about how to approach the law as a whole: Do what you can to keep premiums in check and nudge the law to the right; or forego those tweaks and keep insisting on more dramatic changes, even if they can't pass?
My colleague Caitlin Owens takes a look at this divide this morning, and how the failure of repeal-and-replace has changed the party's internal dynamics.
"There's still a sting from not getting it across the finish line, the repeal and replace, the first time," Sen. Shelley Moore Capito told Caitlin. "So I think that's still bubbling up. But then you've got the other issue – the more immediate issue – of fixing the problem. I think that's – I don't want to say controversy, but that's the battle right now."
The bottom line: Republicans have separated into two camps: "reality and results" vs. "repeal and replace." Sen. Lamar Alexander's ACA bill could pass the Senate, and would hold down premium increases. Sen. Orrin Hatch's alternative would give Republicans more of what they want — but it almost certainly can't pass.
"Some Rs want to go back to pre-2010 health care where decisions begin first on policy. Some Rs are stuck in post-2010 health care where decisions are rooted in bitterness and anger," one former GOP aide said.
https://www.axios.com/newsletters/axios-vitals-d023caed-43e4-4c15-8fa7-c55222c0bcfe.html?chunk=2#story2
​It's time to start thinking about 2019
Sure, we're still physically in the calendar year 2017, and people haven't even started signing up for their 2018 coverage yet. But 2019 is already upon us — and it could end up being just as wild a ride as 2018.
The latest: The Centers for Medicare and Medicaid Services released new rules Friday for how the ACA's exchanges will function in 2019.
The biggest change: States will have new options to define the "essential benefits" that plans have to offer within their marketplaces.
The changes themselves are complex, but the bottom line is that it'll be much harder for states to enforce additional benefit mandates.
Especially in areas like prescription-drug coverage, states that want to scale back the ACA's required benefits will have at least some additional power to do so.
What's next: Insurance companies will start turning their attention toward their 2019 offerings as early as this December. They'll be designing their plans and sorting out their provider networks, and will likely need to start submitting that information to the federal government sometime in the spring.
The bottom line: If insurers head into the spring still asking the same questions that roiled the landscape this year — whether they'll get their cost-sharing payments, whether the law will be repealed, whether the individual mandate will be enforced — we could see a second straight year of premium increases, insurer exits, and constant last-minute scrambling.
Congress and the administration have less time than you might think to provide insurers with a stable market for 2019.
https://www.axios.com/newsletters/axios-vitals-d023caed-43e4-4c15-8fa7-c55222c0bcfe.html?chunk=3#story3
Open enrollment: It's not just for the ACA
Open enrollment for the ACA's individual and small-group markets starts this week. But two much larger enrollment windows are already underway.
Medicare: Enrollment for the 55.5 million seniors and people with disabilities started Oct. 15 and runs through Dec. 7. This is especially important for newly eligible enrollees, who have to choose between traditional Medicare (often paired with a Medicare supplement plan and drug plan) or a private Medicare Advantage plan.
Employers: More than 150 million people get their health coverage through their jobs. Your human resources managers likely have been begging you to stop ignoring their emails and pick a plan already.
Write to us: Medicare and employer coverage has changed a lot, and my colleague Bob Herman wants to know how it's affecting you next year. What are your plan options for 2018? How do they compare to your current coverage? What were premiums and deductibles like? Email him at bob@axios.com. He's desperately craving your comments.
https://www.axios.com/newsletters/axios-vitals-d023caed-43e4-4c15-8fa7-c55222c0bcfe.html?chunk=4#story4
While you were weekending…