Good morning...Trumpcare goes to the House Rules Committee today to get ready for the big floor vote, which will be agonizing for Republicans because many of them don't really have a good choice. It's pretty clear that GOP leaders don't have the votes at the moment, but remember that it's the House and it wouldn't be the first time the votes came together at the last minute. Keep your eye on that House floor tomorrow night.
https://www.axios.com/newsletters/axios-vitals-cf507398-3b7c-4adf-b110-9d89462ff1e8.html?chunk=0#story0
Trumpcare staggers toward its big day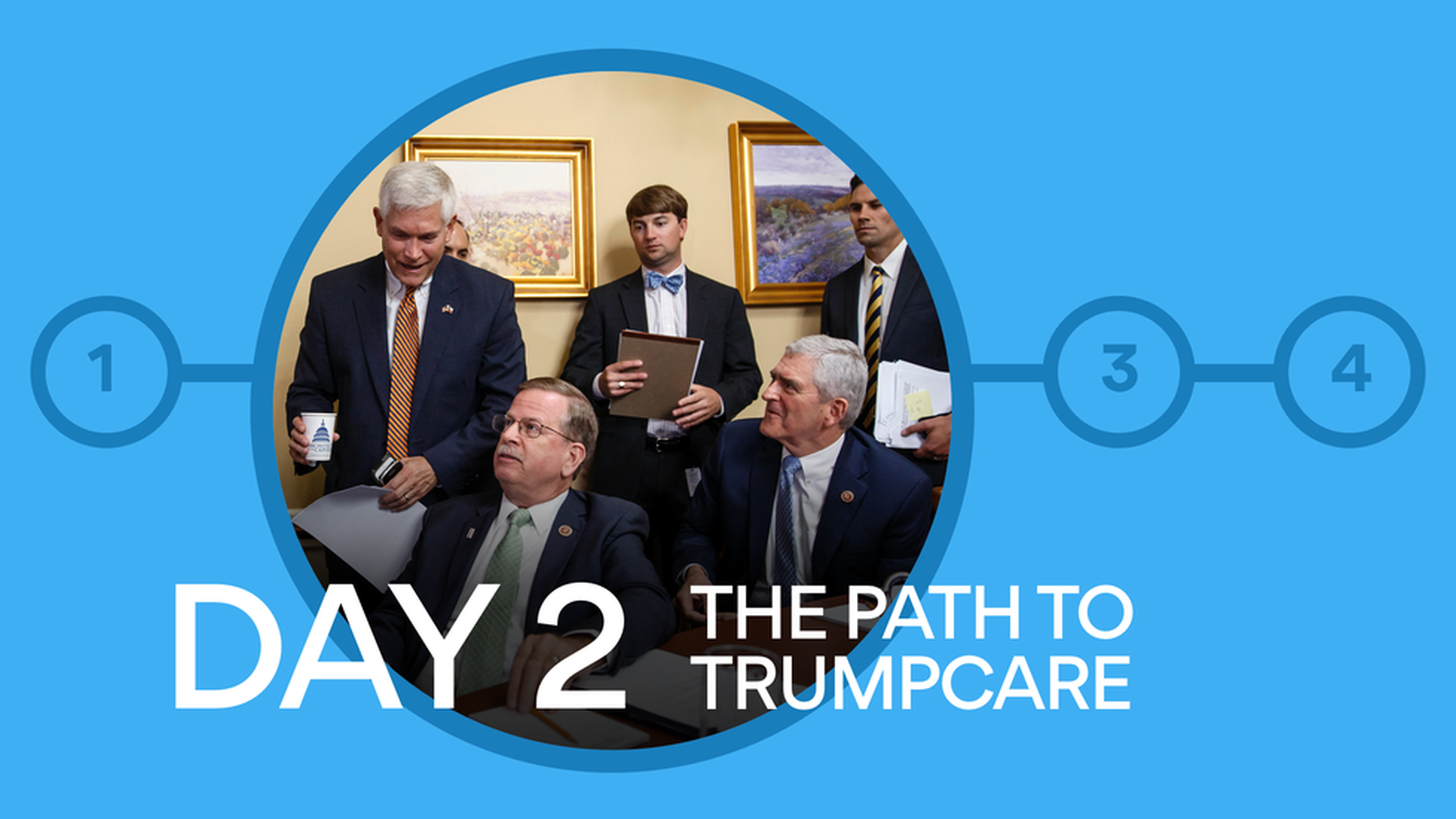 It's almost time for Trumpcare to go to the floor! But first, who's ready for another really long day in a committee hearing room? That's great, because the Rules Committee is ready to spend many hours talking about amendments that will never get a vote. Unless they decide to give the Freedom Caucus one floor vote to make them happy.
Here's what to watch today:
The Rules Committee meets at 10 a.m. to plow through more than 20 amendments, most of which will never go to the House floor. But there's one substitute by Freedom Caucus member Mo Brooks that would completely repeal Obamacare, so watch to see if he gets a vote. Same with Rep. Joe Barton's amendment to end Medicaid expansion faster.
Health and Human Services secretary Tom Price is signaling to his former House colleagues that the administration is done negotiating on amendments. "At some point, you've got to put down the pens, and the hour is late," he said yesterday on the Hugh Hewitt show.
President Trump is sure to keep working on Republicans himself, following his visit to Capitol Hill yesterday and a meeting with moderate Republicans at the White House.
Trump has made progress in winning over moderates, and some conservatives are dropping their opposition because of the latest changes to the bill — including Rep. Gary Palmer of Alabama, who voted against the bill in the House Budget Committee but now supports it.
There are still a lot of holdouts, even after the Trump visit. Republicans can only lose 21 votes, and multiple reports suggested they're currently losing more than that. (The New York Times reports they could be short by as many as three dozen votes.)
From a leadership source late yesterday: "We are moving members. Going in the right direction. Still working."
Two powerful conservative groups — Heritage Action and Americans for Prosperity — oppose the bill and are making this a "key vote," meaning they'll keep track of any Republicans who vote for it. (The National Right to Life Committee, however, is supporting it.)
Oh, and don't forget the Senate, where they can't lose more than two Republicans. So here's three who are opposing it: Sens. Susan Collins, Rand Paul, and now Mike Lee, who
tweeted yesterday
that "I am a no." Wait your turn, Senate. Stop stealing attention from the House.
https://www.axios.com/newsletters/axios-vitals-cf507398-3b7c-4adf-b110-9d89462ff1e8.html?chunk=1#story1
The Trumpcare vote is going to be one tough choice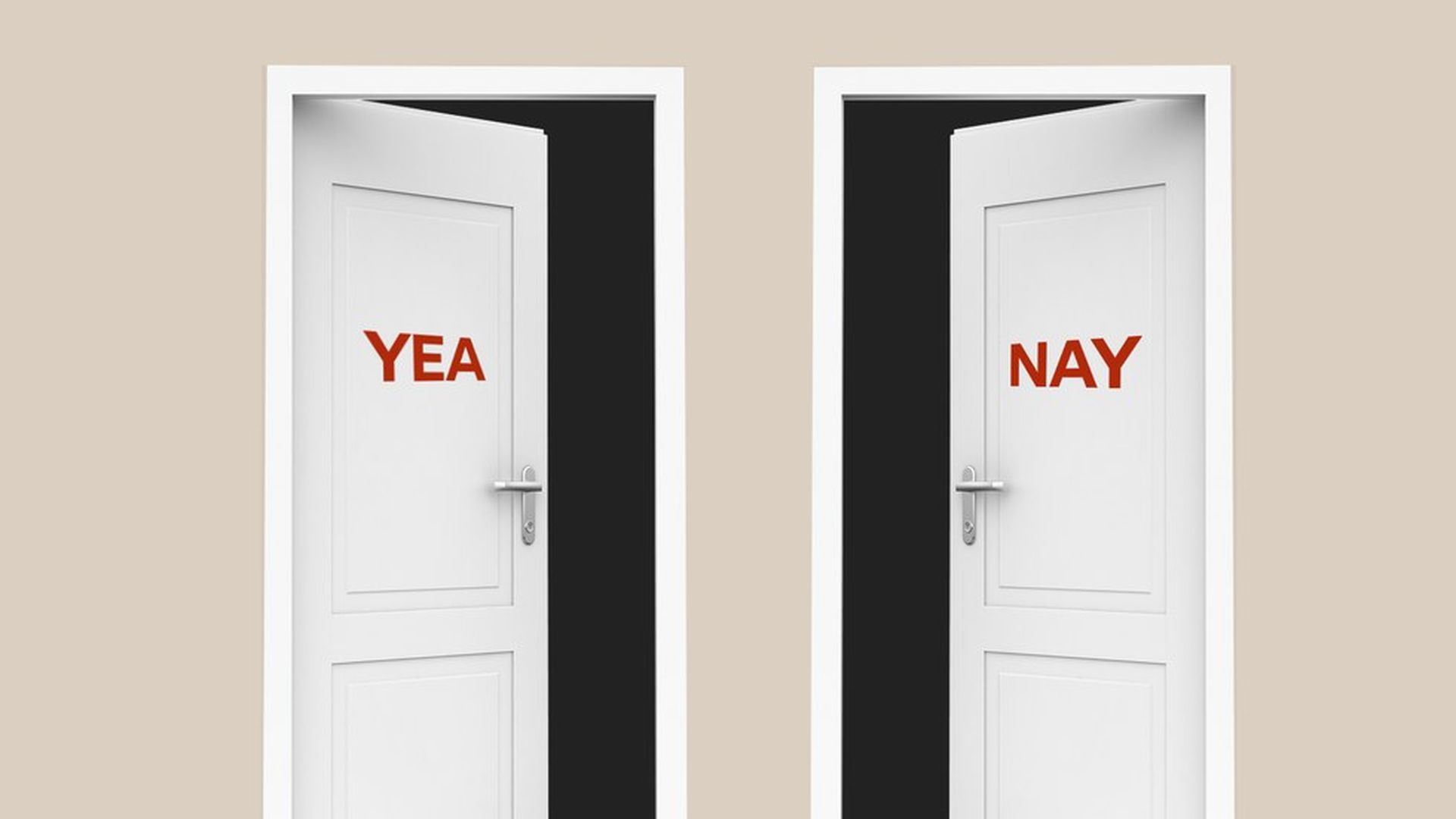 Republican leaders insist they're on a rescue mission, but Caitlin Owens and Bob Herman report this morning that most Republicans face a terrible choice no matter which way they vote. It's one of those rare cases where the far right, the left, and nearly all of the major health care industry groups agree it's a bad bill (for different reasons). So they can go against all of those groups — and risk voting for a bill that risks massive coverage losses — or they can vote against it and get hammered for backing away from seven years of repeal promises. Read their story here.
https://www.axios.com/newsletters/axios-vitals-cf507398-3b7c-4adf-b110-9d89462ff1e8.html?chunk=2#story2
Diane Black's message: "Stay in the fight"
I caught up with House Budget Committee chairwoman Diane Black yesterday, who's about to manage the floor debate on the health care bill tomorrow. (And no, she doesn't know how late the vote is going to be.) She's spreading a simple message to her Republican colleagues who don't like the bill: "Stay in the fight." Don't vote "no" and kill the bill, she says. The Senate can make more changes than the House can, she points out — hinting that it might be up to them to push the parliamentarian to let them knock out Obamacare's insurance regulations.
Black didn't sound that worried about the vote, and insists she's hearing "less and less angst" about the bill than she did two weeks ago. But the whole "stay in the fight" pitch shows she's taking the opponents' threats seriously. And about the Trump visit yesterday? She called him "kind of a cheerleader." Read the interview here.
https://www.axios.com/newsletters/axios-vitals-cf507398-3b7c-4adf-b110-9d89462ff1e8.html?chunk=3#story3
Why deductibles would rise under the GOP plan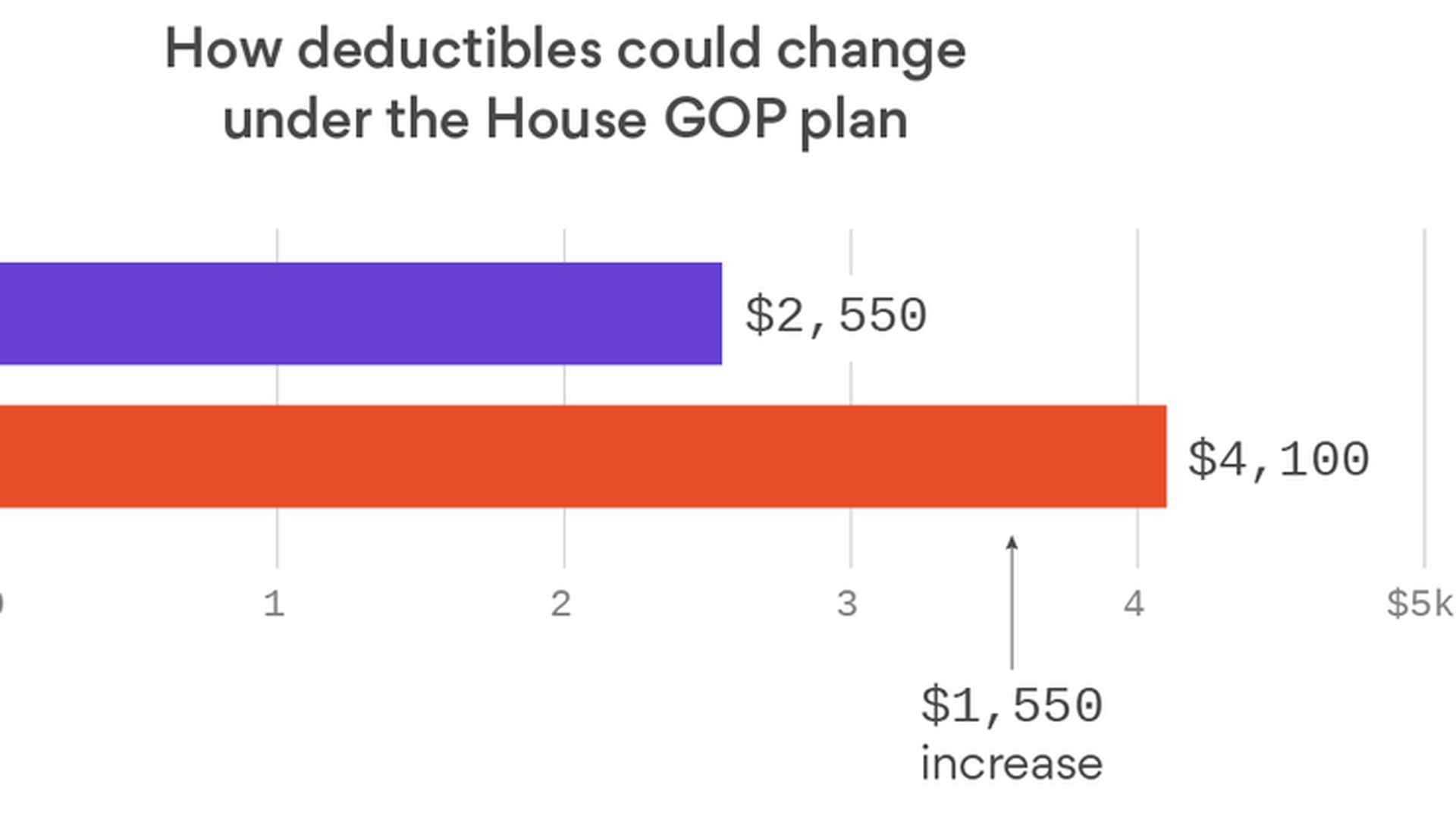 We're proud to have a new contributor: Drew Altman, the president and CEO of the Kaiser Family Foundation. Maybe some of you wonks have heard of him. This morning, he has a piece that looks at an underreported problem with the Republican health care bill: deductibles would rise, not fall. According to the foundation's analysis of the Congressional Budget Office estimates, deductibles would be $1,550 higher than they would have been under the Affordable Care Act.
That's because of a chain reaction of events: people would increasingly move to cheaper plans with higher deductibles, insurers would mostly offer only those plans, and the ACA's cost-sharing subsidies would disappear. We're looking forward to more of Drew's respected and evenhanded takes as the repeal effort moves ahead. Read his first piece here.
https://www.axios.com/newsletters/axios-vitals-cf507398-3b7c-4adf-b110-9d89462ff1e8.html?chunk=4#story4
Pelosi's "Trumpcare Member Battle Plan"
Here's how the Democratic counterprogramming is going to go, according to an email House Minority Leader Nancy Pelosi sent to her caucus last night:
Press event with former Vice President Joe Biden this morning to mark the seventh anniversary of Obamacare.
Democrats are being "encouraged to use all available time to speak out against the Republican bill" in the Rules Committee and on the House floor.
On Thursday, there will be a "Facebook Live War Room" in her office.
The big question: What will former President Barack Obama say on Thursday? (The guy who was named after Obamacare.)
https://www.axios.com/newsletters/axios-vitals-cf507398-3b7c-4adf-b110-9d89462ff1e8.html?chunk=5#story5
The Cleveland Clinic's finances explain a lot
If you want to see a microcosm of the hospital industry, look no further than the Cleveland Clinic. Bob Herman reports that the not-for-profit academic health system's operating income plunged a whopping 71% in 2016 to $139 million, according to new audited documents.
Three big reasons why: higher labor costs but fewer inpatient admissions and surgeries, soaring drug costs, and high-deductible plans. The Cleveland Clinic has sounded the alarm on high deductibles for a couple years now, telling bondholders that those "balances continue to grow and are more difficult to collect than traditional insurance payors."
Yes, but: Cleveland Clinic's operations suffered, and those are all real problems. But after factoring in investment returns, the system still netted more than a half-billion dollars in income. It's rural hospitals, not academic or suburban ones, that are struggling the most right now.
https://www.axios.com/newsletters/axios-vitals-cf507398-3b7c-4adf-b110-9d89462ff1e8.html?chunk=6#story6
What Price can and can't do on essential benefits
Price has told House Republicans that one of his next regulatory actions on Obamacare will be to ease the "essential health benefit" requirements. Thing is, though, there's not a lot he can do on his own. Unless Congress changes the 10 categories of benefits that are written into law, or the percentages of health expenses that have to be covered, HHS can't just rewrite them to bring down costs.
However, there are changes Price could make at the margins, and conservative health policy analyst Chris Jacobs has written that they could be significant enough to lower people's premiums. The two most likely possibilities: give states more flexibility to determine what satisfies the essential benefit requirements, and more variation for the "actuarial value" standards that determine how much of the expenses have to be covered. (The House GOP bill would repeal the actuarial value rules, but it doesn't get rid of any of the benefit categories.)