Situational awareness: The House yesterday passed a bill containing measures to lower drug prices, Politico reports.
But the bill also included Democratic measures to strengthen the Affordable Care Act, leading most Republicans to vote against it.
1 big thing: Pharma's bad behavior is causing its own problems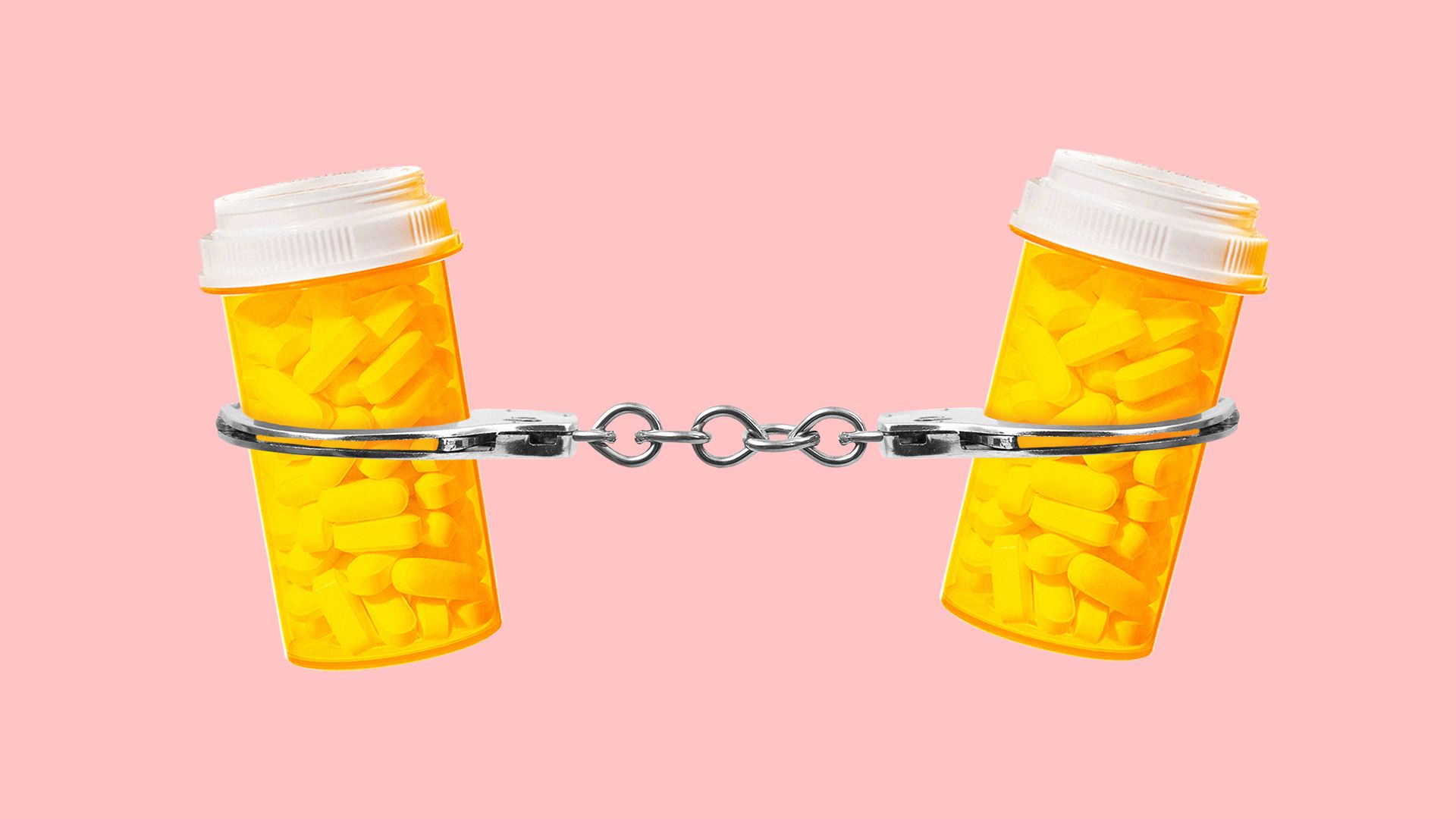 The pharmaceutical industry is under fire in the public eye, in Congress and in the courts. And it mostly brought this on itself — through price hikes, allegedly anticompetitive behavior and aggressive opioid marketing.
The big picture: There's a real debate to be had about the value of new, innovative, sometimes life-saving drugs. But the industry has clouded its own argument, and weakened its own political standing, through a slew of bad behavior.
Driving the news: New, scientifically advanced therapies come with eye-popping prices, but they're often medical breakthroughs.
Congress is considering changes to patent law, saying brand-name manufacturers "game" the system to unfairly keep generics at bay.
And 20 generic drug companies were recently sued for allegedly colluding to either maintain drug prices or raise them by as much as 1,000%.
At the same time, drugmakers, including Purdue Pharma and Johnson & Johnson, are facing high-profile, multi-billion-dollar lawsuits over their roles in the opioid crisis.
The other side: Pharma argues that some controversial behaviors — like the steady increase in prices — are a result of drug middlemen's practices, and that they're necessary to fund the research that will lead to more breakthrough therapies.
A spokeswoman for PhRMA — the main trade group representing the industry — pointed out that drug price growth has slowed down in recent years, and that as deductibles and other forms of cost sharing rise, patients end up shouldering more of the cost of their medicines.
The bottom line: "I don't think we should expect the industry to be a moral actor when everything we do in U.S. policy regarding pharma focuses ... purely on money and financial incentives," said Memorial Sloan-Kettering Cancer Center's Peter Bach.
2. CMS reverses itself on protected classes
The Centers for Medicare & Medicaid Services yesterday declined to implement a previously proposed measure that would give insurers more flexibility around the coverage of certain drugs in Part D.
The proposal dealt with protected classes of drugs. Part D plans are required to cover every drug in these 6 classes on their formularies.
CMS had proposed allowing plans to exclude drugs in a protected class if the price of the drug increased a certain amount over a specified time period, or if the drug was only a new formulation of an existing drug without competition.
Between the lines: Patient advocates celebrated the decision, but it's also a win for the pharmaceutical industry.
Requiring insurers to cover every drug in a category removes the incentive for these drugs to compete on price for inclusion in plans' coverage.
But advocates had warned that CMS's proposal could harm patients.
"Current cancer patients will be relieved to hear their access to innovative new drug therapies will not be in question under this finalized rule. Cancer care often requires specialized treatment targeted at a patient's specific tumor and these treatments are rarely interchangeable," Lisa Lacasse, president of the American Cancer Society Cancer Action Network, said in a statement.
3. Ambulance startup Ambulnz looking to raise $90 million
Ambulnz, a startup that dispatches non-emergency ambulances, has filed paperwork with the Securities and Exchange Commission to raise $90 million in outside funding.
The bottom line: Ambulnz is seeking a lot of cash, but it's unclear how the company operates, my colleagues Bob Herman and Kia Kokalitcheva report.
What they're not saying: The Ambulnz website is sparse on details, and there's no explanation of how it earns money or how it works with health insurers.
Attempts to reach the company in multiple different ways were not successful.
What we know: Ambulnz says it offers "non-emergency patient transportation services," such as moving patients between hospitals and nursing homes or getting people to their doctor appointments.
One EMT for Ambulnz explained in a video the company pays based on how many rides they complete — "the more calls you run, the more money you make."
The services are expensive.
An Ambulnz representative said its standard rides were $350 plus $10 per mile. If a nurse is needed on board, it goes to $850 plus the mileage. The representative said the company "expects payment upfront," but rates could depend on insurance.
Ambulnz's rates are well above the $225 Medicare pays for basic non-emergency ambulance transports. And even higher above what an Uber or Lyft ride would likely cost (remember: this isn't for emergencies).
The company's fees are tied to a "local market rate card" and "available upon request." Axios has requested them, but has not received a copy yet.
The big picture: Like other premium health care services, we don't know how big the market and demand for this particular service is, given the high cost, narrow purpose and cheaper alternatives.
4. The global opioid epidemic
The U.S. isn't the only country that is struggling with opioid deaths, although it is seeing the most, according to a new OECD report.
Between the lines: Opioid overprescribing has been a global problem, the report says, although some countries with high rates of opioid availability don't also have high rates of overdose deaths. This suggests that appropriate regulation can have a big impact.
Other countries, like the U.S., have also experienced a rise in illegal opioids like heroin and fentanyl, which are a product of illicit international trade.
5. Top Haven exec quits
Haven COO Jack Stoddard has departed the company just nine months after starting, CNBC reports.
Haven is the health venture formed by Amazon, Berkshire Hathaway and J.P. Morgan, and we still don't know much about how it plans to bring down health care costs.
Stoddard said he was leaving for personal reasons, including the length of the commute from his home.
Why it matters: "Losing such a key executive so early in the process could be a big setback for Haven," CNBC's Christina Farr writes.