Axios Vitals
September 18, 2020
Good morning.
Today's word count is 1,313, or a 5-minute read.
1 big thing: Hospital prices' steady rise
Employers and private insurers paid hospitals, on average, 247% of what Medicare paid for the same services in 2018, per a new RAND study.
Why it matters: We all pay for this giant gap in prices through our premiums and lost wages.
The big picture: The price gap has been growing, with private insurers paying hospitals 224% of Medicare rates in 2016 and 230% in 2017. In 2018, prices were 267% of Medicare for outpatient services and 231% for inpatient services.
Between the lines: Prices varied drastically by location and by health system. Some states, including New York and Florida, paid more than 300% of Medicare rates, on average.
The most expensive system, John Muir Health, had prices that were 401.5% of Medicare. Sutter Health, which has settled a lawsuit brought by the state of California accusing the hospital system of price-gouging, was paid 326.6% of Medicare.
HCA Healthcare, one of the largest hospital systems, had prices that were 275.8% of Medicare. Community Health Network, another large health system that has continued to sue patients in coronavirus hotspots, was paid 260% of Medicare rates.
The other side: Hospitals have long argued that private insurance subsidizes inadequate government payment rates and that they must charge privately insured patients more to make ends meet.
The bottom line: Hospitals make up the largest portion of overall health care spending. The pandemic may have momentarily distracted us from health care costs, but they're still high, and the pandemic's economic fallout has only made them more unaffordable for many Americans.
2. Millions of vulnerable adults tied to schools
At least 42% of school employees are vulnerable to the coronavirus, and at least 63.2% of employees live with someone who is at increased risk, according to a new study published in Health Affairs.
Why it matters: We know children can catch and spread the virus. This study emphasizes why minimizing risk if and when schools reopen is crucial.
Details: The study found that low-skill support staff were more likely to be vulnerable to the virus than teachers or administrators.
Men were more likely to be vulnerable than women, and Black employees more likely than white employees to be at increased risk.
More than 70% of low-skill employees, employees older than 50 and Black employees live with someone in a vulnerable category.
More than half of school-age children live with an adult who is at increased risk, with high school students more likely to live with a vulnerable adult than elementary-age students.
"This finding takes on special importance in the context of COVID-19, insofar as transmission risks also increase with child age," the authors note. "The risk of adult exposure may therefore be greatest when the risk of severe illness is also greatest."
The bottom line: 35.2% of all adults — and more than a quarter of adults who are at increased risk — are either employed by schools, live with someone who is, or live with a school-aged child.
Among at-risk adults, only 22.4% of white adults were connected to schools, compared with 34.1% of Black adults and 44.3% of Hispanic adults.
3. The latest in the U.S.
51% of U.S. adults would "definitely or probably" get a coronavirus vaccine if the treatment were available today, while 49% would not, according to a Pew survey published Thursday.
Vice President Pence's former lead staffer on the White House coronavirus pandemic response announced on Thursday that she plans to vote for Joe Biden in the 2020 election, accusing President Trump of taking actions "detrimental to keeping Americans safe."
New York City pushed back its scheduled start of in-person learning for middle and high school students to October, Mayor Bill de Blasio announced Thursday, CNBC reports.
A forecast published Thursday by the Centers for Disease Control and Prevention projects there will be 207,000 to 218,000 coronavirus deaths in the U.S. by Oct. 10, CNN reports.
4. The latest worldwide
Though health workers represent less than 3% of the population in many countries, they account for around 14% coronavirus cases reported to the World Health Organization, the organization announced Thursday.
South Africa's health minister said around 12 million people in the country have "probably" been infected with the coronavirus, though the number has not caused a high death rate, AP reports.
India is on track, within weeks, to surpass the U.S. as the country worst affected by the coronavirus in the world, according to NPR.
The WHO warned that coronavirus cases are surging in Europe, as a "very serious situation" unfolds across the continent, CNN reports.
Ontario, Canada, intends to crack down on social gatherings to prevent "reckless careless people" from spreading the coronavirus at illegal parties, per Reuters.
5. Pandemic may drive up cancer cases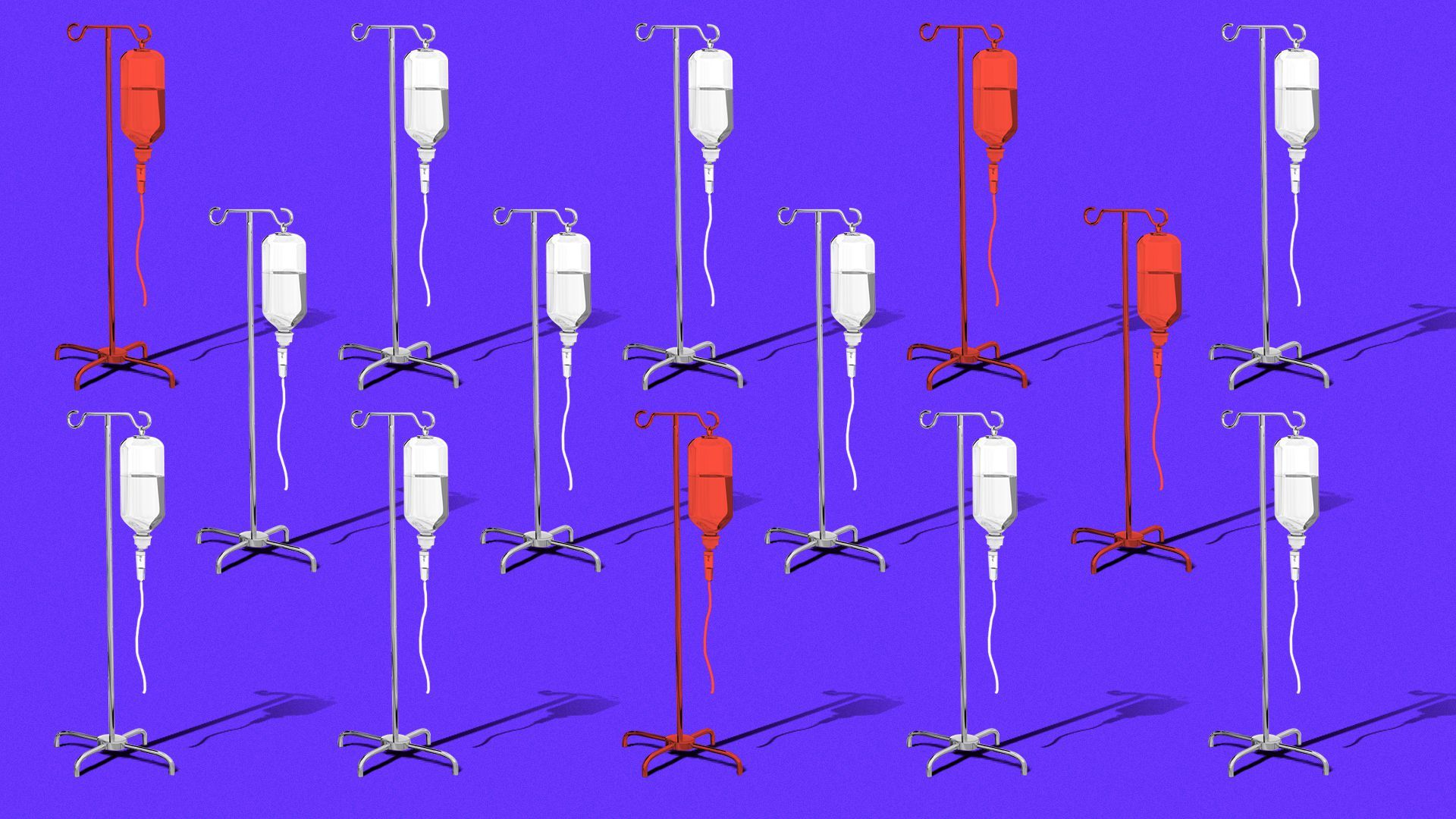 Doctors are concerned the coronavirus pandemic is going to lead to an uptick in cancer incidence and deaths — and exacerbate racial, ethnic and socioeconomic disparities seen with the disease, Axios' Eileen Drage O'Reilly reports.
Why it matters: The U.S. has made recent advances in lowering cancer deaths — including narrowing the gap between different race and ethnicities in both incidence and death rates. But the pandemic could render some of these advances moot.
Threat level: National Cancer Institute Director Ned Sharpless told scientists at a July roundtable that just looking at two cancers (breast and colorectal), there will likely be 10,000 additional deaths over the next decade due to the drop in screening and treatments during the pandemic.
"If you had to put off your diagnosis by even six months, that cancer could grow and progress and maybe even metastasize in that timeframe," said John Carpten, professor and department chair at the University of Southern California Keck School of Medicine.
Cancer research has also seen an "unprecedented disruption" from the pandemic, NIAID Director Anthony Fauci has said. A significant portion of private and public research into multiple illnesses, including cancer, has been diverted to tackling the novel coronavirus.
6. Black Americans have highest cancer death rate
Cancer death rates have been falling overall, and the gap between racial and ethnic groups has been narrowing, Eileen writes.
Yes, but: Decades of systemic racism and the structures developed under it continue to limit the ability of Americans to benefit equally from cancer advances, some medical experts say, as seen by Black Americans who've had the highest death rate from cancer for 40 years.
Driving the news: The American Association for Cancer Research on Wednesday issued its first annual cancer disparities progress report intended to be a "baseline" for watching trends, says Carpten, who is also chair of the report's steering committee and of the AACR Minorities in Cancer Research Council.
"Socioeconomic issues, financial toxicities and health care inequities in general are definitely the foundation of many of the disparities that we know exist," Carpten says.
"And, without dealing with and addressing and mitigating those issues, no matter what we do to improve our understanding of cancer, all of that will be moot."
7. Dog of the week — Sully!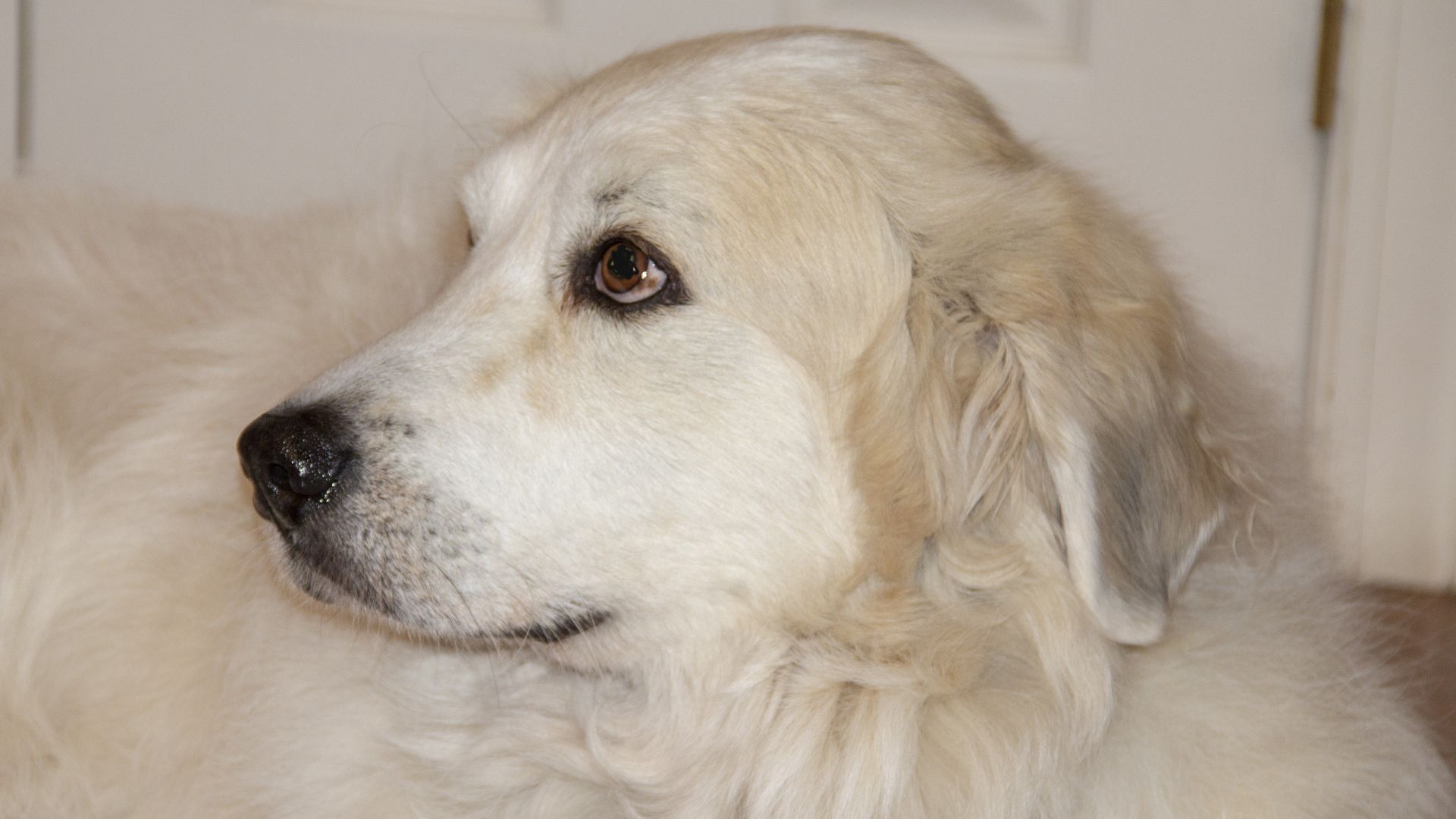 Meet Sully, who is one tough and inspiring pup!
"Sully was rescued at the age of 5 after spending his entire life tied to a tree in a back yard in the poorest county in Alabama. He was dumped in a kill shelter emaciated, with maggots in his ears and little hope for a brighter future. He was rescued by an amazing organization called the National Great Pyrenees Rescue (NGPR) and ultimately became one of the best gifts of my entire life," writes his mom, Patricia.
"As a cancer survivor, I know firsthand the importance of pets in your life for support, companionship and inspiration. Sully inspired me to create the CancerCare Pet Assistance & Wellness Program (PAW)."
"Too often cancer patients struggle to maintain and care for their pets. We have created a novel program that in the last 6 months has provided vital financial support to nearly 900 cancer patients struggling to feed and provide medical care for their pets. 34% of those nearly 900 cancer patients reported that their pet was their ONLY form of support and companionship."
Sully has also overcome medical challenges of his own.
Six months ago, a vet and orthopedic surgeon discovered that at some point, Sully had multiple broken bones, and never received medical care. "Both veterinary professionals said that is a miracle that Sully can even walk," his mom writes.
The bottom line: Dogs are the best, and we really don't deserve them. Keep submitting your pets!