Good morning … Nope, still no deal on the Children's Health Insurance Program.
​After years of failure, GOP finally kills the individual mandate
There were plenty of reasons to think the individual mandate was here to stay. It was a linchpin of Republicans' failed effort to defeat the Affordable Care Act in 2010. They couldn't persuade the Supreme Court to strike it down in 2012, or muster enough votes in that year's elections to do it themselves.
They failed to repeal it once again in July. This July. Not even five months ago. And yet, here we are.
The bottom line: As important as the passage of Republicans' tax overhaul is for tax policy, and for President Trump's legislative agenda and Paul Ryan's legacy and everything else, this is at least as big a moment in the life of the ACA. After years upon years of dire warnings about what would happen to the ACA without an individual mandate, we're about to find out in a live experiment.
Yes, but: I asked some of the other people who have ridden out the entire individual-mandate saga whether they're as surprised as I am to see the coverage requirement actually about to vanish. They are mostly surprised Republicans haven't achieved more.
"I am in some ways surprised they didn't repeal the law," says former Rep. Henry Waxman, who helped write the House version of the ACA.
Conservative policy analyst Chris Jacobs sort of agrees with Waxman, though obviously by coming at it from the other side, noting Republicans' years of campaign promises to roll back the law's regulatory requirements.
"I know the [Mitt] Romney folks drafted a whole reconciliation bill in 2012," Jacobs says. "If this is all we get out of it? No."
"I don't think it's that big an accomplishment, because [the mandate] has always been unpopular," Jacobs says.
How mandate repeal affects employer coverage
There's been a lot of focus on how repealing the individual mandate affects the individual market (it raises premiums and decreases competition). But, as my colleague Caitlin Owens notes, repealing the mandate is also likely to decrease the number of people with employer-based coverage, too.
The big difference is that while decreasing coverage on the individual market is likely to destabilize the market itself, the effect on the employer market is probably negligible.
The details, per Kaiser Family Foundation's Larry Levitt:
A lot of people decide to take up employer coverage because it's generally a pretty good deal for them. But the mandate does provide an extra incentive for them to do so.
The Congressional Budget Office predicts that with the mandate repealed, 3 million fewer people will have employer coverage. But that's against the more than 150 million people who have employer coverage.
"That would be a drop in the bucket … but a meaningful change in the number of people uninsured," Levitt says.
Sound smart: While the employer market will be absolutely fine, some of those 3 million newly uninsured people are sure to get sick — raising the question of who's on the hook for their health care bills, if they can't afford to pay.
Pivot to entitlement cuts would be unpopular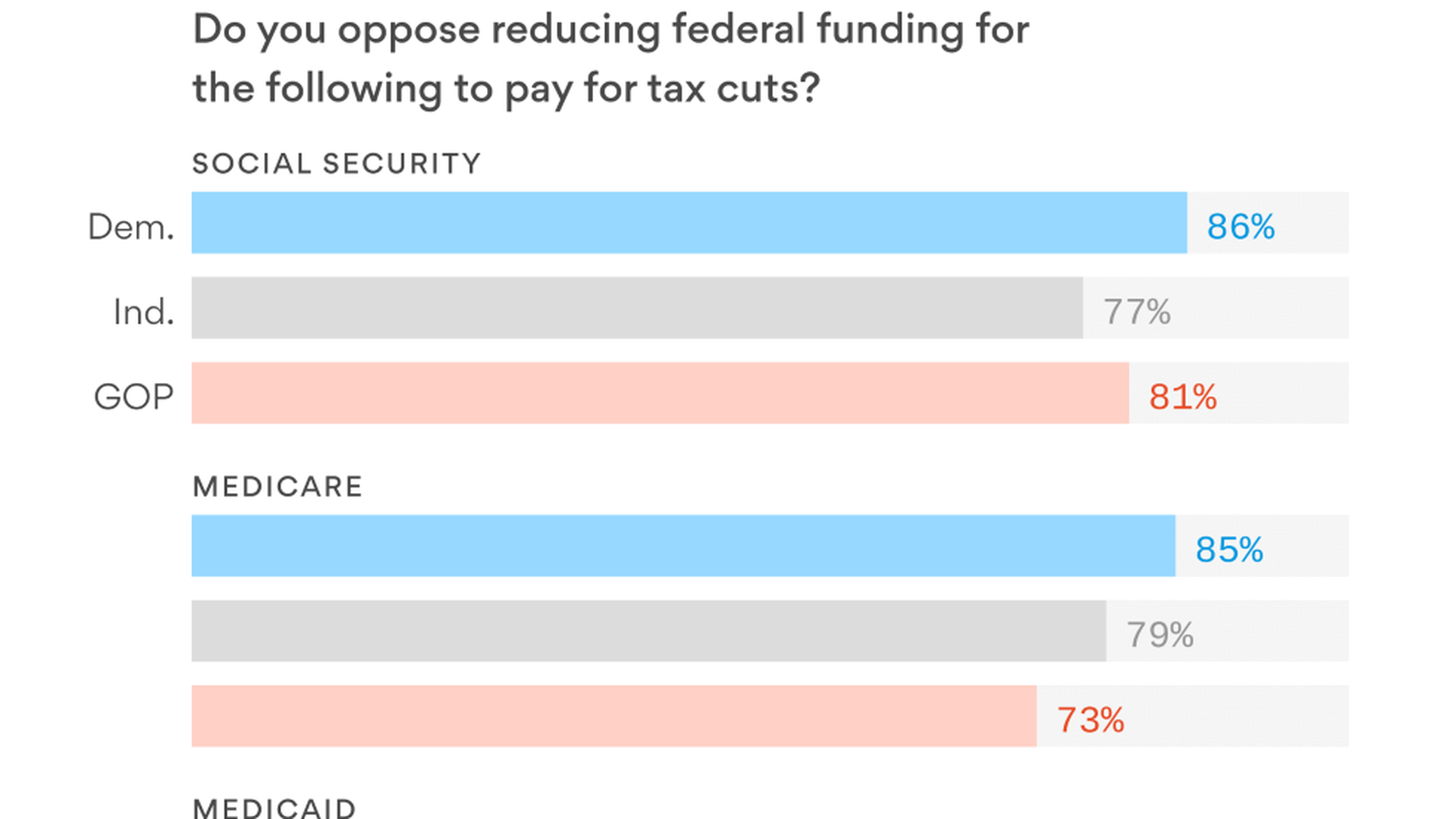 After their victory with the tax bill, Republican leaders in the House have said they will go after entitlement and "welfare" spending, with both Medicare and Medicaid potentially on the table.
Yes, but: As Kaiser Family Foundation president Drew Altman notes in his latest Axios column, that's not a very popular agenda.
More than 70% of Republicans and independents oppose reducing federal spending on Medicare to pay for tax cuts, and 72% of independents and 61% of Republicans oppose reducing federal spending on Medicaid to pay for the tax cuts.
The big picture: Republican advocates of what they call entitlement reform have long been concerned about the growing share of the federal budget consumed by Medicare and Medicaid, and may believe they can capitalize on the momentum from passing tax reform and take on entitlements and federal health programs next.
But cutting Medicaid and Medicare spending growth has always been a high hill to climb, and it's not like the GOP's past efforts have gone over well outside the Republican base.
A pharma industry snapshot
The Government Accountability Office, at the request of Rep. Elijah Cummings and Sen. Bernie Sanders, put out a 78-page report detailing the evolution of the drug industry.
My colleague Bob Herman synthesized it down into three critical points:
Profits and sales at drug companies exploded from 2006 through 2015, and profit margins at the 25 largest drug firms are more than double the margins at the largest 500 global companies.
Drug companies focus more on development, while the federal government subsidizes a lot of the expensive early-stage drug research. Big pharma companies often acquire early-stage drug companies that have promising data.
There's reason to believe pharma mergers stifle innovation, and lead to higher prices for patients.
Get smart: Massive profits at drug companies is the status quo, as Bob reported in November. It also shouldn't surprise you to see drug giants like Pfizer announce a $10 billion stock buyback program just as Congress passes major corporate tax cuts. The industry is only getting politically and financially stronger even as public criticism intensifies.
Correction: Yesterday's Vitals misidentified the senator who has co-sponsored Sen. Susan Collins' reinsurance bill. It is Bill Nelson. Ben Nelson has not been in the Senate for quite some time. I apologize for the error.
What we're watching this week: CHIP.