Good morning … So, we're really doing this, huh?
https://www.axios.com/newsletters/axios-vitals-c798d301-1561-4ac3-8588-545eacad3dcc.html?chunk=0#story0
Time for another stab at the individual mandate
Senate Republicans' latest tax proposal includes a provision to repeal the Affordable Care Act's individual mandate. It's a risky maneuver, but one that GOP leaders waded into with at least an outward projection of confidence, saying they believed they had 50 votes for the overall tax package.
The big picture: Remember "skinny repeal"? The repeal bill that all but three Senate Republicans voted for on the express condition that it not become law? Because, as Sen. Lindsey Graham put it, "the skinny bill as policy is a disaster"? The policy is basically the same this time around.
"Skinny repeal" would have done more than just end the individual mandate, but that was its biggest change, and the one that made it a "disaster" for insurance markets. Any vehicle that repeals the individual mandate, without a replacement, will cause premiums to rise and leave millions more Americans uninsured.
That said, none of the three senators who killed skinny repeal — Susan Collins, John McCain or Lisa Murkowski — has said repealing the individual mandate would be a deal-breaker for their tax votes.
Why now? The savings. Repealing the mandate would save the government roughly $340 billion over a decade, and Republicans need that money to help offset the lost revenues from $1.5 trillion in tax cuts.
As CBO reminded lawmakers yesterday, if the tax bill does end up adding $1.5 trillion to the deficit, automatic cuts would kick in — including $25 billion from Medicare. Some Republicans have also said they won't vote for a tax bill that adds to the deficit, making the search for spending cuts especially important.
What's next: The House isn't expected to add in mandate repeal before passing its tax bill, so this would have to be worked out in a conference between the House and Senate bills, if they both make it that far.
https://www.axios.com/newsletters/axios-vitals-c798d301-1561-4ac3-8588-545eacad3dcc.html?chunk=1#story1
Alexander-Murray in the crossfire
GOP leaders said that, in addition to voting to repeal the individual mandate, they had agreed to hold a vote on the ACA stabilization bill from Sens. Lamar Alexander and Patty Murray. Democrats don't really see that as much of a deal, and on the substance, they have a point.
Be smart: These two policies would not cancel each other out.
Cost-sharing payments — the central policy provision at the core of Alexander-Murray — are already baked into every estimate and analysis that shows repealing the individual market would cause premiums to rise and millions of people to lose coverage.
Passing Alexander-Murray would not undo much of the damage done by repealing the coverage mandate.
Buzz: Some liberal-leaning policy wonks have already started to question how much they actually care about Alexander-Murray. The end of cost-sharing subsidy payments has, somewhat bizarrely, made coverage more affordable for a lot of people.
This is still a relatively young and not-fully-developed strain of thought, but its seeds are out there — and it's one more indication that Alexander-Murray in exchange for the individual mandate is not a good deal for anyone except the right.
https://www.axios.com/newsletters/axios-vitals-c798d301-1561-4ac3-8588-545eacad3dcc.html?chunk=2#story2
​Pharma's big quarter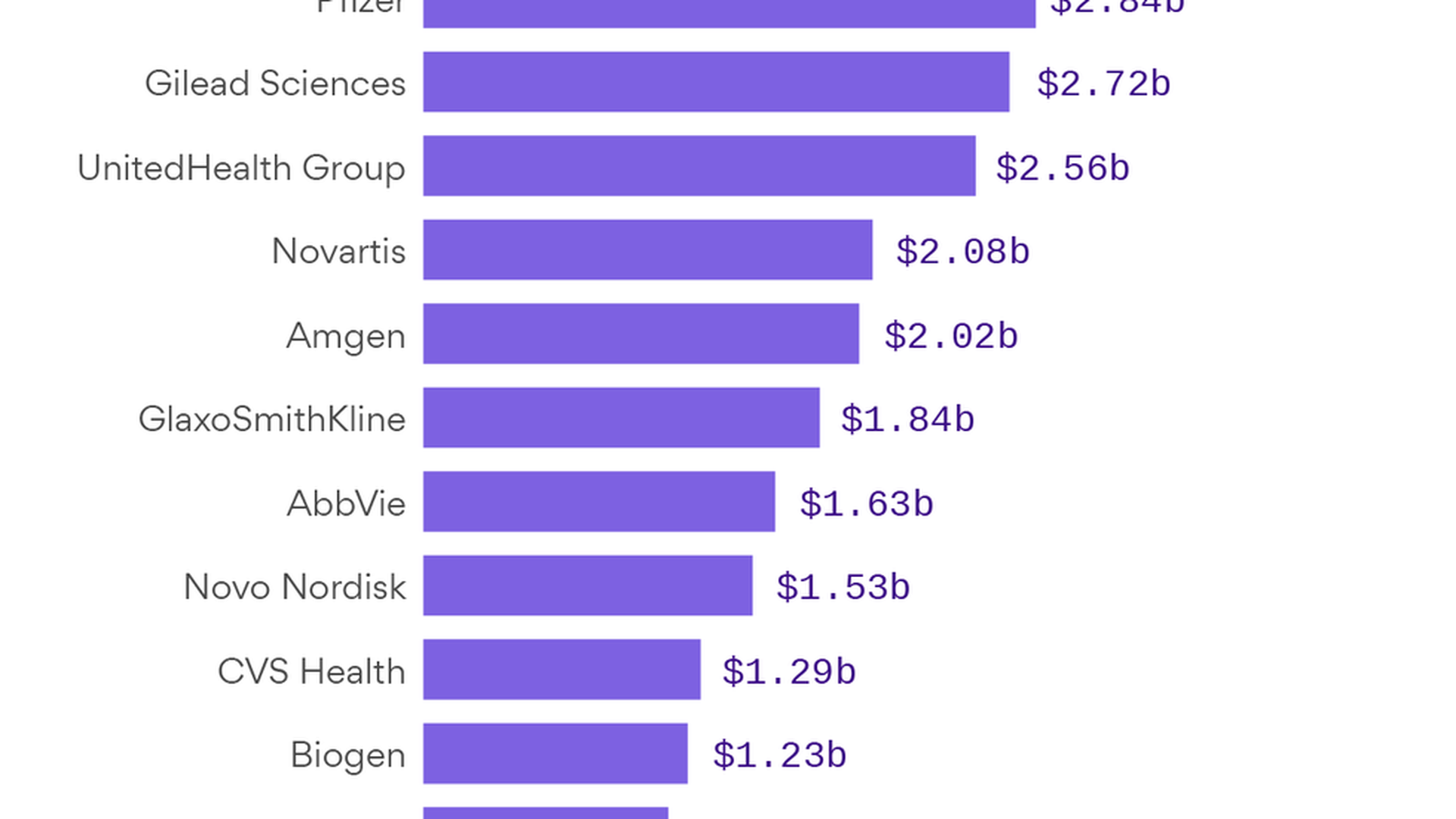 Axios' Bob Herman has been tracking the health care industry's financials over the third quarter, in which the 99 largest publicly traded health care companies cumulatively collected $33 billion of profit and $577 billion of revenue worldwide.
Winners: Pharmaceutical companies collected more than 60% of those profits, but only 22% of the revenue.
No health care company netted more profits than Johnson & Johnson, the behemoth maker of drugs, medical devices and consumer products like Band-Aids and Tylenol. Its net profit was $3.8 billion in the quarter.
8 of the 15 highest net profit margins were at drug companies.
12 of the 15 highest net profit totals were at drug companies.
https://www.axios.com/newsletters/axios-vitals-c798d301-1561-4ac3-8588-545eacad3dcc.html?chunk=3#story3
​Risk corridor debts surpass $12 billion
The federal government owes insurance companies more than $12 billion in payments from the ACA's risk corridor program, and didn't even take in enough money last year to finish paying off its debts from 2014.
Washington & Lee law professor Tim Jost breaks down the math over at Health Affairs, finding that insurers paid just $27 million into the program last year, and were owed more than $4 billion, on top of the roughly $8 billion in debts already outstanding.
How it works: Under the risk corridor program, insurers with better-than-expected results in the ACA's exchanges would pay into a fund, and insurers with worse-than-expected results could draw money from that fund to help cover their losses.
Initially, the federal government was on the hook for whatever payments the insurer-funded pool couldn't cover, but Congress cut off that federal funding.
So the government is making risk corridor payments solely out of the money insurers contribute, and that hasn't been enough to finish paying off 2014.
https://www.axios.com/newsletters/axios-vitals-c798d301-1561-4ac3-8588-545eacad3dcc.html?chunk=4#story4
Short selling target: dialysis companies
Jim Chanos and his hedge fund "are short [selling] the dialysis companies," the famed short seller who predicted the collapse of Enron said at a Reuters event Tuesday. He predicts private insurers won't continue paying higher rates for dialysis than what Medicare or Medicaid pays.
Why it matters: Short selling is a fickle business, but Chanos' view is a pretty big shot fired at the major dialysis companies — namely, DaVita, Fresenius and American Renal Associates. And it's not like dialysis chains aren't vulnerable. Some of their profits come from patients who controversially get their premiums subsidized by charities.
https://www.axios.com/newsletters/axios-vitals-c798d301-1561-4ac3-8588-545eacad3dcc.html?chunk=5#story5
​Remembering Uwe Reinhardt
The health policy world lost a brilliant mind and generous soul yesterday with the death of Uwe Reinhardt, who was not only one of the smartest thinkers on health care, but had a unique knack for making that work seem fun.
Health economist Austin Frakt has a very nice remembrance that I highly recommend, especially if you knew Reinhardt or his work.