News you can't use: I have no idea what this reality TV show is, but the headline of this content — "Angela wants egg from her daughter" — is definitely a winner. And by egg, it means the reproductive kind.
Best of all, it was sent to me by a Vitals reader!
Today's word count is 918, or ~3 minutes.
1 big thing: The opioids legal battles rage on
The federal opioids litigation took a step closer to resolution yesterday when major drug companies settled with 2 Ohio counties just before a trial was scheduled to begin.
Yes, but: States, municipalities and the companies being sued are still hashing out a global resolution to the thousands of lawsuits pending across the country.
Between the lines: "Monday's settlement, lawyers involved say, can't be directly extrapolated into what a larger deal might look like, since the pressure of an imminent trial often leads to larger payouts," the Wall Street Journal's Sara Randazzo reports.
Driving the news: Drug distributors McKesson, Cardinal Health, and AmerisourceBergen — along with Teva Pharmaceutical Industries — announced a $260 million settlement yesterday with the 2 counties.
Some state attorneys general announced yesterday afternoon that they had reached a $48 billion settlement "agreement in principle" with the distributors, Teva and Johnson & Johnson, and were hopeful that other states will join the agreement.
As Axios' Bob Herman points out, the $48 billion settlement is tentative and does not yet include a host of other states, counties and Native American tribes. It also does not include Purdue Pharma, which is working separately through its bankruptcy process, nor does it include other defendants.
And in a bad omen for its future, the lawyers representing city and county governments panned the proposal: "This appears to be the same proposal that 17 municipalities rejected on Friday and we don't see that changing," they said in a statement.
The bottom line: Opioid companies have avoided trials that would have pried open sensitive documents about their roles in the painkiller crisis. But the settlement talks are still far from over.

2. UPS' drone fleet expands health services
UPS announced Monday that it's expanding drone-delivery services to include CVS Pharmacy, Kaiser Permanente, wholesale pharmaceutical distributor AmerisourceBergen and the University of Utah health system, Axios' Marisa Fernandez writes.
The state of play: UPS is hitting the health care business on all sides, from patients to providers and suppliers — all of whom would value faster deliveries on lab testing, prescriptions and medical supplies.
Details: Earlier this month, UPS received Federal Aviation Administration's approval to operate a commercial drone fleet that will carry small metal boxes. UPS expects to see these expansions through by the fourth quarter of this year.
For CVS, the drones will carry prescriptions and retail products from stores to customers' homes.
At the University of Utah's WakeMed, they would transport health care supplies, medical instruments and documents.
Kaiser Permanente plans to use UPS' drones to deliver supplies between buildings at several medical campuses.
AmerisourceBergen will use them to transport pharmaceuticals, supplies and records to qualifying medical campuses.
What to watch: It's still uncertain how many drones this will involve. Overall, UPS expects the unmanned aircraft to cut down a 30-minute truck drive to 3 minutes and 15 seconds.
3. States working on ACA backup plans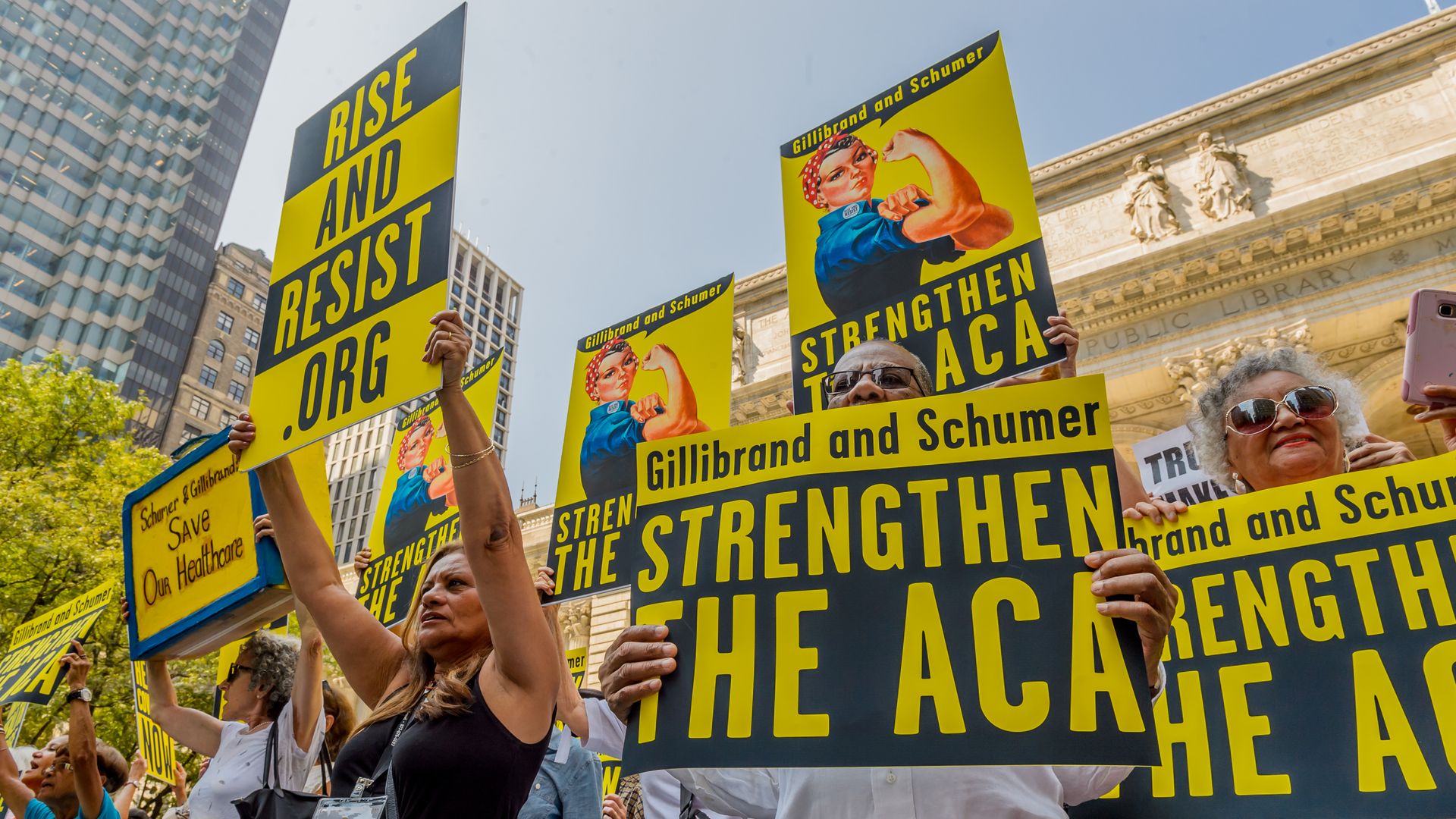 States are beginning to make contingency plans in case the courts strike down the Affordable Care Act, WSJ reports.
Yes, but: There's only so much they can do, Axios' Sam Baker writes.
Where it stands: As we all wait for the 5th Circuit Court of Appeals to hand down its ruling, and then for the likely appeal to the Supreme Court...
Colorado is looking to its state-level public option, still under formation, as an ACA fallback.
Nevada has formed a commission to look for ideas.
Louisiana is working on a plan to establish a high-risk pool for sick people.
The catch: Even setting aside the fact that this is only a small handful of states, even the most motivated blue state probably couldn't make up for the total loss of the ACA.
They could not deliver themselves a federally funded Medicaid expansion, for starters, and would have to raise an awful lot of revenue to replace the premium subsidies on the ACA's exchanges.
States would face their own drawn-out political battles if they wanted to re-impose the ACA's protections for pre-existing conditions and the accompanying rules that give the coverage mandate teeth.
And that's just the ACA's coverage expansion: States definitely couldn't fill the ACA's shoes on Medicare policy, biosimilars approval or the host of other programs that would fall by the wayside if the law is ultimately struck down.
4. FTC wants data on merging hospitals
Five health insurers and two hospital systems have until January to send patient billing data, salary data and other information to the Federal Trade Commission as part of a study looking into hospital merger reviews, Bob reports.
Why it matters: The FTC has been skeptical of so-called "certificates of public advantage" — policies that some states adopt as a workaround to approve hospital mergers while avoiding federal antitrust scrutiny.
Obtaining data will give federal officials a better idea whether deals approved via these mechanisms better serve the public, or the merging hospitals.
In the crosshairs: Ballad Health and Cabell Huntington Hospital, two systems that both completed controversial mergers. Aetna, Anthem, Blue Cross Blue Shield of Tennessee, Cigna and UnitedHealthcare also have to fork over data.
Modern Healthcare published a multi-part series on the controversies surrounding Ballad Health.
Go deeper: A reality check on hospital mergers
5. A potential blow to hospital payment reform
A federal judge has reaffirmed her decision that recent Medicare cuts to clinics owned by hospitals were unlawful and should be reversed, Bob writes.
Why it matters: The judge's ruling jeopardizes the Trump administration's push to reduce payments for routine doctor visits that are performed in hospital-owned clinics.
Researchers have supported the policy, and that Medicare is trying to expand it in the 2020 hospital outpatient rule.
What's next: The Centers for Medicare & Medicaid Services could appeal, but for now it's a win for hospitals, which potentially stand to reap hundreds of millions of dollars in repayments.
Editor's note: The third item in yesterday's Vitals was updated to reflect that babies were born with opioid dependence (not addiction).