Happy Friday ... You thought we were heading into a quiet couple of weeks? Maybe, but the lesson of this week is, you never know when Trumpcare might rise again because they found a couple more votes. Happy recess!
And one goof I made yesterday: Michael Needham is the CEO of Heritage Action, not Heritage Foundation. Knew that, but didn't type it. It matters. So, moving on ...
The new state of Trumpcare: Desperation
Here's the big problem Republicans are facing on Trumpcare: They're facing so much pressure to pass a bill — any bill — that the changes have stopped being about improving the policies, or steering toward a broader, coherent vision of conservative health care reform. It's all about chasing votes now, and the more they try, the more the changes leave health care experts scratching their heads.
The latest as we head into the congressional recess:
Republicans have added a $15 billion "Federal Invisible Risk Sharing Program" to the bill to help insurers that attract a lot of expensive patients.
It's basically a rebranding of the reinsurance program Obamacare used to help insurers in its first years, though if you say that to the Republican sponsors, they will punch you in the face. There are some subtle differences. Tim Jost has a great deep dive into the new proposal at the Health Affairs blog.
The goal is to cover sick people without separating them into a high-risk pool, and to bring down premiums — which it could do, Jost writes, if it were funded with a lot more money.
Freedom Caucus chairman Mark Meadows said the provision "doesn't complete the task, but it's a good step in the right direction," Roll Call reports. But the group still wants to get rid of the pre-existing condition regulations, and it's not clear how much the new provision will do to lock up their support.
Why are we hearing about this right before the recess? Because the White House leaned on House Speaker Paul Ryan hard to show some progress, not just let everyone leave for two weeks, per Politico.
So Ryan put on a big show at his weekly press conference yesterday, loading up the stage with 30-plus Republicans as a backdrop to show unity on Obamacare repeal. "We have made real progress this week," he practically shouted.
The Rules Committee held an "emergency" meeting to approve the amendment — right before the recess, for a bill that wasn't about to come up for a vote. It's something I don't remember seeing in more than 20 years of covering Congress.
What the experts are saying: Conservative health care analyst Avik Roy says the risk-sharing fund shows "considerable progress" in improving the bill — though he says it needs more work on regulatory reform and aid to the low-income elderly. But Chris Jacobs, another conservative analyst, wonders why the fund wasn't tied to the state waivers the GOP also wants: "I could be missing something, but I don't see a coherent policy vision."
What's next: GOP leaders are under intense White House pressure to bring everyone back from recess to vote on the bill, but they won't do it unless there are signs that they're actually picking up votes. Ryan spokeswoman AshLee Strong: "Should a path toward 216 votes emerge, the speaker wouldn't hesitate to bring members back to fulfill our promise to repeal and replace Obamacare."
Bottom line: It's not likely right now — but don't make any travel plans you can't change.
Much ado about not a lot of money
Despite all the hype, the $15 billion over 10 years proposed for the high-risk fund really isn't all that much money and would probably have only a small impact on premiums, Caitlin Owens reports after running the idea by some experts. Here are a couple of comparisons:
Under current law, total premium revenue in the individual market is likely to be more than $1 trillion between 2018 and 2026. The GOP proposal is less than 1.5 percent of that, "so it simply is not going to be enough to move the needle in any appreciable way," according to Matthew Fiedler of the Brookings Institution.
Obamacare's reinsurance program — one of three risk mitigation programs included in the law — gave $20 billion to insurers over just three years before it expired in 2016.
What Aetna's Obamacare pullout means for Iowa
Here's the most striking paragraph from the Des Moines Register's story on Aetna's decision to stop selling Obamacare plans in Iowa next year — the second pullout of a major insurer in one week:
"Only one other insurer, the relatively small Minnesota carrier Medica, currently sells individual policies in most Iowa counties....If Medica pulls out, many Iowans could have no options for individual coverage, either on or off the Affordable Care Act's 'exchange' marketplace."
So what's the verdict? Medica spokesman Greg Bury tells the Register the company is "currently evaluating the situation and our options."
Safety net insurers in a bind
Health insurance companies that predominantly cover low-income people face a difficult decision for 2018: Drop out of the Obamacare marketplaces and ignore their missions, or stay in and raise premiums a lot to account for the uncertainty created by the Trump administration's repeal efforts.
Bob Herman reports that one safety net plan in New York, Affinity Health Plan, is hanging around for 2018. However, "the rate increases are going to be significant," said Michael Murphy, the new CEO of Affinity, which covers about 33,000 New Yorkers in traditional Obamacare plans as well as Obamacare's "Basic Health Program" plans. "Everybody's looking to at least get their head above water."
Why this matters: The mentality of local safety net plans is a lot different than the national for-profits. Aetna, Humana and UnitedHealth Group had no qualms leaving Obamacare marketplaces because they are tiny slivers of their business. Companies that didn't invest in Obamacare or were late entrants, like Wellmark in Iowa, similarly find it easier to bail. But local not-for-profits may feel more compelled to stay.
What the GOP shouldn't do if they don't want to get blamed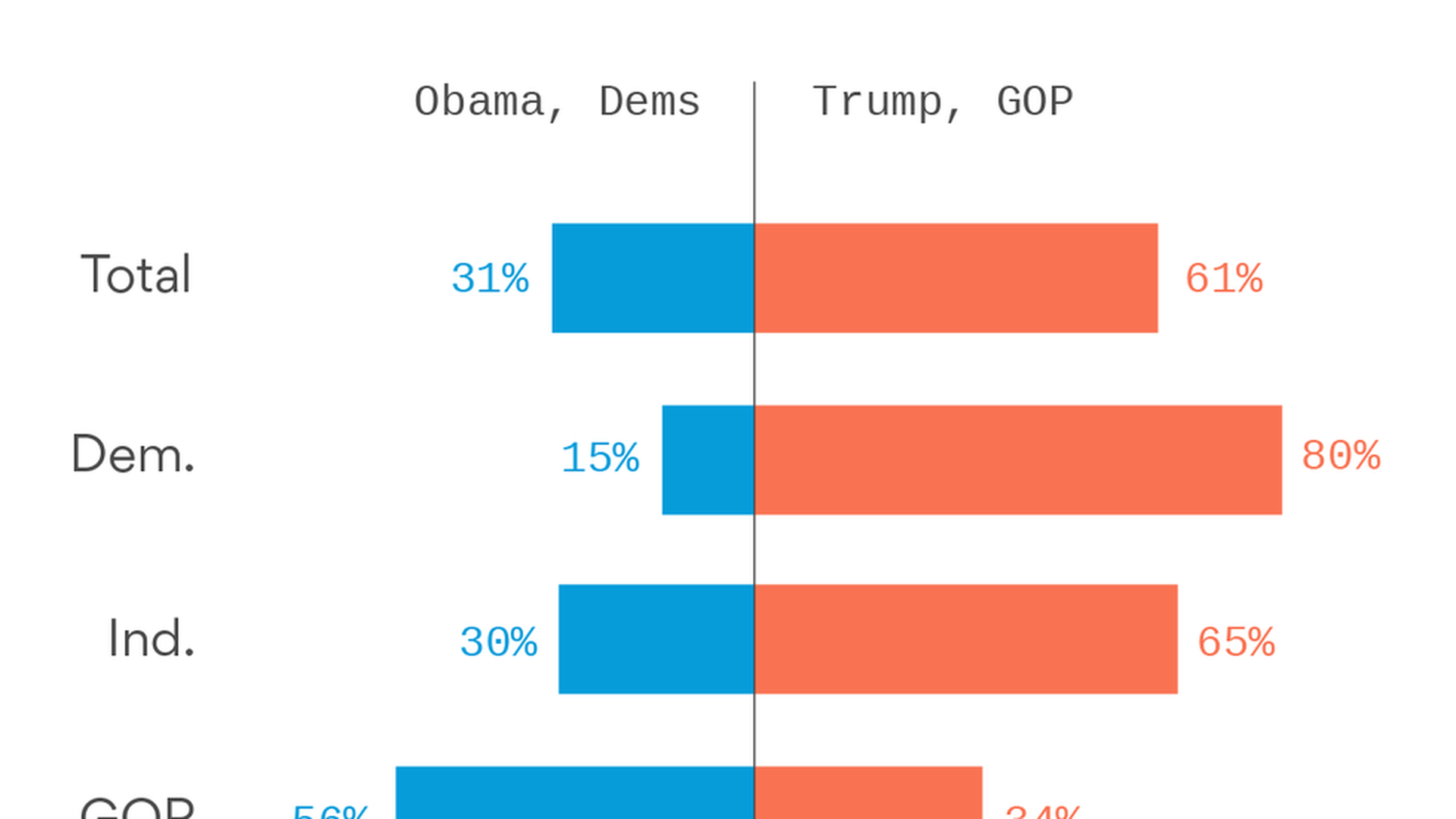 There was a pretty clear message from a Kaiser Family Foundation poll earlier this week: If Obamacare collapses, it's President Trump and congressional Republicans who will get blamed, not the Democrats. Today, Kaiser's Drew Altman explores exactly what that means. The blame will stick to the GOP if they try any of these things:
Not paying insurers for Obamacare's cost-sharing subsidies
Not enforcing the individual mandate
Not advertising Obamacare enrollment for next year
They're all tempting for a party that doesn't believe in the law, but they'd all cause serious damage that would be easily traced back to the GOP. Read the piece here.
Steve Bannon and health care
Couple of telling nuggets from the Washington Post's look at the political troubles of Trump's chief strategist:
He wanted to force a vote on the health care bill "to establish a public list of Republican traitors."
His centrist rivals, presidential son-in-law Jared Kushner and National Economic Council director Gary Cohn, are the ones who invited liberal health care expert Zeke Emanuel to the White House last week to discuss the health care fight.
23andMe is back — sort of
The DNA testing company is making a slow comeback from its big Food and Drug Administration smackdown a few years ago, CNBC reports. It's now offering a $199 FDA-approved test for several genetic diseases, and the company says the most popular one, by far, is for a gene that indicates a risk of Alzheimer's disease. That's not the full range of tests 23andMe used to offer, but it's something of a turnaround for the company, which got slapped by the FDA in 2013 for not being able to prove its tests were accurate.
Have a great weekend, and let me know who we should heckle while Congress is gone: david@axios.com.