Axios Vitals
December 18, 2020
Good morning.
This is the final edition of Vitals in 2020. I humbly admit that I was not at all interested in writing about "the virus" some 11 months ago, but how quickly it came to consume our lives.
We'll always remember this year, and I'll always appreciate the community that made writing this daily missive (let's be real, which was usually full of bad news) a worthy endeavor.
What I am most looking forward to in 2021: Getting vaccinated, and hopefully at some point sitting on a beach with a margarita.
Today's word count is 1,054, or a 4-minute read.
1 big thing: 1 of every 200 Americans diagnosed with COVID last week
In the last week alone, nearly 1 out of every 200 Americans was diagnosed with the coronavirus — an astronomically large portion of the population to be sick at the same time, Axios' Danielle Alberti and I report.
Why it matters: This will translate into large numbers of hospitalizations — and eventually deaths — in the coming weeks. It also means the rest of us have a decent chance of interacting with someone who is infected, anywhere we go.
By the numbers: Nationally, 0.9% of Americans have been diagnosed with the virus over the last 14 days, or nearly 1 out of every 100 people. That's probably an undercount of the real number of infections across the country, as not everyone who is infected gets tested.
In Tennessee, nearly 1 of every 100 state residents have been diagnosed within the last week, making it the state with the highest number of new cases by population in the country.
In California, the most populous state in the U.S., roughly 1 of every 150 residents were diagnosed this week, contributing tens of thousands of cases to the national total every day.
What's happening: California's health care system is already buckling, AP reports.
Hospitals across the state "have all but run out of intensive care beds for COVID-19 patients, ambulances are backing up outside emergency rooms, and tents for triaging the sick are going up," per AP.
2. College students wrap up a stressful semester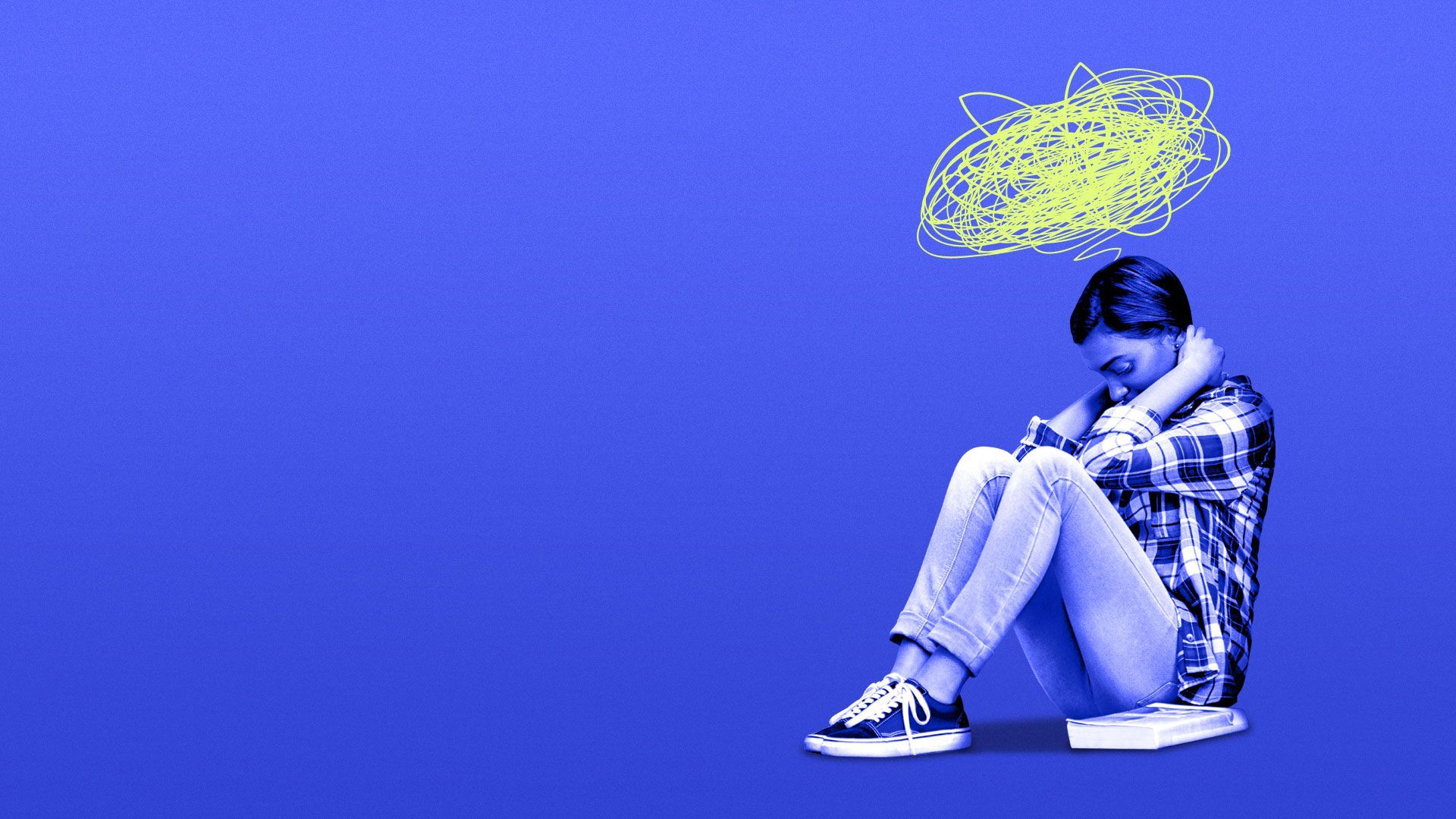 Seven out of 10 college students have experienced anxiety, 53% have experienced depression and 29% have considered dropping out since the pandemic began, according to a new Generation Lab/Axios poll.
The big picture: The end is in sight, but students are still in for a cold, isolated second semester, Axios' Marisa Fernandez and Neal Rothschild report.
Students this fall had to decide whether a college experience largely stripped of football games, learning in classrooms and partying was worthwhile.
Despite the challenges, more than two-thirds said that it was at least somewhat worth the tuition, but nearly a third said it wasn't worth it.
The Generation Lab polling shows that campuses have proven to be a less safe location than back at home. 13% of students say they contracted the coronavirus — a clip nearly 3x the broader U.S. population.
Since the pandemic began, more than 397,000 infections have occurred at more than 1,800 colleges and universities, according to a N.Y. Times survey.
The state of play: The thousands of U.S. colleges had to come up with their own systems to reopen for testing and contact tracing regiments, which was largely inefficient and shaky even after the fall semester began.
Many students still returned to college towns, rented off-campus housing and attended crowded gatherings, despite online only class offerings this fall.
The bottom line: The incoming spring semester could see more of the same challenges in educating and keeping students safe with serial testing.
3. The latest in the U.S.
A Food and Drug Administration advisory panel on Thursday recommended the approval of Moderna's coronavirus vaccine for emergency use in a 20-0 vote with one abstention. This clears the way for the FDA to give the vaccine emergency authorization as soon as Friday, per the New York Times.
Officials in several states have said the federal government told them to expect fewer doses of Pfizer's COVID-19 vaccine next week than originally anticipated.
San Francisco will enforce a travel quarantine effective Friday as California struggles to combat rising COVID-19 deaths and hospitalization rates.
An estimated 81,000 people died from a drug overdose between June 2019 and May 2020, the highest number ever recorded in a 12-month period, according to a Centers for Disease Control and Prevention report released on Thursday.
Rep. Cedric Richmond (D-La.), the incoming White House senior adviser for President-elect Joe Biden, has tested positive for COVID-19 and will self-quarantine for 14 days, the Biden-Harris transition team announced in a statement on Thursday.
4. The latest worldwide
1. Japanese Prime Minister Yoshihide Suga's approval ratings have fallen off a cliff since he replaced Shinzo Abe three months ago, per Morning Consult's tracker.
By the numbers: One month ago, Suga's approval rating was 51% and his disapproval rating 31%. Now those numbers have nearly flipped (36% approve/50% disapprove). The decline comes as Japan's COVID-19 outlook deteriorates, Axios' Dave Lawler writes.
It won't be helped by the news that Suga attended an upscale dinner with other prominent guests on Monday, breaching advice from his own government to limit social gatherings to four people.
2. French Prime Minister Emmanuel Macron tested positive for the coronavirus yesterday after experiencing symptoms, and he's working from isolation.
European Council President Charles Michel and Spanish Prime Minister Pedro Sánchez both recently met with Macron and have now entered quarantine, as have Macron's prime minister and other French officials.
3. Russian President Vladimir Putin said during an annual marathon press conference today that he will be vaccinated, but only when his age group becomes eligible. Putin, 68, said that was because he's a "law-abiding person."
5. COVID tests will be travel passports in 2021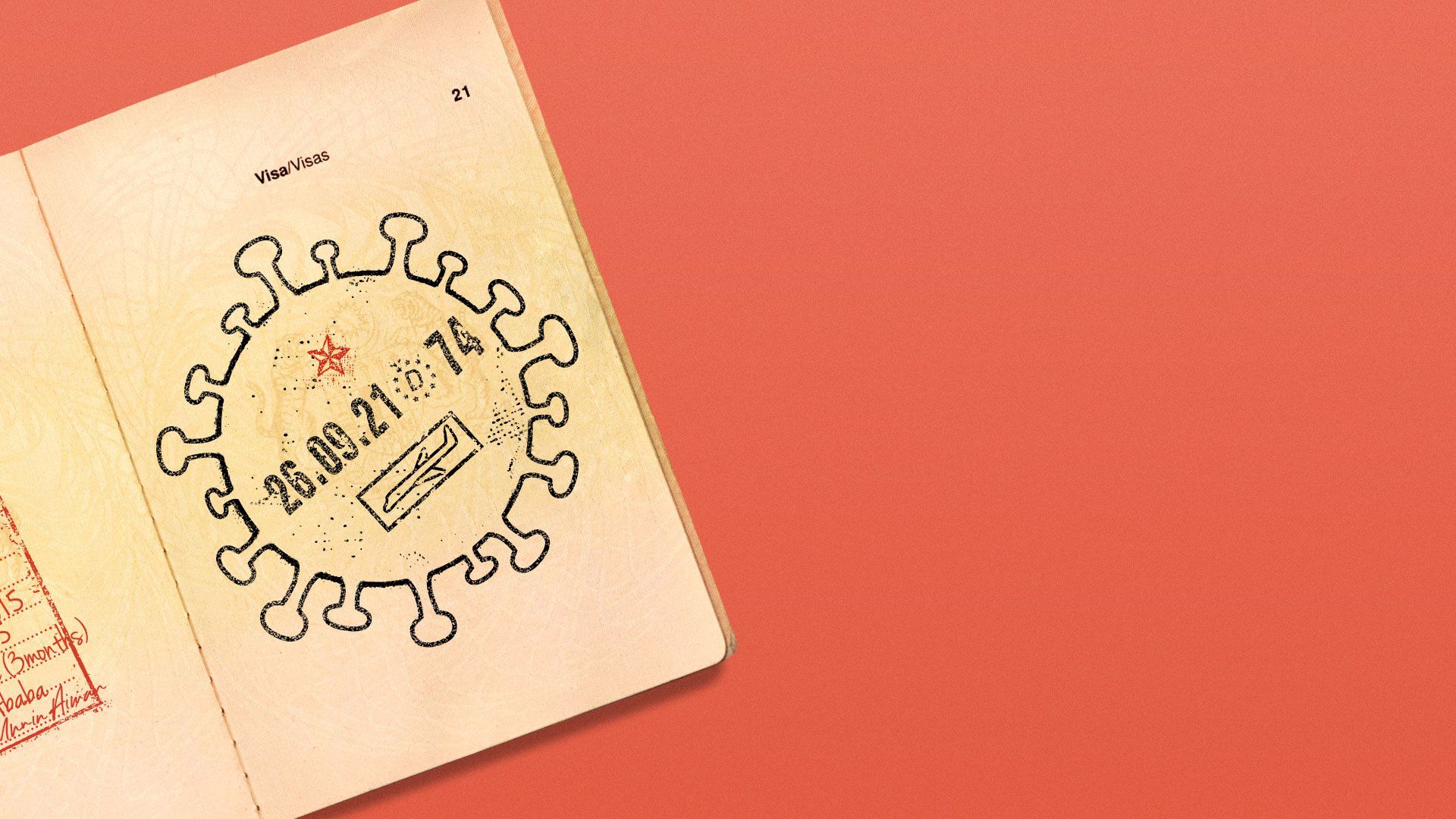 The new normal for air travel in 2021 could include two, three or even more COVID-19 tests per trip until vaccines are widely available, Axios' Joann Muller reports.
The big picture: Global travel could begin to see a comeback later in 2021 as people get vaccinated and international borders reopen. But the healthiest people — those most likely to travel — will be vaccinated last. In a partially vaccinated world, passengers will still need to wear masks and get tested before, during and after their journey.
"For the next two to four years, different people will have different vaccines but not everyone will have a vaccine. What that means is everyone on the flight still has to be tested," says Simpliflying CEO Shashank Nigam.
The good news: Faster, more convenient testing options are emerging.
What's next: Vaccines could one day be required for international travel, but there are no uniform requirements across the world, which means getting vaccinated in one country might not guarantee entry into another.
What to watch: Some airlines and airports are starting to roll out CommonPass, a global platform created by the World Economic Forum and Swiss-based non-profit The Commons Project.
CommonPass allows people to digitally document their COVID-19 status — through test results and eventually, vaccinations — while protecting their health data privacy.
6. Dog of the week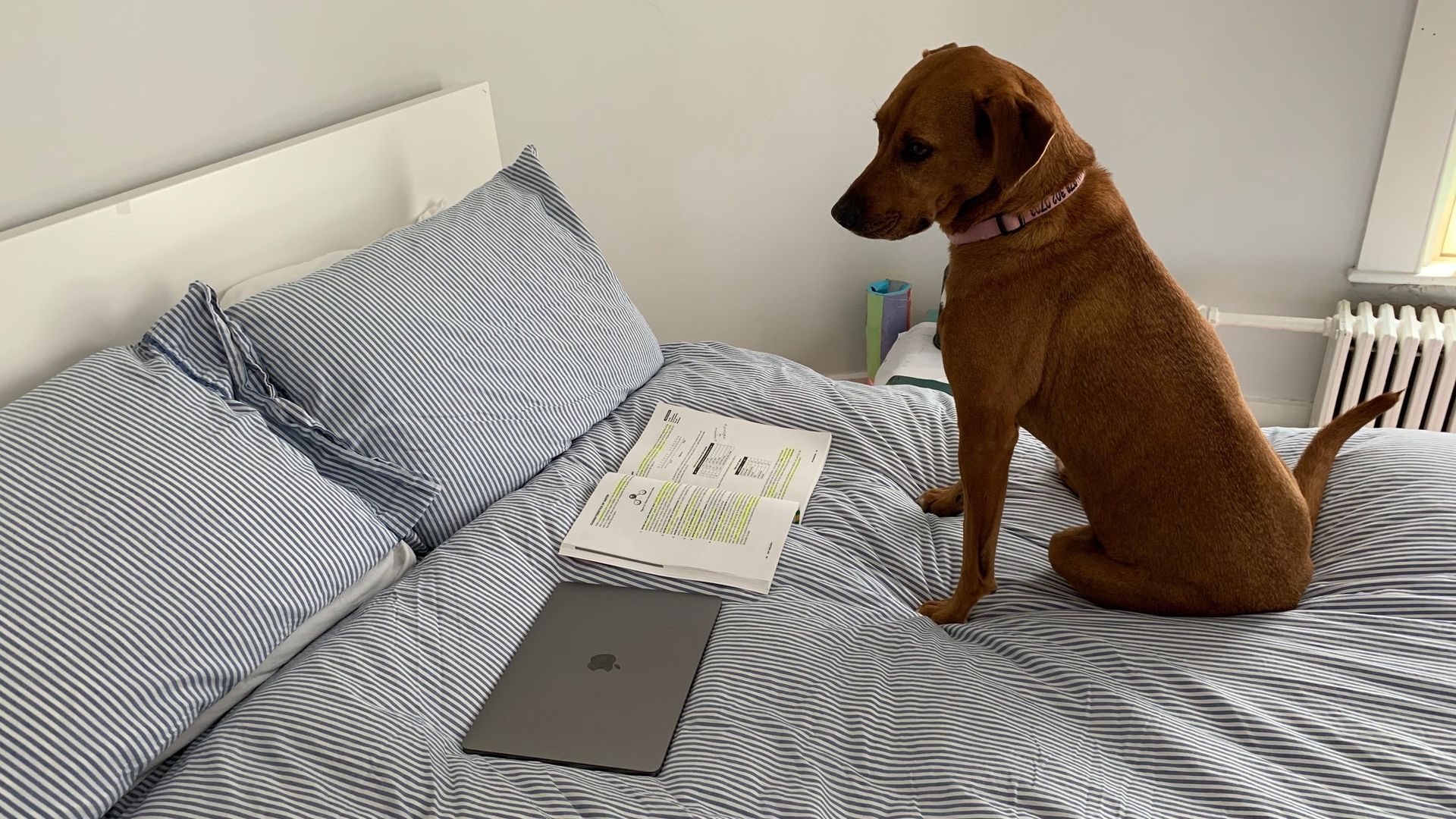 Meet Lucy!
"Lucy is a 10-year-old rescue who started life on the streets of Puerto Rico and joined our family at the age of six months (or so). She loves remote learning, lounging with our six-year-old rescue cat, and napping!" writes her mom, Melanie.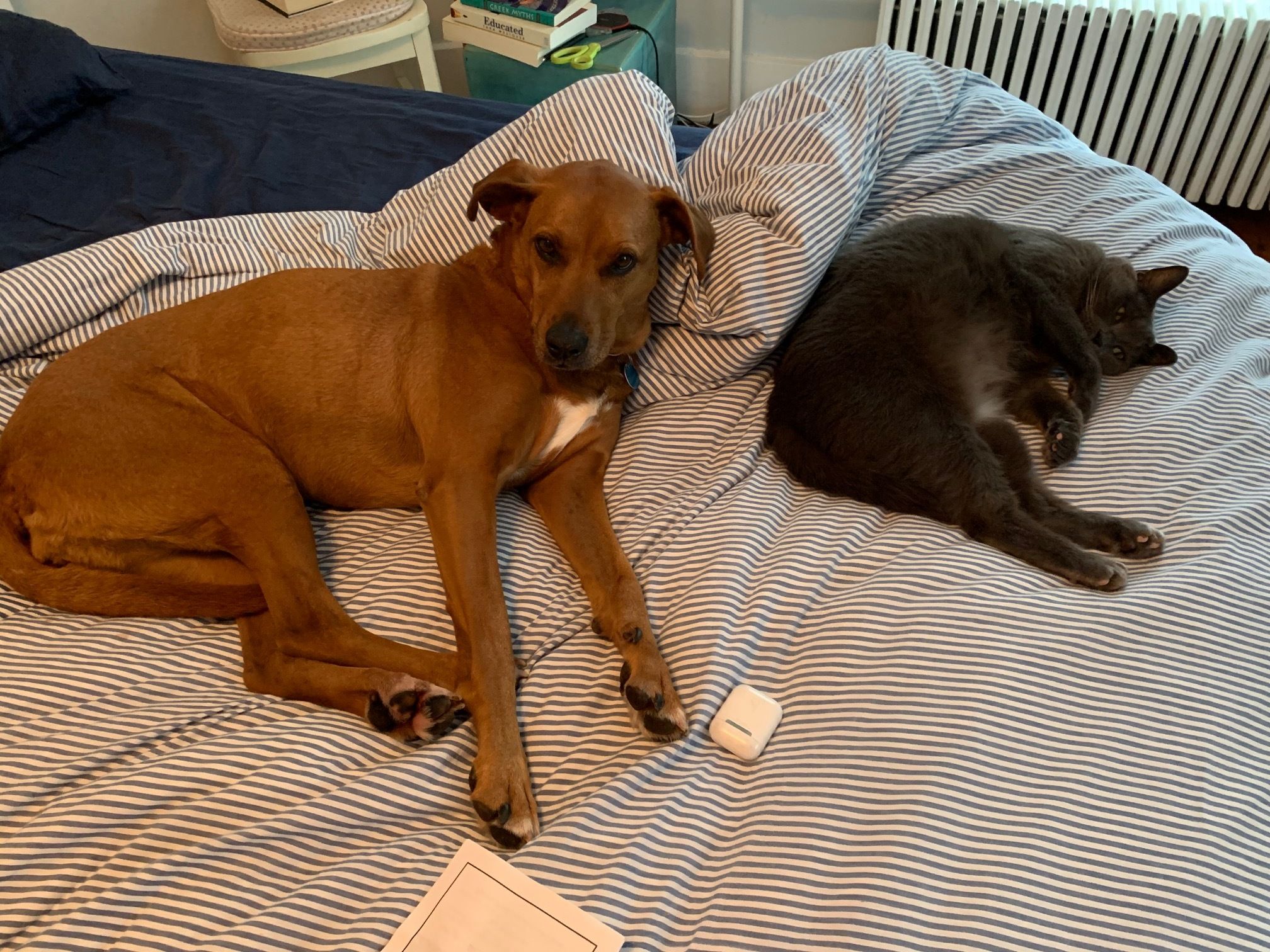 Bonus: Holiday dogs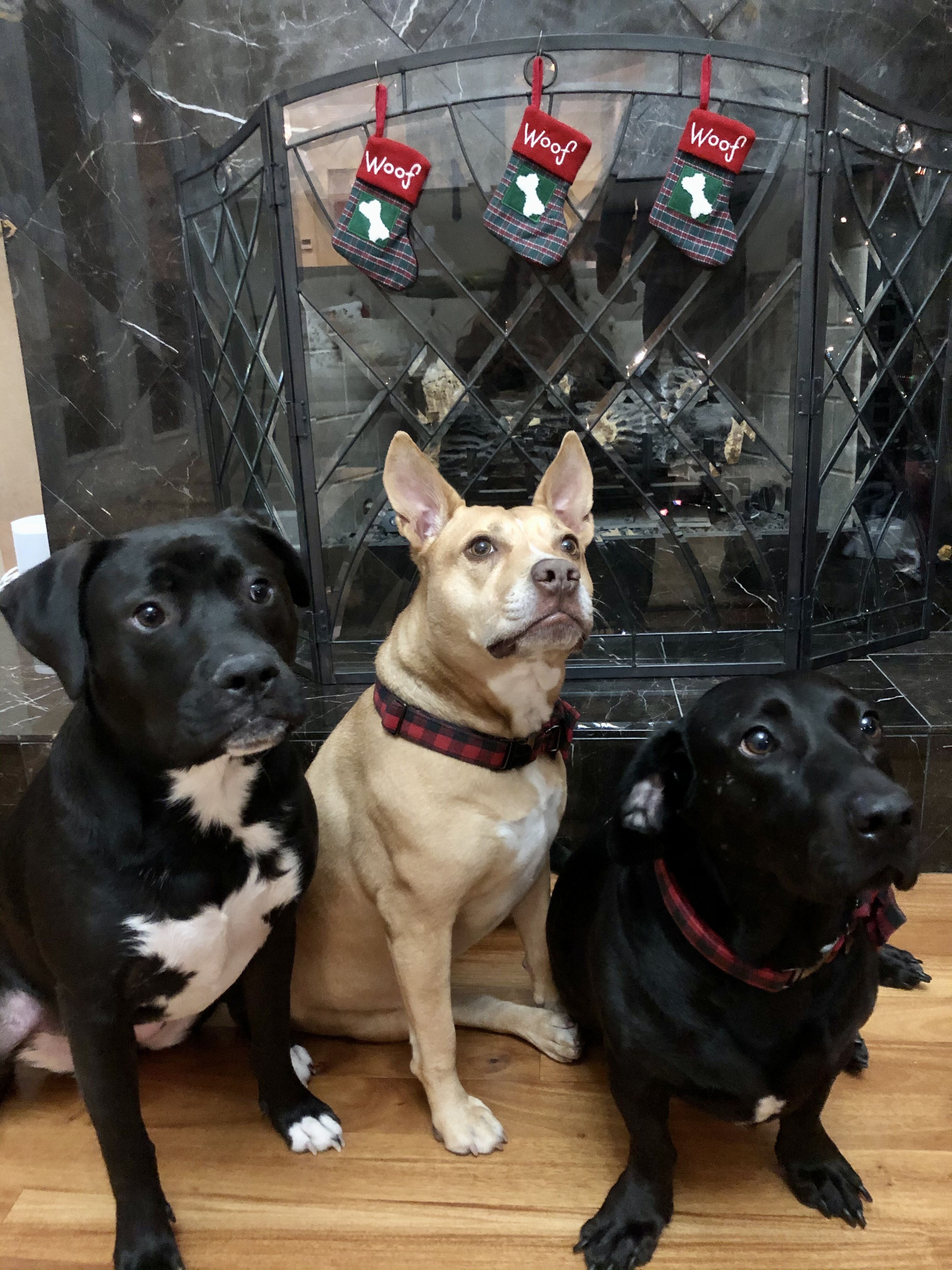 Piper, Harley and Wendy (aka The Pack) are all very ready for the holidays, and also very excited that Vitals (aka me) is about to have two weeks off.