Axios Vitals
November 01, 2019
Good morning. If you, like me, got stuck on an airplane for hours last night because of the weather ... misery loves company.
📺 Coming up on "Axios on HBO": We dig into the GOP's looming Texas-sized problem with Reps. Will Hurd and Dan Crenshaw. And, former pastor Joshua Harris, who inspired a generation of evangelicals, discusses — for the first time — why he's renouncing his faith. Watch 6pm Sunday.
Today's word count is 890, or ~3 minutes.
1 big thing: How 2020 Democrats plan to take on pharma — alone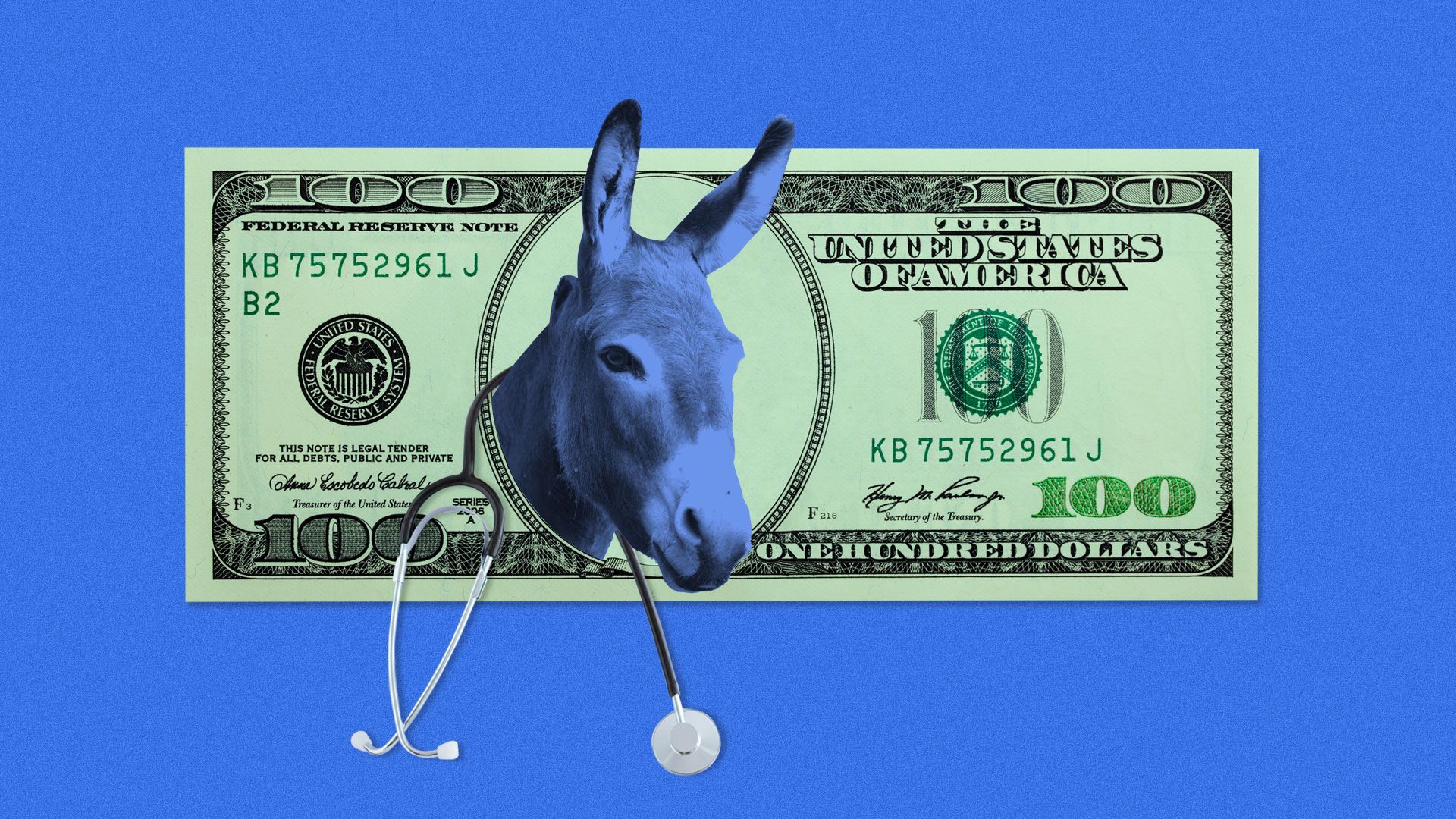 One of the Democratic presidential candidates' leading ideas to lower drug prices would come with intense legal battles and thus an uncertain fate.
Why it matters: Democrats' plans to seize drugmakers' patents could give patients some relief from high drug costs, if they work, but they'd be testing the boundaries of the law in order to get there.
What they're saying: Sens. Kamala Harris, Elizabeth Warren and Bernie Sanders have said they'd use "march-in rights" to take away the patents on expensive drugs. South Bend, Ind. Mayor Pete Buttigieg has also said he'd rely on similar tools.
How it works: "March-in rights" come from a decades-old, bipartisan law that allows the government to award a generic competitor the rights to make and sell a patented drug that was developed using public funding, in certain circumstances.
They've never been used before.
A second method, referred to as "Section 1498," applies to every patent regardless of funding. It's been used in the past, but not recently for prescription drugs.
Yes, but: There's a formal process to challenge individual uses of the authority, and it would also be vulnerable to challenges about whether it should exist at all in this context.
The biggest question regarding march-in rights is whether a drug's price can be used to trigger them.
"Some have argued that the law was not intended to be used for high-priced drugs, and that the law isn't available for use on high-price drugs, but that hasn't been tested in court," Washington University law professor Rachel Sachs said.
Section 1498 may be easier to use than march-in rights, Sachs said, but could still be challenged.
The other side: The use of march-in rights "will only jeopardize our country's ability to deliver new medicines to address our most costly and challenging diseases," said Tom Wilbur, a PhRMA spokesperson.
2. Georgia governor outlines ACA waiver plan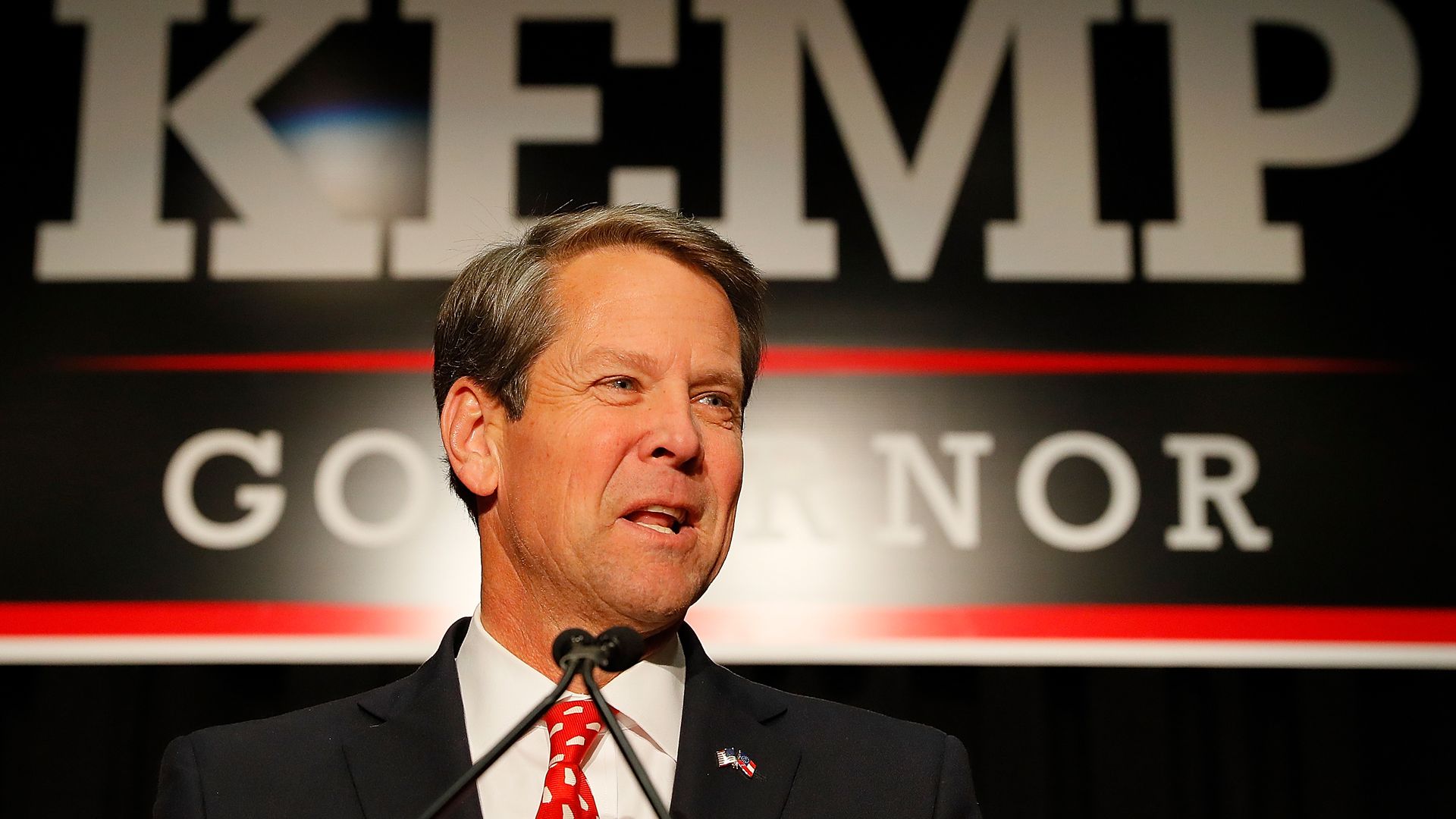 Georgia Gov. Brian Kemp released a set of waiver proposals yesterday that would remake the individual market, the Atlanta Journal-Constitution reports.
Between the lines: Kemp's proposal — which must be approved by the federal government — would move more control over ACA dollars to the state while attempting to lower premiums in the individual market.
Details: Controversially, the exchange market would be brought under state control, including how subsidies are structured and distributed. Plans would no longer have to cover all of the ACA's essential health benefits for enrollees to receive subsidies.
Small business employees whose employers give them a bonus to buy health insurance would also be eligible for subsidies.
The plan also creates a $300 million dollar reinsurance program, which would compensate insurers for high-cost claims that contribute to higher premiums.
Georgians would no longer use healthcare.gov to enroll in ACA plans. Instead, those who try to use the site would be routed to a page with options —including private web brokers that could sell skimpier plans.
What we're watching: This is only step one. Kemp is expected to detail on Monday another waiver proposal that could lead to a limited Medicaid expansion, per AJC.
On the other hand, Indiana announced yesterday that it's temporarily halting its Medicaid work requirements because of a lawsuit, per the Wall Street Journal.
Arizona has also delayed the program, and other states are reviewing their work requirements.
3. $4 billion in rebates
If Express Scripts is any kind of bellwether for drug rebates — pricing discounts that drug manufacturers pay to pharmacy benefit managers so their drugs get put on the drug coverage lists — then those dollars are continuing to rise, Axios' Bob Herman reports.
By the numbers: Cigna, which bought Express Scripts last year, said it is owed almost $4 billion in rebates from pharmaceutical companies as of Sept. 30, according to new investor documents. That's up almost $600 million since the start of this year.
UnitedHealth Group, which owns OptumRx, counted $4.2 billion worth of drug rebate "receivables" as of Dec. 31, 2018, but hasn't provided updates since then. CVS and Humana similarly control billions of dollars in rebates.
Between the lines: PBMs don't keep all of those dollars. A lot goes back to large employers, governments and health plans as a way to lower premiums.
But even the small percentage that is retained results in hundreds of millions of dollars to their bottom line. It's why PBMs were so relieved when the Trump administration killed its drug rebate overhaul.
Go deeper: The drug rebate curtain

4. Problems with end-of-life care
Procedural mistakes in end-of-life care have led to wrongful deaths, according to a pair of investigations from ProPublica.
Details: Doctors have turned to family members even when patients still had the ability to decide on their care, Axios' Marisa Fernandez writes.
Rules about who can make treatment decisions for the incapacitated often are not followed, and there's little oversight if a person forges themselves as a health care proxy.
The impact: Providers are now facing lawsuits that say "extreme measures had been taken to keep a patient alive even when such measures were not what the patient or family wanted," per ProPublica.
Read the investigations:
5. A $21,634 mental health crisis
A grieving widow's slide into depression landed her in a hospital for five nights, which then turned into a $29,894.50 medical bill that her insurance didn't cover, Kaiser Health News reports with NPR.
The bill was then reduced to $21,634.55 because her insurance didn't cover mental health care.
Why it matters: The woman had an association health plan. Her story illustrates how these plans can backfire on patients.
They aren't required to cover the ACA's essential health benefits — including mental health — which is part of why they're often cheaper than ACA-compliant plans.
The woman hadn't expected to need mental health services when she bought the plan.
Go deeper: Ads for "Trumpcare," which doesn't exist, are everywhere