Good morning ... Guess we're going to go through the House health care repeal drill again. On the other hand, we're not hearing a real passion for shutting down the government over Affordable Care Act insurer payments. Good news, right? Unless you're an insurer.
Oh, and the Senate HELP Committee is going to vote on Scott Gottlieb for Food and Drug Administration commissioner today and he'll lose some Democrats but he's still going to be approved. Moving on ...
https://www.axios.com/newsletters/axios-vitals-c2535abc-3bd8-44a8-89e2-3c713f55d94b.html?chunk=0#story0
It's up to the GOP moderates now
The House Republican health care bill is alive again! Look how alive it is — it's picking up some votes from the conservative Freedom Caucus, and there's even legislative text now. That's why Caitlin Owens was running all over the place last night. The only thing it doesn't seem to have: moderate Republican votes.
That's a problem, though it may be mostly the moderates' problem. Because now all the pressure is going to be on them. Here's why:
If House Republicans can't get the 216 votes they need to repeal and replace the Affordable Care Act now, it's all going to be pinned on the moderates, which is exactly what they were afraid of.
But if they do vote for it, they're going to be slammed for weakening the Affordable Care Act's protections for people with pre-existing conditions, as well as the benefits insurers have to provide. The whole point of the amendment is to let states write their own rules on those.
These are exactly the kinds of changes that got disastrous polling numbers in the ABC News-Washington Post poll yesterday. (Just 26 percent of Americans want to let states decide pre-existing condition coverage.)
The amendment does have limits: people with pre-existing conditions couldn't be denied coverage, they'd just be charged more, but only if they lived in states that got waivers and they didn't keep themselves insured, plus the state has to have a high-risk pool. Try explaining that at the next town hall.
But if moderates reject the compromise, they'll be the target of conservative groups that have already accused them of standing in the way.
About the only moderate who's safe in this is Rep. Tom MacArthur, the author of the amendment. And he was already a yes on the GOP health care bill anyway.
https://www.axios.com/newsletters/axios-vitals-c2535abc-3bd8-44a8-89e2-3c713f55d94b.html?chunk=1#story1
First in Vitals: New ad hits GOP on pre-existing conditions
This one just got more timely: Liberal groups aren't about to let House Republicans off the hook if they relax the ACA's rules on pre-existing conditions. A new digital ad from Bridge Project declares that the latest proposed changes to the GOP repeal and replacement bill would make it "even worse" by weakening the coverage for sick people and the benefits insurers have to cover. The message: "Don't Let Trump Sell You Out."
Who's targeted: Reps. Luke Messer and Todd Rokita of Indiana, Ann Wagner of Missouri, Lou Barletta of Pennsylvania, Barbara Comstock of Virginia, Will Hurd of Texas, Fred Upton of Michigan, and Pat Tiberi of Ohio — all in districts where people supported former President Barack Obama but voted for President Donald Trump, according to the group.
https://www.axios.com/newsletters/axios-vitals-c2535abc-3bd8-44a8-89e2-3c713f55d94b.html?chunk=2#story2
The battle cry for insurer payments is becoming a whimper
Weren't the Democrats supposed to be ready to risk a government shutdown to make sure insurers got paid for their ACA subsidies? Seems that they may not be ready to die on that hill after all.
First, House Minority Whip Steny Hoyer told reporters yesterday that the payments don't need to be in the spending bill because Trump has the authority to fund them himself, per the Washington Examiner — contradicting House Minority Leader Nancy Pelosi's insistence that they should be in the spending bill.
Then, Senate Minority Leader Chuck Schumer made the payments sound like less than a top priority, saying they're just "one of the things, there's a whole list" of issues that Democrats want to see addressed in the spending bill, Caitlin Owens reports.
Bottom line: Unless you hear a Democratic leader publicly saying that the lack of ACA insurer payments would be a deal breaker for a government funding bill, it probably isn't.
https://www.axios.com/newsletters/axios-vitals-c2535abc-3bd8-44a8-89e2-3c713f55d94b.html?chunk=3#story3
Trump's bargaining on insurer payments isn't winning fans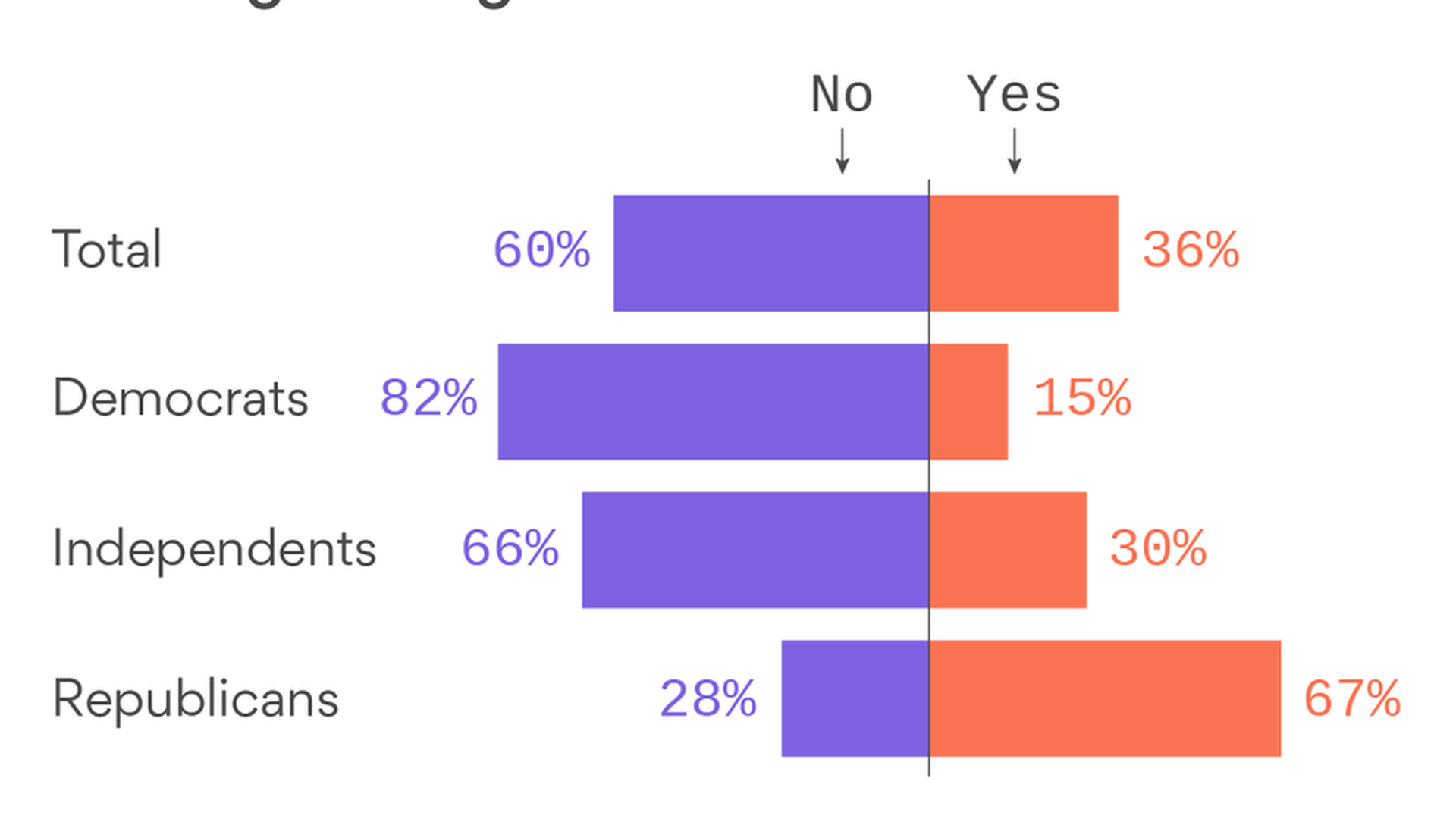 Trump's idea of withholding ACA insurer payments to get Democrats to negotiate on health care isn't going over well with the public. A new Kaiser Family Foundation poll finds that six out of 10 Americans don't want Trump to use negotiating tactics on the ACA repeal and replacement plan that could disrupt the markets. Just 36 percent think it's a good idea.
Between the lines: But look at how public opinion breaks down by party. Most Republicans are fine with the Trump strategy. They're just out of step with Democrats and independents.
Yes, but: That doesn't mean the public wants Republicans to stop working on a repeal and replacement plan: 51 percent want them to keep working on it, while just 43 percent want them to move on. It's a pretty sharp contrast to yesterday's ABC News/Washington Post poll, which found that just 37 percent want the law to be repealed and replaced. (The Kaiser poll did find that the Americans are warming up to the ACA a bit: 48 percent have favorable views, 41 percent unfavorable.)
https://www.axios.com/newsletters/axios-vitals-c2535abc-3bd8-44a8-89e2-3c713f55d94b.html?chunk=4#story4
The man-bites-dog story of the day ...
... comes from Bob Herman, who reports that an insurer says it will probably stay in the Affordable Care Act marketplaces next year! It's Centene, which has about 1.2 million ACA customers. That's not as many as Anthem, but it's close. If Centene had left, 90,000 people in Mississippi would have had no insurers providing ACA coverage, as Bob reported last month.
What's next: Will Anthem stay? They're the big one right now — if they go, 255,000 people in Colorado, Kentucky, Missouri and Ohio won't have any options for ACA coverage. They might drop some hints today when they hold their earnings call.
Storm clouds: Blue Cross and Blue Shield of Illinois warned that if it does stick around, it could raise its rates "significantly" if the Trump administration doesn't enforce the individual mandate or the insurer subsidy payments disappear, per the Chicago Tribune.
https://www.axios.com/newsletters/axios-vitals-c2535abc-3bd8-44a8-89e2-3c713f55d94b.html?chunk=5#story5
Doctors don't really have the equal pay thing down yet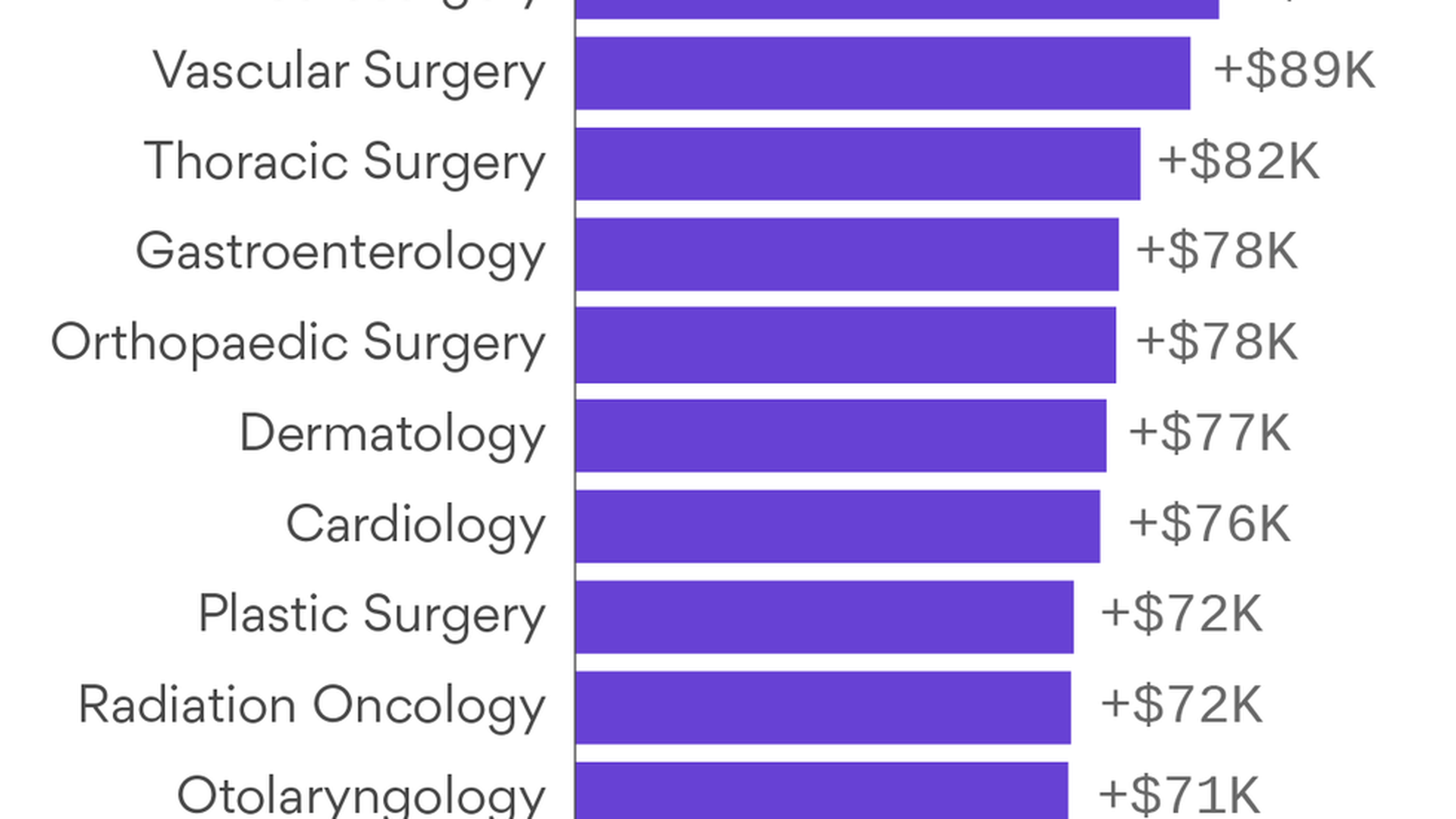 Looks like the gender pay gap is a real issue for doctors, too. Doximity, a professional social network for physicians, is out this morning with a survey that shows women physicians earn an average of nearly 27 percent less than men. It's a survey of the salary data reported by 36,000 of its members.
What's missing: Any explanation of why the pay gaps exist. That's because the survey didn't try to look for causes, which would be hard to pin down anyway, according to the survey's lead author, Chris Whaley of the Berkeley School of Public Health. He said they'll try to dig into that in a later survey — though in other professions, the gender gap is usually caused by a combination of bias, differences in training and background, and differences in negotiating power. "It really begs more questions than it answers," Doximity's Joel Davis said.
Notable: The survey also found huge differences in physician pay between different metropolitan areas, sometimes within the same state. The lesson, according to Davis: "Health care in the United States really is a local market."