Axios Vitals
September 13, 2019
Good morning. Today's word count is 792 words, or ~3 minutes.
1 big thing: Hospitals' dog in the surprise billing fight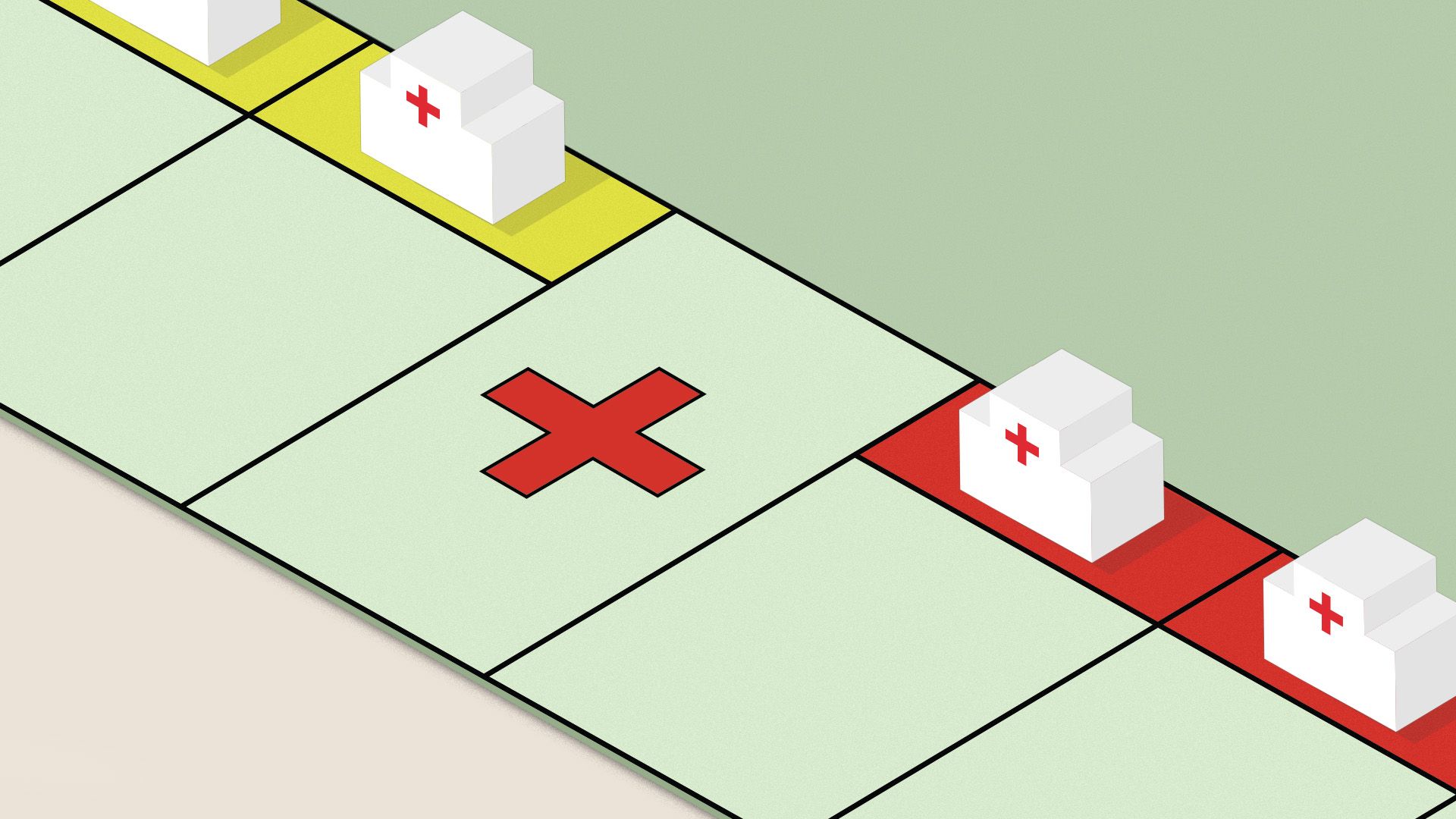 Although the surprise billing debate is often framed as a battle between insurers and doctors, hospitals also have a huge financial stake in the issue and are fighting tooth and nail to make sure they get their way.
Why it matters: Congress' effort to rein in surprise medical bills is on the rocks, thanks largely to industry opposition, and its failure would leave patients at risk.
How it works: Their leading solution would set a benchmark rate that insurers would pay the doctors and hospitals who are outside their coverage networks. It would only apply in certain circumstances.
Some experts say that would erode hospitals' negotiating power with insurers — staying outside an insurer's network wouldn't be as lucrative, and therefore hospitals wouldn't be able to make as many demands by threatening to remain out-of-network.
By reducing hospitals' leverage, this approach to surprise billing could help insurers pay hospitals less.
"That's a pretty hefty threat that the hospital implicitly has with any negotiation with an insurance company," said Loren Adler of the Brookings Institution.
What they're saying: Hospitals "don't have a dog in the fight — they have an elephant in the fight," USC health economist Glenn Melnick said.
Hospitals can profit from turning a blind eye to independent physician practices' billing, or in some cases they'll explicitly agree to share those profits, Yale's Zack Cooper said.
The big picture: On its face, this approach to surprise billing is more relevant to individual doctors than to hospitals.
But because of these second-order effects that could ultimately cut into hospitals' bottom lines, the industry is fully engaged in what has become an expensive, protracted lobbying battle.
"I don't see any difference between this approach, rate-setting under the guise of surprise billing, and Medicare for All," said Tom Nickels, executive vice president of the American Hospital Association.
2. Last night's missed opportunities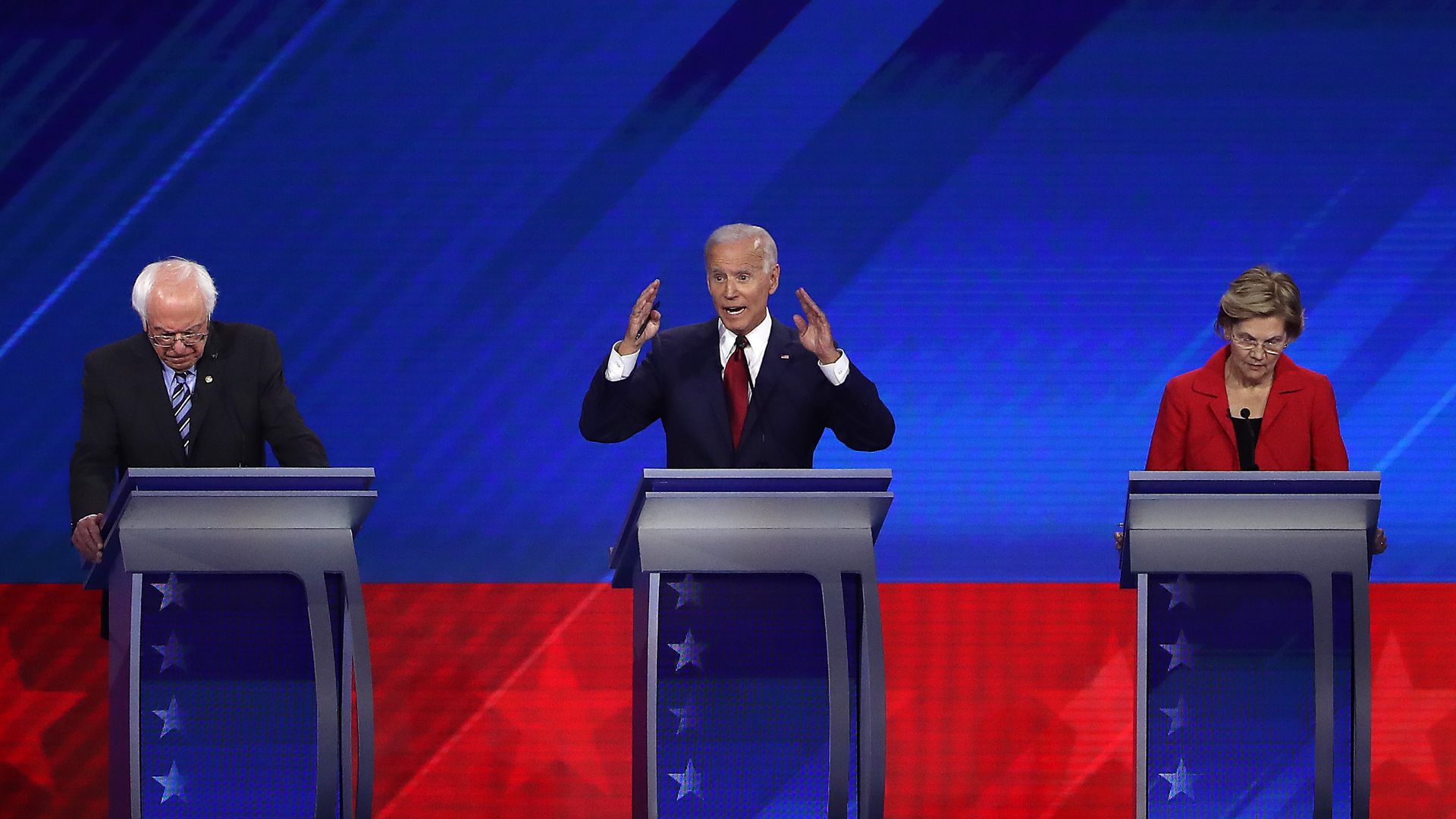 The most interesting part of the Democrats' health care debate was probably the back-to-back ads taking opposing sides of the surprise billing debate that ran before the candidates' closing statements in the D.C. market.
They provided the perfect juxtaposition between the very real fight happening in Washington and the 30-second elevator pitches being given on the debate stage.
My thought bubble: There wasn't any health care news made last night, despite its prominence as a 2020 campaign issue.
We've already covered that some candidates want to abolish private insurance while others think that approach is too radical. We know the general contours of each candidate's plan, or at least how they distill it into an elevator pitch.
This was a missed opportunity for the moderators to draw out more detail about each candidate's plan, the trade-offs involved, and how each would be implemented.
3. How America's health system is unique
It's not the fact that we have private insurance that makes us different from other wealthy countries. It's also not just how much our health care costs. It's how much we pay for it out-of-pocket through deductibles and co-pays, the LA Times reports.
Between the lines: The U.S. doesn't regulate the prices paid by private insurers to providers or drug companies, and a large portion of these prices are passed onto patients via their out-of-pocket requirements. That's not how it works in other wealthy countries.
Patients in other countries don't have to choose between paying for health care or their basic needs as often as Americans do, nor do they face the same financial ruin that Americans do as a result of their medical bills.
The U.S. doesn't have much to show for how much we pay for health care in terms of health outcomes.
The bottom line: "The experiences of other wealthy nations suggest that strict limits on how much patients must pay and tight regulation of prices are more consequential than whether health coverage is provided directly by the government or through private insurers," the Times' Noam Levey writes.
4. Safety concerns about generic drugs
The FDA is inspecting fewer overseas drugmakers as it simultaneously increases the number of generic drug approvals, contributing to concerns about the safety of our generic drug supply, Bloomberg Businessweek reports.
90% of drugs sold in the U.S. are generics, and 80% of the active ingredients are produced abroad.
The FDA inspects less than 1% of drugs before letting them come into the country.
This weak quality-control system led to last year's announcement that a carcinogen had been found in a popular blood-pressure medicine, prompting a massive FDA recall.
"Where the FDA's drug approval process is founded on testing and more testing, the regulatory system for generics is built on trust, specifically trust in manufacturers," Bloomberg writes.
"[The global system is] designed to, above all, make and distribute drugs in a cost-efficient manner. It usually functions beyond view. Until there's trouble."
5. Juul expands its presence in China
At the same time as Juul is facing a regulatory crackdown and damaging headlines in America, it's also entering the Chinese market — the world's largest market of smokers, Reuters reports.
It has also launched its products in South Korea, Indonesia and the Philippines.
While China has more than 300 million smokers, it also already has several Juul competitors. The government has also launched anti-smoking campaigns and has said that China's e-cigarette laws will eventually resemble Europe's.
Related: The New York Times reports that the Trump administration's Wednesday announcement that it plans to ban all e-cigarette flavors would have "a chilling effect" on the entire vaping industry, and would "severely dent" Juul's sales.
A Juul official told the NYT that it's considering challenging the ban on menthol and mint flavors specifically.
Go deeper: