Axios Vitals
August 27, 2018
Good morning, everyone. Sam Baker is taking a well-deserved break, but have no fear — my colleague Caitlin Owens and I will hang out in your inbox all week in his stead. We're good company, I swear.
1 big thing: State bill could upend dialysis industry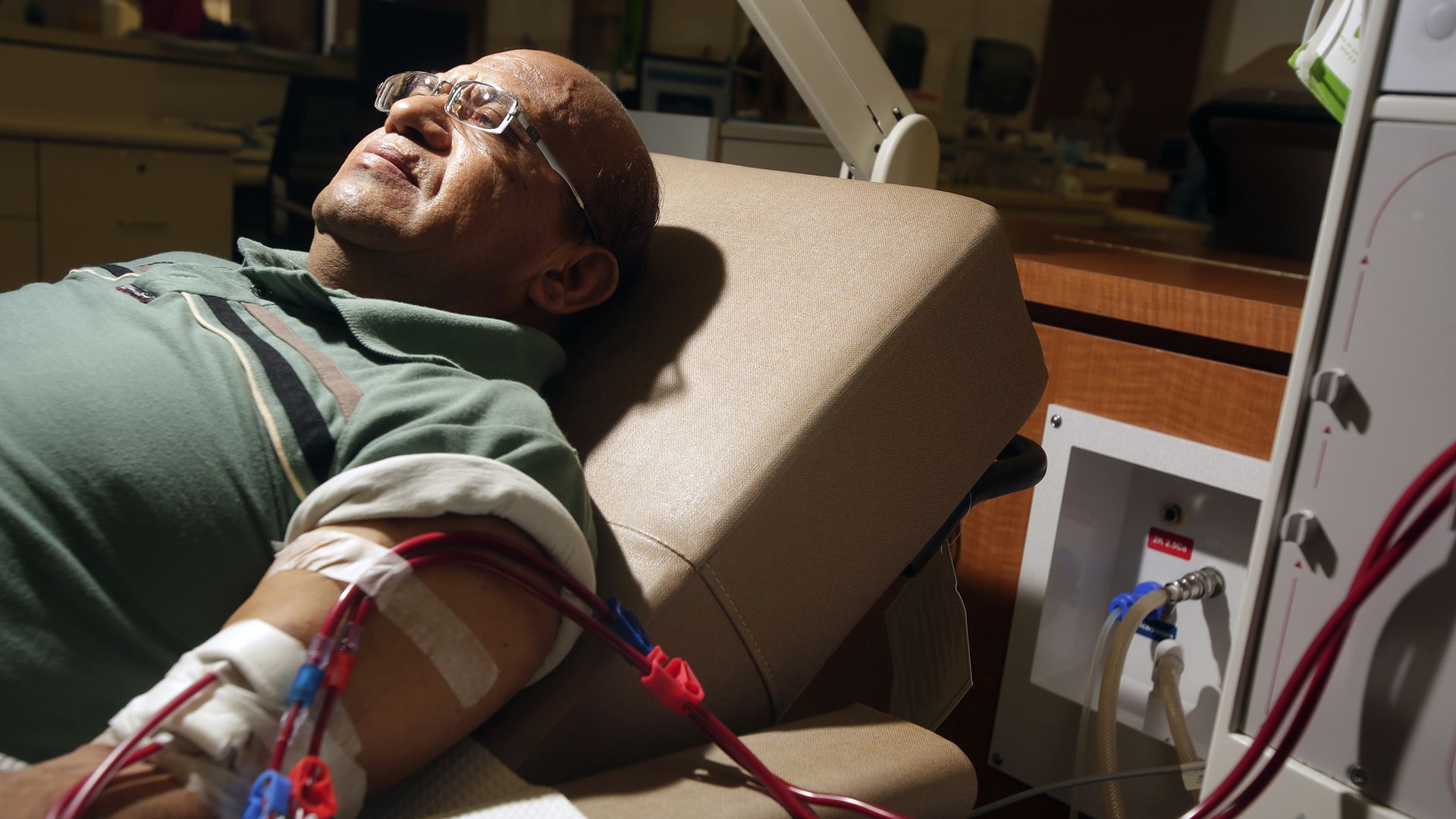 This week is make or break for a California bill that has the potential to sap hundreds of millions of dollars in profits from dialysis providers in the state.
What's happening now: California's Legislature has until this Friday to pass SB 1156, a union-backed bill that would cap commercial dialysis payments at lower Medicare rates and force charities to disclose donors of third-party payments. If it passes, Gov. Jerry Brown has until the end of September to sign it into law.
Why it matters: This essentially would become single-payer for dialysis services in California. But even if this bill falls short, it could pop up again in other states where the Service Employees International Union wants to take on big dialysis providers like DaVita and Fresenius.
"This effort will remain a considerable overhang for the outpatient dialysis industry for the foreseeable future," says Andrea Harris, a health care analyst at Height Capital Markets.
For instance, she thinks DaVita could lose $95 million in annual profit (or 5% of its total profit) if the bill passes.
Threat level: It seems like the bill's passage is a coin flip right now. Dialysis chains, doctors and the American Kidney Fund have spent millions of dollars lobbying against it, and are relying on their collectively large war chest to kill the effort.
The big picture: The federal government also still needs to re-release rules on charitable premium assistance that were proposed by the Obama administration but were legally thwarted by the industry.
2. GOP hedges on pre-existing conditions
A group of Senate Republicans are responding to the latest Affordable Care Act lawsuit with a bill that would replace the protections for pre-existing conditions that the lawsuit would throw out, Caitlin reports.
Why it matters: While likely to be good politics heading into midterms, the GOP bill would both lower premiums and leave sick people less protected than they currently are.
Driving the news: The bill, led by Sen. Thom Tillis of North Carolina, reaffirms some of the pre-existing conditions regulations that would be gutted if the Justice Department's argument prevails in court.
The bill requires insurers to provide coverage to people with pre-existing conditions and prohibits insurers on the individual market (but not the small group market) from charging those people higher premiums.
But unlike under the ACA, insurers could exclude coverage of the services associated with pre-existing conditions.
Between the lines: While this bill doesn't need to be perfectly written to work as a political statement, it does illustrate the tension the party has faced since it began its ACA replacement work last year — pre-existing conditions protections are both the most expensive and the most popular part of the ACA.
What they're saying: The bill has already drawn criticism from Democrats. "If you still doubted that the issue of the cycle is health care, look no further than the panicked GOP effort to cover up their tracks on the defining issue of the cycle," Democratic Senatorial Campaign Committee spokesman David Bergstein says.
3. Jail can be death sentence for mentally ill
When the U.S. started shutting down large institutional mental health hospitals in the 1960s — facilities that had become infamous for their poor conditions and subpar treatment — they didn't actually stop institutionalizing people with mental illness. They just started doing it in jails and prisons instead, Sam writes.
Nearly half of the roughly 740,000 people being held in American jails have been diagnosed with a mental disorder and about a quarter are in "serious psychological distress," according to a new and impressive investigation by the Virginian-Pilot and Marquette University.
They're trying to get a handle, despite subpar data, on mentally ill people who have died in jail. That doesn't include prison — only people who are waiting for a trial.
The investigation details several cases in which desperate families turned to the police for help, or a mentally ill person was arrested for a minor crime — driving on a suspended license, stealing from a 7-Eleven, marijuana use — only to end up dead months or even days later.
The warning signs were clear. Many of these patients had known mental health histories, often with their families pleading for help. Or the patients had outward signs like smearing feces on the walls.
Roughly 40% of the deaths the Pilot tracked happened during or after a stint in solitary confinement, which has been shown to aggravate mental illness. 
The big picture: As the newspaper puts it: "A mental health crisis leads to an arrest, which leads to poor treatment of the illness, which leads to death."
4. John McCain's brain cancer
Glioblastoma, the brain cancer that was the cause of Sen. John McCain's death, is incredibly difficult to treat, as the Daily Beast points out.
Why? There are 2 big problems: Researchers don't know why glial cells within the brain turn cancerous, and the cancer appears so deep within the brain that it's nearly impossible to reach.
"If there is to be any upshot from this difficult news, it should be greater urgency with which this country rallies to support the nearly 700,000 Americans currently living with a glioblastoma or other brain tumor."
— National Brain Tumor Society said in a
statement
5. While you were weekending...
Correction: In Friday's Vitals, we should have had a $2 billion increase to NIH funding in the HHS funding bill (instead of $5.4 billion). Our bad! We apologize for the error.
What we're watching this week: Everyone packing their bags for Labor Day weekend. Also, a Senate hearing on the FDA on Wednesday.
Send me your tips, leads, and best documentary suggestions: [email protected].