Axios Vitals
May 03, 2019
Good morning, and happy Friday.
1 big thing: Wall Street has kind of soured on health care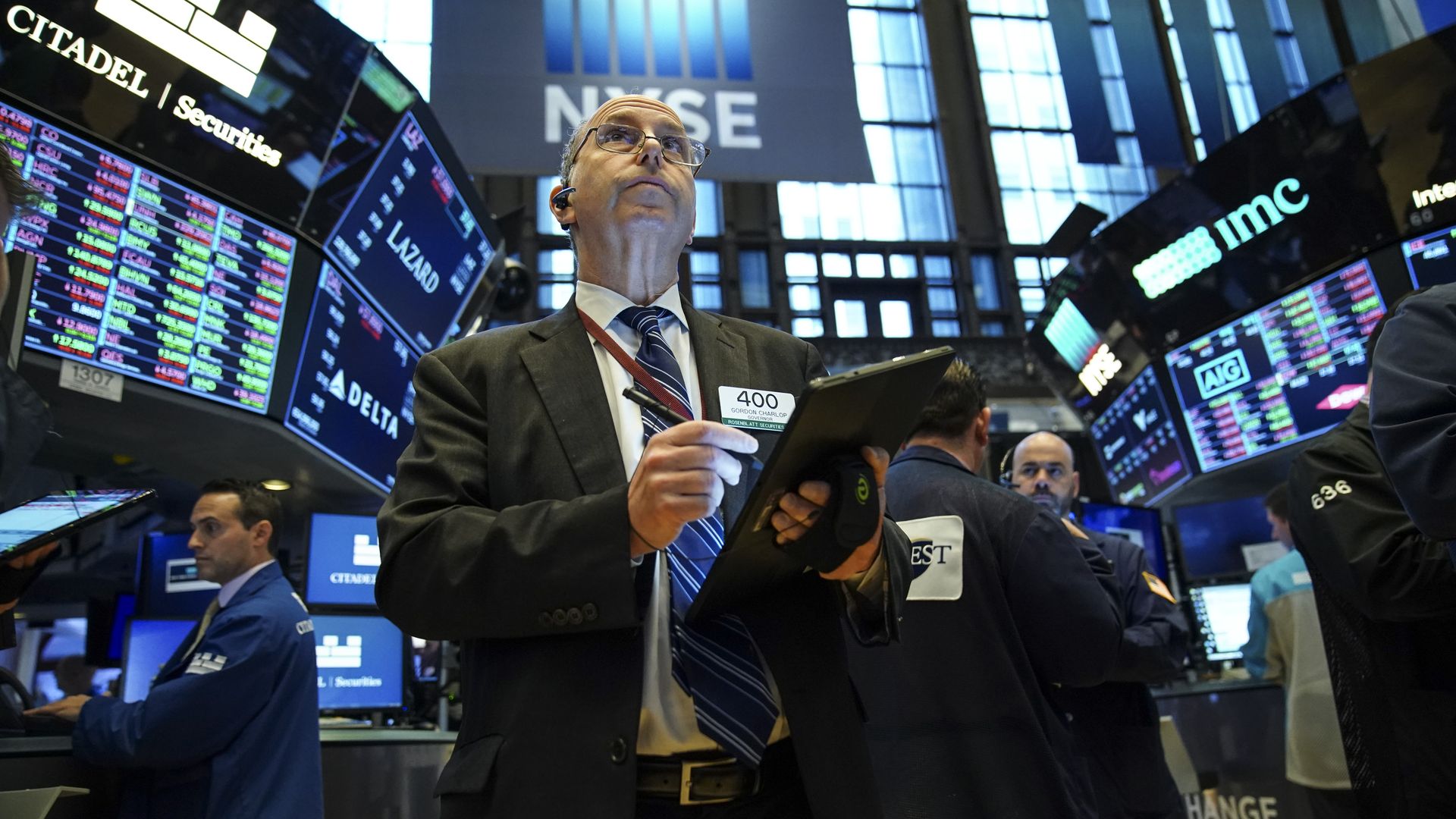 Many of the largest health care companies — including UnitedHealth Group, HCA Healthcare, Anthem and Humana — have reported blowout profits in the first quarter. And yet, the industry's stocks continue to take a pounding on Wall Street, Axios' Bob Herman and Courtenay Brown report.
Between the lines: Stock prices of health care companies have consistently outperformed broader indices over the past several years, so some pullback is natural.
But stock prices also are a reflection of future value, and everything from rising support of "Medicare for All" to drug pricing regulation is clouding the profit outlook.
The big picture: "Medicare for All" has dangled over stocks even though Wall Street firms know enacting that program would require several consecutive political miracles.
One investor told Axios that Medicare for All is a "utopian pipe dream."
Still, the S&P 500 health care index shed $150 billion of market value during a 4-day stretch in April — right after Sen. Bernie Sanders talked up his "Medicare for All" plan and UnitedHealth CEO Dave Wichmann called out the proposal.
Yes, but: "Medicare for All" is only one factor investors have been getting nervous about.
The Trump administration's drug rebate rule appears likely to go into effect in 2020, and that would drastically change how health insurers and pharmacy benefit managers negotiate for drugs.
Sales of many blockbuster drugs are maturing, leaving investors wondering what's next, Bloomberg reported.
Don't forget: Computers, not humans, do a lot of the stock trading — so a big part of the selloff also is tied to machines copying each other.
2. U.S. pharma trade policy has mixed results
American consumers may not have benefited all that much from the pharmaceutical components of trade deals, a new article in the New England Journal of Medicine argues.
The authors — the Council on Foreign Relation's Thomas Bollyky and Brigham & Women's Hospital's Aaron Kesselheim — write that the inclusion of these provisions has had "a mixed record in delivering on its goals."
The big picture: Starting with NAFTA, every U.S. trade agreement made since has included a pharmaceutical component.
The Trump administration's NAFTA replacement — the USMCA — gives biologics 10 years of market exclusivity, a huge industry win.
By the numbers: The pharmaceutical trade deficit has swelled to $52 billion, and the number of Americans employed by the drug industry hasn't changed much since 2001.
The Food and Drug Administration estimates that we import 80% of active drug ingredients and 40% of finished drugs, and drug companies have increasingly shifted patents and manufacturing abroad to avoid paying U.S. taxes.
While our pharma industry is very profitable, we're also spending more for their brand products, while other countries are still paying less than us for drugs.
The bottom line: "Americans and their representatives are ignoring history if they expect the inclusion in the USMCA of longer exclusivity for biologics to redress the U.S. trade deficit, loss of manufacturing jobs, and high prescription-drug prices," the authors conclude.
3. Not everyone likes their employer coverage
The higher an employee's deductible is, the less they tend to think of their plan, according to a new Kaiser Family Foundation-Los Angeles Times survey of people with employer coverage.
41% of respondents had an individual plan deductible higher than $1,500 or a family plan deductible above $3,000.
Why it matters: Deductibles keep going up — suggesting more employees are probably growing dissatisfied with their employer health coverage.
The more people don't like their employer insurance, the less rattled they're likely to be if it's taken away — key context in the "Medicare for All" debate.
Between the lines: People with higher deductibles, unsurprisingly, reported having a harder time affording care.
40% of respondents reported some kind of affordability problem, the most common of which was paying for medical bills while still in their deductible.
People with higher deductibles were more likely to report an affordability problem.
Go deeper: The LA Times dug deeper into how insurance has changed over the last decade and what it means for workers.
"There has been a quiet revolution in what health insurance means in this country," the Kaiser Family Foundation's Drew Altman told the LA Times. "This happened under the radar while everyone was focused on the Affordable Care Act."
Go deeper: Why some families with insurance still can't afford health care
4. Another drag on the drug rebate rule
A new analysis from the Congressional Budget Office reiterates the major concerns about the Trump administration's drug rebate rule — that it could be a budget-buster and a gift to pharmaceutical companies, Bob writes.
By the numbers: CBO estimates the regulation would raise federal spending by $177 billion over the next decade because health insurers and pharmacy benefit managers would raise premiums to offset the loss of rebates — similar to what actuaries at the Centers for Medicare & Medicaid Services have projected.
CBO also believes drug manufacturers "would not lower their list prices" and "would withhold about 15%" of what they currently rebate to PBMs for themselves.
The bottom line: The CBO is yet another non-industry party — following comments from the likes of MedPAC, Pew and academic researchers — saying the rebate rule will cost taxpayers more money but will not guarantee lower drug prices.
5. Insys executives found guilty in opioids case
A jury yesterday found John Kapoor, the founder and former CEO of Insys Therapeutics, and 4 other executives guilty of a scheme that involved bribing doctors to prescribe the company's powerful opioid, Subsys, for patients who didn't need it and tricking health insurers to pay for it, Reuters reports.
Why it matters: This trial was a high-profile affair that many people viewed as a referendum on Big Pharma's role in the national opioid crisis.
Other major makers of painkillers, including Purdue Pharma and Johnson & Johnson, also are facing potential trials.
"The conviction is important because all too often when powerful executives orchestrate marketing maneuvers that put patients at risk, they go unpunished even as their companies pay fines or their lieutenants are prosecuted," Stat News' Matthew Herper writes.
Related: The West Virginia governor and attorney general's office yesterday announced a $37 million settlement with McKesson, resolving allegations regarding the company's distribution of controlled substances.
McKesson denies any wrongdoing.
The announcement from the attorney general's office said that this is believed to be the nation's largest state settlement of its kind against a single drug distributor.
Have a great weekend. Please keep sending the tips and feedback.