Morning, all. We're going to hear a lot from the insurance industry today when top officials testify before the Senate HELP Committee on Obamacare replacement. But first, let's look at what's next for President Trump and the drug industry — and especially, what's next for Tom Price.
https://www.axios.com/newsletters/axios-vitals-b2eaa244-1bd6-437e-8f18-a09070b2a61c.html?chunk=0#story0
Trump, drug company execs hug it out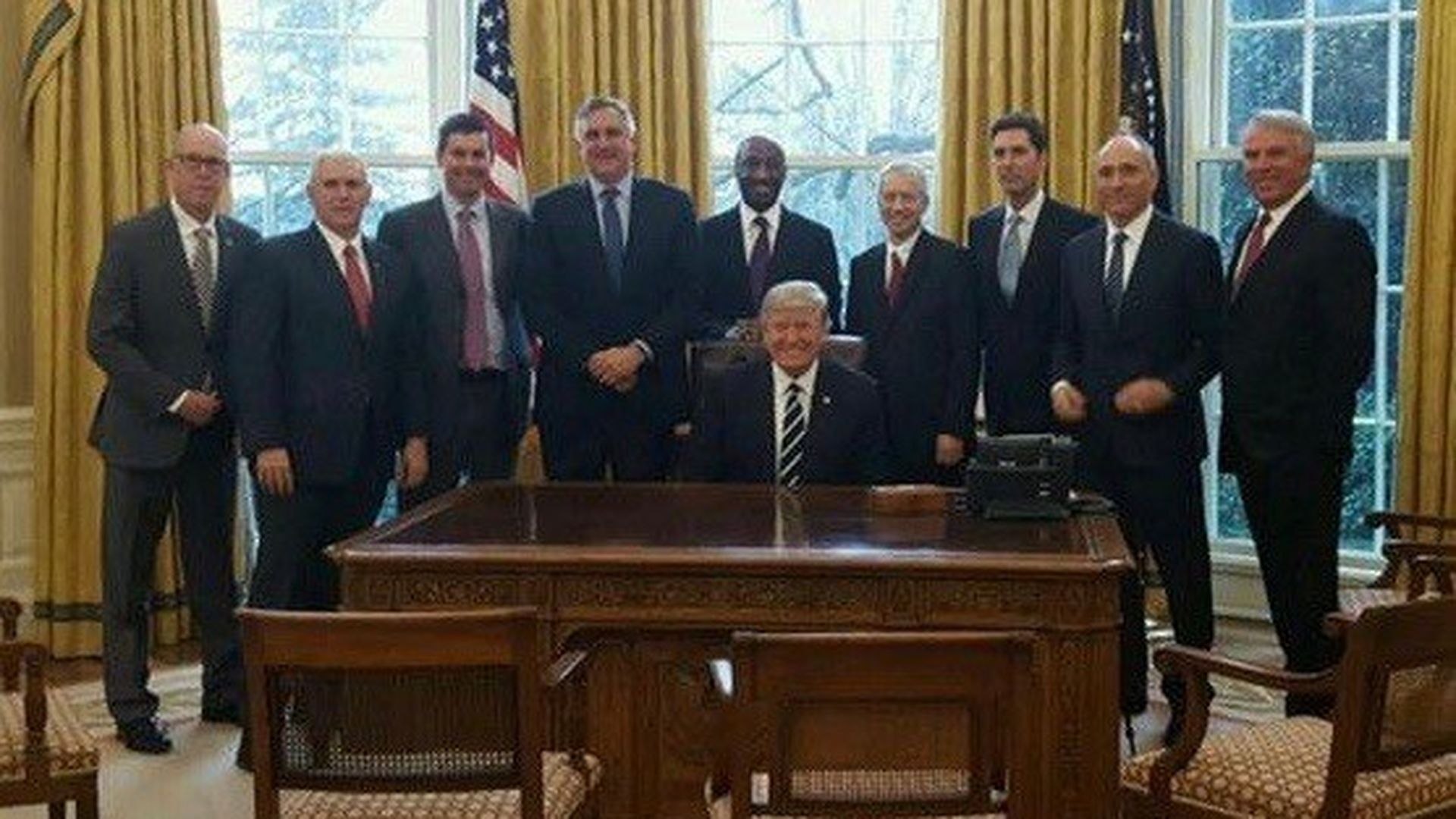 President Trump sure did soften his tone toward the drug industry at his meeting with top executives yesterday. Instead of bashing greedy drug lobbyists again, this was his opening line: "You folks have done a terrific job over the years, but we have to get prices down." And he focused on reforming the Food and Drug Administration, cutting regulations, making other countries pay their "fair share" for drug prices, and encouraging competition.
A few highlights, and you can read more in my story here:
Ending "global freeloading": "Our trade policy will prioritize that foreign countries pay their fair share for U.S.-manufactured drugs."
Market-based solutions: "Competition, the key to lower drug prices. We have competition, but a lot of times, the competition dissipates."
FDA commissioner pick is coming soon: "We have a fantastic person that I think I we'll be naming fairly soon, he's going to streamline the FDA and you're going to get your products either approved or not approved, but it's going to be a quick process."
How the drug execs reacted: They were pleased — though they acknowledged there was a lot of talk about drug prices (especially when Trump called them "astronomical"). "We all understand the concern he's raising" about out-of-pocket costs for drugs, said Eli Lilly's Dave Ricks, but "we did not get into elaborate policy detail."
https://www.axios.com/newsletters/axios-vitals-b2eaa244-1bd6-437e-8f18-a09070b2a61c.html?chunk=1#story1
Reality check: most drugs don't come from overseas
Trump also injected a pretty strong dose of "America First" into his public comments to the drug executives: "They don't make the drugs in our country anymore ... You have to get your companies back here." Actually, a report last year from the International Trade Association notes that "most finished pharmaceuticals consumed in the United States are manufactured locally." It does add, though, that "the sheer size of the U.S. market" makes it the world's largest importer of pharmaceuticals.
His concern about other countries imposing price controls on U.S.-made drugs is a real one, though, according to Paul Howard of the Manhattan Institute. It can be seen as a "backdoor way of weakening" the value of U.S. patents, so Trump could be signaling that he'll take reciprocal actions in future trade deals, Howard said.
https://www.axios.com/newsletters/axios-vitals-b2eaa244-1bd6-437e-8f18-a09070b2a61c.html?chunk=2#story2
Sorry, Price — you can't start the new gig just yet
It looked like smooth sailing for Tom Price's confirmation vote in the Senate Finance Committee — until the Democrats got together yesterday morning and decided to boycott the meeting. By doing that, they actually did have the leverage to stop the vote on Trump's Health and Human Services nominee, because the Finance Committee can't vote on his nomination without at least one minority member present.
Republicans are outraged, but Democrats want Price to answer their questions about his stock dealings, as Caitlin Owens writes here. So far, no official word on when the meeting will be rescheduled, but keep your eye out for developments today.
https://www.axios.com/newsletters/axios-vitals-b2eaa244-1bd6-437e-8f18-a09070b2a61c.html?chunk=3#story3
What we learned from Price's written answers
Price answered a lot of written questions from Finance Committee members after his hearing last week, and while you won't learn a lot about his stock dealings, you will learn more (in some cases) about issues he'd have to deal with at HHS. Here are some highlights from his answers:
The "gag order" for HHS employees is "standard" for a new administration and has a "clear and expedited process for adequate review" for how to communicate with members of Congress.
The Healthy Indiana Plan — written by Seema Verma, the likely next head of the Centers for Medicare and Medicaid Services — "has long been and continues to be a national model for state-led Medicaid reforms."
Said the Trump administration's Obamacare replacement plan is "a work in progress."
Said he would defer to Congress on whether the Center for Medicare and Medicaid Innovation should continue.
Said he supports the goals of new health care models like accountable care organizations "in general," but that their successes have been "modest to date."
Said only that "there likely will be overlap" between his goals on cancer research and the goals of former Vice President Joe Biden's "cancer moonshot" program.
https://www.axios.com/newsletters/axios-vitals-b2eaa244-1bd6-437e-8f18-a09070b2a61c.html?chunk=4#story4
Ways and Means chairman isn't in a rush on Obamacare
Caitlin Owens talked to House Ways and Means Committee chairman Kevin Brady yesterday, one of the chairmen who will have the biggest roles in Obamacare replacement, and found that he's still discussing a lot of basic decisions with other Republicans, from the length of the transition to whether to keep some of the law's taxes. But she said he's certain that they need to get the bulk of the work done this year — though he said the consensus from the GOP retreat last week was "that we not rush, that we make sure we get it right." Read Caitlin's interview here.
https://www.axios.com/newsletters/axios-vitals-b2eaa244-1bd6-437e-8f18-a09070b2a61c.html?chunk=5#story5
What you need to know about Neil Gorsuch
Here's everything you need to know about Trump's Supreme Court pick:
He's a judge on the U.S. Court of Appeals for the 10th Circuit.
He ruled against Obamacare's contraception mandate in the Hobby Lobby case that later went to the Supreme Court.
Everyone is going to fight over him.
https://www.axios.com/newsletters/axios-vitals-b2eaa244-1bd6-437e-8f18-a09070b2a61c.html?chunk=6#story6
Obamacare enrollment ends with signs of heavy traffic
There was radio silence from HHS for most of the final day of Obamacare signups, with no enrollment numbers — but there were some signs of a last-minute surge. The Centers for Medicare and Medicaid Services announced late Tuesday night that callers in the 39 HealthCare.gov states could leave phone messages and they'd be called back to finish enrollment. And Amy Bowen, a spokeswoman at Geisinger Health Plan in Pennsylvania, told Bob Herman that they had an extra 1,000 calls per day from potential customers since the weekend.
But the New York Times called around to enrollment counselors and insurance agents and found some signs that enrollment had trailed off. The signup rate seemed to be high in some states, the Times found, but in others, people were thrown by Trump's repeal talk and some decided not to bother.