Good morning ... The Congressional Budget Office report went about the way we all expected, except maybe that the coverage estimates were actually worse. But, now that Senate Republicans know their budget targets and how much money they have to play with, it's negotiating time.
CBO may have just blown up the health care bill
Unless Senate Majority Leader Mitch McConnell can change some of his members' minds pretty quickly, it's looking like he might not have the 50 votes he'd need for a procedural motion that would bring his health care bill to the floor. The CBO's estimate that 22 million more people would be uninsured under the Senate bill was a steep — and maybe fatal — setback.
The proof: Sen. Susan Collins tweeted that she'll vote against the procedural motion to bring up the bill on Wednesday. Others have been making noise, too. If enough Republicans vote against it, the whole effort could end right there.
What the senators are saying:
"CBO says 22 million people lose insurance; Medicaid cuts hurt most vulnerable Americans; access to healthcare in rural areas threatened." — Collins' tweet
"I'm not voting to get on it unless it changes before we get to it." — Rand Paul, per The Hill
"I have a hard time believing I will have enough information to support a motion to proceed this week." — Ron Johnson, to reporters
"Today I don't have enough information, I don't have enough data in terms of the impact to my states to be able to vote in the affirmative." — Lisa Murkowski, on CNN
"In this form, I will not support it." — Dean Heller, at Friday press conference
Who else to watch: Shelley Moore Capito, who said Medicaid "obviously is the area of greatest concern for me," per Caitlin Owens. Rob Portman, who hasn't said how he'd vote. And, of course, the conservative holdouts: Ted Cruz and Mike Lee.
Yes, but: Thanks to the CBO's estimates about the bill's deficit reduction, McConnell has about $200 billion he can spend to add funding to appease various Republican holdouts — like Capito, Portman, and Cory Gardner, who are holding out for more opioid treatment funding. "It's beginning to look a lot like Christmas," one GOP aide told Caitlin.
"Deficit reduction number gives McConnell the flexibility he needs to get the bill across the finish line," said Stanford's Lanhee Chen, a member of the Axios board of experts. "That's what matters."
The good news/bad news for Senate Republicans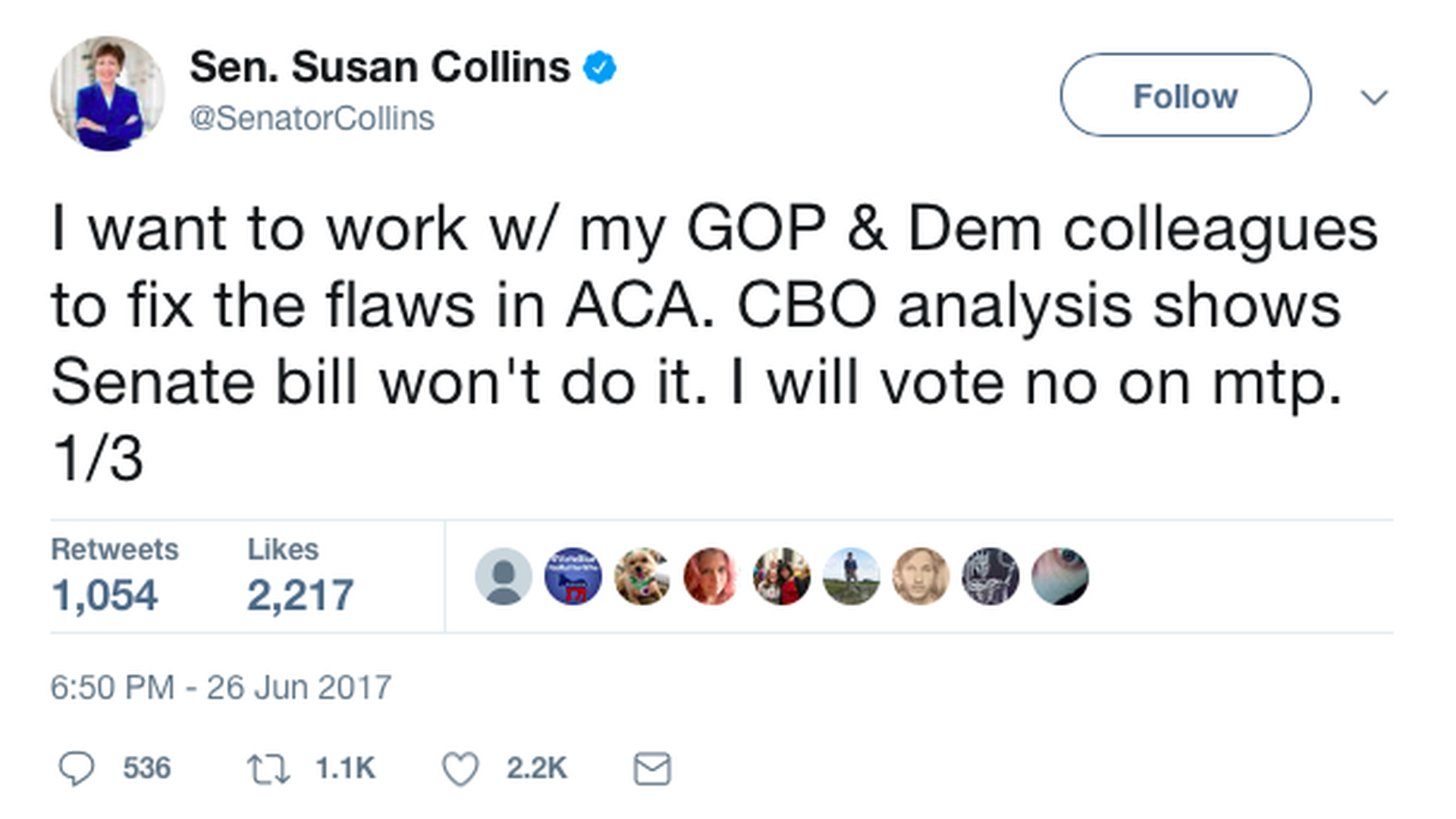 The good news:
$321 billion in net deficit reduction ($202 billion more than the House).
Average premiums would go down starting in 2020.
The markets would be stable through 2020, and stable after that "in most areas of the country."
The bad news:
22 million fewer people would have health coverage.
The increase in the uninsured would be "disproportionately larger among older people with lower income."
$772 billion in Medicaid cuts.
States would have to decide whether to put more money into Medicaid, cut doctors' payments, eliminate optional services, restrict eligibility, or all of the above.
Average premiums would go up before 2020.
People would pay "substantial increases" for services no longer considered essential benefits.
"Coverage for maternity care, mental health care, rehabilitative and habilitative treatment, and certain very expensive drugs could be at risk."
Annual and lifetime limits could return for those services, too.
Deductibles would be higher. (Closer to $6,000 for a benchmark plan, vs. $3,600 under the Affordable Care Act.)
Some "sparsely populated areas" would have no insurers.
Key quote: "As a result, despite being eligible for premium tax credits, few low-income people would purchase any plan, CBO and JCT estimate." - CBO score
ACA repeal tracker — Senate version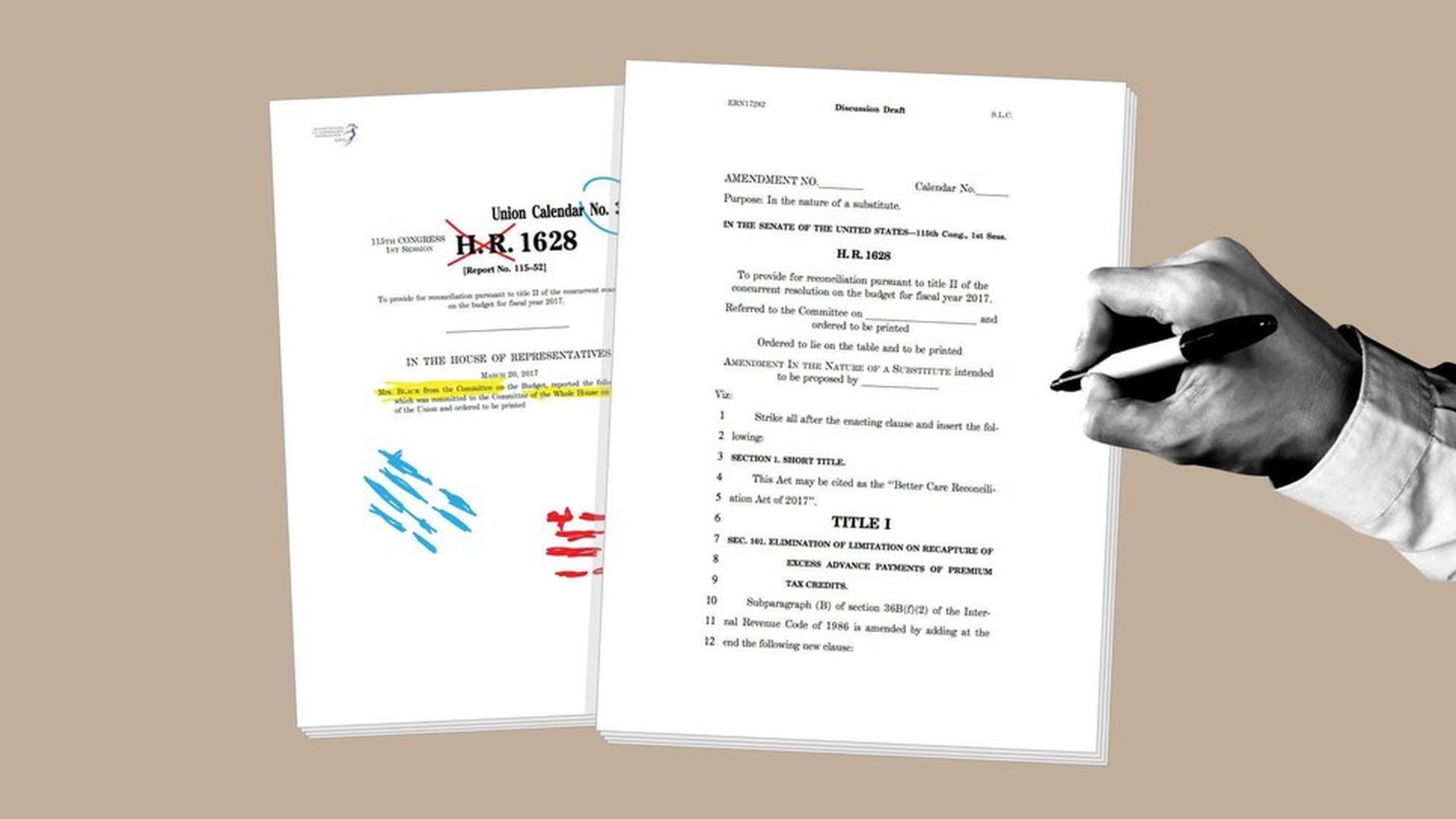 We've updated our repeal tracker so you can see how the Senate and House bills would change the Affordable Care Act. We're trying to show you how all of the pieces fit together — what the ACA does, what would survive, and what would get thrown out or heavily rewritten.
The speed read:
🆘 At risk: Pre-existing conditions, individual mandate, essential health benefits, employer mandate, taxes, Medicaid expansion, Medicaid funding, age rating.
⚠️ In play: Exchanges, subsidies, lifetime limits.
✅ Safe: Young adult coverage, Medicare "doughnut hole," preventive care, Medicare payment cuts.
Washington state fills its coverage holes
Washington state was in danger of having two counties with no ACA insurance options, but its insurance commissioner, Mike Kreidler, lobbied insurers hard to get someone to cover them. Last week, he announced that Premera would sell coverage in one of the counties next year. And yesterday, he got two other insurers — Molina and BridgeSpan — to offer coverage in the other.
Why it worked: Kreidler told David it helped that Washington state has been committed to the ACA all along: "We wrapped our arms around it." But it has also stocked its marketplace with "homegrown" insurers, rather than big national insurers, so it was easier to convince them not to let any counties go without coverage: "We're all part of the same family working together, and we're going to stick together."
What it means: Kreidler is a Democrat, and he had an interest in making sure the ACA didn't suffer an embarrassing failure in those counties. But the point is that it's still possible to convince health insurers not to abandon the ACA — for someone who believes in it.
The big picture: According to the Kaiser Family Foundation, there are still 47 counties in Missouri, Indiana and Ohio — with 33,894 enrollees — that are in danger of having no insurers.
Why a New York hospital CEO is worried
Bob Herman talked to Ken Davis, the CEO of Mount Sinai Health System in New York City, about why he said the Senate health care bill could be "meaner" than the House bill. The bottom line: They're worried about Medicaid cuts, but also about uncompensated care, especially for patients who arrive in bad shape because they haven't had preventive care. Read the full interview here.
Medicaid caps and adverse selection
Congressional Republicans' plans to cap federal Medicaid spending could pose new risks of adverse selection, according to an analysis in Health Affairs. When the federal government caps how much it will spend on each enrollee, states could end up shouldering more of the burden for their most expensive residents. And that could prompt some states to skew their programs' benefits, as well as their enrollment outreach, toward healthier people who are less likely to rack up health care bills the state would have to cover.
One possible solution: Risk adjustment. Medicare Advantage implemented a risk-adjustment program to avoid adverse selection, the authors note, and a similar effort could work for Medicaid under a system of per-capita caps, according to Health Affairs.
What we're watching today: Lots of negotiating.
What we're watching this week: Senate vote on the motion to proceed to the bill, Wednesday. If the bill survives that, then the "vote-a-rama" starts Thursday.
What else do you want to know? david@axios.com, baker@axios.com.