Axios Vitals
June 27, 2019
Good morning. Who would have guessed that Sen. Mitch McConnell would get more attention than President Trump during the first Dem debate? (We all should have.)
Today's word count is 1,059 words, or ~4 minutes.
1 big thing: Conservatives unhappy with surprise billing approach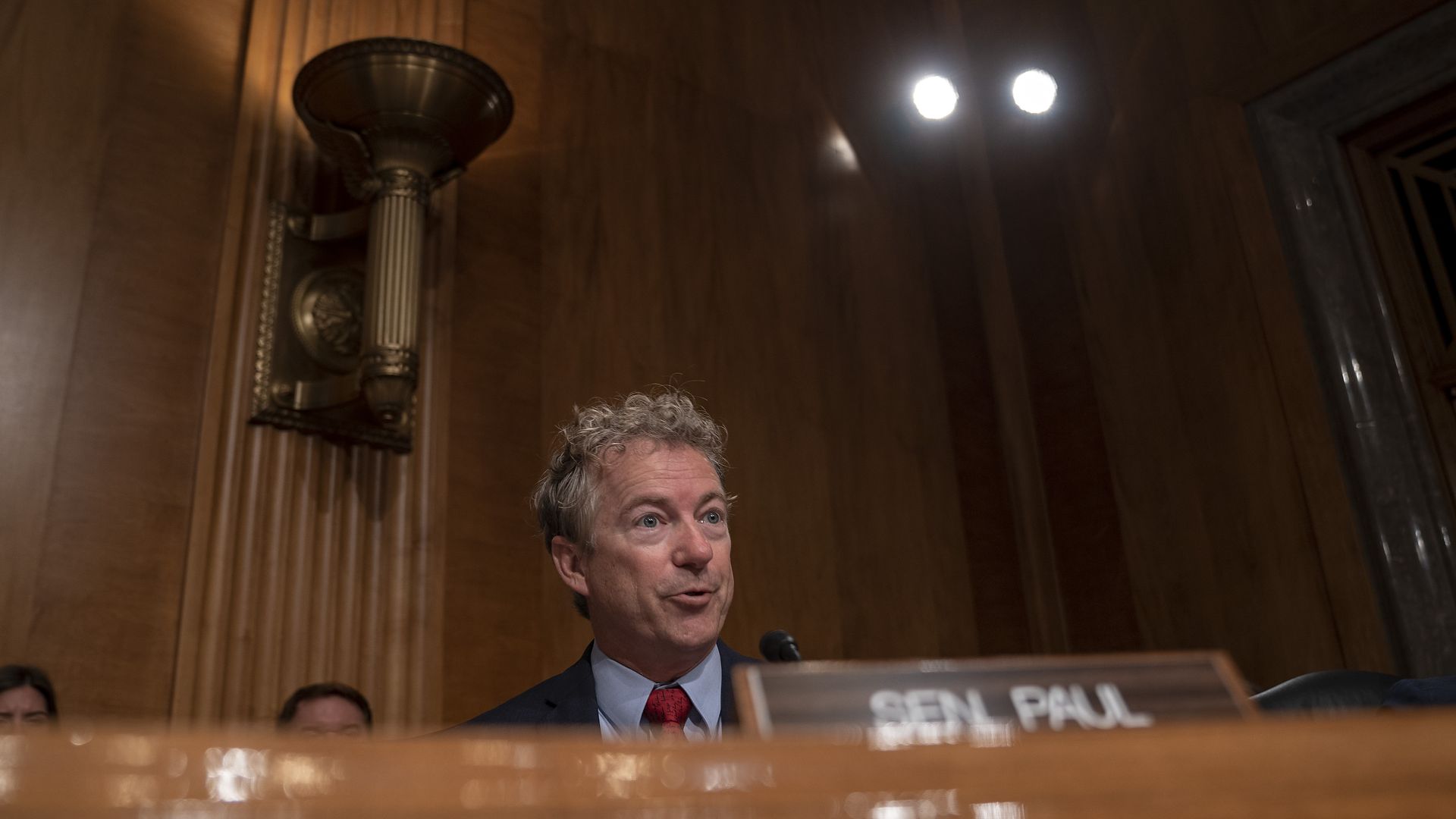 Some conservative lawmakers and advocacy groups are lining up against Congress' leading solution to surprise medical bills, saying it's too much government interference.
What they're saying: "If government rate setting is viewed as a 'patient protection' in these circumstances, it will lead to efforts to 'protect' patients through government rate setting in others," the Heritage Foundation's Doug Badger wrote.
The big picture: Surprise medical bills often occur when a patient inadvertently sees a doctor who's not in their insurance network.
The leading proposals in the House and Senate ban doctors from charging patients more than an in-network doctor would, and require insurers to pay out-of-network providers the median in-network rate for the service in that geographic area.
The Senate health committee passed the bill yesterday.
How it's playing: The conservative advocacy group FreedomWorks announced a $50,000 ad campaign this week against what it referred to as the "hidden Republican efforts to bring us ever closer to socialist-style 'Medicare for All' proposals."
Sen. Rand Paul even invoked Venezuela.
"If you fix the price that ER doctors work at, you will get a shortage.... This is what happened to Chavez, it's what happened to Maduro. I don't think we're becoming Venezuela soon, but this is part of what they do down there," he said yesterday.
And conservative lawyer Paul Clement recently wrote that the approach could be unconstitutional.
Hospitals are catching on to this argument too. The approach creates "a precedent of government interference in free market negotiations," Chip Kahn, president and CEO of the Federation of American Hospitals, wrote in a statement.
On the other hand, more than 2 dozen conservative health wonks signed a letter that said providers' favorite approach "encourages the rapid growth of costs."
2. Ominous sign in ACA case
The 5th Circuit Court of Appeals yesterday added a new question to the high-stakes lawsuit over the Affordable Care Act's survival: Whether Democratic attorneys general or the House of Representatives have the legal standing to defend the ACA in court.
Translation, from Axios' Sam Baker: The court is asking whether it ought to kick out the entire pro-ACA side of the case.
Technically Texas (with a group of other red states) is suing the Trump administration. But the Trump administration says it agrees with Texas' position.
Blue states and House Democrats stepped in so that somebody would be arguing the pro-ACA position.
The intrigue: If the 5th Circuit does boot Democrats off of this lawsuit, that would likely mean no one can appeal a lower court's ruling striking down the entire law.
As University of Michigan law professor Nicholas Bagley explained on Twitter, it's not necessarily clear how all that would play out.
Presumably, the Supreme Court would be disinclined to let a single district court judge have the final say on whether the Affordable Care Act lives or dies. So there would probably be fresh procedural wrangling to revive some kind of appeal.
The bottom line: This could be a bad development for the ACA — or it could end up not mattering much at all, if the court decides Democrats do have standing. But it's definitely not a positive development for the health care law.
What's next: The 5th Circuit will hear oral arguments July 9.
3. Takeaways from the Dem debate
Sen. Elizabeth Warren and New York Mayor Bill de Blasio were the only candidates on the Democratic debate stage last night who said they would eliminate private insurance.
My thought bubble: There's now no confusion as to whether these 10 candidates would support abolishing private insurance, whereas some had been wishy-washy about it before.
In an argument emblematic of their respective sides of the debate, former Rep. Beto O'Rourke clashed with de Blasio when he said that he thinks "the choice is fundamental" on the need to protect private insurance.
To which de Blasio shot back, "How do you defend a system that's not working?"
Go deeper: Even Democrats prefer more moderate "Medicare for All"
Bonus: Sen. Cory Booker, who has been criticized in the past by liberals for not being tough enough on pharma, said that he thinks drug companies should be held responsible for their role in the opioid epidemic.
"They should absolutely be held criminally liable, because they are liable," Booker said.
4. The demographics of Medicare for All fans
Medicare for All enthusiasts tend to be young and white, according to a poll by the right-leaning group One Nation.
Why it matters: Politically, it means embracing Medicare for All may not be very helpful for Democrats hoping to make inroads with older and minority voters.
5. Peeling back the "dark recesses" of drug pricing
Add Maine to the list of states that are cracking down on prescription drug prices and specifically targeting pharmacy benefit managers.
Driving the news: Gov. Janet Mills this week signed a bill that bans PBMs "from retaining rebates paid by manufacturers and requires those rebates to be passed along to the consumer or the health plan," Axios' Bob Herman reports.
Between the lines: PBMs already are passing back more rebates under public pressure. But with so many states going after them, the companies inevitably will feel a hit financially because rebates and rebate-like fees have been a central component of their businesses for so long.
"So many states, so many laws. How can health care supply chain companies possibly keep up with this madness? It's going to be harder and harder to earn outsized profits in the dark recesses of these business models. For years we've been saying, 'Transparency is contagious.' Guess what — it is."
— Analysts at Robert W. Baird & Co.
Go deeper: States are the new battleground for drug price middlemen
6. CDC walks back vaccine recommendation
A federal vaccine advisory panel yesterday shot down its 2014 recommendation that all adults 65 and older get a pneumococcal vaccine called Prevnar 13, Bob writes.
Instead, the panel said seniors should get the vaccine based on conversations with their clinicians.
Why it matters: Seniors can still get the shot, but the vaccine won't be universally recommended — to the dismay of the vaccine makers. Pfizer sells Prevnar 13, and the drug company's stock shot down 2% once investors learned of the vote.
Details: Several members of the Advisory Committee on Immunization Practices, part of the Centers for Disease Control and Prevention, said this vote was one of the most difficult they've encountered.
The current evidence, presented during yesterday's meeting, shows the vaccine only had marginal benefits for adults 65 and older.
However, Prevnar 13 is still universally recommended for children younger than 2.
1 money thing: Prevnar 13 is Pfizer's best-selling drug. U.S. sales exploded in 2015 after the CDC's recommendation, and although insurance will still cover the pricey vaccine, sales would drop if fewer adults feel like they need to get it.
Editor's note: The fifth story in yesterday's Vitals should have said that San Francisco's ban largely affects flavored tobacco products and e-cigarettes that have not received an FDA order approving their marketing, (not all tobacco products).