Good morning, and Happy Friday! This is Caitlin Owens, reporting from an airplane somewhere between the Rockies and D.C. Don't forget to send your flattering emails to David letting him know how much you've missed him. But before you do that, here's your Colorado dispatch, featuring a more detailed look at what's going on at those GOP town halls.
Quick programming note: Vitals will be on a special spring break schedule next week — it'll come out on Tuesday and Thursday. We're expecting a slow health care news week, and we don't want to clutter your inbox with stuff you don't need. We'll be back to the daily schedule the following week — just in time for the House to come back and pass Trumpcare!
For Republicans, there's no safe position on Trumpcare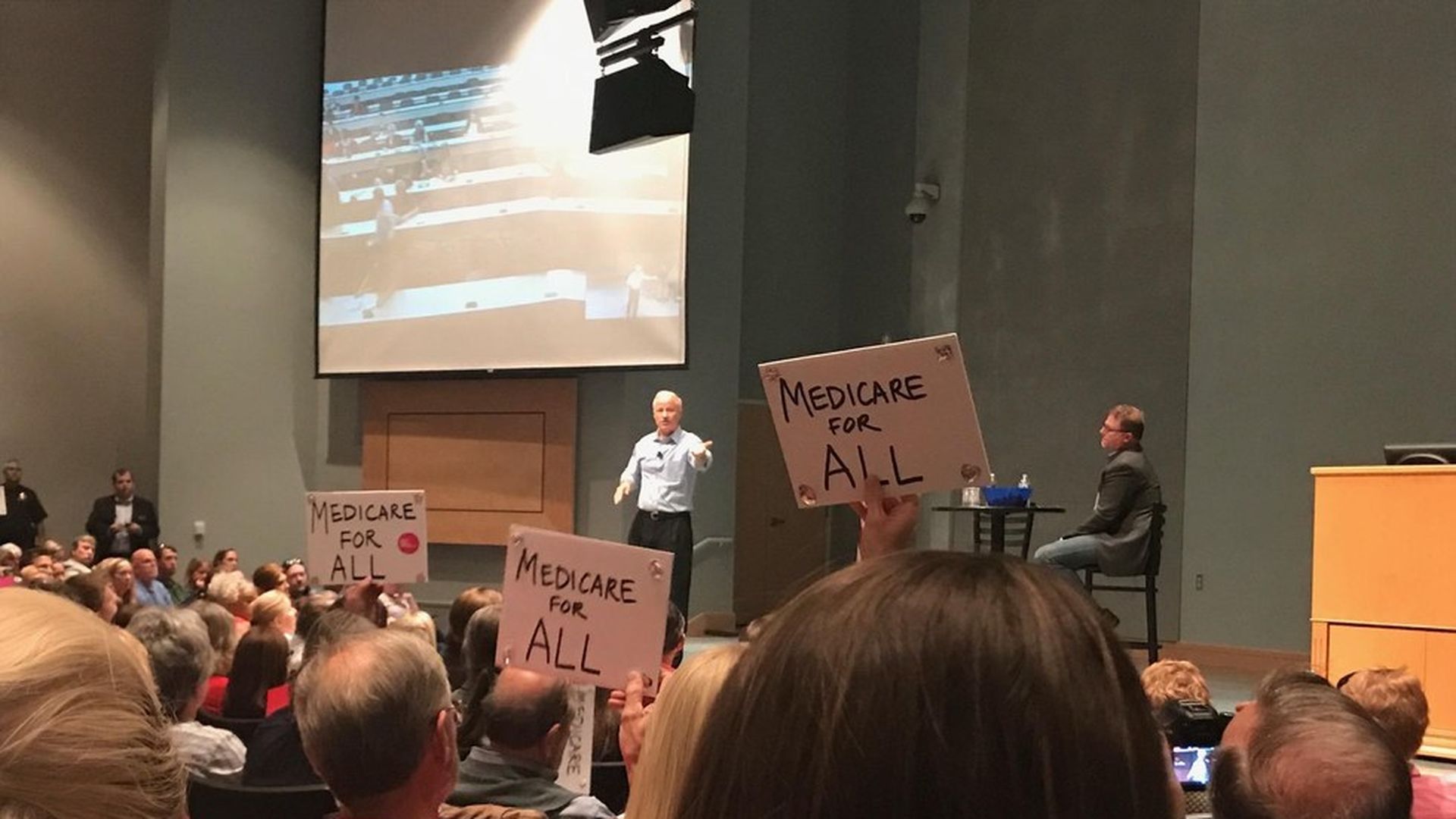 I attended Rep. Mike Coffman's town hall in Aurora, a Denver suburb, on Wednesday night, and this was the biggest takeaway: No one is very happy with his support of the House Trumpcare bill. Even his Republican supporters told me they didn't like it, either because it worsened existing problems or because it didn't go far enough.
Of course, there were also dozens of very angry liberals questioning Coffman about protections for those with pre-existing conditions and the newly insured. During the nearly two-hour event, the conversation kept coming back to health care. And everyone at the event seemed to agree on one thing: Trumpcare isn't dead.
Here's what they told me:
Mickey Sims, a retiree who gets his coverage on the Obamacare exchange, came to the town hall to "support" Coffman. But he called the AHCA a "bad bill. It didn't address the rates we're paying." Sims wants the next bill to "keep the good things and replace all the others, including the subsidies to the insurance companies."
But here's Paul Bezdek, who's on Medicare: "He is playing too much to the middle of the road. I'd rather him be more ideological," he told me. He likes the Freedom Caucus and their ideas. "If the Freedom Caucus hadn't been there, this bill would have retained a lot of payments that would have gone to the insurance companies...You really have to do something drastic."
Contrast that with people like Alyx Reese, an Obamacare supporter: "When Obamacare's reworked, I lose my insurance."
The drama only escalated during the town hall itself. This was the first questioner: "I was shocked when you said you would support Trumpcare and now they're looking at repealing again with more cuts than the previous version." She accused Coffman of "supporting Trump over the people who live here."
What comes next: Coffman is clearly trying to walk a very fine line. He said he doesn't regret supporting the House bill — he was the only member of the Colorado delegation to do so — but isn't clear about what should happen next.
He said repeatedly he disagrees with Trump's suggestion Republicans should just let exchanges "implode" to force Democrats to the bargaining table.
His goals are to preserve consumer protections, particularly those regarding pre-existing conditions, and to fix the individual market.
But he's pretty vague about whether that means continuing the effort to repeal and replace, or turning to a bipartisan solution. "I think it's better we fix the health care system," he told reporters.
The outlook for Obamacare payments isn't getting better
A day after President Trump introduced his cost-sharing subsidy gamble via the Wall Street Journal, the scene in Washington has only intensified. Democrats are saying it's worth risking a government shutdown to make sure insurers receive the payments — and keep the individual market stable. And insurers largely ignored the latest Obamacare rule and kept talking about how much they need those payments.
The stakes: Congress must pass a spending bill by April 28 to keep the government open. But Democrats were so alarmed by Trump's public threat to throw insurance markets into turmoil that they're saying the payments must be attached to the spending bill, no matter the fallout.
"We need to do everything we [can] to protect the marketplaces and [the] millions who have coverage. If the president is threatening to undermine them we will look at ways to counteract that," a senior Democratic Senate aide told me.
More bluntly, from an aide to House Minority Leader Nancy Pelosi: "The President's comments on stopping the Cost Sharing Reduction payments will increase costs, is a threat to the good health of the American people and a threat to keeping government open."
The Democrats want the payments to be made permanently, not just for 2018, and not subject to yearly budget fights. That's an even bigger ask.
Insurers say this is urgent: This statement in response to the Obamacare rule from Marilyn Tavenner, president and CEO of America's Health Insurance Plans, didn't sugarcoat the consequences of plans not being paid.
"Without funding, millions of Americans who buy their own plan will be harmed. Many plans will likely drop out of the market. Premiums will go up sharply — nearly 20% — across the market. Costs will go up for taxpayers. And doctors and hospitals will see even greater strains on their ability to care for people."
Now on to what WAS in the Obamacare rule
In the midst of the insurer subsidy turmoil yesterday, CMS released its final rule on the 2018 Obamacare marketplace. Not much changed from the proposed rule released earlier this year, David Nather reports. Which means insurers generally got what they asked for, and consumer advocate groups are likely worried. Here are a few things to consider.
"Requiring upfront verification of eligibility for a special enrollment period and shortening open enrollment periods will generally make it somewhat harder for people to sign up," Larry Levitt, vice president at the Kaiser Family Foundation, told me. That, in turn, could shrink the size of the market. But it could also keep people from waiting until they get sick to purchase insurance.
The rule gives insurers greater flexibility in deciding how much of an enrollee's costs it will cover. The result of that could be plans with lower premiums but higher deductibles, Levitt said.
It could also result in all enrollees receiving less premium assistance, Tim Jost, an emeritus professor at Washington and Lee law school, tells me. That's because premium subsidies are tied to the second lowest-cost silver plan, which will likely be cheaper under the rule. Cheaper benchmark plan, lower subsidy.
About those health care startup valuations...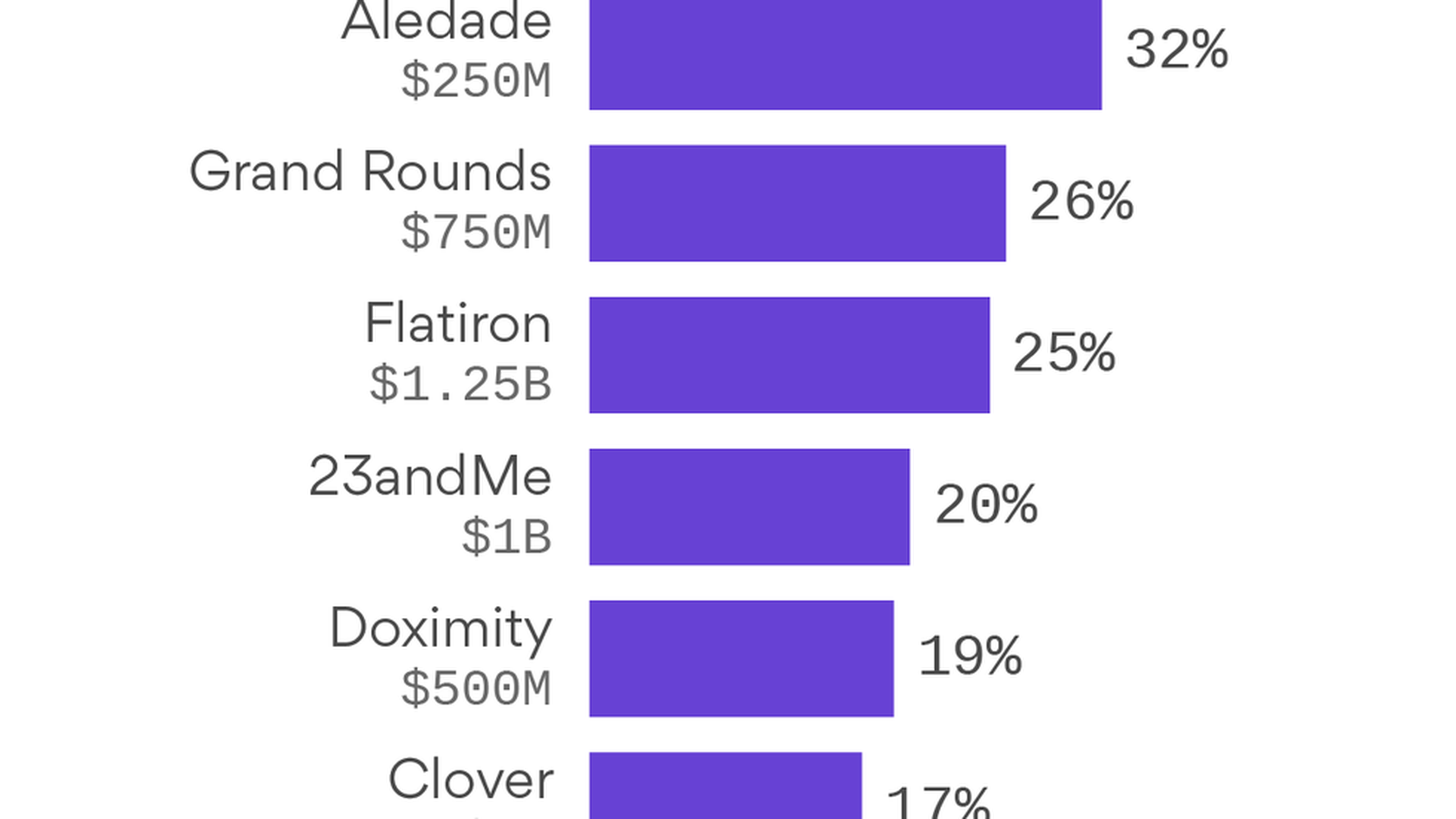 On Wednesday, we highlighted a survey from venture capital firm Venrock, and there was another nugget that caught Bob Herman's eye: The valuations of many health care startups have ballooned to the point where people wouldn't invest in them now.
Oscar, the young health insurer based in New York, fared the worst in the survey. Just 7% of respondents said they would invest in Oscar and its valuation that hovers near $3 billion.
Oscar advocates weren't thrilled with the survey. Brian Singerman — a partner at the Founders Fund, which has invested heavily in Oscar — sent this statement to Axios: "There's a reason that venture investing is done with real dollars, and not anonymous surveys. Oscar is well-positioned to succeed in the long term, and the team has the full confidence of their investors."
Nuna (a Medicaid analytics company) and Clover Health (the Medicare Advantage startup we reported on yesterday) didn't do much better, with only 17% saying they would invest in either company.
Doctor on Demand, a telemedicine startup, had the most support. Roughly 42% of Venrock's survey respondents would invest in the company, valued at the relatively bargain price of $250 million. Telemedicine is one of those ideas that most people get behind.
Top hospital lobbyist doesn't think Trumpcare is over
Chip Kahn, a former congressional GOP aide and now the head of the Federation of American Hospitals, knows how Congress works — and he's not writing off Trumpcare just yet. He talked with David about his concerns. You can read the full Q&A here, but a few highlights:
"If we lose ground on coverage, that bumps up against a key principle of ours."
The uncertainty among insurers affects hospitals, too.
Medicaid has to be "a true safety net," and individual coverage has to be widely available — and the House GOP bill "does shortchange both."
He hopes it can "evolve" in the Senate.
Thinks the GOP majority is "trapped" by having to use budget reconciliation.
What we're watching next week: More GOP town halls, first-quarter earnings reports and whether anyone follows through on all the lawsuit threats over insurer subsidies and the CMS rule.
Thanks for reading my first-ever Vitals and enjoy your weekend! Hit me up with news, tips, and feedback: caitlin@axios.com.