Good morning ... Just gonna jump right in, because it's kind of a big health care week. Keep checking the Axios health care news stream throughout the week for the latest, and sign up for our alerts, too.
One quick thing: Axios Media Trends, Sara Fischer's new weekly newsletter about the trends in digital media, launches tomorrow. It'll be a great read, so sign up here.
Mitch McConnell had better be a magician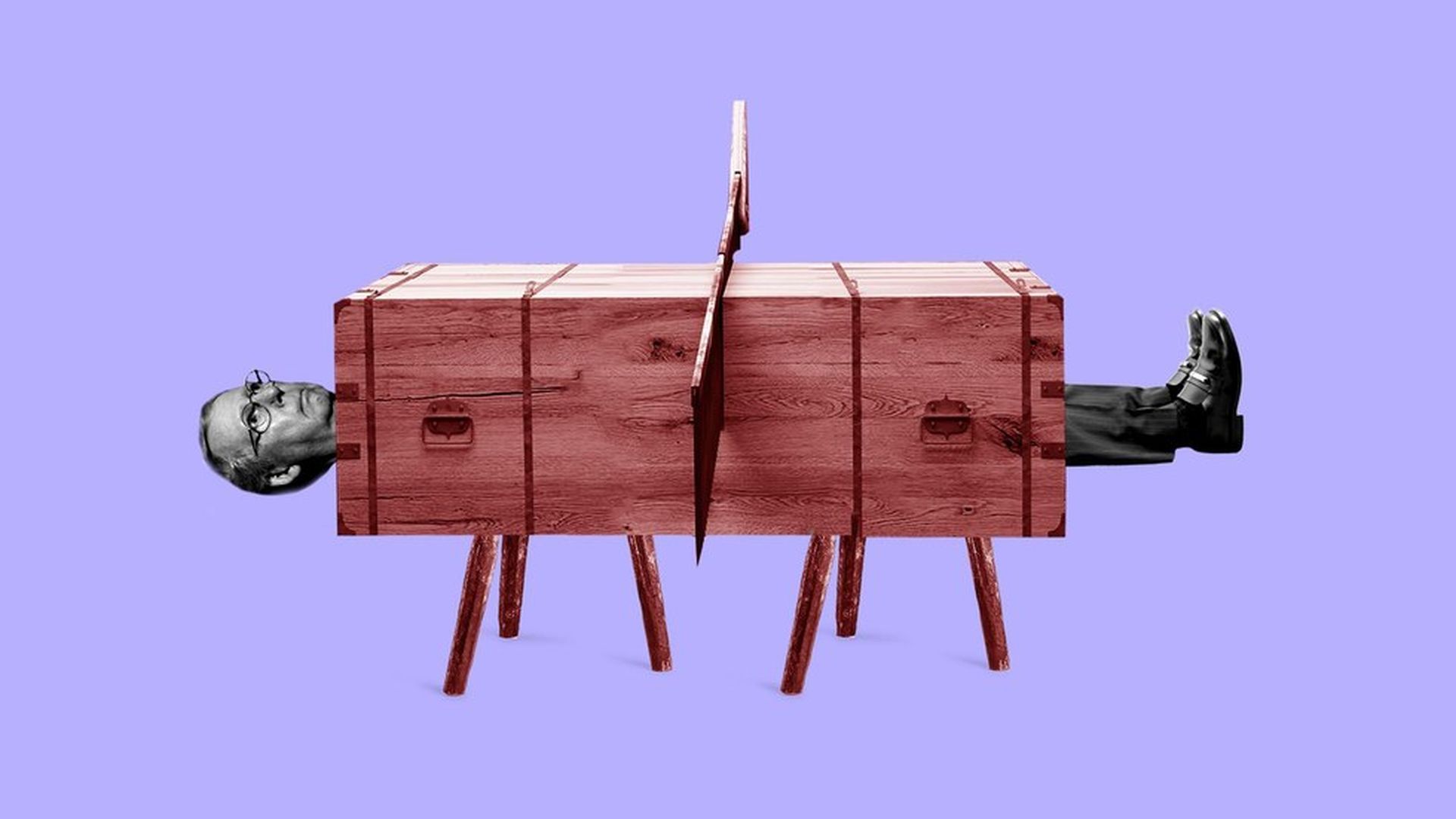 This is the week we'll learn whether Mitch McConnell can pull a rabbit out of a hat. His challenge: Tweak his health care bill enough to win over wavering moderates — including Susan Collins, Lisa Murkoswki — without losing any more conservatives on top of Rand Paul.
It won't be easy. Some of the things each camp wants are in direct conflict: Some of the moderates want to ease off the bill's Medicaid cuts; that could draw new conservative opponents out of the woodwork. Collins wants to strip anti-Planned Parenthood language; Ted Cruz and Mike Lee wouldn't like that.
What to expect this week, per Jonathan Swan and Caitlin Owens:
CBO score, along with a very slightly modified version of the bill, will likely be released today.
Final bill, reflecting any more last-minute horse-trading likely released on Wednesday.
Vote to proceed to the bill is also likely on Wednesday. If McConnell hasn't lined up 50 votes on the bill itself, there's a chance the procedural vote could fail, and it'd be a shorter week than we thought.
But, assuming the vote to proceed is successful, a vote-a-rama on the Senate floor looks like it'll begin sometime Thursday.
With 20 hours of debate, that could push the final vote into the late night or early morning, if not into the weekend (depending on how things shake out earlier in the week).
Who to watch: Mike Allen's sources rank the likeliest defections in this order: Collins, Paul, Lee, Dean Heller, Murkowski, Cory Gardner, Ron Johnson, Cruz.
It all depends how McConnell tries to win over each of those votes. Back too far off of the bill's Medicaid cuts in an effort to appease Heller or Shelley Moore Capito, and he'd risk bringing Tom Cotton into the "questionable" column. Giving Cruz and Lee too much on social issues would make Collins and Murkowski less likely to go along at the end of the day (and vice versa).
"It really is a 747 landing on a suburban driveway," former McConnell chief of staff Josh Holmes told Swan.
Why Medicaid insurers are nervous
Hospitals and Medicaid enrollees will be hit the hardest by the Senate bill's Medicaid cuts. But the insurance industry would be next in line, Bob Herman reports, considering more state Medicaid programs have handed the keys over to private health insurers.
Roughly 50 million Medicaid beneficiaries, or about two-thirds of the entire Medicaid population, are enrolled in a managed-care plan. That is almost three times larger than the individual exchange population.The federal government and states spent $236 billion in 2016 on Medicaid managed-care contracts, in which states make monthly payments to insurers for every person they cover. Even a small 2% profit margin on that pot of money is big business for companies like Anthem, Centene, Molina Healthcare, UnitedHealthcare and WellCare Health Plans. It's also critical money for local safety net insurers.While per-capita caps could spur more states to move to Medicaid managed care, the caps would also mean less money down the road for insurers, which Bob Herman reported in February.The result: Insurers live with a much smaller profit margin, cut their already-low payments to hospitals and doctors, and/or roll back enrollment and benefits.
Insurers to Senate: Thanks, but ...
We wrote on Friday about the change the Senate bill would make to the value of insurers' health coverage: it would let them lower the "actuarial value" of the benchmark health plan, meaning it wouldn't have to cover as much of a customer's medical costs. Turns out that America's Health Insurance Plans, the main trade group for health insurers, doesn't even want the change.
What they do want: AHIP spokeswoman Kristine Grow said the group has been asking for more flexibility in the benefit design — what prescription drugs health plans have to cover, what the networks have to look like. But that's not the same as lowering the value of the coverage, which could expose people to higher out-of-pocket costs. "It's got to offer services they want at a price they can pay," Grow said.
Between the lines: Clearly someone asked for the lower actuarial value. But it's significant that AHIP isn't endorsing it — because it shows the political sensitivity of the tradeoffs the Senate bill makes. Sure, consumers might have cheaper premiums and think they're getting a better deal — but it won't seem like a better deal for the ones that have to pay the higher out-of-pocket costs.
Wall Street watches for a Cigna-Humana deal
But enough about the Senate bill — we haven't talked about health insurance mergers in a while. The next attempt could be a Cigna-Humana merger. Bob Herman reports that Cigna got a group of investors together last week in New York City and gave the impression that making a big transaction isn't a matter of if, but when.
Key quote: From Cigna CEO David Cordani: "The company does not have a track record of sitting on excess capital."
Why it could happen: There are a lot of reasons, but a big one is that Cigna has cash (a minimum of $7 billion) and a low level of debt. If Humana commands $37 billion again, Cigna would have no problem pulling the trigger. More from Bob here.
While you were weekending ...
President Trump, confirming to Fox and Friends that he called the House bill "mean": ""That was my term, because I want to see ... and I speak from the heart ... I want to see a bill with heart."
Sen. Susan Collins, on ABC's This Week: "It's hard for me to see the bill passing this week."
Sen. Rand Paul, also on This Week: "I've been in medicine 20 years. I'm 54 years old. Premiums have never gone down. They're not going to go down after the Republican bill."
HHS Secretary Tom Price, on Fox News Sunday: "[I]n its entirety, we believe that we will get more individuals covered."
Sen. Bernie Sanders, on NBC's Meet the Press: "There's something wrong when we remain the only country not to guarantee health care to all people as a right."
Americans for Prosperity, a group aligned with the Koch brothers, doesn't like the Senate bill, per Reuters. But they and other conservative groups haven't given up on it.
What we're watching today: The Congressional Budget Office releases its estimates (probably) for the Senate bill.
What we're watching this week: Just gonna roll with it, and you should too. As Collins put it on This Week: "We could well be in all night a couple of nights working through what will be an open amendment process."
Let us know which piece of the Senate bill deserves a deeper dive: david@axios.com, baker@axios.com.