Axios Vitals
August 13, 2019
Good morning.
Situational awareness: Between 2006 and 2012, 15% of pharmacies purchased 48% of total opioid pills, the Washington Post found.
Today's word count is 750, or ~3 minutes.
1 big thing: Surprise bills are everywhere
Surprise medical bills have gotten more common and more expensive, according to a new study published in the Journal of the American Medical Association.
These bills can be devastating to patients, even those who have some savings and a steady source of income.
The big picture: The study used an Optum database to look at patients covered by a large commercial insurer who received either inpatient or emergency care at hospitals covered by their insurance, and got a bill for out-of-network care.
These bills were probably unexpected. Patients often assume that the care they receive at an in-network hospital will all be covered by their insurer.
Yes, but: Most hospitals don't produce out-of-network bills this often. The results are skewed by serial offenders.
What we're watching: Congress has vowed to prohibit surprise medical bills, but its leading approach is under attack from hospital and doctors' groups.
California's law, which mirrored the approach pending in Congress, shifted contract negotiations in insurers' favor, according to a study in the American Journal of Managed Care.
This has led to even more provider consolidation, the study found.
Go deeper: We all pay for surprise emergency room bills

2. Immigrants' health at risk
The Trump administration's newly finalized "public charge" rule extends a series of policy changes that could negatively affect the health of both legal and undocumented immigrants in the U.S., Dave Chokshi of NYC Health + Hospitals writes for Axios Expert Voices.
The rules make the use of certain public assistance programs grounds for denying immigrants lawful permanent residence.
Why it matters: Health insurance, nutrition benefits and housing assistance are all linked to health outcomes, particularly in children.
The administration's policy affects Medicaid, the Children's Health Insurance Program, food stamps and public housing.
An Urban Institute study showed that, in 2018, 1 in 5 adults in low-income immigrant families did not participate in a government benefit program like Medicaid for fear of risking future green card status.
What to watch: The Homeland Security Department's "public charge" rule is likely to be challenged in court before Oct. 15, when it's scheduled to take effect.
Chokshi is the chief population health officer at New York City Health + Hospitals and a primary care physician at Bellevue Hospital.
3. Wealthier people ditch ACA exchanges
The universe of people covered by the Affordable Care Act keeps narrowing, Axios' Sam Baker reports.
Between the lines: People who make too much money to qualify for help paying their premiums are fleeing the ACA's insurance exchanges. But the exchanges are still pretty stable for people who receive premium subsidies, according to new federal data.
You can see two clear trends in these data.
First, unsubsidized enrollment has fallen as premiums continue to rise. That makes sense: If you're on the hook for your entire premium, you're more likely to bail when those premiums rise.
Overall enrollment tapered off under the Trump administration, which also makes sense: Trump's policy decisions contributed to big premium spikes in 2018, and he has also expanded access to non-ACA options that may be more attractive to healthier, unsubsidized people.
Sam's thought bubble: This is the continuation of a somewhat ironic trend. As the ACA's coverage expansion has shrunk, the law has evolved to look more like a traditionally liberal health care program.
Part of the initial goal was to create a competitive marketplace that would benefit even the middle class households too wealthy for a premium subsidy.
That's the part that has fallen by the wayside as the ACA's coverage expansion has narrowed down. Now it's mainly direct government assistance — through Medicaid and premium subsidies — that's concentrated among the poorest households.
Go deeper: The ACA is smaller, weaker and more liberal than Obama intended
4. Genetic data deals
Drugmakers are striking deals with hospital systems for access to patients' genetic information, the WSJ reports.
Drug companies want to use the information to learn more about diseases and discover new drugs, and patients could benefit from free genetic testing.
But the gene-sequencing deals are raising some concerns with legal experts and patient advocates, who say that patients may not know how their data is being used or profited from.
5. Progress in Ebola treatments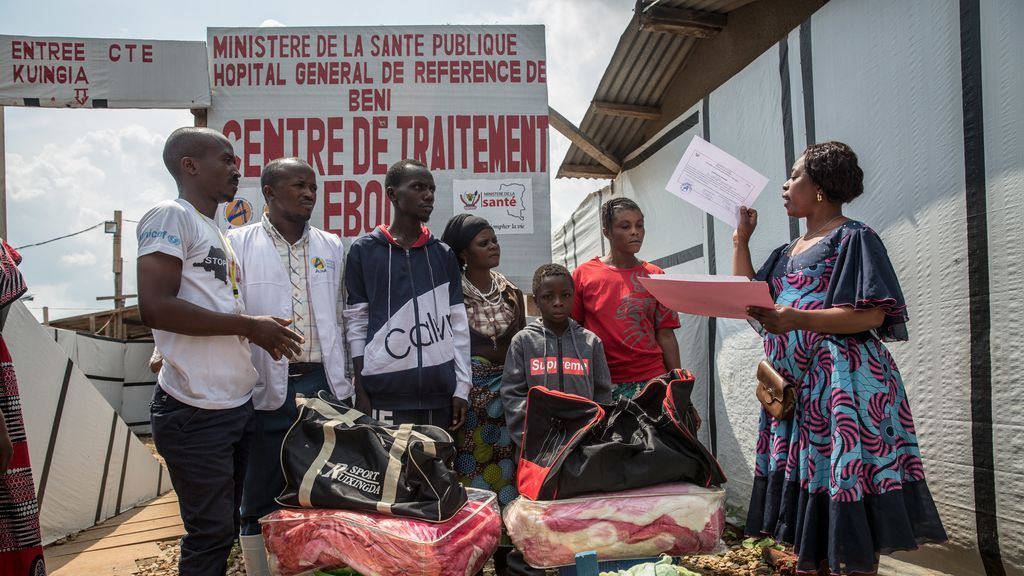 Public health officials announced Monday they had gathered enough preliminary data to determine that 2 of the 4 investigational treatments for Ebola performed better than the others, my colleague Eileen Drage O'Reilly reports.
A trial in the Democratic Republic of Congo has been dropped to focus on a new extension trial for the 2 monoclonal antibodies.
Why it matters: There are no FDA-approved treatments for Ebola. Researchers testing drugs during the DRC's largest outbreak found a cocktail of 3 antibodies called REGN-EB3 was most effective, followed closely by monoclonal antibody 114.