Good morning.
📷 Get a sneak peek of the exclusive "Axios on HBO" interview with Jared Kushner here, and tune in for the full interview at 6pm ET/PT on Sunday on HBO.
Today's word count: 860 words, <3 minutes
1 big thing: The hospitals staying silent on Medicare for All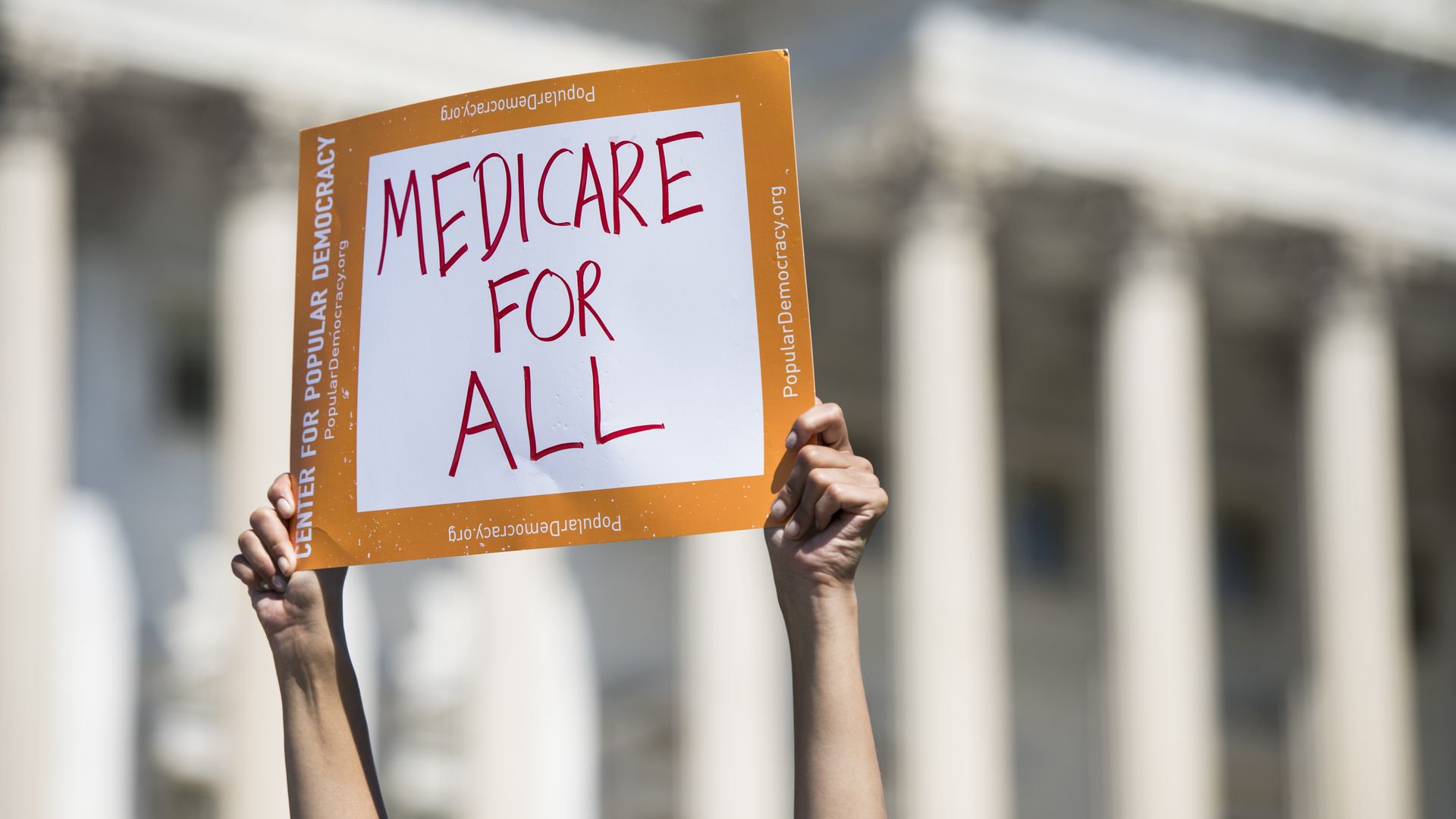 Large hospital systems and trade groups have vociferously criticized Democrats' "Medicare for All" proposals, but rural facilities and public hospitals that treat mostly low-income patients are sitting on the sidelines of the debate.
Why it matters: Safety nets and many rural hospitals could hypothetically benefit under Medicare for All, but expressing support would put them at odds with their larger brethren, my colleague Bob Herman reports.
Between the lines: The Partnership for America's Health Care Future has become one of the loudest industry-funded voices against Medicare for All.
Pharmaceutical companies, health insurers and others are part of PAHCF. But 10 hospital systems and lobbying groups, like Ascension and the American Hospital Association, drive PAHCF.
Yes, but: Some hospital constituencies aren't part of the anti-single-payer lobbying.
America's Essential Hospitals, the trade group for safety net hospitals, and the National Rural Health Association, which represents rural hospitals and providers, are not part of PAHCF. They also don't have official positions on Medicare for All.
The big picture: Hospitals that mostly care for poor and uninsured patients could see higher, more stable revenues if everyone had Medicare — a program that often pays higher base rates than Medicaid and infinitely higher rates than nothing at all.
Cook County's public hospital system in Chicago, for instance, gets 79% of its gross patient revenue from the uninsured and Medicaid. That system and multiple other hospitals did not respond to interview requests.
The intrigue: "If you're trying to solve the problem that we want to get everybody covered and we want to level the playing field between the hospitals that take care of the poor people and hospitals that take care of the rich people, Medicare for All is something we better take a look at," Eric Dickson, CEO of UMass Memorial Health Care, told Politico.
2. A children's hospital's weighty decision
North Carolina Children's Hospital kept performing pediatric heart surgeries despite doctors' concerns about the program's performance, NYT reports in a gut-wrenching investigation.
Secret audio recordings obtained by the Times reveal the depth of cardiologists' concerns about whether they should continue sending patients to surgery at the hospital, which is part of the University of North Carolina's medical center.
"It's a nightmare right now," one doctor said in 2016. "We are in crisis, and everyone is aware of that."
Why it matters: The doctors' comments "offer a rare, unfiltered look inside a medical institution as physicians weighed their ethical obligations to patients while their bosses also worried about harming the surgical program," NYT's Ellen Gabler writes.
The big picture: The story reflects more systemic concerns about the quality and consistency of care provided by pediatric heart surgery programs nationally.
Hospitals that provide a high volume of surgeries tend to have the best results. But there are so many surgery programs today that reaching an adequate number of surgeries is difficult.
Doctors and advocates are pushing for more transparency around pediatric heart surgery outcomes, in the hope of creating more accountability.
UNC does not share its mortality statistics, although about 75% of the hospitals that perform pediatric heart surgery in the U.S. do share this information on a website run by the Society of Thoracic Surgeons.
3. Juul exploring opening its own store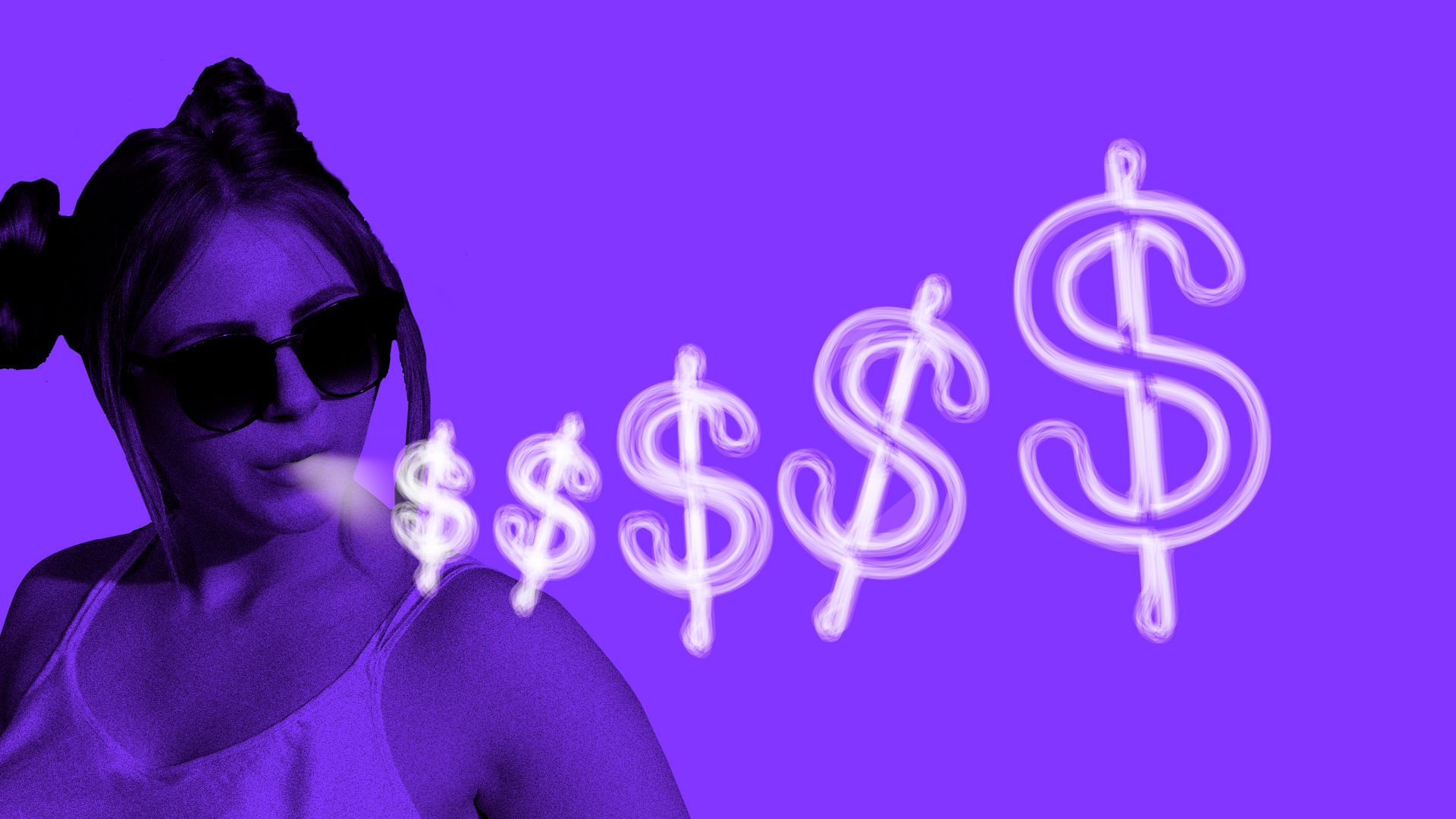 Juul is considering opening its own stores, WSJ scooped yesterday, although it hasn't made a final decision.
It's hired staff for potential locations in Dallas and Houston, which both have high smoking rates.
The stores would only allow adults inside, and would only sell tobacco, menthol and mint flavors in the stores.
The FDA has proposed restricting the sale of fruity and sweet flavors, which it says appeal to teens, in convenience stores and gas stations.
Juul already controls 75% of the vaping market, and is already sold in 100,000 stores across the nation.
But having its own store could provide the company with sales insights that it could apply to other settings, and some customers may prefer shopping in a Juul store over another retail setting.
The company is also considering international stores, including one in South Korea.
4. Blink Health makes competitive moves
Blink Health, the online pharmacy, announced this week that it has lowered prices for 148 of its most common generic drugs.
"As the Blink Health network grows, we're able to negotiate lower prices," the company wrote in its announcement of the price reductions.
It has also hired three new employees who previously worked at Amazon on leadership teams, Business Insider reported yesterday.
Why it matters: Put together, the moves signal the company's plan to be aggressive in a market that's becoming increasingly competitive.
Amazon has recently begun marketing PillPack to Prime members, and there's been speculation that it could roll out a Prime Health service, Business Insider notes.
CVS has also recently expanded its same-day drug delivery service.
5. FDA moves forward on opioid "blister packs"
The FDA announced yesterday that it's requesting feedback on requiring certain opioids to be made available in "blister packs," which would include a limited number of pills.
The goal is to reduce the number of opioid pills prescribed, especially in situations when the typical 30-pill prescription is probably unnecessary.
The agency asked for feedback on which opioid medications make sense to be packaged this way, and what the appropriate number of pills to include in each pack is.
What they're saying: "Patients are often prescribed significantly more opioid pills than they actually use following surgical procedures or other acute pain conditions for which opioids are prescribed," acting FDA commissioner Ned Sharpless said.
"This excess supply of opioids provides opportunities for misuse, abuse, overdose and development of addiction."