Good morning ... Here's something to make you feel a little bit better about the world: 13 truckers pulled their trailers under a highway overpass last night to shorten the fall of a man threatening to jump. He ended up walking off safely.
https://www.axios.com/newsletters/axios-vitals-a1915469-97fd-4a8c-9e42-e5d03d49ab2e.html?chunk=0#story0
1 big thing: VA nomination is collapsing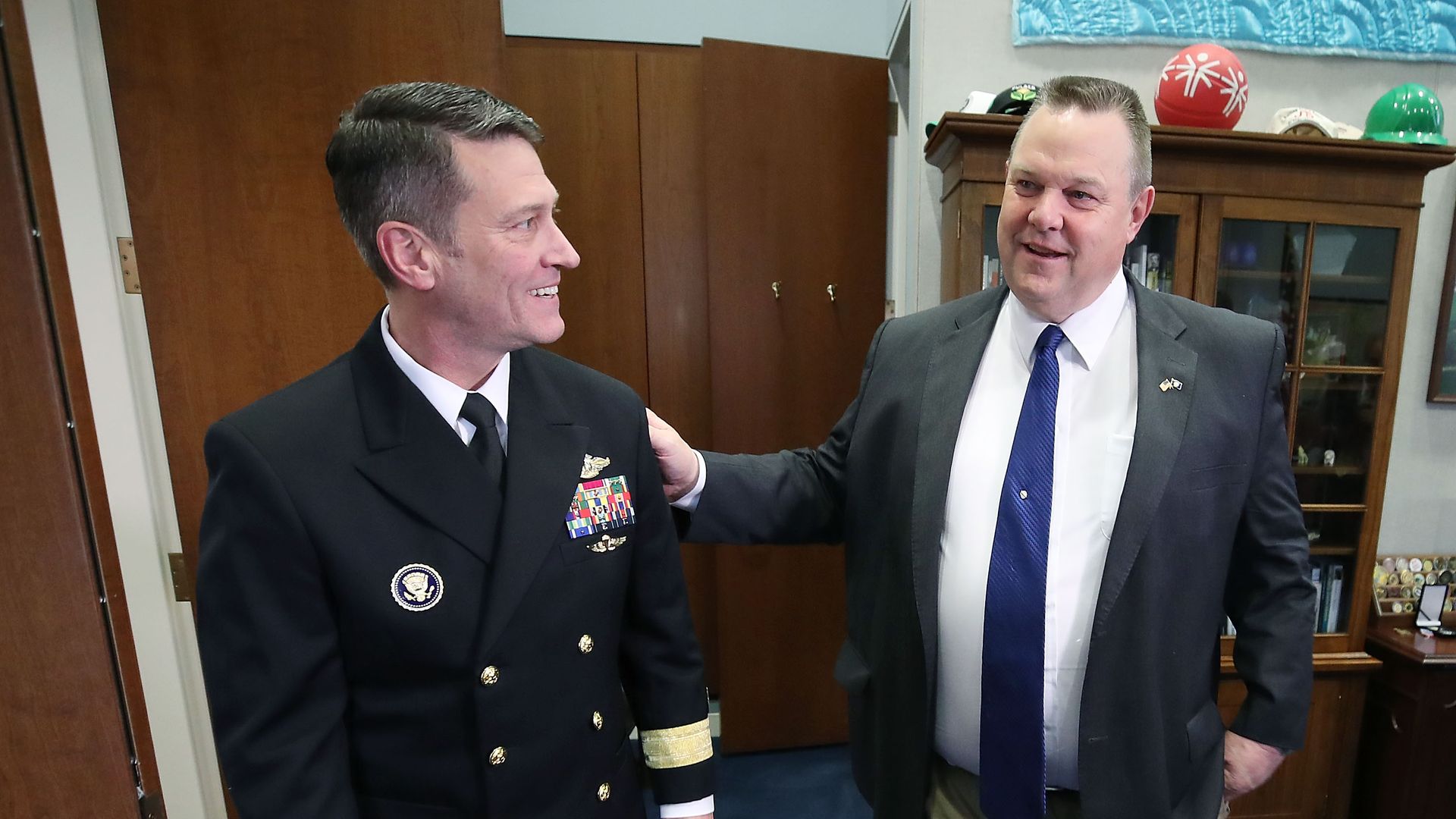 At this point it's very difficult to imagine a scenario in which Ronny Jackson is the next Veterans Affairs secretary.
The latest: Senators from both parties spent the day yesterday throwing cold water on Jackson's nomination. And after a trickle of loose and vague suggestions of inappropriate conduct, CNN's Juana Summers and Manu Raju scooped some details last night.
Jackson "was intoxicated and banged on the hotel room door of a female employee" during an overseas trip in 2015, according to CNN, and "the incident became so noisy ... that the Secret Service stopped him out of concern that he would wake then-President Barack Obama."
"It is one of multiple drunken episodes involving Jackson on overseas trips," CNN reports.
Yes, but: Former Obama administration officials told the New York Times they had seen nothing of the sort. "I am not even sure that I ever saw him in a hotel bar," Brian McKeon, chief of staff for the National Security Council under Obama, told the paper.
Even so: Jackson's nomination was on ice before the CNN story broke.
Sen. Johnny Isakson, who chairs the Senate Veterans Affairs Committee, has called White House Chief of Staff John Kelly twice "to express concerns about new information," his office told the Washington Post.
The White House defended Jackson last night, even after President Trump said yesterday afternoon that if it were him, he'd drop out out.
But without more support from Senate Republicans, this is looking more like a question of when, not if, Jackson's nomination falls apart — and it may not be long.
https://www.axios.com/newsletters/axios-vitals-a1915469-97fd-4a8c-9e42-e5d03d49ab2e.html?chunk=1#story1
2. Arizona's Medicare buy-in candidate loses
Last night's special House election in Arizona was a test case for one of the latest Democratic health care trends. Forbes reports that Hiral Tiperneni, the Democratic candidate, was an advocate of letting younger adults buy into Medicare.
Between the lines: Tiperneni lost to Republican Debbie Lesko, so it's not like the left can claim an endorsement for its post-Affordable Care Act goals, like expanding Medicare or moving on to single payer.
But it's far from a blowout — Lesko won by about 5 points in a district Trump won by 20 points — so it was hardly a firm rebuke to those ideas, either.
Why it matters: Even though the Democrat lost, the margin is yet another sign of just how energized Democratic voters are right now. And the more seats Democrats pick up in November, the greater the likelihood that ideas like a Medicare buy-in will have a serious constituency in Congress.
https://www.axios.com/newsletters/axios-vitals-a1915469-97fd-4a8c-9e42-e5d03d49ab2e.html?chunk=2#story2
3. The $4 billion Medicare rule for hospitals
The payment rule released by the Centers for Medicare & Medicaid Services yesterday evening would boost hospital revenues by $4 billion next year, and significantly change how hospitals and Medicare patients interact, Bob Herman reports.
The bottom line: The money is important, but the surrounding policies shape the flow of money.
Surprise bills: CMS specifically called out anesthesiologists, radiologists and emergency room physicians for surprising patients with lofty out-of-network bills and facility fees, and asked the public how providers can better inform people about what their out-of-pocket costs will be.
Hospital charges: Turns out the ACA isn't dead. The Trump administration wants to expand an ACA provision to publicly disclose their inpatient charges. The rule would require them to post those charges online annually; California already requires this.
CAR-T: Cancer hospitals are getting what they wanted, as Medicare proposed additional payments for the new CAR-T therapy for cancer patients — and asked the public whether a new CAR-T Medicare code is a better option.
Quality: 18 measures of hospital quality are getting the ax in the name of reducing paperwork.
Technology: Officially changed the name of Medicare's "meaningful use" program of health care technology to "promoting interoperability" — so much edgier.
https://www.axios.com/newsletters/axios-vitals-a1915469-97fd-4a8c-9e42-e5d03d49ab2e.html?chunk=3#story3
4. SCOTUS deals a blow to pharma
The pharmaceutical industry was on the losing side of an important patent case yesterday at the Supreme Court. In a 7-2 decision, the court upheld an expedited patent review process that drugmakers wanted to see struck down.
How it works: The system allows the U.S. Patent and Trademark Office to review and cancel patents it granted in the past, as an alternative to slower-moving and more expensive patent litigation.
The case the Supreme Court decided yesterday dealt with patents on a piece of oil equipment, but it attracted much broader interest. The tech industry wanted the court to uphold the expedited process, saying it's a useful tool to fend off so-called "patent trolls."
Drugmakers, on the other hand, wanted the court to scrap the expedited review and return the whole process to the courts. They lost; tech won.
https://www.axios.com/newsletters/axios-vitals-a1915469-97fd-4a8c-9e42-e5d03d49ab2e.html?chunk=4#story4
5. 1 expensive thing: American babies
You cannot make me care about the British royal family, but whichever princess just recently had a baby, she did it in a hospital that offers private suites, hotel-like amenities and even a menu of wine and champagne for a celebratory post-delivery toast.
And yet all of that still costs less than the average American birth (which is, needless to say, much less posh).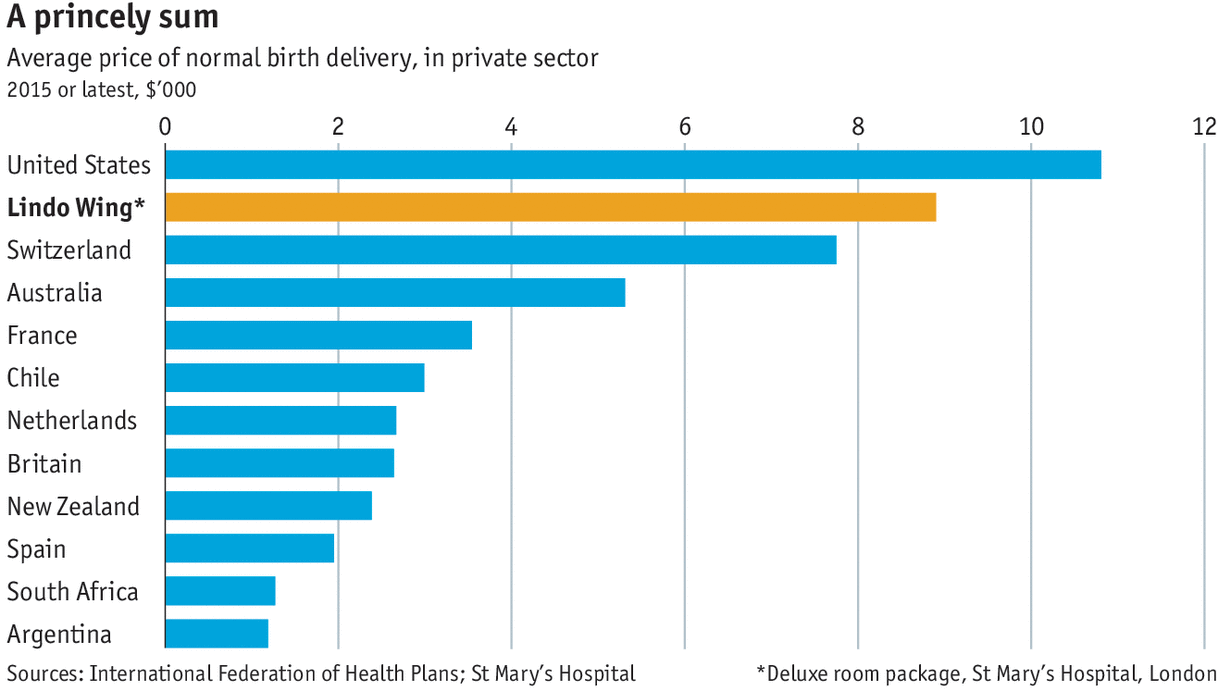 Screenshot: The daily chart from The Economist on April 23
Show me the money: The chart above, produced by The Economist, accounts for the cost of a 24-hour hospital stay and a non-Cesarean delivery.
The Lindo Wing, where the Infant Monarch was born, charges about $8,900, compared to almost $11,000 in the average American hospital.
Add in the expenses of care before and after delivery, and the average American birth costs about $30,000, according to The Economist.
It gets worse: The U.S. not only pays more than other wealthy countries for maternity care, we have worse outcomes to show for it. More babies die in the first year of their lives in the U.S. than in the U.K., Canada or other comparably wealthy, developed nations.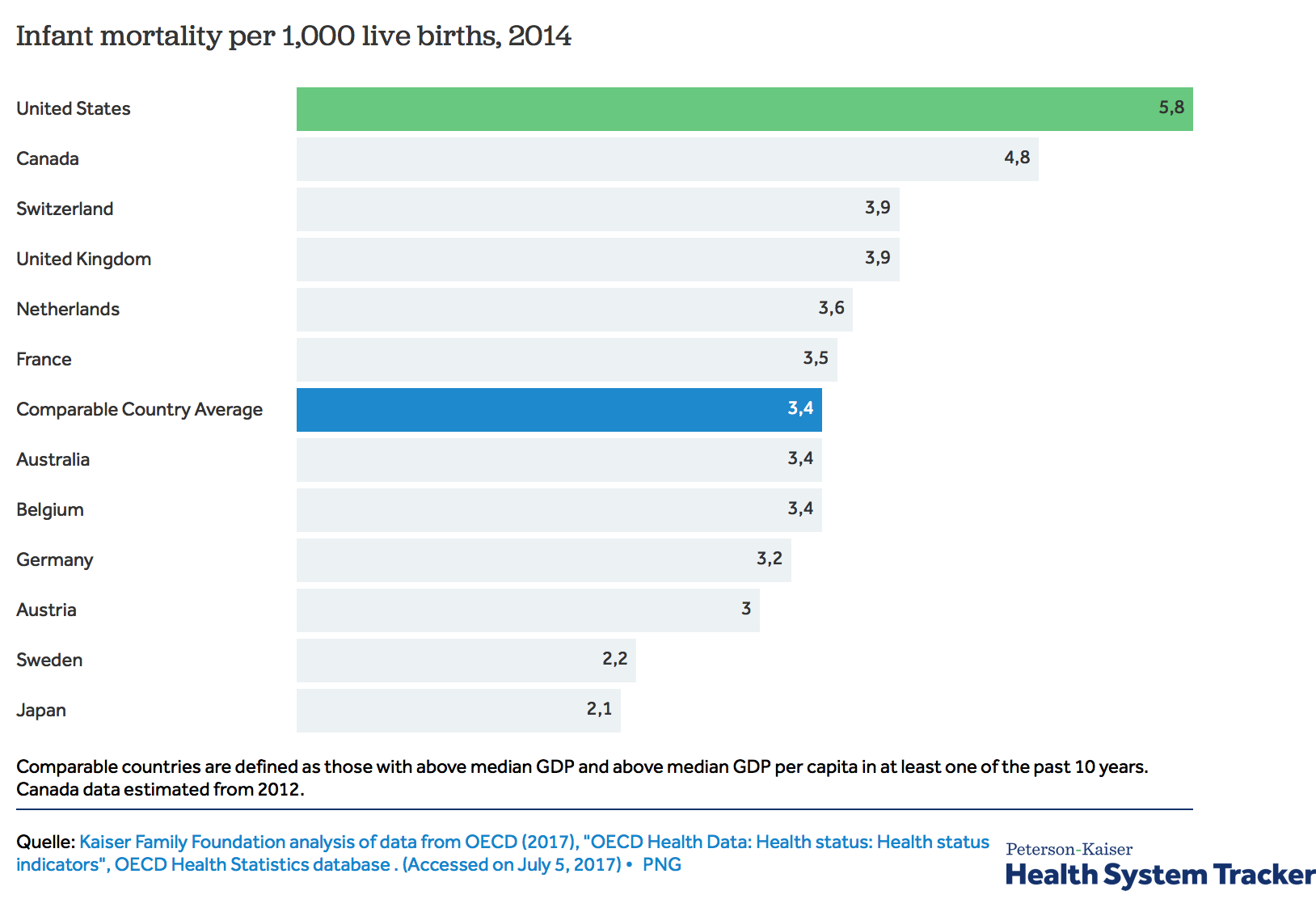 Screenshot: Peterson-Kaiser Health System Tracker on July 7, 2017