Axios Vitals
October 15, 2018
Good morning … Hey, lucky you! You get a first look at the trailer for Axios' upcoming HBO show. Check it out, and don't forget to tune in for the premiere episode on Sunday, Nov. 4 at 6:30 p.m.
1 big thing: What's next on drug prices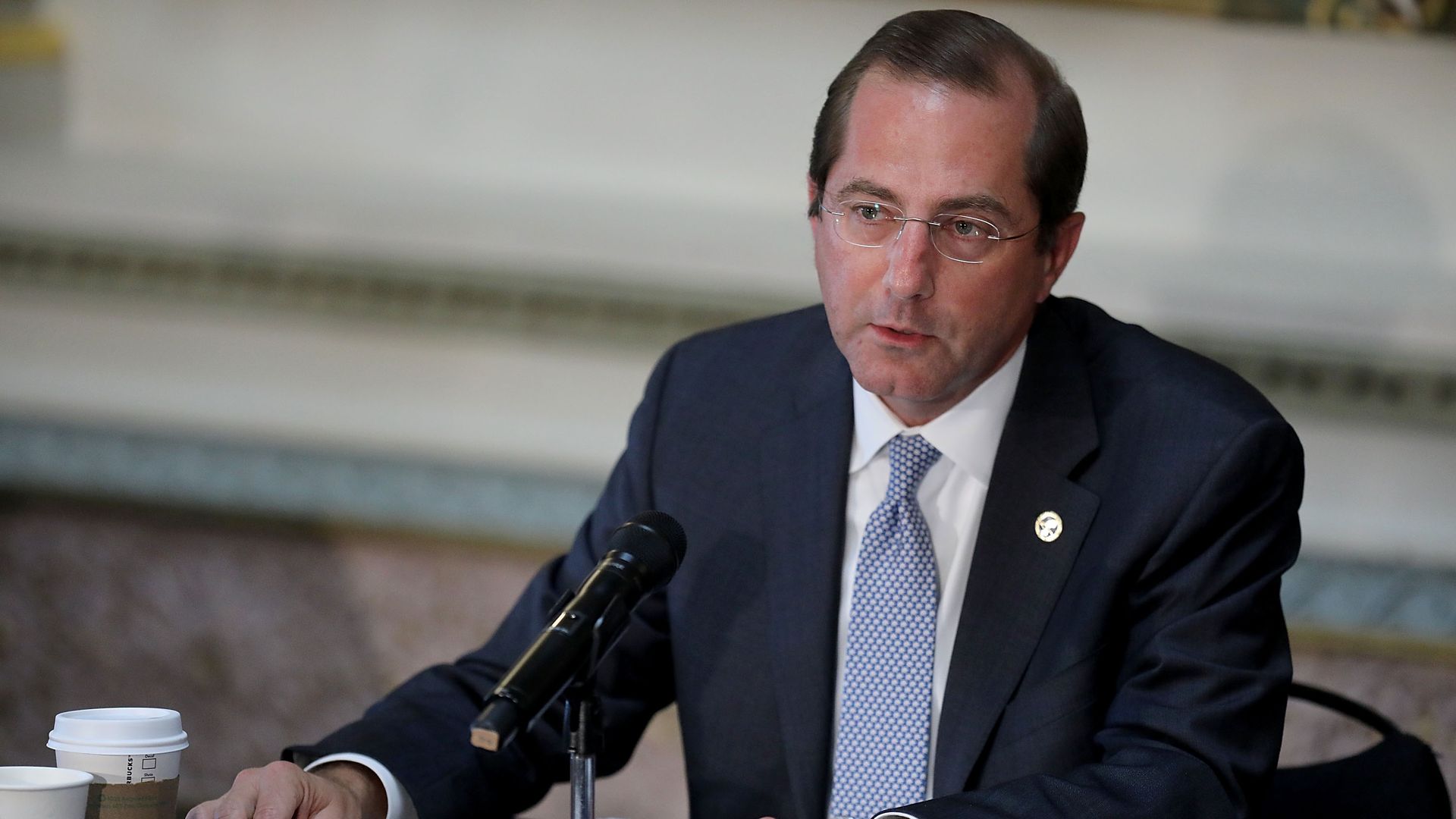 Expect more big moves on prescription drug pricing today.
Driving the news: HHS Secretary Alex Azar is giving a "major policy address" on drug prices this afternoon.
Politico reported Friday that the administration would formally propose new regulations this week requiring drugmakers to include their sticker prices in their advertising, similar to the way they list side effects.
But the industry may preempt that: PhRMA, drugmakers' leading trade group, is planning a "major industry announcement" on direct-to-consumer advertising this morning.
Between the lines: Price transparency is popular, even bipartisan. But the specific weirdness of the health care system creates a situation in which more information may not actually be helpful.
Critics of the price-disclosure proposal note that most patients don't pay the full sticker price. If you have insurance, you pay a lower negotiated rate.
People familiar with the plan have told Axios previously that it would indeed focus on sticker prices.
Even though few people actually pay that price, there's no particularly good stand-in. Every insurance plan has different discounts, and each consumer's individual cost will depend on those negotiations as well as the structure of their plan (the size of their deductible and co-pays, for example) and where they are in their deductible.
The bottom line: There's no way to put a number on television that will be useful for everyone who sees it. Some critics even worry the disclosures could scare patients away from medicines that could help them, by giving them the impression they'll have to pay more than they really will.
2. Liberal majorities v. the health care industry
Even in deep-blue California, Democrats haven't been able to overcome industry opposition and pass serious cost control measures, my colleague Caitlin Owens reports after spending last week in the Golden State.
California has been a staunch defender of the Affordable Care Act and has done a lot to expand coverage. But the industry often supports coverage expansions, because it then gets paid. California hasn't fared as well when it has tried to tackle costs — the next big debate in health policy.
Details: A controversial bill that would have regulated prices for health care services within the private insurance system was shelved this past spring. It was part of a burgeoning effort to pass what's known as all-payer rate setting — which has so far only succeeded in one state (Maryland).
California Gov. Jerry Brown vetoed a bill last month to cap dialysis payments. The industry is now working to defeat a related ballot initiative.
"Any attempt to control prices will bring the health care industry out in force," the Kaiser Family Foundation's Larry Levitt said. "Politically speaking, there likely needs to be some counterweight to hospitals and doctors for that effort to succeed."
Why it matters: As the national Democratic Party swings left on health care, California shows that even with strong liberal majorities, it's still an uphill battle to successfully chip away at the health care industry's bottom line.
3. The antibiotics market is falling apart
It may not be long before the world simply doesn't have many effective antibiotics, according to a scary piece by Maryn McKenna in Wired.
Bacterial resistance eventually renders many antibiotics useless.
The big pharmaceutical companies have largely gotten out of the antibiotics business.
Research to develop new antibiotics is expensive and time-consuming. So small biotech companies have to hang on for decades without a product. But experts think many of those companies will instead have to go out of business — and that will leave us without much of a pipeline to replace existing drugs as they become obsolete.
"The drugs we have for heart disease, for depression, for cancer, the vaccine for measles—they'll still work. But antibiotics will be crushed," Kevin Outterson, who runs an initiative that supports antibiotic research, told Wired.
McKenna suggests treating antibiotics not like other pharmaceuticals, which are developed and sold on the free market, but like infrastructure or military technology.
The government would define a need, solicit bids, and defray the research costs of the company that delivers, in exchange for tight control over how its products are used in the future.
4. Health sharing ministries gain ground
Faith-based health ministries are an increasingly popular alternative to health insurance, but they are not really insurance, and come with some significant risks.
"We've abandoned the health insurance model and instead rely on each other to pay our bills," the leader of one health ministry told the Chicago Tribune.
Health sharing ministries are somewhere between charity and a form of insurance. Families pay in a certain amount each month, and the ministry then uses that money to reimburse members after they pay out of their own pocket for health care services.
Membership is limited to people who share similar beliefs, and some require members to abide by certain lifestyle rules like not drinking or smoking.
They're allowed to turn away people with pre-existing conditions, and often don't cover prescription drugs (not being an insurance plan means they can't negotiate discounts for drugs).
Some organizations require participating families to pay a certain amount of their costs on their own before the ministry will start helping — essentially a deductible.
"They're not insurance," the Kaiser Family Foundation's Karen Pollitz told the Tribune. "There's no contract. This is just a group of people who say God wants us to pay for each other's medical bills, and then they either will or won't send money."
5. While you were weekending ...