Good morning ... Gotta be honest, this pre-existing conditions argument isn't working out that well for Republicans, and we're not seeing the signs of a comeback before the House leaves for recess tomorrow. Remember when repeal votes were easy because they didn't matter?
https://www.axios.com/newsletters/axios-vitals-9d56c4a0-e7df-40c0-bc22-ab8b891961fb.html?chunk=0#story0
Who killed the GOP health care bill this time?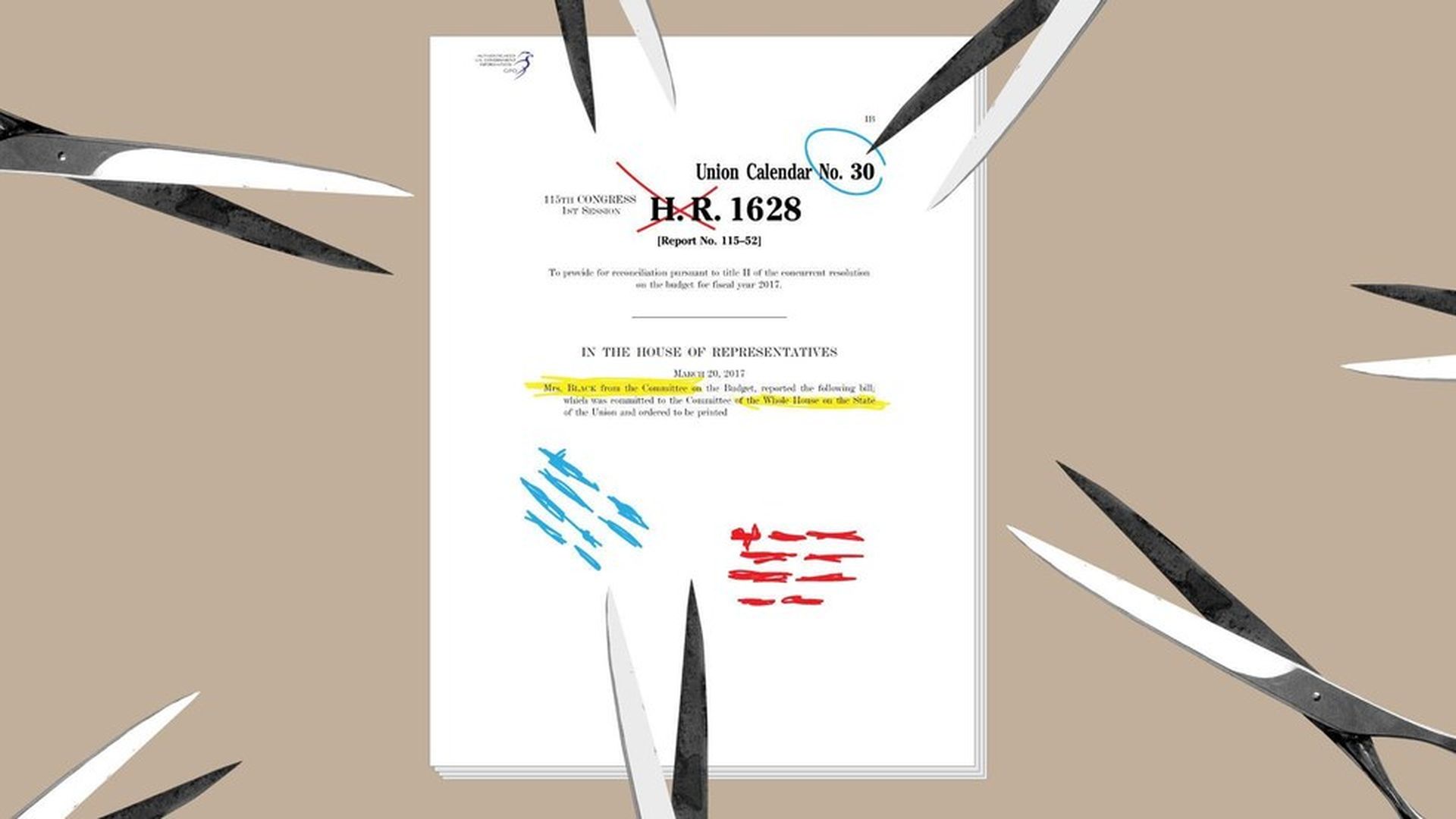 Looks like the effort to repeal the Affordable Care Act may be dead again, and by "dead," I mean "until it comes back again." Unless House Republicans can turn some "no" votes into "yes" votes, they probably can't pass the bill. If that happens, any or all of these people are responsible for its latest death:
Rep. Fred Upton, by announcing yesterday that he can't support the bill because the latest amendment "torpedoes" the ACA's protections for people with pre-existing conditions.
Rep. Billy Long, for saying the same thing and reportedly resisting President Donald Trump's pleas to change his mind.
Jimmy Kimmel, for delivering the viral monologue about his newborn son's heart defect and turning it into an emotional plea to keep covering pre-existing conditions. Former President Barack Obama tweeted his appreciation for Kimmel's story.
Why they made the difference: They undermined everything the White House and Republican leaders were trying to say about why the bill would still protect sick people, even with state waivers that would let insurers charge higher rates in some cases to people with health problems.
What Republican leaders said: House Republican leaders were starting to talk yesterday about "layers of protection" for people with pre-existing conditions, including pricing protections for people who stay insured and high-risk pools as a safety net for sick people. (But that would be in place of the Affordable Care Act, which requires insurers to cover everyone with pre-existing conditions and keeps insurers from charging them more.)
What's next: GOP leaders haven't given up, and there's still a chance that they will offer new concessions to moderate holdouts. Rep. Mike Coffman, who said he'd vote for the bill before the waiver portion was added but is now undecided, told Caitlin Owens that adding more risk pool money "would help ... Anything that helps with people with pre-existing conditions is positive."
The optimists: "I think the odds are still better than 80 percent that we still have a vote this week," Freedom Caucus chairman Mark Meadows said last night on Hannity.
Yes, but: As New York magazine noted after the Kimmel video went viral: "What wavering House Republican is going to decide now is the time to come out in favor of the bill?"
Truth bomb: Rep. Mark Sanford to Alexandra Jaffe of Vice News: "Full repeal was, in essence, a pipe dream from the very start."
https://www.axios.com/newsletters/axios-vitals-9d56c4a0-e7df-40c0-bc22-ab8b891961fb.html?chunk=1#story1
But they voted for repeal
There's one thing about the objections from Upton and other Republicans that frustrates GOP leaders and conservatives: They've all voted for full repeal of the Affordable Care Act in the past, with no replacement. And when there's no replacement, that definitely doesn't take care of people with pre-existing conditions.
Here's what the Washington Examiner's Philip Klein wrote yesterday:
"It's hard to escape the conclusion that Upton cynically played conservatives and that he was never serious about wanting to repeal the law in the first place. Because, after all, how serious could he have been about fully repealing Obamacare if giving states the option of partially repealing it is now too much for him?"
When I asked a Republican leadership aide whether this has ever come up in their conversations with the moderates, the response was: Of course. All the time. "I think the difference is that was a political exercise and this feels 'real.'"
https://www.axios.com/newsletters/axios-vitals-9d56c4a0-e7df-40c0-bc22-ab8b891961fb.html?chunk=2#story2
Impact on cancer patients
Here's an example of what those wavering Republicans are hearing about pre-existing conditions: The American Cancer Society Cancer Action Network has been sending this one-pager to congressional offices that lays out all of the ways the latest GOP health care bill changes could hurt people with cancer.
The highlights:
Pre-existing conditions: Insurers would have to cover people with cancer, but the premium "could be so high that it would be unaffordable," and the tax credits would cover less than they do under the Affordable Care Act.
Essential health benefits: If states can rewrite the required benefits, insurers might not cover some kinds of cancer drugs. And since the ACA's limits on out-of-pocket costs only apply to those essential benefits, they wouldn't apply to anything insurers don't have to cover anymore.
Why it matters: No member of Congress wants to be accused of making life harder for people fighting cancer.
The response: The White House circulated this Wall Street Journal editorial that said the state waivers "aren't a license to leave cancer survivors without insurance" — because they'd have to set up high-risk pools as a safety net.
https://www.axios.com/newsletters/axios-vitals-9d56c4a0-e7df-40c0-bc22-ab8b891961fb.html?chunk=3#story3
Fireworks at Molina Healthcare
It was a big surprise to see Molina Healthcare's board of directors dismantle the family leadership of the $17.7 billion health insurer yesterday after sacking longtime CEO Dr. J. Mario Molina and his brother, John Molina. Bruce Fried, a former federal health care official and insurance executive, told Bob Herman it was the "equivalent of removing the Murdochs from their media conglomerate."
The company, built up by Mario and John's dad in 1980, specialized in providing health coverage to low-income people in Medicaid and the ACA exchanges. Mario has been unusually outspoken for a health insurance executive, criticizing the Republican ACA replacement and threatening to leave the ACA marketplaces unless Republicans and Trump funded the cost-sharing subsidies.
The board justified the firings based on financial performance. Molina has had a few rough quarters, but it is not swimming in red ink, which made us wonder how Mario's political candor played into the decision. Bob got in touch with Mario, who said: "This was not political. I take full responsibility. We grew to over 4.5 million members, and I am proud of that. I will stay on as a director and try to be helpful."
Worth noting: Ronna Romney, formerly married to Mitt Romney's brother, is the lead independent board director of Molina Healthcare. Her daughter, Ronna McDaniel, is the chairwoman of the Republican National Committee.
https://www.axios.com/newsletters/axios-vitals-9d56c4a0-e7df-40c0-bc22-ab8b891961fb.html?chunk=4#story4
Let the Molina takeover rumors begin
Wall Street's imagination ran wild yesterday after the Molina brothers were ousted. The stock soared 17%, and people speculated that interim CEO Joseph White and new board chairman Dale Wolf would sell the Medicaid-focused insurer. The thinking has long been that Molina would not sell the company as long as the family was in charge.
Gary Taylor, a health care analyst at J.P. Morgan Securities, outlined a couple of scenarios:
There are possible antitrust issues if Anthem, Centene or UnitedHealth Group tried to acquire Molina due to a lot of Medicaid overlap.It's more plausible from a regulatory perspective if Aetna, Cigna or WellCare pursued a deal, since they have little or no overlap.Remember: Before Aetna's acquisition of Humana was blocked, Aetna agreed to sell some Medicare Advantage assets to Molina. Aetna will have money to spend, and it always helps to have a prior relationship.A potential Molina price tag: Between $5 billion and $6 billion, based on average health care transaction estimates.
https://www.axios.com/newsletters/axios-vitals-9d56c4a0-e7df-40c0-bc22-ab8b891961fb.html?chunk=5#story5
Arkansas plans to cut back its Medicaid expansion
Here's the kind of state-level change we're going to see more under the Trump administration. The Arkansas legislature is working on bills to scale back the state's Medicaid expansion, the Arkansas Democrat-Gazette reports, by limiting eligibility to people with incomes up to 100 percent of the federal poverty line, down from 138 percent now. They're also going to ask for federal permission to impose a work requirement.
The forecast: Since these are the kinds of changes the new leadership at the Department of Health and Human Services has encouraged, it's a pretty good bet that Arkansas will get permission to do it. "We are now taking a more bold approach" under the Trump administration, Gov. Asa Hutchinson told lawmakers.