Axios Vitals
July 16, 2019
Good morning... Here's a sign of the times: Sotheby's is about to hold its first-ever sneaker auction. The distance between popular culture and high culture keeps getting shorter and shorter.
So does this newsletter. It's 866 words today, a brisk 3-minute read.
1 big thing: It's earnings time again
It's that time, folks: Time to find out just how much money the health care industry made in the last quarter. And Axios' Bob Herman is, as always, on top of it.
The big question: Will Wall Street snap out of its health-care funk and remember that this industry is wildly profitable? Or do investors still have the jitters?
What we're watching: Insurers.
They've combined with pharmacy benefit managers, putting them on pace to become bigger than the Big Tech stocks this year, and they have routinely registered higher-than-expected profits the past few years.
The GOP tax law and a hiatus to an Affordable Care Act tax have helped, and now insurers avoided a regulation that would've eliminated a source of drug revenue.
Health insurance "earnings have been exceptionally strong, and we expect [Q2] earnings to continue on this path," Barclays analysts wrote in an investor note.
Most health care sectors are expected to increase earnings per share by at least 8% this year, although pharmaceuticals will come in at slower rates, according to FactSet estimates.
Go deeper: Follow along with our updated health care earnings tracker.
2. More overdoses in the suburbs
We tend to talk a lot about how the opioid epidemic has ravaged small towns and rural areas. And it certainly has done that. But over the past few years, the crisis has hit harder in big cities, and hardest in those big cities' suburbs.
Between the lines: Toward the beginning of the epidemic, when prescription painkillers were the primary driver of overdose deaths, the death rate was higher in rural areas than in cities or suburbs.
Suburbs now have the highest death rate, and have seen a bigger increase over time than big cities, small cities or rural areas.
Deaths in cities and suburbs began to surpass rural areas around 2013 — the same timeframe in which synthetic opioids like fentanyl started killing more people than heroin or prescription drugs.
3. Landmark opioids trial concludes
The first big criminal trial of this crisis is coming to a close, after attorneys offered their closing arguments yesterday in Oklahoma's case against Johnson & Johnson.
Johnson & Johnson's marketing practices were a key focal point in the seven-week trial, the Wall Street Journal reports.
State lawyers have called Johnson & Johnson a "kingpin" of the opioid crisis, while the company emphasized its willingness to go trial, even as other opioid manufacturers reached settlements to avoid a public hearing.
What's next: The outcome in Oklahoma will help other jurisdictions decide whether to pursue their own charges, and could help determine the appetite for a quick settlement in the massive civil case pending before an Ohio judge.
4. How AI may speed up drug development
Machines may be better than humans at a critical part of the drug-discovery process — and billions of dollars are riding on their abilities.
Google's DeepMind recently "beat seasoned biologists at predicting the shapes of proteins, the basic building blocks of disease," Bloomberg reports. Startups, big biotech companies and venture capital firms are all starting to take notice.
Why it matters: AI gets thrown around a lot in health care, and a lot of it's empty hype, but some kind of machine learning could have real potential to make the drug-development process faster and remove some of the trial and error, experts told Bloomberg.
A handful of drugs that have relied on early AI tools are already in human trials, and experts said identifying the best candidates for advanced trials may be one of the technology's biggest near-term capabilities.
By the numbers: AI startups with a focus on biotech pulled in more than $1 billion from VCs last year, according to Bloomberg. That's 4 times more than VCs invested just 2 years earlier.
5. Your 2020 speed read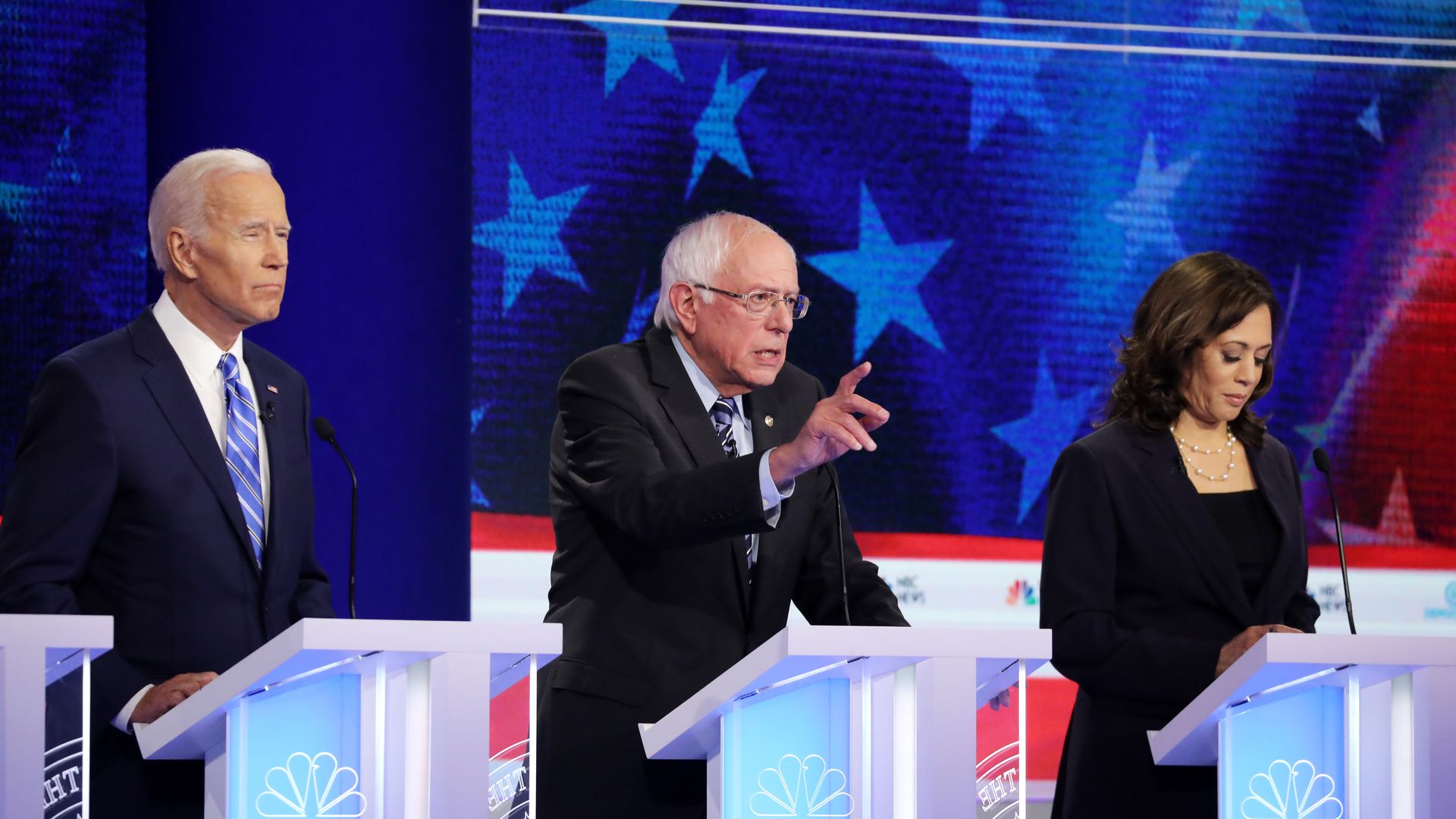 Health care is the dominant issue right now in the Democratic primary, as most of the field continues to file through a weeklong AARP forum in Iowa.
Sen. Kamala Harris is releasing a drug-pricing plan today under which drugmakers' prices in the U.S. couldn't be any higher than the prices they're able to charge in other, similar countries.
This would be broader than the Trump administration's plan to tie some Medicare pricing to other countries' prices.
Harris' proposal also calls for the government to take the patent rights from expensive drugs that relied on publicly funded research, and hand them over to cheaper competitors.
Sen. Cory Booker, meanwhile, focused his attention on long-term care, with a proposal that includes paying family caregivers.
Former Vice President Joe Biden resurrected a promise that got then-President Obama into quite a lot of trouble, promising yesterday that under his proposal for a public option, "If you like your health care plan, your employer-based plan, you can keep it."
Industry opposes Biden's plan, which should not come as a surprise.
Biden also took a shot at Medicare for All yesterday, per the NYT. "Medicare goes away, it's a new Medicare system," he said. "It may be as good, you may like it as well, it may or may not, but the transition of dropping 300 million people on a totally new plan, I think is a little risky at this point."
Sen. Bernie Sanders will lay out the case for Medicare for All in a speech tomorrow.
Have a great Wednes — oh, my, it's only Tuesday. Well, hang in there.