Axios Vitals
January 11, 2022
Good morning, Vitals readers. Today's newsletter is 8828 words, or a 3-minute read.
Situational awareness: In some pretty incredible science news, a patient with life-threatening heart disease received a heart from a genetically modified pig. (Axios)
1 big thing: Omicron sends Americans back home
Social distancing and self-quarantining have spiked in recent weeks — while dining out or visiting family and friends has dropped — as Omicron corners the nation into a crouch, Axios' Margaret Talev writes from the latest installment of the Axios/Ipsos Coronavirus Index.
The big picture: 36% of vaccinated survey respondents who've tested positive for the virus, or who think they've had it, say they were infected after being fully vaccinated.
That compares with 22% in mid-December, and just 6% last summer.
Nearly nine-in-10 people now say they know someone who's gotten COVID.
What they're saying: "It's 'America retrenches,'" said Cliff Young, president of Ipsos U.S. Public Affairs. "People all of a sudden are being assaulted again by the virus and therefore they're changing. And if they're not, somebody very close to them is."
By the numbers: A combined 52% now say they believe it will be more than a year — or never — before they can return to their pre-COVID lives. That's the highest since we began asking this question nearly a year ago.
About three-fourths said they feel they face as great a risk or more of a risk of contracting the virus now than in the spring of 2020.
30% of unvaccinated respondents said Omicron makes them more likely to get the vaccine, a jump from 19% when we asked in December.
What we're watching: Millions of Americans are calling in sick or isolating, leaving employers scrambling and forcing low-income workers to go without pay or risk going into work, Axios' Nathan Bomey writes.
This is a particularly stark issue for health systems in recent weeks as many report dozens to hundreds of staffers out sick due to COVID, the Wall Street Journal reports.
2. Medicare's Aduhelm decision is nigh
CMS has until tomorrow to say whether it will cover Alzheimer's drug Aduhelm, and what kind of restrictions there will be if it does deem coverage is "reasonable and necessary," Axios' Bob Herman writes.
Why it matters: Tens of billions of taxpayer dollars are on the line not just for Aduhelm, which has iffy clinical benefit at best, but also broader types of monoclonal antibodies that reduce a type of brain plaque that some believe is associated with Alzheimer's.
CMS' decision will also come as HHS yesterday made the unusual step of asking the agency to lower Medicare premiums in light of Biogen halving Aduhelm's list price.
Keep in mind: This will be the preliminary decision, and the drug's price, by law, has no bearing on the outcome. The final decision on Aduhelm will be published by April 12, and it can differ greatly.
For example, in 2019, CMS initially said the cancer treatment CAR-T would only be covered in an "approved clinical study," also known as "coverage with evidence development."
The agency then switched gears in the final decision and decided to cover CAR-T fully without those parameters.
Related: U.S. poised to break record 142,000 COVID-19 hospitalizations (Washington Post)
3. Tweet du jour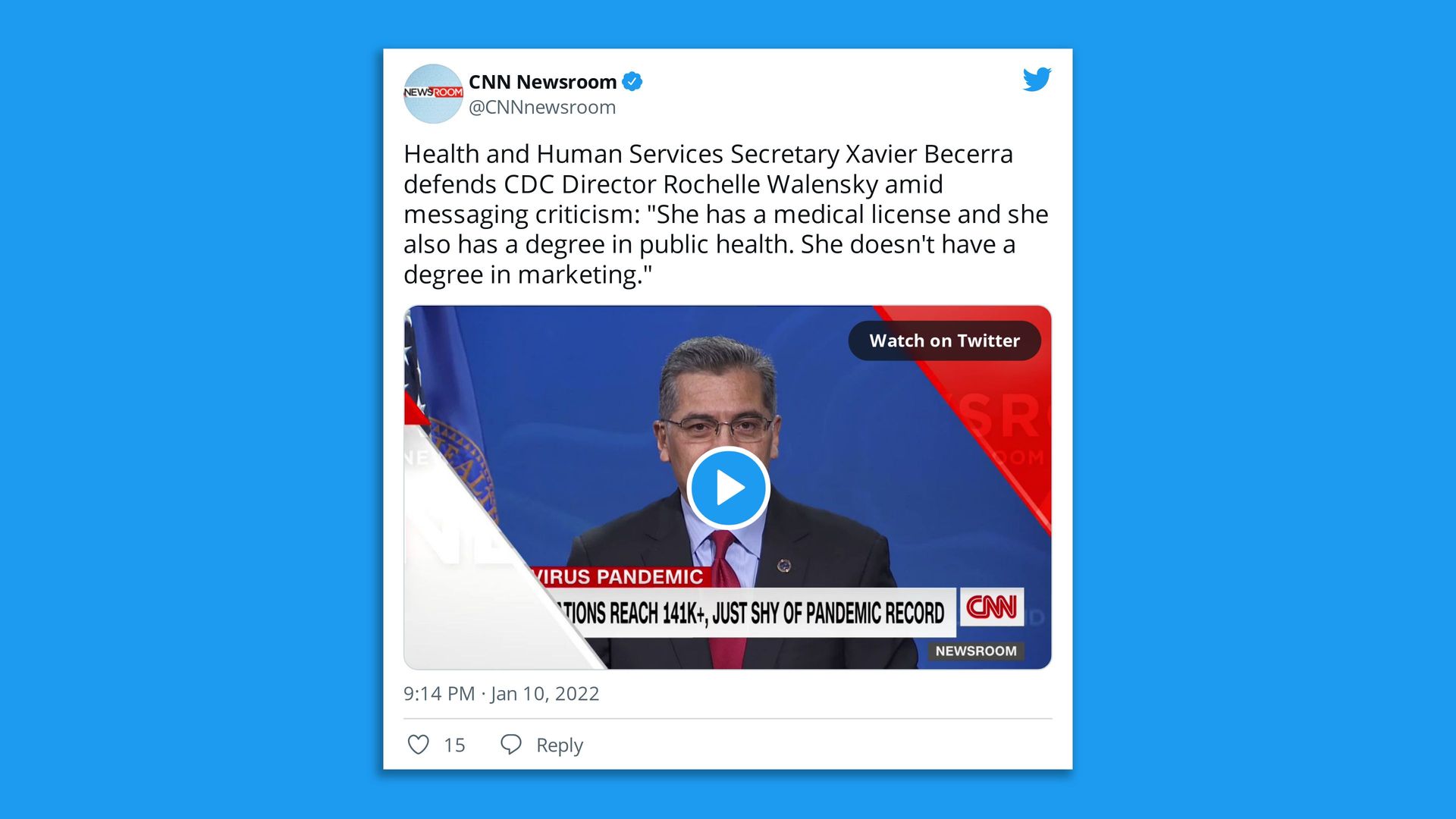 4. Omicron shots by spring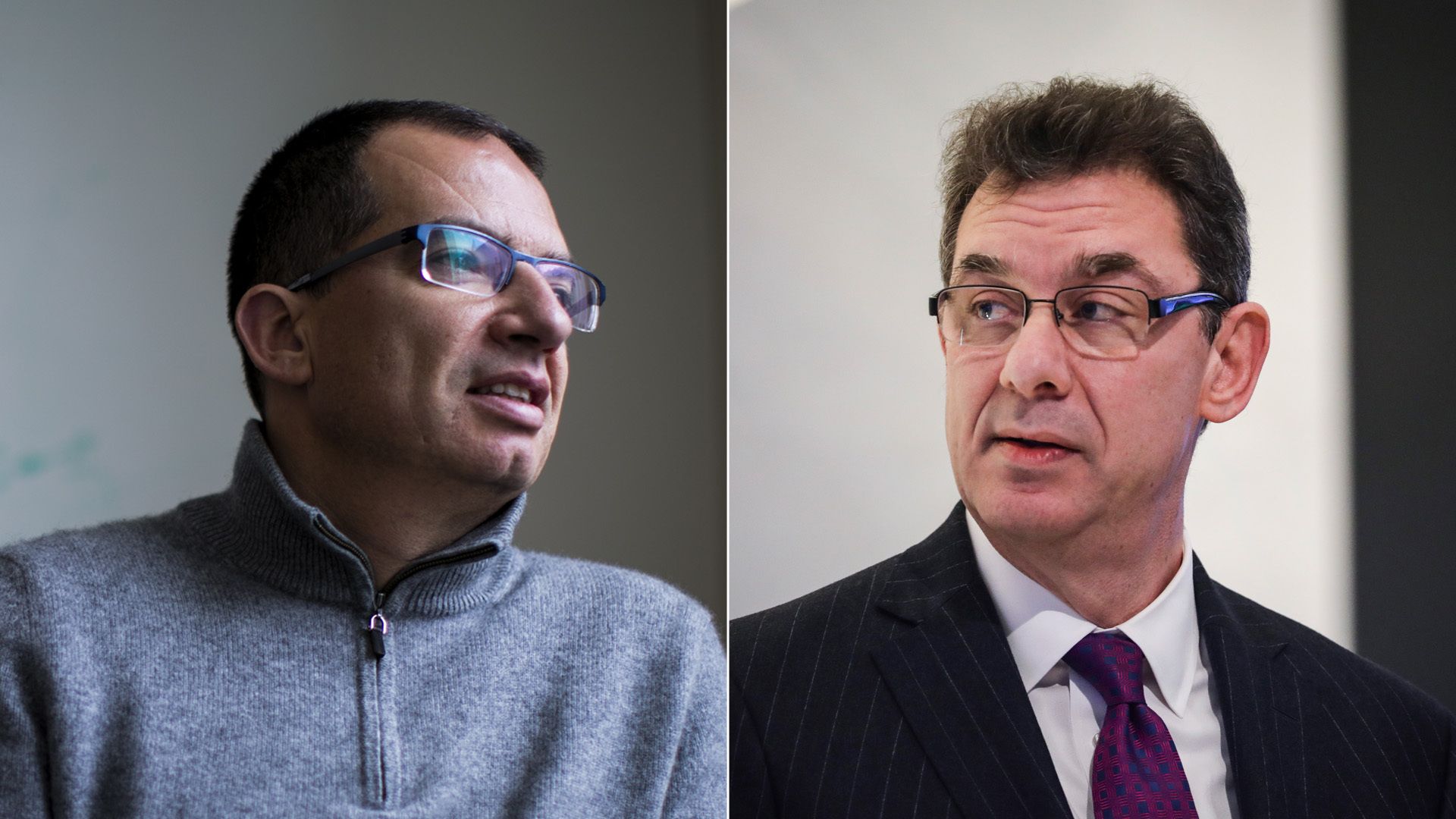 Vaccines that protect against the Omicron variant should be available within months, the CEOs of Pfizer and Moderna told CNBC in separate interviews Monday.
Pfizer is working on what CEO Albert Bourla called a "new version" of its vaccine, saying it's expected to protect against Omicron and achieve better protection against infection.
"These vaccines will be ready in March," Bourla said.
Moderna is working "very actively on an Omicron-specific booster," CEO Stéphane Bancel said.
"That should be in the clinic very soon and we are discussing with public health leaders around the world to decide what is the best strategy for a potential booster for the fall of 2022," Bancel said.
"We believe it will contain Omicron mRNAs. But do we have to have any other components? That needs to be discussed because we need to be careful to fight to stay ahead of the virus and not behind the virus."
5. JPM22 notebook: Hospital price hikes coming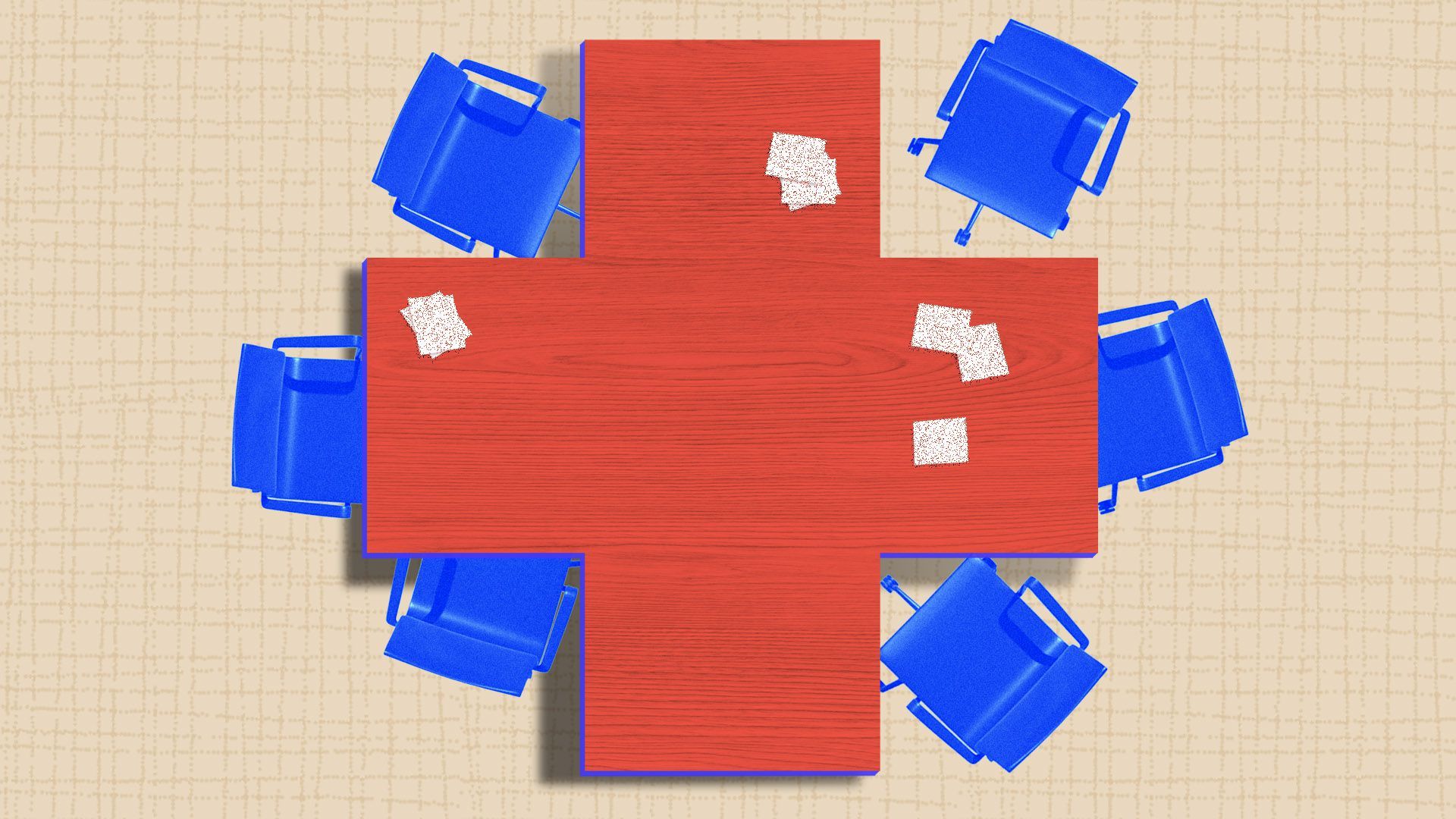 Bob rounds up the news from Day 1 at #JPM22 ...
Hospital price hikes are coming.
Hospital prices have increased more slowly throughout the pandemic compared with broader economy-wide prices, especially during the latest inflation surge.
That's due in part to how hospitals and commercial insurers negotiate future prices in longer-term contracts. But expect hospitals to tack on this inflation during the next rounds of negotiation.
"To be candid, that would not surprise me at all," said Jennifer Mitzner, CFO of Baylor Scott & White Health in Texas.
The antiviral COVID pill is coming.
Pfizer expects to make 120 million courses of COVID pill Paxlovid this year, CEO Albert Bourla said during his webcast.
The breakdown: 30 million in the first half (7 million at most in the first quarter), and then 90 million in the second half.
📫 Did someone forward this email to you? Here's how to subscribe.