Axios Vitals
September 06, 2019
Good morning from New York City, which is very far from Alabama and doesn't seem to have as many Sharpies as D.C.
Today's word count is 997, or <4 minutes.
1 big thing: A new way to pay for gene therapies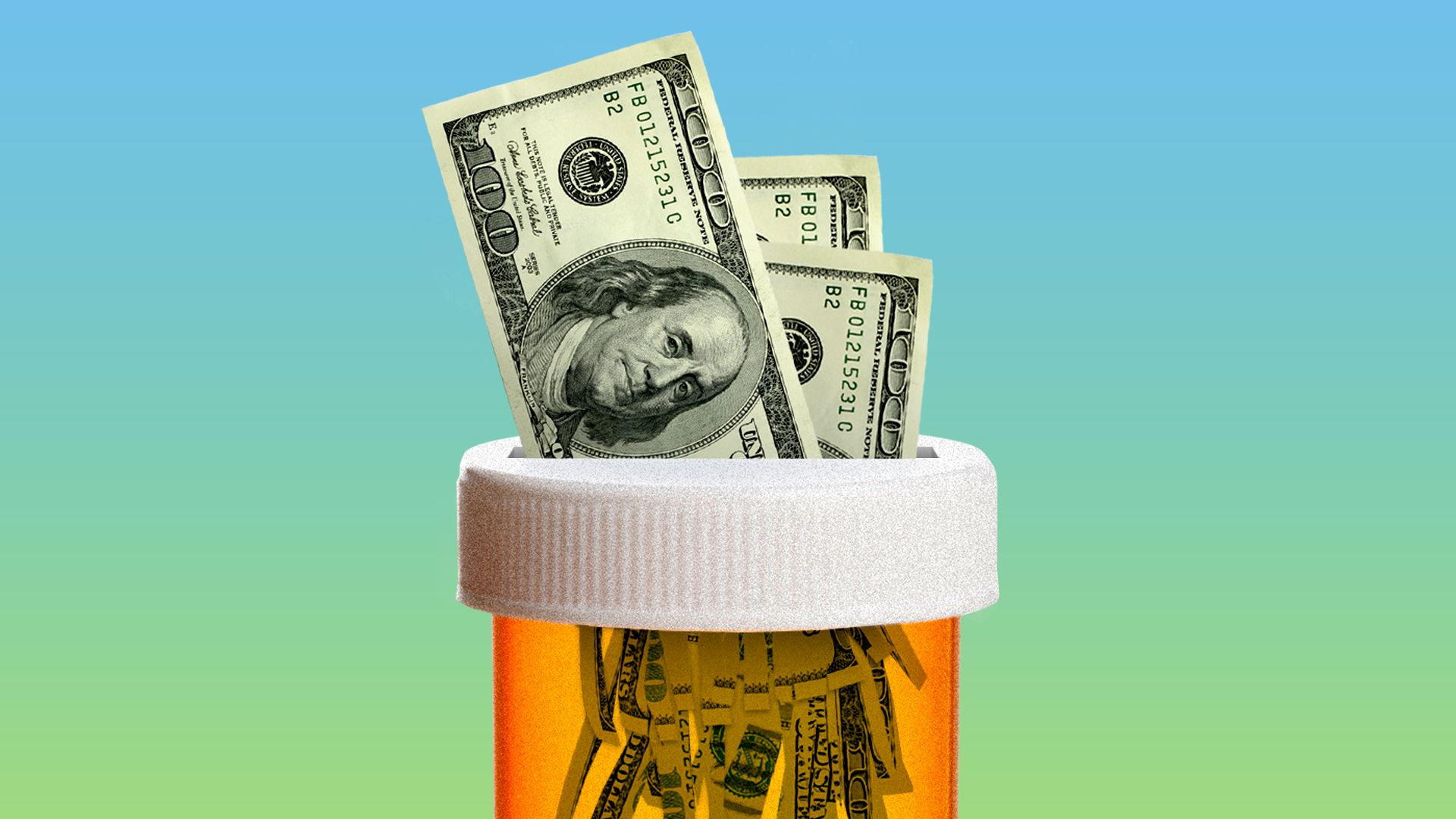 Insurers are trying to figure out ways to help employers afford to cover gene therapies, which can carry price tags in the millions, WSJ reports.
Cigna announced yesterday that it's starting a new program wherein employers and insurers will pay monthly for a service that covers gene therapies and review who can get the drugs, which can be dispensed through Cigna's specialty pharmacy.
CVS, which owns Aetna, said it's going to offer new coverage specifically for gene therapies, and Anthem said it's also looking at ways to help employers protect themselves from the cost.
The gene therapy pipeline is robust, and sales are expected to skyrocket in the next few years.
Some experts say gene therapies are already too expensive. Insurers want to tie their payments to outcomes, and Cigna hopes to enroll enough patients in the new program to secure better deals.
What they're saying: "Hard to know if the thesis of getting more lives will turn into getting bigger discounts where there is no competition. It clearly has not borne out for those other expensive specialty drugs that lack competition," Memorial Sloan-Kettering Cancer Center's Peter Bach told me.
Yes, but: Many companies already have stop-loss insurance, meaning these additional services could come across as redundant.
The 3 insurers included in the Journal's report also operate their own pharmacy benefit managers and specialty pharmacies.
Specialty pharmacies owned by the same companies that manage drug benefits have a financial incentive to handle expensive drugs — at a cost to everyone else.
Go deeper:
2. Vaping illnesses linked to "basically grease"
State and federal health authorities are focusing in on a single chemical as they try to determine the cause of vaping-related illnesses, the Washington Post reported yesterday.
The compound turned up in marijuana products that patients had used.
Why it matters: Identifying the common chemical gives health officials a potential thread to follow to pinpoint the cause and find the right treatment for a severe pulmonary illness that has killed 2 people and may have afflicted at least 215 more, my colleague Jacob Knutson writes.
Details: The FDA said it did not find anything "unusual" in the nicotine products used by the patients, per the Post.
But at least 1 product containing vitamin E acetate has been linked to every patient who provided a sample of their marijuana products.
The chemical's oil-like properties "could be associated with the kinds of respiratory symptoms that many patients have reported," the Post writes. Vitamin E acetate is not an approved additive for marijuana in New York.
Yes, but: Health officials are not yet ruling out contaminants in nicotine vaping products.
"Officials cautioned that they are a long way from understanding what exactly is making so many people sick," WashPost notes.
My thought bubble: Michelle Francl, a professor at Bryn Mawr College, told the Post that vitamin E acetate is "basically grease."
I am no doctor, but it's not surprising that "basically grease" in someone's lungs would make that person sick.
3. Racial disparities in maternal mortality
The Centers for Disease Control and Prevention released a report yesterday showing that black and American Indian women are much more likely than white, Asian and Hispanic women to die pregnancy-related deaths.
The trend held in states with the lowest maternal mortality rates and among women with higher levels of education, "demonstrating that the disparity in pregnancy-related mortality for black and [American Indian] women is a complex national problem," the CDC writes.
Between the lines: There are often multiple contributing factors to a pregnancy-related death, stemming from differences in access to care, quality of care and the prevalence of chronic disease, per the report.
While 60% of pregnancy-related deaths are preventable, there's no significant differences in preventability based on race or ethnicity.
Go deeper: Most U.S. deaths from pregnancy complications are preventable
4. Groupon for health care
If you're looking for some certainty about how much a health care test will cost you, the best solution may be a maddening one, Axios' Sam Baker writes — buying a Groupon.
Details: NPR has a close look at this trend, which first started bubbling up on Twitter late last month.
Groupons seem to be especially popular for outpatient imaging services, like MRIs and CT scans — tests that are already susceptible to overuse.
In Atlanta, you can get a heart CT scan for as little as $26. The coupons sell well, and NPR quotes providers saying they started offering the discounts simply because their competitors were.
Medical Groupons can help fill gaps in insurance coverage — that's a big selling point for dental Groupons, and could also help explain the popularity of Groupons for services like mammograms. Insurance usually covers those, but that only helps you if you have insurance.
Our thought bubble, via Sam: There is only one reason for providers to offer up complex medical testing on Groupon — to generate volume. Big-name hospital systems may not be offering online coupons, but they, too, are trying to drive volume. 
Everybody loves to talk about value and patient-centered care and the right care in the right context and so on. But Groupons are not the sign of a system that's trying very hard to do any of those things.
They're a sign of a system that still rewards doing more stuff, whether it's necessary or not.
5. Mallinckrodt's financial woes are piling up
The CEO of Mallinckrodt played defense yesterday at an industry conference after Bloomberg reported the drugmaker hired restructuring advisers and may even be pondering bankruptcy amid opioids lawsuits, Axios' Bob Herman reports.
"We hire advisers for all different types of things all the time," CEO Mark Trudeau said at the Wells Fargo health care conference.
Between the lines: Mallinckrodt's stock is now down 90% on the year, trading at $1.59 per share to the delight of many short sellers. But any opioid settlement for the company, which sells generic hydrocodone and oxycodone pills, is far from its only problem.
Mallinckrodt is sitting on almost $5 billion of debt.
H.P. Acthar Gel, its flagship medication, costs more than $40,000 per dose and has declining sales due to changes in federal policy.
Flashback: The Medicare Payment Advisory Commission said earlier this year that Acthar was a waste of money at its current price.